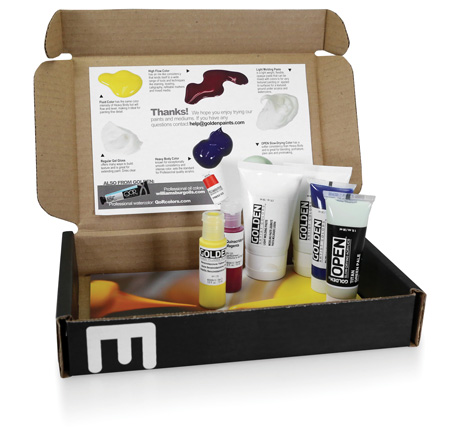 Golden Artist Colors has always been generous with paint samples. The last two years have seen a significant increase in the number of general sample requests (versus samples of specific products).
The sheer number of requests exceeded our capacity to respond quickly and provide the level of care and quality people expect from GOLDEN. In October of 2018 we began sending a new kit with samples from each GOLDEN color line and two mediums, a product guide and a personalized note. The new kit is more efficient to produce and ship, while providing more samples and a better experience to customers.
Sample requests may still exceed our capacity at times. For that reason, we can't always accept requests and we limit kits to one per person. When available, you can use the Sample Request option on the Contact Us menu at goldenpaints.com.