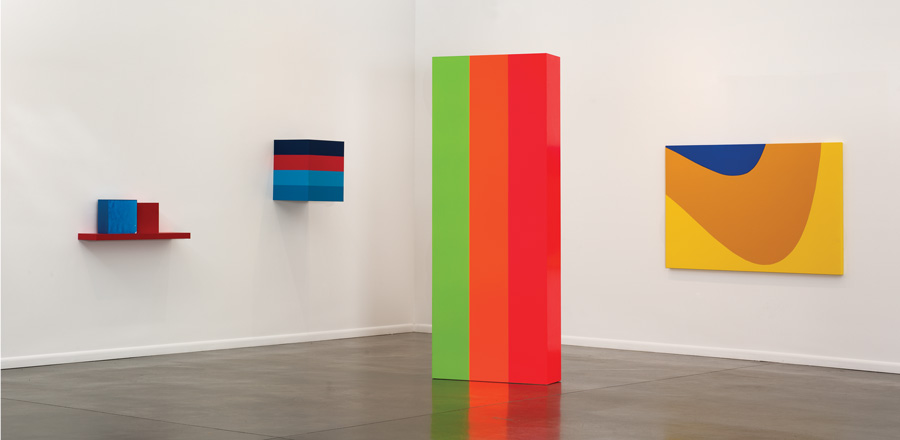 The exhibition, Ann Walsh: Colors at the Sam & Adele Golden Gallery through March 15, 2019 comprises twenty-four works made from 1986 through 2018.
A dynamic language, enabled by color, is the thread that winds through the show. Ann Walsh's color is amplified, saturated, buoyant, made inescapable. Color selection and color relationships are pre-eminent.
Nine stretched paintings, three of them being 'reverse' paintings from 1986, in which Ann Walsh applied acrylic paint in several layers to a polyethylene sheet that would allow the dried laminated 'sandwich' to be removed and adhered to a canvas support. The final image would be therefore in reverse — the first layer painted being the topmost in the finished work, the last layer painted would be effectively the ground layer. This process produced a combination of control and surprise while making the painting.
In the six more recent paintings, color areas were spray applied on canvas. The surfaces of several of these works involved smoothing Molding Paste as evenly as possible to impart a super flat ground onto which the sprayed acrylic would level to a glassy finish. The depth of the acrylic spray coats are varied to emphasize or modulate the colors.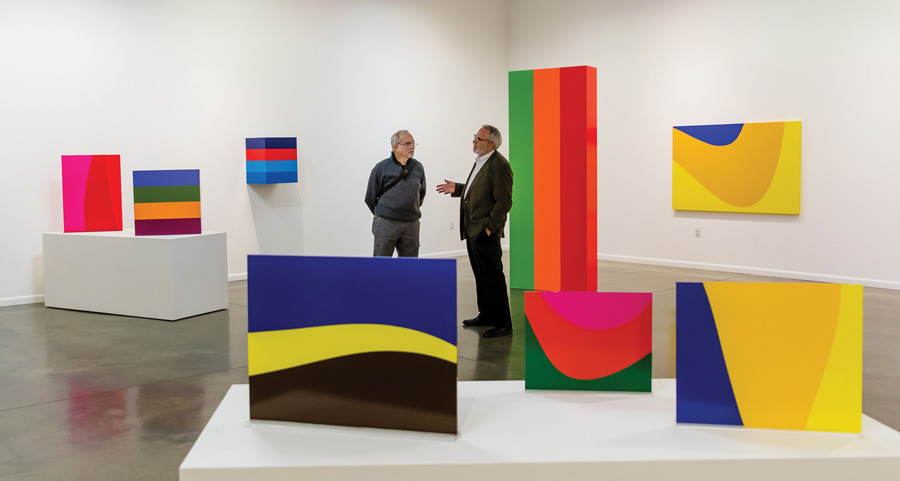 Freestanding works continue the investigation into the possibilities of the saturation, brightness and density of color. These pieces have been fabricated from plexiglass or plywood. Several utilize sign painters vinyl sheeting that adheres to the planar, geometric surfaces. Using sign painters vinyl approximates working with dried paint films.
Standing eight feet high, 'Block' 2015 is both imposing and inviting. The three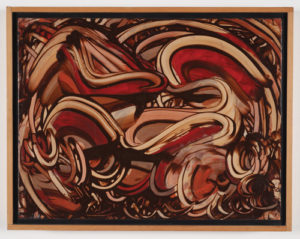 equidistant vertical bands pulse with each high-keyed color selection. Walsh has experimented with an armamentarium of paints and surfaces to investigate an immersion into the expressive potential of color.
Writing for the exhibition catalog, Franklin Einspruch states, 'Walsh had become captivated by the possibility that the right manipulation of materials could exist as a freestanding object that appeared to come into existence by force of its own being. It could at once look like it was made by an artificial process but retain all of its humanism.'
Giving voice to color, Ann Walsh imbues her works with a 'maximalist' intention, rendering essentials, and letting color burst forth to be what it uniquely is.