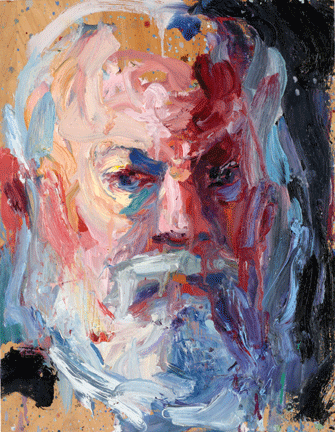 By Gallery Director, Jim Walsh
The Sam & Adele Golden Gallery is pleased to present an exhibition entitled, 'Carl Plansky and Friends' opening on September 25, 2010 and running through November 20, 2010.
This exhibition celebrates the legacy of painter Carl Plansky, founder of Williamsburg Handmade Oil Colors, as both artist and paintmaker. Carl's works are displayed along with those of a group of his fellow artist 'Friends'.
The 'Friends' included in the exhibition are Pat Passlof, Milton Resnick, Jake Berthot, Susanna Coffey, Cora Cohen, Bill Jensen, Margrit Lewczuk, Judith Linhares, and Mary Jo Vath. These 'Friends', several of whom knew Carl for nearly thirty years, are from a much larger group of intimates that due to limits of space, regrettably, could not be represented.
In the 1980s, Carl acquired a milling machine from painter Milton Resnick and immersed himself in the technology of paintmaking. In short order, his explorations blossomed into the full scale paintmaking enterprise that became Williamsburg Handmade Oil Colors. The burgeoning art milieu of Williamsburg, Brooklyn, provided fertile ground for Carl to develop his unique approach to making oil paints.
Carl reveled in searching out and sourcing rare pigments. His own needs as a painter motivated the search as well as the requirements of growing the color line for Williamsburg Handmade Oils.
As a painter, Carl was able to imbue time-honored pictorial subjects: still life, landscape and figuration, with a vigor and energy that was also informed by his familiarity with the materiality and unique characteristics of the paints that he created.
Carl Plansky, at the height of his artistic powers, died on October 10, 2009. His legacy is carried on proudly by Golden Artist Colors, Inc. This exhibition is dedicated to Carl Plansky and to all of his friends with whom he shared an artistic vision.
The SAGG hours are Monday – Friday from 8:30 a.m. to 4:30 p.m. Please note that for this show, the SAGG will also be open from 12:00-3:00 p.m. on the following Saturdays: October 2nd, 9th and 16th.