As part of the Custom Lab's continued efforts to increase experimentation with new materials, we are pleased to share with you some of the products we have recently developed. As these are experimental products, availability may require longer lead times. As part of the GOLDEN Technical Support Services team, I have reviewed these new products to give visual descriptions and starting point suggestions for possible uses. However, keep in mind these are only starting points, as we usually learn from artists that the products have many more uses than we initially envision. The GOLDEN Technical Support team look forward to your feedback regarding these materials.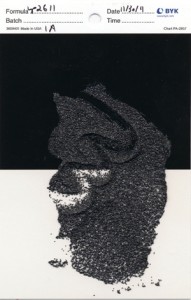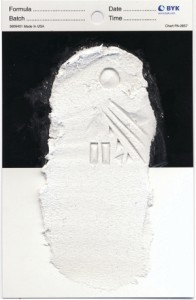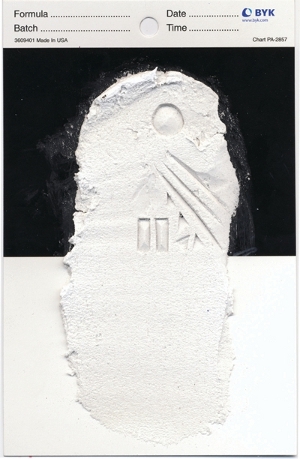 Silicon Carbide – A moderately coarse black material that can be applied with a palette knife to create textural effects, but also is easily smoothed down to an even layer. The angular nature of the carbide material creates facets that shimmer and glint as the angle view to the surface changes. Silicon Carbide is a very hard material that is often used in the abrasive and tool industry, making it very hard to scrape or mar this material once it is dry. While the material itself is not readily absorbent, the rough surface allows paint to appear to soak into it, creating similar effects as if it was a coarse version of Micaceous Iron Oxide.
Carvable Paste – Designed for use on rigid supports, it offers the ability to build up a low relief textural surface using a palette knife application, and dries to a slightly rough cement-like surface. Once dry, this product can be readily carved with any sharp object (wood carving or linoleum tools) to develop a wide array of effects. It holds fine detail and scratch marks with a crisp edge, making it suitable for chip carving or low bas-relief. Being a light grey color, Carvable Paste is readily tintable and due to absorbent qualities, also accepts paint and stains easily.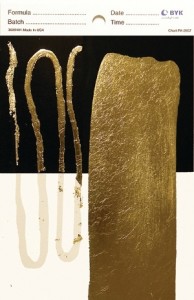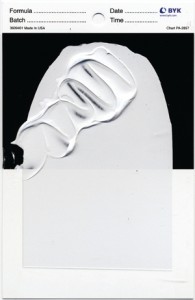 Gold Leaf Size – A thin liquid size that is milky in the wet state but dries clear. It flows and levels very well off the brush onto a wide array of low to moderately absorbent surfaces, such as paint, stone, aluminum, and Plexiglas. Once dry, Gold Leaf Size has a very low surface tack that readily accepts all forms of metal leaf. GOLDEN Gold Leaf Size can be applied over a large area for traditional gilding effects or with a small brush to create minute details or patterns. Since metal leaf only adheres to the area which is sized, it allows the artist a great deal of control for where the leaf is applied. Another unique feature of this product is that it is not time or humidity sensitive and has had leaf applied weeks after the initial size application. If an area is sized then partially painted over with a medium such as GOLDEN Polymer Medium, once dry, only the unpainted Gold Leaf Size would still accept gilding; a feature that could assist in creation of more elaborate techniques or if an area of a piece gets accidentally sized.
Thick Gesso – Produced in a thick paste like consistency with a balanced formula for flexibility and tooth. This product is designed to be applied with a trowel, allowing an artist to quickly build up a surface getting away from the underlying substrate texture rapidly. Due to its flexibility it can be used to create thick textured grounds or applied smoothly then wet sanded to a velum like surface. The high level of functional solids in the Thick Gesso offer a level of absorbency that allows color stains to retain a crisp edge while simultaneously looking embedded slightly below the surface.