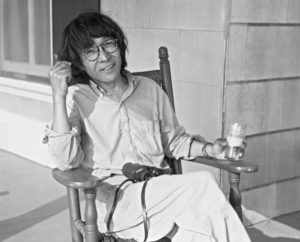 Fortune is said to favor the bold. If so, when Kikuo Saito left Japan in 1966, at age twenty-seven, to take up residence in New York City, his bold and uncertain decision enjoyed Fortune's broad and generous smile, and continued to do so for five decades of engagement, experimentation and development.
Saito's background in painting and in experimental theater was in full effect prior to his departure from Tokyo. He was aware of the artistic powerhouse that New York City had become, and that geographically, Soho was the nexus for a burgeoning variety of expressive artistic paths. Within his first days in America, en route to New York on a Greyhound Bus from landfall in San Francisco, he made one stop to visit the Art Institute of Chicago. At the Institute, a fortunate and chance meeting occurred with Ellen Stewart, the founder of the La MaMa Experimental Theater Club. In years to come, Stewart anchored his interest in experimental theater to a vital environment that put Saito in contact with collaborators and fellow travelers for his theatrical endeavors.
After arriving in New York, Saito immediately enrolled at the Art Students League on 57th Street to study with painter Larry Poons. Saito and Poons would remain friends until Saito's death in February 2016.
'Color and Drawing' features acrylic paintings made in two blocks of time – from 1979 into the 1980's and two decades later in 2012. In the years between, Saito had painted in oil paint in stylistic investigations in which he challenged himself to break new ground. The departures of style in the corpus of his abstractions will be the subject of other exhibitions elsewhere in the future. But for this exhibition at the Sam & Adele Golden Gallery (The SAGG), we can observe the interplay of color and 'drawing' within an abstract painting, and the uniqueness these intermixing elements can present as they provide potentials for exploration.
The 'drawing', of course, refers not to pencil to paper, but to the vectoring and organizing of divisions, shapes, emphases, erasures and everything that brings a work compositionally to life. Color speaks for itself, but as with every other part of the painting, 'color' demands that it not be taken for granted, or 'painted' for granted. How you breathe life into the painted color, to deliver it afresh, remains a fundamental challenge, a requirement that differentiates between the art and the banal.
All of this occurs for Saito within the blank canvas as a space for improvisational painting, for uncovering portals to enable visual delight, to disclose his sense of discovery.
The works in 'Color and Drawing' comprise a series of paintings that relate to one another, expanded over a generation. In 2012, Saito looked back and reinforced the works of several decades previous. In doing so he witnessed subtle changes affirmed through years of immersion, years of studio practice.
September 24 through March 24, 2017
Sam & Adele Golden Gallery, Golden Artist Colors, New Berlin, NY