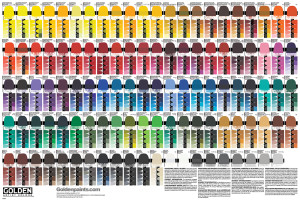 With thousands of hours of paint research all on one page and almost one thousand swatches of color, it's now easier than ever to see the full range of GOLDEN colors. Having comparative information for each one as they transform through tint and glaze mixing on a 26″ tall by 39″ wide poster, makes this an impressive color tool for every painter.
"We're pleased to be able to offer this kind of resource to artists," said Golden Artist Colors' Creative Director, Christopher Farrell. "We used a special six-color printing process, elevating the richness of the printed spectrum in the orange, red and green range, allowing this printed version to get closer to the real color than we had imagined a printed color chart could ever get."
The GOLDEN Lab wanted a systematic representation of paints drawn out to consistent tints and glazes. This exploration started with research on a few dozen colors conducted for the Subtleties of Color article in Just Paint 21. A few dozen colors turned into several dozen and finally one hundred colors, each mixed precisely to create five tints from 10:1 to 1:10 paint to white ratio and four glazes from 1:1 to 1:50 paint to medium ratio. That's 900 paint mixtures that were then drawn out to a precise thickness on test cards. From there, spectrophotometer readings were taken over white, and for glazes, masstone black. Now the 900 mixtures plus the original 100 colors become 1,500 unique color readings.
Those readings have been translated into a poster that includes the color names in English, French, German and Spanish. It also includes the pigment ID numbers and ASTM lightfastness ratings, along with the range of tints and glazes that were created. Also added were the Neutral Gray masstones over white and black, making this a complete reference of the standard colors available in GOLDEN Heavy Body colors.
Get your Tint & Glaze Poster now from the GOLDEN Web site http:// www.goldenpaints.com/products/ promotional/tintAndGlazePoster or check with your local art supply retailer to see if they are stocking the poster, which will save you shipping and handling costs.