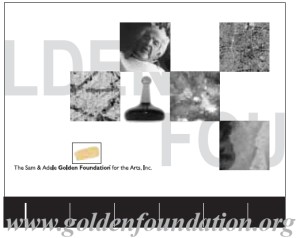 The Sam and Adele Golden Foundation for the Arts, Inc. was founded by family members in 1997 for the charitable purpose of fostering innovative artistic expression and the creative process. It is one of the few foundations in the country to focus exclusively on individual professional artists working in paint. In its continuing effort to become a significant contributor to the artist's support system, the Foundation recently identified five artists to be recognized with an individual artist award.
Mark Golden, president of the Golden Foundation stated, "There is a need, now more than ever to support the work of professional artists and to provide the incentive for these artists to create new work."
The award provides a one-year grant, up to $3,500 to assist artists in the advancement of their career. This year's recipients included James Barsness, Theresa Chong, Joey Fauerso, Juri Morioka, and Danielle Tegeder. An independent selection committee chose these artists from hundreds of career professionals who applied. The jurors were Mary Murray, curator of Contemporary Art at Munson Williams Proctor Arts Institute in Utica, NY; Andrea Inselmann, Curator of Modern and Contemporary Art, Herbert F. Johnson Museum of Art, Cornell University, Ithaca, NY; and Contemporary Artist Frank Owen, Art Department, University of Vermont.
James Barsness resides in Athens, GA. He received his MFA from the San Francisco Art Institute in 1988. His first large scale survey show entitled "Mythic Inventions" was at the Boise Museum of Art in Idaho and a second large survey exhibit was held at The Contemporary Art Center in Atlanta, GA in 2003. His work is included in a number of important group shows and in the collections of the Goldberg Foundation, NY, The Whitney Museum of American Art and Yale School of Art, CT.
Theresa Chong attended Boston University School of Fine Arts with a Dean's Scholarship in painting where she received a BFA. In 1991 she received an MFA in painting at the School of Visual Arts in New York City. Her work has been reviewed in The New Yorker, The New York Times and Art in America. Her paintings are included in the collections of The Museum of Fine Arts, Houston, TX, The Whitney Museum of American Art, The Fogg Art Museum at Harvard University and several corporations. Theresa is a mid career artist who is striving to have her work recognized by a larger audience.
Joey Fauerso lives in Roswell, NM. She received her BFA with honors from the University of Iowa in 1998 and MFA in 2001 from the University of Wisconsin where she was nominated for the prestigious Dedalus Foundation Grant. After graduation she returned to San Antonio where she is the founder/director of The Bower – an artist run, non-profit exhibition space. Her work has been included in several group shows including a show of four artists at Parson's University-Paris and Blue Star 18 at the Blue Star Contemporary Art Center in San Antonio. She had a solo exhibition at Finesilver Gallery in 2004 and in 2005 received the ArtPace Travel Grant, The Dallas Museum of Art Kimberough Grant and a Ucross Residency Fellowship. As a painter, Joey is committed to the continued exploration of the medium and its creative capacities.
Juri Morioka is a Tokyo born painter, living in New York City. She received her BFA in Painting from Parsons School of Design in 1990. Two recent Fellowship Residencies from the Vermont Studio Center and a chashama artist-in-residence subsidized studio space grant in NYC have provided her time to create new work. She has had four solo shows in Tokyo, including two at Banco Gallery in Ginza. Group shows in New York City include Edward Thorp, Sideshow and The Andy Warhol Museum. In addition, her work is included in numerous private and corporate collections such as SONY. Her paintings will soon be on display at the Jan Jar in Dubai, and in the United Arab Emirates.
Danielle Tegeder currently resides in Brooklyn, NY. She has an MFA from The School of Art Institute of Chicago and a BFA from SUNY Purchase. Several exhibitions include The New Museum of Contemporary Art, Bronx Museum of Art, Brooklyn Museum, Triple Candie and Ace Gallery in New York, Mixture Gallery in Houston and The Henry Gallery in Seattle, WA. Internationally she has shown at the Muller-Dechiara in Berlin, Germany and the Anne de Villepoix Gallery in Paris. Recent reviews include the New York Times, ArtForum, Art in America, and NY Arts. She received grants and residencies from Yaddo, The Fullbright Foundation, ArtOmi, and The National Studio Program at PS 1/MOMA Studio Fellowship. She is artist in residence at the Smack Mello Studio in Brooklyn and teaches and mentors art students at SUNY Purchase. Her artwork is mostly large brightly colored abstract paintings inspired by underground architectural plans.
In addition to supporting individual artists, The Sam and Adele Golden Foundation for the Arts, Inc. awards grants to cultural organizations. This year the foundation is accepting applications from cultural organizations who have received their 501 (c) 3 IRS designation and whose primary purpose is to promote and support visual artists working in paint. A full listing of grant awards, the application and examples of the award recipient's artwork is available on the Web site: www.goldenfoundation.org.