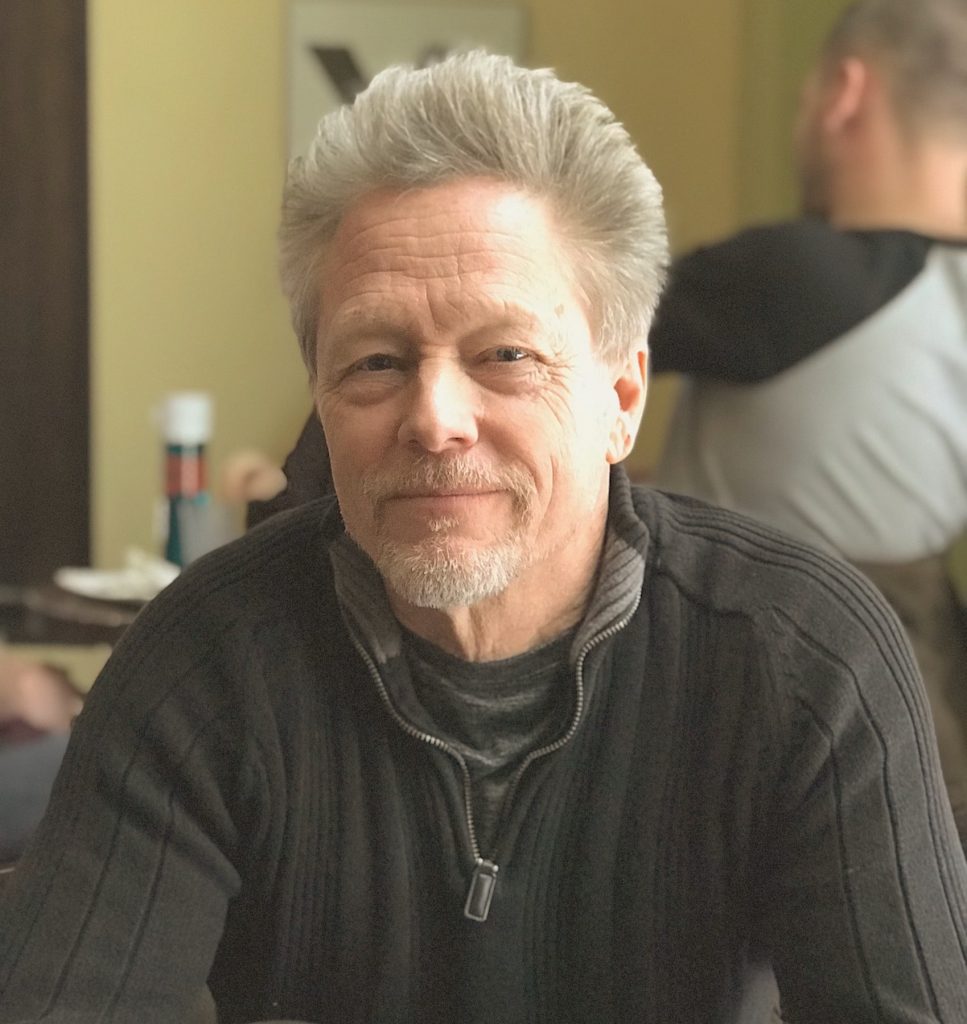 The life of memories, consciousness and experience in time and space has been shown by our newest physics to be pretty quirky and much stranger than we could ever imagine. It's looking closer to how the Tralfamadorians in Kurt Vonneguts novels experience things. They experience the past, present and future simultaneously and so their standard greeting is…"Hello, Farewell, Hello", and so on. This greeting is closer to how I feel about my life and my upcoming retirement at the end of this month. I say goodbye to this part of my life but the memories, friendships, connections and life changes from my involvement with Golden Artist Colors are an integral and vital part of my life that will stay with me forever: past, present and future. It has been a wonderful ride. One big wonderful intermingled ever present consciousness collage.
I spent a little less than half my life working for Golden Artist Colors but my overall involvement has been for about 42 years since I first visited "the shop" in 1980 when the company first began. Back then, in the early days of the company, when the paints and mediums were not available in any art supply stores, I heard about a paint maker named Sam Golden, who happened to be living just an hour south of where I was living in Syracuse, NY, a small city about 2 hours south of the Canadian border. Previously, in the 70's I had been using Bocour's acrylic called Aquatec and came to learn it had all been formulated by Sam. It was great paint, but now unavailable, and it was through the artist grapevine that I heard about Sam and his new paint, Golden Acrylics. [see GOLDEN company history]
So I made the short drive through the beautiful rolling hills of Central New York on a chilly October day in 1980 in my 1963 Volkswagen van, turned onto the crunchy gravel paved Bell Road, and within a half mile or so pulled into the property where a small farmhouse and several old barns stood. The view west over a small river valley was fantastic on this autumn day. As I got out, an older gentleman with a shock of white hair and a scruffy beard came out to greet me. This was how I met Sam Golden and how I started my experience with this wonderful company.
I left with my first paint and medium order after a tour of the paint making facilities in one of the main barns, met Sam's wife Adele, his son Mark and daughter-in-law Barbara, got to know Chuck Kelly (a partner at the time), and Jim Hayes, a trained Chemist hired to assist with paint formulating who is still here as head Chemist in the Lab. The list of people grew quickly as the company flourished over the years. My visits to buy paint would often include sandwiches made by Adele, and conversation while sitting in their little farmhouse home overlooking the valley. Once, visiting with a friend, she made us a picnic lunch for our hike down to the hemlock grove near the river.
My friendships grew with the Golden family and employees in the company, and in 1990 I got a call from Mark Golden asking me if I would be interested in working for the company doing workshops and training sales staff at stores around the country. I said yes and the adventure began. Initially I planned my own trips and traveled across Canada and the US visiting art supply stores and presenting in painting departments in art schools across the country. The job helped me to become comfortable speaking in front of groups of people and I loved doing it. Mark Golden and I traveled to Japan where I was both a visiting artist and a presenter at art schools around the country. Eventually, and especially after my daughter was born, I traveled less and the job changed to include speaking with and assisting artists on the phone and via email along with doing workshops for the Residency, testing and more. Barbara Golden and her daughter Emma Golden have been doing a wonderful job at the Golden Residency and while Barbara is now retired, Emma continues to contribute that special Golden family energy with her warmth, humor and intelligence. And Mark Golden continues his work and daily involvement with the company that owes so much of its success to his values, intelligence, generosity and sense of social justice.
It has been wonderful to watch and be an important part of the growth of this now world renowned employee owned company, that is considered by many to be the best artist grade paint company in the world. I am so proud of Golden Artist Colors and grateful to all its employee/owners, Sam and Adele Golden, Mark and Barbara Golden and the millions of artists and customers who use our products for helping to make this company what it is today, and for giving me the opportunity to be involved. Thank you all so much.
And now, as my best friend Mark says, "Hey man, it's the last quarter!" …Hello, Farewell, Hello…and see you down the road.