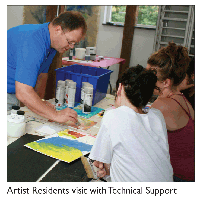 We are in the midst of an incredibly exciting first year at the Golden Foundation.s new Artist Residency Program and are delighted to announce that we've just opened up the invitations for applications for our 2013 expanded season. For the Artists in Residence, this has been a wonderful time to explore materials in large beautiful studios with a host of technical experts supporting their work. The talented artists were incredibly generous in turn, providing important insights and guidance in ways to continue to grow the program.
It has been a personal thrill for me to join my family in seeing this dream come true as the Residency Program Coordinator (although if truth be known, in this small group, we all wear lots of hats).
People always ask me if I'm an artist when they find out I am in the Golden family. I've never considered myself to be an artist but I've always felt that art is in my blood. The home where I grew up was always filled with art and artists. I can.t remember a time when I wasn.t happily giving up my bedroom to an artist for the weekend. Having meals together and hearing their excitement of being able to spend some time in the country and getting to work with the amazing team at Golden Artist Colors, made it feel as if these artists were part of our family.
The opening of the newly reconstructed dairy barn down the road from Golden Artist Colors has since replaced my bedroom at home. The Residency Barn holds living and studio space for 3 artists at a time. For 2012, nine artists were selected for our shortened inaugural year with sessions running from mid-July thru October. Attending the program were artists from California, Pennsylvania and New York and internationally, from Canada and Germany. The Golden Foundation was able to secure at least partial funding for all the Artist Residents this year. We hope to continue this tradition and eventually offer fully funded residencies to all selected artists.
The dates for the 2013 Residency have been set as follows:
Session I: Apr. 21 – May 18
Session II: June 2 – June 29
Session III: July 7 – August 3
Session IV: Aug. 4 – Aug. 31
Session V: Sept. 15 – Oct. 12
Session VI: Oct. 20 . Nov. 16
Please visit www.goldenfoundation.org for information on how to apply for 2013.
As we complete our last residency session for 2012, the collaboration that has taken place with this year's artists continues to excite me just as it did when I was young. And while visitors may not be staying in my room at home anymore, I am thrilled that there's a place for them to stay, down the road from Golden Artist Colors.