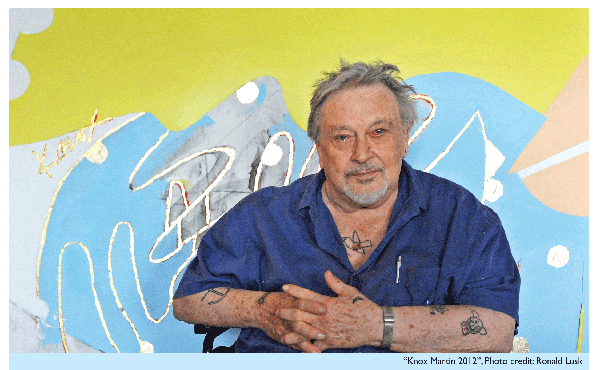 We are delighted to announce an exhibition of works by Knox Martin, entitled: "SHE" at the Sam & Adele Golden Gallery (SAGG) in New Berlin, NY at the Golden Artist Colors facility. The show will premiere on October 6th, 2012 and run through April 6, 2013.
"SHE" will present over a dozen, recent large scale works by Knox Martin. Knox continues his powerful use of metaphor applied to these paintings of Woman. Knox Martin's work is in the permanent collections of major museums around the world, including the Whitney, MOMA, Albright-Knox, Hirshhorn and the Corcoran.
Throughout his long and prominent career painting and teaching in New York, Knox had many occasions to work with Leonard Bocour and Sam Golden at the Bocour shop. The first time I had the pleasure of working with Knox was when he was restoring his enormous, 12 story exterior mural .Venus,. completed in 1970 on the side of Bayview Correctional Facility at the corner of 19th and the West Side Highway. This mural, as well as his .Woman with Bicycle. painted on the side of a six-story structure on the corner of MacDougal and Houston in Soho, were visual icons of NY and truly an example of the public face of the vitality of the arts in NY. So when Knox asked me if we could provide the paints to keep "Venus" fresh, I thought it would be a wonderfully exciting project for us at Golden Artist Colors. I suggested to Knox that we use the MSA (Mineral Spirit Acrylic) colors to which we would incorporate a system of UV filters and light stabilizers. Knox gave us the list of colors and let us do our work. The mural looked brand new upon completion of the restoration in 1998.
Just a few years later in 2002, we lost Knox's aforementioned mural "Woman with Bicycle" as it was covered over by the ubiquitous Soho underwear ad! And in 2010, with the construction of a new building right up against his "Venus" mural, we lost most of the view of the painting. In an act of heroic defiance, Knox, at age 87, hired a cherry picker and on a quiet Sunday morning, re-painted his name on the outer portion of the obscured mural.
Knox continues to display Herculean vigor with these new works on display at The SAGG. At the same time, he continues to give back to the artist community with his mentorship of incredibly devoted students. And he continues to champion the value of public art and is not at all finished with defining his place in that arena. Currently, Knox is deeply engaged in the production of a new mural, "The Whaling Wall," a visual story of a cry for peace and humanity. We are thrilled that he will share his work with us here in Central New York at The SAGG.
Mark Golden, August 2012