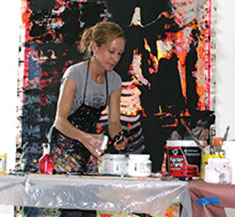 Heading into our 5th Residency Session of 2013 and feeling invigorated as ever! We certainly learned a lot from year 1 and with the increase from 3 sessions last year to 6 sessions this year, the amount of creativity and energy in the Barn is immense.
As an international program, we are excited to welcome artists from several different countries into the small town of New Berlin, including Israel, Australia and the UK.
Each 4-week residency session begins with the arrival of the 3 Resident Artists on Sunday. This gives them Monday to settle in and set up their studios. It seems to be tradition at the Golden Foundation that every event begins with a meal together, so Monday evening we ask the artists to prepare an informal, short talk about their work for after dinner with the Technicians from Golden Artist Colors. This event gets the conversations started as Tuesday is our first "technical" down the road at the GOLDEN factory. Technicals involve learning, playing and exploring materials and tools of paint. These workshops range from providing an overview of materials, to gaining a deeper understanding of specific processes or resources. During the residency, the artists meet for at least 5 technicals.
New this year, artists will not only be using GOLDEN Acrylics, but Williamsburg Handmade Oils will also be spotted in the artists' studios. We outfitted the building with ventilation systems and fire safe equipment to allow for the safe use of oils, expanding the range of materials accessible to the artists during their stay. There are also hands-on workshops in image transfers, digital grounds, faux finishing tools, varnishing and oil paints to name a few.
On the final Wednesday of each residency, we open the Barn to the public, inviting folks to attend an Open Studios event from 5pm-7pm. The community gets a chance to walk through the artists' studios and see their works in progress. Our last Open Studios of 2013 are scheduled for October 9th and November 13th.
The Deadline for the 2014 Residency Year is coming upon us quickly: September 23rd, 2013. If you are interested in applying, go to www.goldenfoundation.org.