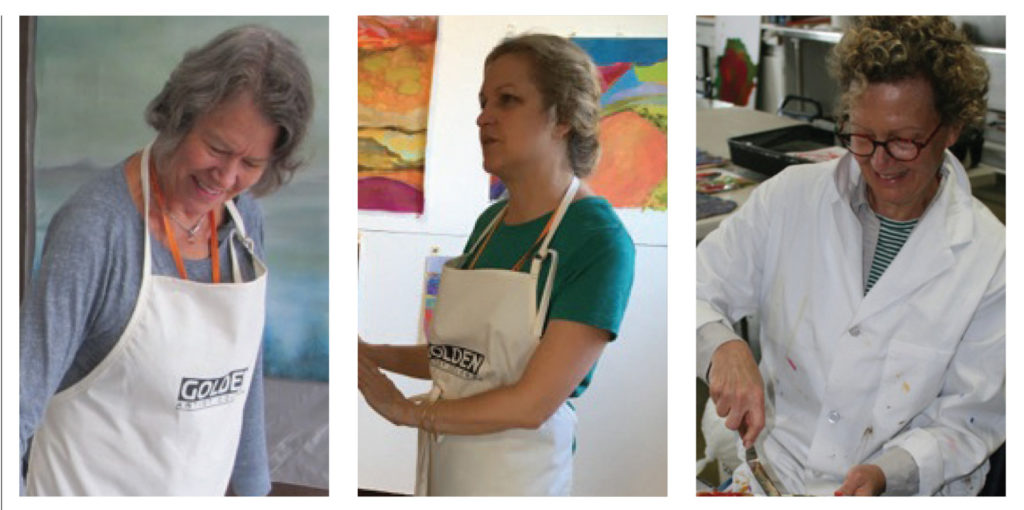 Now in its fifth year of collaboration, Golden Artist Colors has again partnered with the Scholastic Art and Writing Awards to celebrate educators across America who support and encourage the creative process! Lucy Harackiewicz from Westwood, MA; Elizabeth Stainton from New York, NY; and Rebecca Buchanan from Hillsboro, OR joined us at the Sam and Adele Golden Foundation Residency Barn for a 14 day artist residency experience. Lucy, Elizabeth and Rebecca were selected from a pool of close to 250 applicants through a process conducted by Scholastic and the NAEA. While here in Upstate NY they were engulfed with material knowledge and studio time and celebrated as artists as well as teachers. How lucky their students at home are to have such incredibly talented teachers in the classroom!
While in her studio, Lucy explored color and layering with new materials and tools. When we entered Lucy's studio at the end of her time here, you could immediately tell that she didn't sleep much, as her paintings filled the studio space.
Rebecca loves color! Bright, vibrant and fluorescent color! She was also very much inspired by the landscape of Upstate NY. The rolling hills and farmlands around New Berlin allowed Rebecca to explore these colors and forms. This landscape is easy to fall in love with.
Elizabeth came to the residency mainly as an oil painter. Her ability to capture subtle light as well as powerful curiosity, gives you a sense of truly being in that city or that space at that time. You want to peer around the corner of the building to see what's there. She also allowed herself to discover and play with the acrylics and watercolor, which opened up a new venue for exploration.
The studio and living space provided to these Scholastic Educators included 24/7 access to individual studios, and is situated right down the road from the GOLDEN paint factory. This unique program provides access to all paint materials produced by GOLDEN, including acrylics, oils, watercolor, and custom products. Over the 14 days, Material and Application Specialists from Golden Artist Colors delivered an in-depth survey of different techniques and materials to the artists. Emphasis was placed on the importance of developing one's own artistic process, while gaining access to the most innovative processes and techniques in art making. Experimentation was encouraged.
In 2017 students in grades 7-12 from across the U.S., submitted over 300,000 works of art across several different categories of art and writing. In recognition of the Alliance's efforts to support the arts, Golden Artist Colors also presented 9 additional teachers whose students were awarded top honors within the Alliance program, with a $1,000 gift certificate for materials for their personal use.
To learn more about Scholastic, GOLDEN and the Golden Foundation:
www.artandwriting.org/news-and-events/golden-residency
www.goldenpaints.com
www.goldenfoundation.org
Subscribe
Subscribe to the newsletter today!
Share Your Thoughts
Click here to share your feedback about Just Paint.