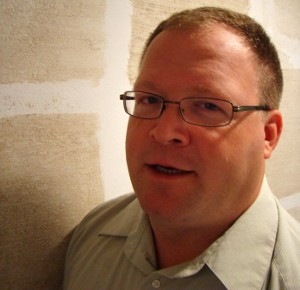 Mike Townsend: I knew very early on, when I was a teenager. I've always enjoyed drawing and creating, learning new things, and especially comic books.Mark Golden: Mike, when did you know you wanted to be an artist?
Mark: Were you copying the comic books or drawing them?
Mike: I would look at the image, study it and then draw what I saw. There were always certain comics that I enjoyed because of the way they were drawn. The illustration part of it was really fascinating to me. I also looked at the line work that was done for early newspapers – where they had to create shadows and highlights with nothing more than line work. By eighth grade, I was taking every art class I could. It always seemed that art class ended too quickly, that was always my escape.
Mark: You went directly to art school after high school?
Mike: At the time I was still very involved in sports and I also knew that I wanted to do something in art. I wanted to find a school that had both. I ended up going to Mansfield University.
Mark: Mansfield is a strong teaching college. Did you think you were going to be an art teacher?
Mike: I didn't attend Mansfield to become an art teacher, but being in that environment helped me tremendously in my career here at GOLDEN. It taught me how to convey material in a way that was easily understandable. My experience has helped me to take complex material and translate it into clear, concise information, whether I'm talking with an artist on the phone or writing an e-mail response. At GOLDEN, it's never been about, 'here's the answer.' It's always been focused on, 'here's the answer and here's how I arrived at this answer, these are the best recommendations about how you can do this for yourself.'
At GOLDEN, we're not just reading scripts. It's very rare we will pull up a Tech Sheet, look at it and recite it word by word. That's just not something we do. We give all of the information possible, all the different scenarios.
Mark: So it's need by need, artist by artist, realizing that everyone has a slightly different situation.
Mike: Yes, everybody's different. I've realized over the years that I can't go into a call with a perception of what I think it's going to be about. I never assume I know everything about the situation.
Mark: You get to speak to some of the most talented and creative people in the world. It's a pretty unique position.
Mike: Definitely! We've been providing this service for over ten years and the number of phone calls and e-mails we've had come in is staggering. The diversity of the artists I've spoken with is really amazing. And I guess that's part of the fun and the allure of being here. I never know who's going to be on the other end of that phone when I pick it up.
Mark: When you finished school, were you doing the typical artist thing, painting by night and working another job by day?
Mike: I was figuring out what to do. In my junior and senior year I obtained a concentration in advertising. That was the direction I was going to take. I began thinking about moving to New York City, knowing there wasn't a lot of opportunity in the Binghamton area. While I was working at a local sign company, PAC Signs, I remember taking my lunch break and began reading the paper's classifieds and – long story short, I eventually went to New Berlin for an interview.
Mark: Michael, what year was that?
Mike: It was 1989. The ad was for Quality Control, a lab technician. It said that artistic skills were desired, but not necessary.
I found it interesting – an artist paint company in upstate New York. I didn't know anything like that existed here. It didn't seem like it'd be too terribly difficult to do, and it'd also give me access to paint! That was part of the motivation.
I started in Quality Control, which helped me learn the characteristics of the paint and what makes good paint versus bad paint.
Mark: It was great having someone join us with some unique skills in silk screening and airbrush as well. We were able to take advantage of some of that knowledge as we had projects that involved both silkscreen and airbrush paints when you came on board.
Mike: That's right. In fact, I remember a meeting some time ago where you had heard I did airbrushing in college and had some experience in that area. You asked me to try out a product and provide feedback. We had to not only develop the product, but create testing methods as well. There wasn't any manual on how to make Airbrush Medium or even how to use it.
Mark: After the completion of that project, you also wrote the Tech Support information for it. You were our resident airbrush expert. Was it a slow changeover from working in the Lab to eventually spending more time on the phone responding to customers?
Mike: Yes, it was a transition. It didn't happen overnight. We worked together until we created a successful process for technical calls and e-mail, and creating product and application information sheets.
Mark: Michael, when did you become full-time tech support?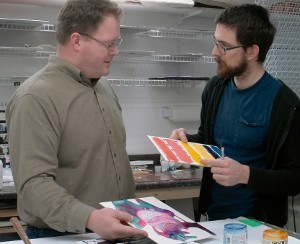 Mark: It happened soon after we decided to put our phone number on all of our product labels. Customers would get a real person on the phone.
Mike: It was 1997.
So, 13 years later, what have been the most exciting changes here or the most exciting projects that you've worked on through Tech Support?
Mike: There are many different facets that keep it fresh and enjoyable and keep me wanting to do more. When we started getting the calls about the fiberglass animals was exciting because it was a new opportunity for learning – we didn't have any Tech Sheets about it. It was all very new to us. The frequency of calls and e-mails regarding this topic just kept increasing, so we knew we needed to become knowledgeable about it. Our customers needed information, so we'd provide it. I think this was the basis for a lot of our Tech Sheets. There was a need for it, so we responded, even if it meant that we needed to put aside resources to conduct the proper testing and research. It didn't matter. We'd do whatever was necessary to get our customers the most valuable, accurate information possible, even if it meant that we had to find resources outside of GOLDEN. It's what we do. That's what's most exciting about being here.
Mark: That's been a great contribution – to be able to share the information that we all gain as we speak to more customers or reach out to other companies making unique products and being able to share that information for everyone.
Mike: Yeah.
Mark: Recently you've been instrumental in helping to create the new Technical Support Applications Room here at GOLDEN. How is that used by the Tech crew?
Mike: It's really a little oasis away from our desks. It's an independent place for Tech Support staff to work with materials, conduct our own testing, spend time with visiting artists, teaching them about our materials.
We try to approach our work in that area with Lab testing in mind, of course, but coming from an artist perspective. We use the space to supply the Lab with real life examples of the ways in which artists are probably going to be experiencing the product. What better way to either question the results from the Lab or reinforce that information from the Lab?
Mark: Mike, can you talk about the new project you're working on with Ulysses, producing Tech videos for our YouTube® page?
Mike: Let's face it, artists are very visual. It's been wonderful to help an artist understand something in two minutes which would normally take us about seven pages of text.
It's really been a lot of fun, and we all realize that the goal isn't to make a polished Hollywood production. We're trying to convey information quickly and clearly. The feedback from artists has been really positive, which makes it so rewarding. We also have some of our stores and vendors starting to embed these videos into their own documents and literature. We've got blogs that are referencing them already, too.
Mark: You haven't stopped painting even though you've had a bunch of roles here. How has being part of this company, being a part of the Tech Support for the entire company, changed or influenced your painting?
Mike: It has definitely influenced it. I came out of the studio arts printmaking, oil painting and sculpture mentality. Coming to GOLDEN and working with a professional acrylic paint was an eye opener for me. Working here and discovering materials and working in the Lab and literally being the first artist ever to use certain materials – even before the person that ordered the custom product – has been exciting and inspirational!
To be able to test and experiment with materials has been a lot of fun. I've been here almost 20 years. It's been 20 years of education, knowledge and discovery that never would have been available to me and that's part of the excitement. The most difficult part over the last 20 years, especially after becoming a father, has been being able to take all the knowledge that I have gained at GOLDEN and applying it to my own work, finding the time to get back to painting and creating.
Mark: Thank you for your time Michael. We are all so proud of what you've been able to accomplish for all our benefit – being the pioneer in Tech Support and I thank you for helping to make this service such a cornerstone of the company.