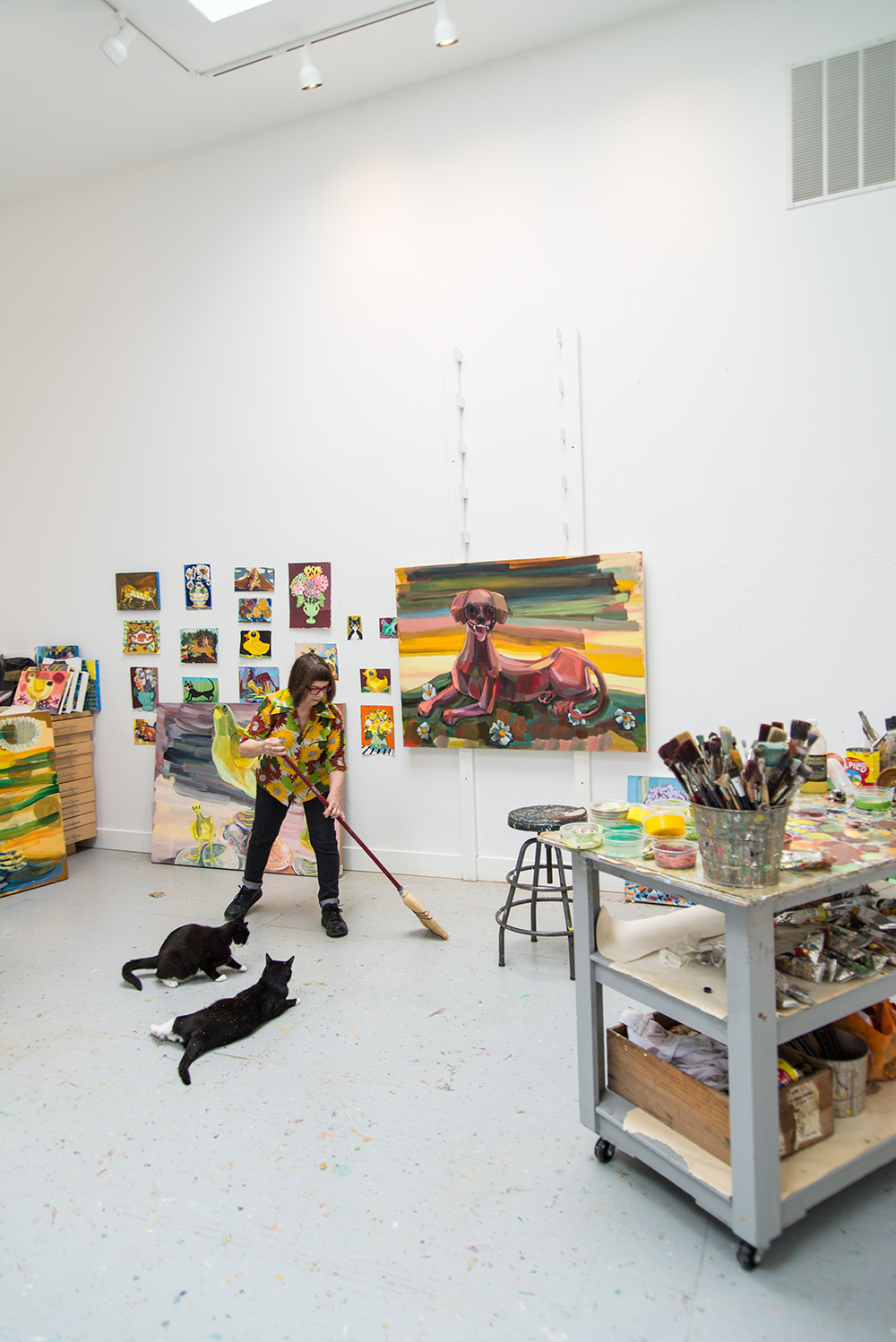 September 19 – December 11, Sam & Adele Golden Gallery, New Berlin, NY
Judith Linhares explores several themes in her paintings. She is most widely recognized for her figural works. Human figures, often naked, whose limbs are vibrantly painted with ribbons of warm and cool colors, are found cooking eggs in a pan or roasting marshmallows around a campfire or stretched out in languorous repose gazing at the night sky.
In addition to the figures, Linhares paints flowers and animals. Our exhibition at the SAGG entitled 'Flora and Fauna' features her flower and animal paintings. By rights, to exhibit her work to its fullest would require the inclusion of her figural paintings. Linhares kindly has allowed us to shape 'Flora and Fauna', devoid of the figure, for our own celebratory reasons.
Although visitors to the SAGG in New Berlin, NY, will find a gallery space with a polished concrete floor the envy of any Chelsea gallery, walls like any gallery in London, and lighting like a Berlin Kunsthalle, the same visitors would also notice the idyllic and verdant surroundings outside of our Central New York state locale. Wildlife and vegetation abound. The force of life is in constant evidence. These inspirations granted by the natural environment and its expressive potentials run deep in 'Flora and Fauna'.
As to the themes of Linhares' paintings, she has a long interest in mythology, fairy tales, the writings of Carl Jung and Claude Lévi-Strauss and the notion within folk tales of the '…pacts and bargains made with animals or insects…'. (1) 'I'm using animals to carry the narrative and that's what happens in fairy tales and mythology and in various religions.' (2) '…one of the things I like about fairy tales is that they're like mythology only the circumstances are really domestic. You know, the porridge is always boiling over and so forth…'. (3)
A unifying factor in Linhares' thematic interests is her sense of origin, '…I feel like a real Californian and I feel like I am the inheritor of this kind of mythology about one's relationship to nature…'. (4)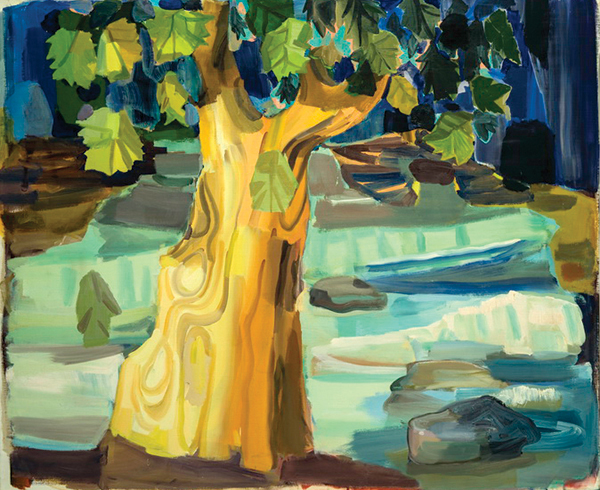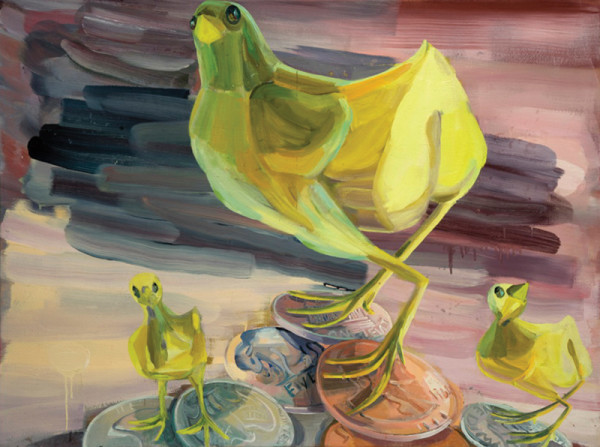 This Californian made her way from Los Angeles to art school in San Francisco during the Sixties in the midst of much of the countercultural ferment of that era. Her associations and influences spanned the milieu around R. Crumb and to painters David Park and Richard Diebenkorn from whose paintings Linhares absorbed notions of color. In 1978 she was a participant in the 'Bad Painting' show curated by Marcia Tucker at the New Museum in NYC. Visiting the show she understood that she could be an artist in New York and moved there in 1980.
The animals in her works, often spread end to end within the confines of the painted rectangle, can inspire a vague unease, a possible sinister intent. As a child walking home from kindergarten, Linhares was startled by a monkey that suddenly jumped out of the bushes. She didn't know what it was, another child? 'I really take great care to remember certain experiences throughout my life. These moments – I call them moments of sudden knowledge…sort of numinous moments…'. (5)
Linhares takes satisfaction in the 'oppositional stance' of painting flowers in a postmodern world. '…I usually have a flower painting going at all times and I work on multiple paintings at the same time so it gives me a chance to 'not' tell a story, basically. The process works well for me because what has happened is that I really don't like to use external sources to draw from – I've kind of memorized the structure of all available flowers, which isn't that difficult. I have flowers around and I find it inspiring to look at them because I can kind of know, and work with, and invent these flowers as I go along. It allows me to be spontaneous and more formal in the process.' (6)
If they exemplify Linhares' own feelings, her flower paintings in turn elicit our feelings, replacing the aroma and fragrance of real flowers with voluptuous paintedness.
In an era when figuration, animal and flower painting have but few sturdy adherents, Linhares follows her inclinations. She clearly relishes creating an individual capture of light within the paintings, its source, its play on the subjects, its coaxing into near shadow. The outside world has come inside and has a life of its own.
On life and art, Linhares muses, 'I think that this was always a challenge for me: life is awfully interesting – it's very hard to turn your back on life and stick to the art. I still find it a challenge. You have to have a lot of determination.'(7)
Endnotes:
(1, 3-7) The Vermont Studio Center, (2014, March 21). "Judith Linhares Artist Talk at The Vermont Studio Center," [YouTube video file]. Retrieved from https://www.youtube.com/watch?v=3iA57eAM8Vw.
(2) Conversation with Judith Linhares, July 2, 2015
For more exhibition information, visit thesagg.org.