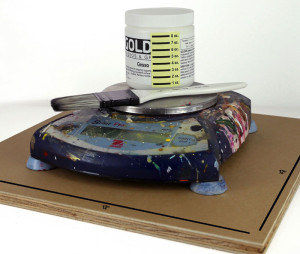 When it is important to know how much paint will be needed to complete a painting, as in the case of a mural or large painting, or simply priming a large surface, there are a few ways to estimate how much your tube, bottle or jar of paint will cover or how much you will need to buy to complete the project. Generally, we estimate paints and mediums to average about 250-400 square feet per gallon if applied thinly in a single coat. This will of course lower if applying thickly or to a very absorbent or textured surface. Described below are some methods of estimating the square footage coverage for a specific product, substrate or application technique using varying tools.
Define a specific area one foot by one foot (one square foot) on a substrate as similar as possible to the one you will be painting, then weigh all your product and tools needed for the application to establish a baseline, then apply material and immediately reweigh all product and tools. Subtract the current weight of product and tools from the initial weight and the difference is what was actually applied to the test area. The density of the painting material will affect the actual coverage rate, but this is a good way of giving an estimate of how much product will be needed for a particular sized space. Always remember to calculate for two or more coats if needed.
If there is no access to a gram scale, it may be possible to measure by marking off the container full of product before and after application. It may be helpful to mark in measurements relevant to the container. For example, if using an eight ounce jar, mark the jar in sections of eight equal parts (approximately one ounce each) when the jar is full. Use the product on the square foot substrate, then try to get the rest of the product on the tools back into the jar and note how much is missing. This method may not be as accurate, but it may be more practical for the home studio.
It is also important to note that each subsequent layer of product applied will most likely have different square footage coverage. This occurs because the absorbency of each layer will change. An example of this is in the application of a first coat of Gesso on raw canvas vs. a second coat of Gesso. The first coat is going to absorb into the canvas and will take a lot more product than the second coat, where the absorbency is lessened. In our testing, it took approximately 2/3 of a fluid ounce of Gesso to cover one square foot of raw #10 cotton duck canvas for the first coat, which is approximately 200 square feet per gallon. It took a little less than half that amount for the second coat, which is approximately 425 square feet per gallon. This information would be important when calculating how much product would be needed for multiple coats.
Some articles on our website that may be helpful include:
Preparing A Painting Support http://www.goldenpaints.com/technicalinfo/technicalinfo_prepsupp
Guide To Film Thickness http://www.goldenpaints.com/technicalinfo/technicalinfo_filmthickness

Stacy Brock, Supervisor of Materials & Applications Department, Painter, Ceramicist, Musician. stacybrock.com
Subscribe