High Flow Acrylic Applications: Airbrush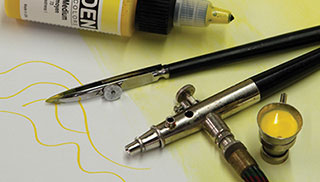 The new GOLDEN High Flow Acrylics are an amazingly versatile paint! As one of the folks here in my earlier Research and Development days at GOLDEN, I spent countless hours conducting application testing of the Airbrush Colors, so I have to admit that the idea of a new paint line that was also going to replace my precious Airbrush line made me a little uneasy at first. Would this new paint live up to the expectations of our dearly departed Airbrush Colors? Thankfully they have, but it was clear to us all that a good amount of testing would be necessary in order to assure us they hit the mark!
Testing for the sprayability of paints doesn't come with a blueprint. Ready to spray acrylic paints cannot dry inside the airbrush and clog the tip, yet they need to dry as quickly as possible once sprayed in order to keep pace with the painting process. We created a series of repeatable tests covering a gamut of spraying benchmarks to learn which formula proved to be the best overall.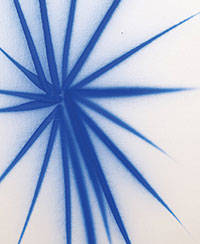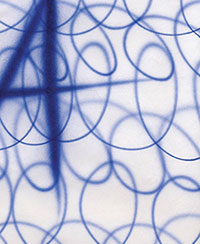 We expect that any ready to spray paint will have the ability to achieve good atomization and a smooth durable layer. Uniform color gradation allows for soft blending and is important, but the pivotal test separating "good" airbrush paint from "GREAT" airbrush paint is the continuous fine line test – a.k.a. the 'loop de loop test'. The paint is sprayed at a specific air pressure (40 psi) using an airbrush with a .25 mm nozzle, and then you spray as long of a fine line as possible without skipping or stopping. This is a very demanding test for the material. If a trial batch has what it takes, it then moves onto the next brutal test, the Dagger Stroke Test. This stroke is a mainstay technique for freehand airbrushing. It is essential for creating lettering, animal hair, and a host of other everyday needs. What makes this stroke so demanding for the paint is a constant stop/start throttling of the paint. The trigger is toggled open and closed in an instant, increasing the likelihood of paint drying in the nozzle and on the needle. Clogging during this technique is the kiss of death for any paint. You simply cannot paint with continual skipping happening.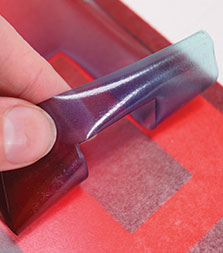 All of the most critical colors in the High Flow line performed remarkably well during this testing. As expected, some of the unique colors like the Iridescents, Fluorescents and certain mineral pigments with much larger pigment sizes simply required the larger .5 mm orifice to improve their performance.
Another area of airbrush testing involved the use of masking tapes, frisket (masking films created for airbrush illustration purposes) and other adhesive materials to alleviate the concern of paint pull-up while working. The High Flow Acrylics are designed to have a tough, fast drying paint surface that is resistant to paint pull-up. We tested a wide variety of masking tapes and frisket to see if there were any issues. During testing we applied a uniform layer of High Flow color onto Crescent® Board, and allowed 5 minutes for drying. Strips of masking were then applied. One set was removed shortly after burnishing. Another set was left on for several hours before removing.
We also looked at the ability of each frisket to adhere to the dried High Flow Acrylic paint layers, using standard frisketing techniques. The concept was to create a simple outline of shapes, apply frisket, and spray three areas with color, replacing the mask as needed for the design to see which frisket performed best with the paints.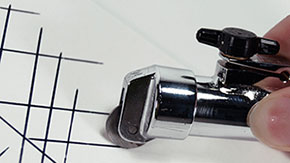 Beyond just the use of the High Flow Acrylics in a typical airbrush I also investigated using the colors in a Beugler Striper. This device has been around for decades, mostly known to sign-painters and the custom automotive crowd. To create an ideal paint for this tool I found it best to blend the Fluid Acrylics with the High Flow Acrylics. While a few mixtures will require some amount of fine tuning, a 3:1 Fluid Acrylic to High Flow Acrylic mixture tends to be an excellent starting point. You can likewise use the High Flow Acrylics to thin any of our paint lines since they all work together as part of our Acrylic System. The value of this approach is that an artist can create any viscosity of paint, from practically as thin as water to as thick as our Heavy Body paint and not lose color strength.
High Flow Acrylic Applications: Textiles
As with the GOLDEN Airbrush Colors, these new High Flow Acrylics can be used for textile work intended to be laundered, but will require the addition of GAC 900 – our heat-set fabric medium. This is a critical addition as the High Flow Acrylics will have a lot of color wash out during laundering otherwise. The addition of GAC 900 is an easy 1:1 mix with High Flow. The addition of GAC 900 also helps to thin the paints and add some additional retarders to improve penetration into the fabric.
When doing highly detailed fabric work, it is very helpful to apply a base layer of GAC 900 and heat-press it down afterwards. By doing so, you create a smooth painting surface compared to the relatively bumpy fabric pile. In many instances, airbrushing is used to produce soft color gradations as when doing portraiture. These paint layers are often incomplete and even with a layer of GAC 900 applied as a base, the color can still be prone to lifting. A topcoat application of GAC 900, followed by another heat-pressing should result in a smooth surface and soft hand that launders well.
High Flow Acrylic Applications: Marbleizing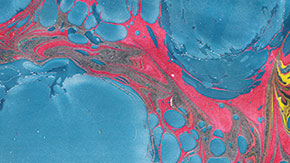 Paper and fabric marbleizing is another use for a thin paint such as High Flow Acrylics, but as with any paint used for this painting technique, one should always expect to modify the paints in order to achieve quality results. Marbling is easy to learn but difficult to master. There are so many variables that impact the process, some of which are not easily controllable. Sometimes a color that worked terrific for you yesterday simply does not want to cooperate today. Maybe the colors used next to it are different and they are influencing it. Perhaps the marbling bath is getting contaminated with color. Maybe the barometric pressure is completely different due to the changing weather. The point in all of this is to keep good notes and be consistent with your technique and mixing processes.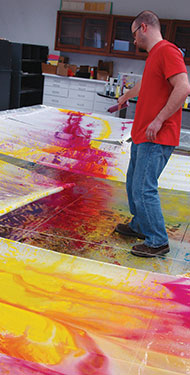 During testing of High Flow colors for marbling techniques, most colors produced wonderful results without tweaking. However, the Iridescent colors were incredibly aggressive and pushed everything else to the edge of the tray. I found that by simply swapping out this High Flow color for its Fluid Acrylic equivalent, I was able to continue working. This is a fairly common practice for many marblers, who use whatever color or paint mixture it takes to get desired results. GOLDEN Acrylics are formulated to be compatible with each other, so mixing and matching, even blending together before marbling is perfectly acceptable.
High Flow Acrylic Applications: Staining
The High Flow Acrylics also work exceptionally well for large fields of color right from the bottle. They flow readily across a surface and are easy to push around with watercolor brushes on raw or primed canvas, watercolor papers and other painting supports. While they can be diluted with water or modified with Airbrush Transparent Extender or other fluid acrylic mediums, if left alone they will produce intense color. High Flow Acrylics work over wet surfaces with expected staining and bleeding. They produce incredibly fascinating wet into wet effects due to their inherent differences in pigment particle size and densities. Just as with other staining techniques, it is important to understand the absorbency of your substrate. On unprimed canvas, for example, the sizing used to weave the canvas may prevent the immediate penetration of the stain, so either pre-wetting the canvas to create a broader stain or adding a small amount of Acrylic Flow Release to the High Flow Acrylics may be necessary to create a more controlled penetration in the canvas. Ultimately, we expect the High Flow Acrylics to offer artists an entirely new vocabulary of tools to create their art.

Michael has worked at GAC since 1989, starting in Quality Control, progressing to R&D, Custom Lab work, Applications Testing and investigating the properties of the vast array of pigment and binder. Currently a Materials Specialist focusing on consulting with artists worldwide on their artistic endeavors. A painter, writer, and father to 3 boys who remind him daily to enjoy and appreciate life.