Williamsburg Handmade Oils announces the release of five Special Edition colors that continue to expand the range and options for oil painters. As mentioned previously in this edition of Just Paint, Williamsburg is proud to have one of the broadest variations of pigment grinds available in artist oil paints. This allows artists to determine what paint qualities work best for their needs. Additionally, control of grind allows us as paintmakers to honor the unique personalities evident in each pigment. It was our intention with these new Special Edition colors to further develop particular aspects of a few pigments, focusing on inherently small particle sizes, deep masstones and rich undertones.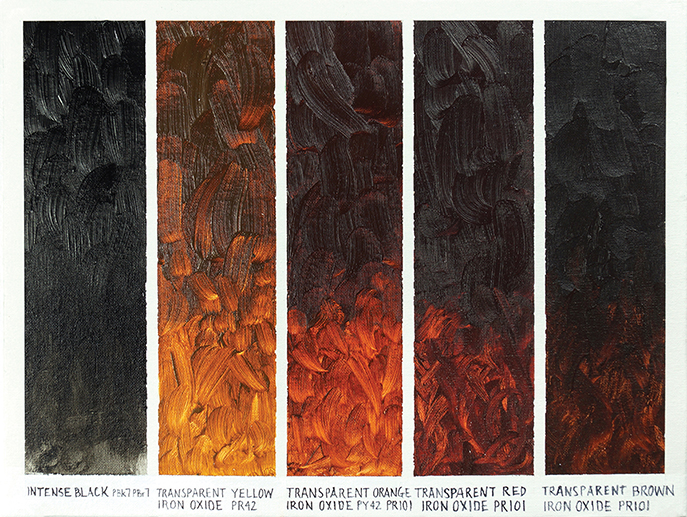 Intense Black*
(6001782 ‐ PBk7, PBr7) is a joy to reintroduce; a very finely ground color which Carl Plansky described as, "the absolute blackest black, like looking into a black hole." Some may remember this color, which has been absent from the Williamsburg line for a number of years. However, with the incorporation of the smallest amount of an earth color to assure consistent drying, we can debut this color anew. Intense Black, being a fine particle size Carbon Black, offers very jet masstones and super strong cool, gray tints.
Transparent Yellow Iron Oxide
(6001920 ‐ PR42) could also have been called Stil De Grain (Fine). With this version, as well as the four other special edition iron oxide colors, we are utilizing the same pigment from the standard Williamsburg product but processing the pigment particles further, bringing the glazing ability of these colors to the forefront. Williamsburg Transparent Yellow Iron Oxide is a color that offers interesting qualities as both a body color, or in smooth translucent glazes. When extended with Medium, Transparent Yellow Iron Oxide contains tones similar to those of light yellow amber. It has a dark yellow brown masstone and the tint is a clean orange, trending toward that of light ochre pigments.
Transparent Orange Iron Oxide
(6001921 ‐ PY42, PR101) is based on Williamsburg Italian Pink with a fine grind. It is created by blending two separate synthetic iron oxide pigments to produce a very deep red-orange masstone with a satin finish. This material offers rich orange-red glazes and slightly yellow biased red tints.
Transparent Red Iron Oxide
(6001922 ‐ PR101) is a finer version of Brown Pink. It presents a masstone that is a very deep reddish brown, with a moderate even gloss. When let down using medium, it offers smooth, red tones reminiscent of stained cherry wood. Transparent Red Iron Oxide, when mixed with white offers a wide range of bright pink flesh tones.
Transparent Brown Iron Oxide
(6001923 ‐ PR101) finds its origins in Williamsburg's Dutch Brown (Transparent). It provides a masstone that is a very deep brown/black with a satin finish. Tints created using Transparent Brown Iron Oxide allow for clean brown tones similar to high chroma umber and when let down using Medium, this color offers rich translucent brown glazes reminiscent of coffee or tanned leather. Although these colors are only currently available as Special Edition colors, we look forward to your feedback. We're delighted to offer what we hope are valuable options to the Williamsburg line.
* Temporarily Unavailable