A foray into printmaking using OPEN Acrylics as the primary printing ink and because the possibilities don't stop there, a few experiments with High Flow Acrylics and QoR© Watercolors as inks. This foray is by no means comprehensive, but rather a journey of possibilities and experimentation.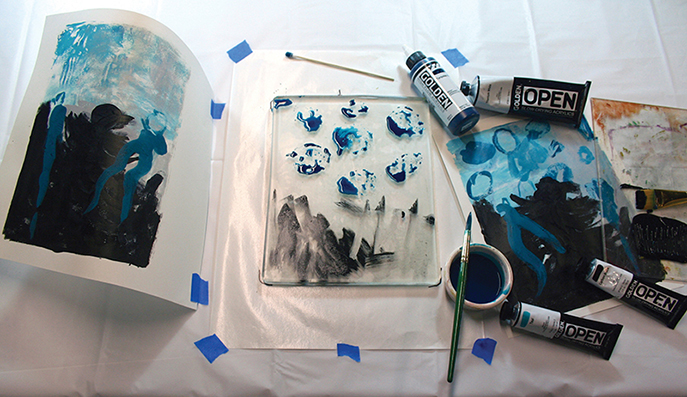 Our adventure begins with OPEN Acrylics as our "ink." OPEN Acrylics are a line of professional artist acrylics with a uniquely slow-drying formulation. The increased working time of these colors expands their range to include more traditional techniques once only possible with oils. While the formulation is water-based, these paints do not act like any acrylic you may have tried before. Unlike standard acrylics, OPEN Acrylics have the ability to keep moving; they won't quickly lock up or drag. Best in thin applications, OPEN Acrylics are ideal for glazing, shading, wet blending and subtractive techniques. The "stay wet" quality of OPEN makes it a perfect paint for printing techniques; thin layers stay wet longer.
With a longer working time, OPEN Acrylics are a perfect water-based option for printmaking and more comparable to oils in this application. The ease of soap and water cleanup eliminates some of the health and environmental concerns sometimes associated with oil-based inks for printmaking. Available in 80 colors, OPEN Acrylics can be used with either synthetic or natural fiber brushes and provides many more options beyond printing, but since their introduction they have found a unique niche as a Monotype printing ink.
Monotyping is a type of printmaking made by drawing or painting on a smooth, non-absorbent surface. The image created is then transferred onto a sheet of paper by pressing the two together, sometimes with the aid of a printing press. There are a number of non-absorbent matrices used to make monotypes and they certainly can be used with OPEN Acrylics. These include glass and/or plastic supports, but our focus here is mostly on Monotypes using the Gelli™ Plate. The gel printing plate is made of a unique plastic that contains mineral oil. The gel plate will leach a small amount of harmless mineral oil when left sitting on an absorbent surface; the plate is also latex free. To learn more visit www.gelliarts.com.
The monotype process requires that Monotypes can also be created by inking an entire surface and then using brushes or rags to remove ink, creating a subtractive image (i.e. creating lights from a field of opaque color). GOLDEN OPEN Acrylics are ideal for this subtractive process as the paint can stay "wet" for quite some time and is therefore, easily manipulated on the plate surface, Gelli Plate or otherwise.
In the past the inks used were oilbased and in more recent times, came the development of water-based inks. With oil-based inks, the paper may be dry, in which case the image has more contrast, or the paper may be damp, in which case the image has roughly a 10 percent greater range of tones.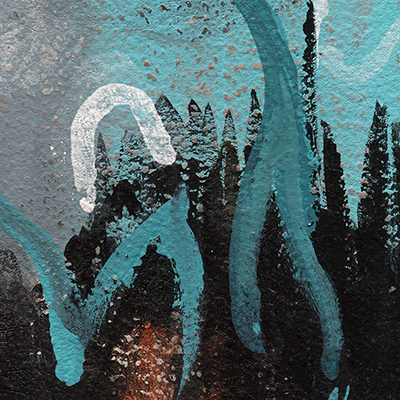 These remain rather true using OPEN Acrylics as well. Dry printing gives the greater contrast. Using an atomizer to dampen the paper before printing with water gives the image a slightly greater range of tones and can vary to a more dreamy quality depending on the amount of water on the surface of the paper. Also for further consideration, try experimenting using OPEN Thinner to dampen the surface of the paper, which has a tendency to "wisp" out the finer lines, giving a certain kind of airy, dreamy quality to the print. While water is a common medium for reducing the viscosity of a standard acrylic paint, water works very aggressively with OPEN paints. Using OPEN Thinner is a better choice when a more fluid viscosity for this painterly approach is desired.
Mentioned before, Monotyping produces a unique print, a "monotype", because most of the ink is removed during the initial pressing. Although subsequent reprints are sometimes possible, they differ greatly from the first print and are generally considered inferior. A second print from the original plate is called a "ghost print" or "cognate". Stencils, watercolors, brushes, and other tools are often used to embellish a monotype. Monotypes are often spontaneously executed and with no preliminary sketch.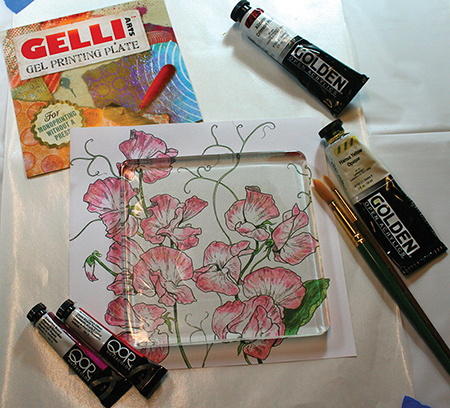 Furthermore, monotypes are the most "painterly" method among printmaking techniques, a unique print that is essentially a printed painting. This is what a Gelli Plate print truly is. The principal characteristic of this medium is found in its spontaneity and its combination of printmaking, painting, and drawing media. One advantage of the Gelli Plate over a traditional copper or zinc plate is the transparency; this allows you to place a reproduction or an original drawing under the plate as a guide. Just remember that you are working in reverse so what's painted on the right side of your plate will appear on the left side of your print/paper. You can correct this by selecting 'mirror image' on some copiers or 'rotate image' in Photoshop®. If you're working abstractly or free form it may not be a concern. Simply use OPEN to paint onto the surface of the Gelli Plate, cover your image with suitable paper and rub with even, moderate pressure to transfer the paint from plate to paper. There are a number of options available to both the painter and printmaker with Gelli Plates. One option is that of collage or faux Chinecollé. Chine-collé is a printmaking technique where lightweight paper is adhered to heavier printmaking paper as it's passed through a press with an inked plate. The result is a print on a collage. With the Gelli Plate this can be achieved by using GOLDEN Soft Gel or Matte Medium to glue your image to the paper first and then printing on the collage image. There is also room for experimentation with GOLDEN High Flow on the Gelli Plate because they remain wet a little longer than traditional Fluids Acrylics. They can be used in conjunction with OPEN Acrylics. All GOLDEN products work together as part of an Acrylic System.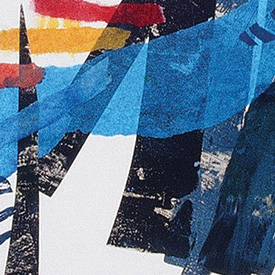 Monoprinting is a form of printmaking that uses a matrix such as a woodblock, litho stone, or copper plate, but produces multiple impressions that are unique. Multiple unique impressions printed from a single matrix are sometimes known as a variable edition (i.e. ten prints pulled from a zinc plate). There are many techniques used in monoprinting, including collographs and handpainted additions, and a form of tracing by which thick ink (OPEN Acrylics) is laid down on a plate or table and rolled out. Paper is then placed on the ink and the back of the paper is drawn on, transferring the ink to the paper. Traditional printmaking techniques such as lithography, woodcut, and intaglio, can be used to make monoprints.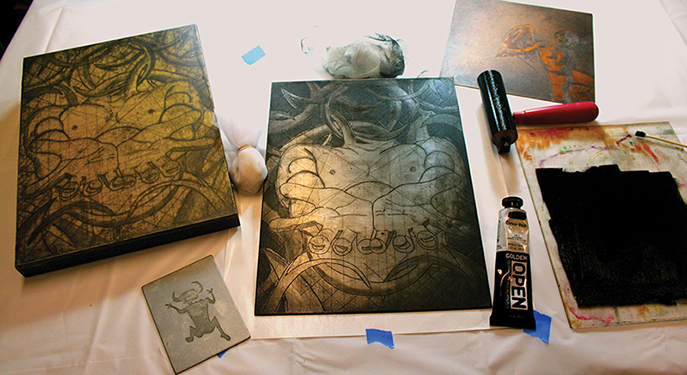 Monoprints can also be made by altering the type, color, and viscosity of the ink used to create different prints. Again, using OPEN Thinner in varying amounts with OPEN Acrylics can change the viscosity of the "inks". In general, you will achieve a more ink-like substance if you permit the OPEN Acrylics to sit out for a full day in the studio before using them. I've found this stiffening process to be beneficial in achieving that desired ink-like consistency, but this is not necessary for Monotyping in the more painterly technique described in the previous paragraph.
Regarding inking the plates ‐ in some sense, not as much OPEN paint needs to be applied as with traditional inks. The old adage, "a little goes a long way," applies here. In terms of wiping down the plates before printing, traditionally this is much like an intaglio wiping process, however you'll need to adapt the wiping technique. Since OPEN Acrylics are water-based, they don't react the same way to wiping as petroleum based inks. The trick to printing here with a Monoprint style plate and OPEN paint is to combine intaglio-wiping methods with a more Monoprint approach. Traditional wiping is done with a tarlatan, a very absorbent cotton cloth, which is slightly too absorbent for OPEN, so it tends to wipe too much OPEN off the plate. Wrapping the tarlatan in a shell of tulle can solve this problem. The tulle is nylon netting and less absorbent than cotton tarlatan. Also the plastic nylon packaging for potatoes and onions works well as a shell, and then placing inside this nylon shell, a sheet of Brawny Dine- A-Cloth®. Try varying combinations to see what works best for you. Using these methods reduces the problem of wiping too much OPEN paint from the plate and this can also be used to your advantage by selectively drawing into the plate using cotton swabs and small daubers constructed from the Brawny Dine-A-Cloth.
As you can see, there is a tremendous amount of experimentation that can take place when creating both Monotypes and Monoprints. There are some water-based printmaking inks on the market today that use Gum Arabic as the base binder. With the introduction of GOLDEN QoR® Modern Watercolor using Aquazol® as a binder, I started to ponder the new potential of QoR as a printing ink. Think of the possibilities of working with OPEN alone on a Gelli Plate or in combination with QoR in any number of combinations of Monotype or Monoprint techniques. The possibilities for your journey into printmaking with GOLDEN's contemporary materials are endless ‐ take the first step and twist off a cap to begin your adventure!