The Development of a New Medium for Artists
By Bernadette Ward, Co-founder PanPastel Colors & Sofft Tools
We launched PanPastel Colors & Sofft Tools in August 2007, following five years of research and development. The following is a short history of the development of this new medium.
The idea behind the development of PanPastel was to create a dry color medium that would respond like a fluid paint. Creating a new space between drawing and painting materials.
My co-founder Ladd Forsline and I have both worked in the art materials industry since the late 80's. Ladd is a studio artist and inventor, and I have spent my career in Marketing – developing products, brands and markets. We began looking at materials that had been neglected in terms of development. We saw that the pastel medium hadn't changed from the stick format for hundreds of years; and before that, going back thousands of years, humans have used raw pigments to draw and paint.
We wanted to develop a material that would retain the characteristics that make the pastel medium special – it's directness and purity of color – but to make it function like a paint. We decided to change the way that pastel color is "delivered" to the artist. After much experimentation in our studio and laboratory the pan format was developed.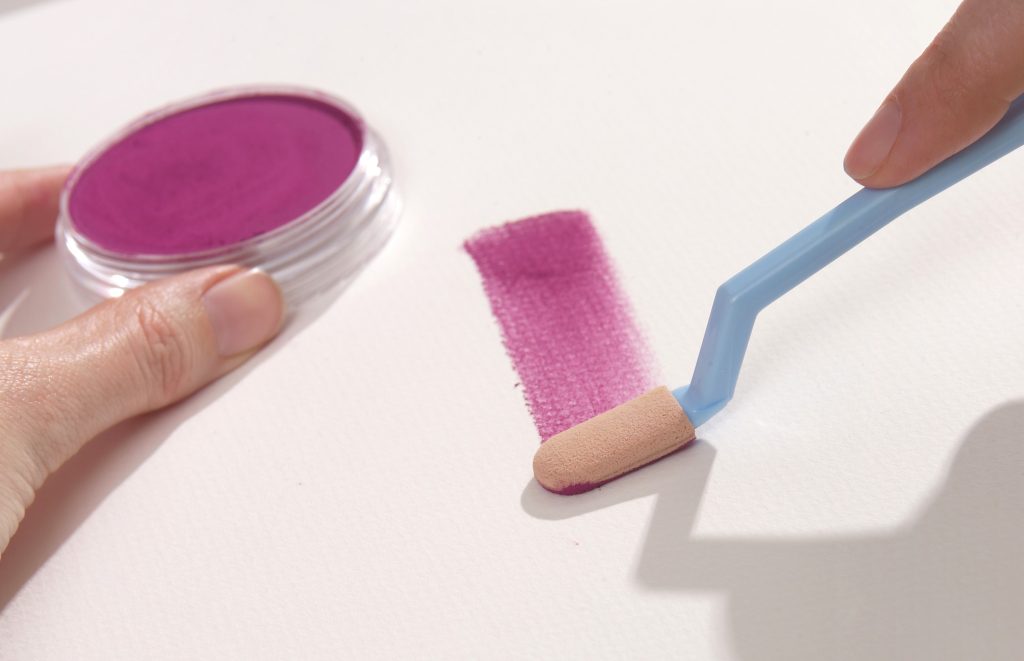 The pan format changes everything. Making the colors function like a dry velvety (fluid-like) paint. This brings the artist many benefits, for example the ability to mix pastel color – a dry medium – like paint for the first time. Because the colors are dry, they are instant, which means that there is no drying or preparation time, with the additional benefit that there is no shift in color. The color applied is the final color.
PanPastel can be used on most art surfaces. The surface choice influences the intensity and transparency achieved. They are low dust and erasable with any eraser, making them very forgiving and also great for subtractive techniques.
As the colors are mixable, we decided the color range should be closer to a traditional painter's palette. But we also wanted to include a tint, shade and extra dark for each of the pure colors (mass tones), as found in traditional pastel stick ranges – offering the best of both worlds.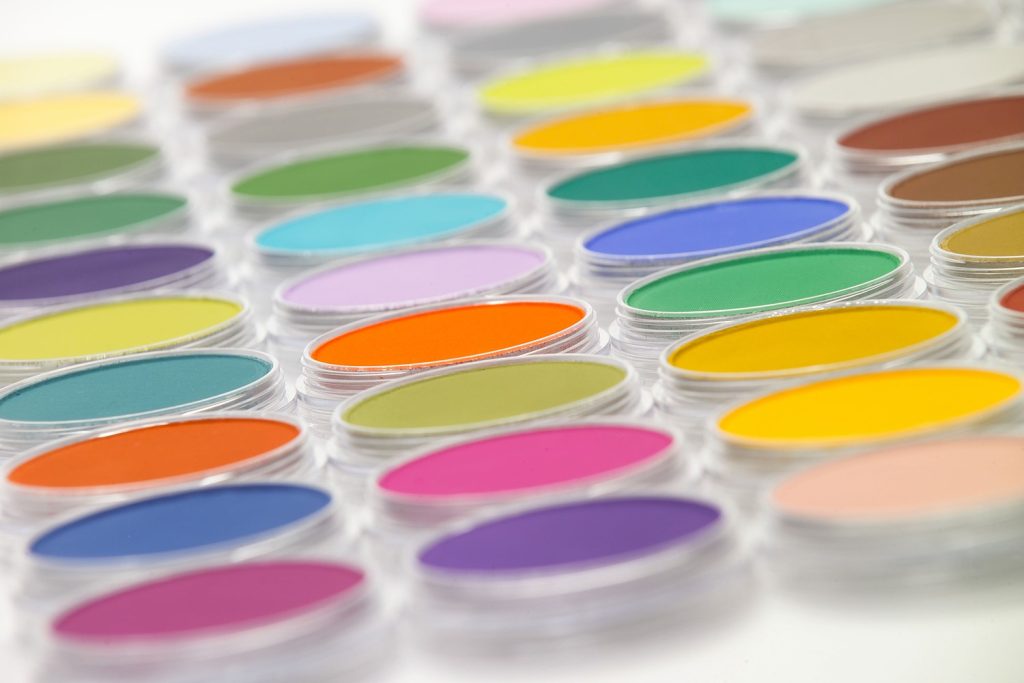 Each formulation is pigment driven, retaining the characteristics of each pigment. Our objective for each formulation was to make very highly pigmented, concentrated, professional grade color that was super soft and truly paintable. We made and tested hundreds of formulations! The colors, once finalized, were then independently tested for lightfastness.
When we began formulating each color, we set our standards high from the beginning. We knew we were breaking new ground, and we wanted the quality of the colors and applicators to be the best possible, so that artists trying PanPastel for the first time enjoyed the experience fully and could really focus on exploiting this new medium for their own creative purposes.
As we were formulating PanPastel Colors we began developing the Sofft Tools for applying the colors. We wanted to develop a sponge material durable enough to stand up to arduous and continuous use in the studio on a multitude of surfaces, yet soft enough to lift color from the pans and hold it without generating, or dropping, excess dust. A delicate balance that resulted in the unique "micropore" sponge that is used for all Sofft Tools.
We transferred this material to all of the Sofft Tool shapes and sizes, most of which are based on artist's brush shapes, created for the marks artists will want to make, from smaller painterly marks to large blocks of color for underpaintings.
When we launched the range in 2007 we knew that pastelists would immediately be attracted to PanPastel as the colors offer many advantages for pastel painting. However, a major goal for us was to offer painters, typically using wet mediums (oils, acrylics, etc), a dry medium that would deliver many of the same paintable qualities that they are familiar with offering new creative possibilities.
Our role was to develop the materials and make them available, knowing that artists would instinctively know how to use them in their work. Sixteen years later artists in 55 countries are using PanPastel in countless ways. Either using the colors on their own or in conjunction with a variety of surfaces and other media such as watercolors, acrylics, pastel sticks, colored pencils, cold wax and encaustics to name a few.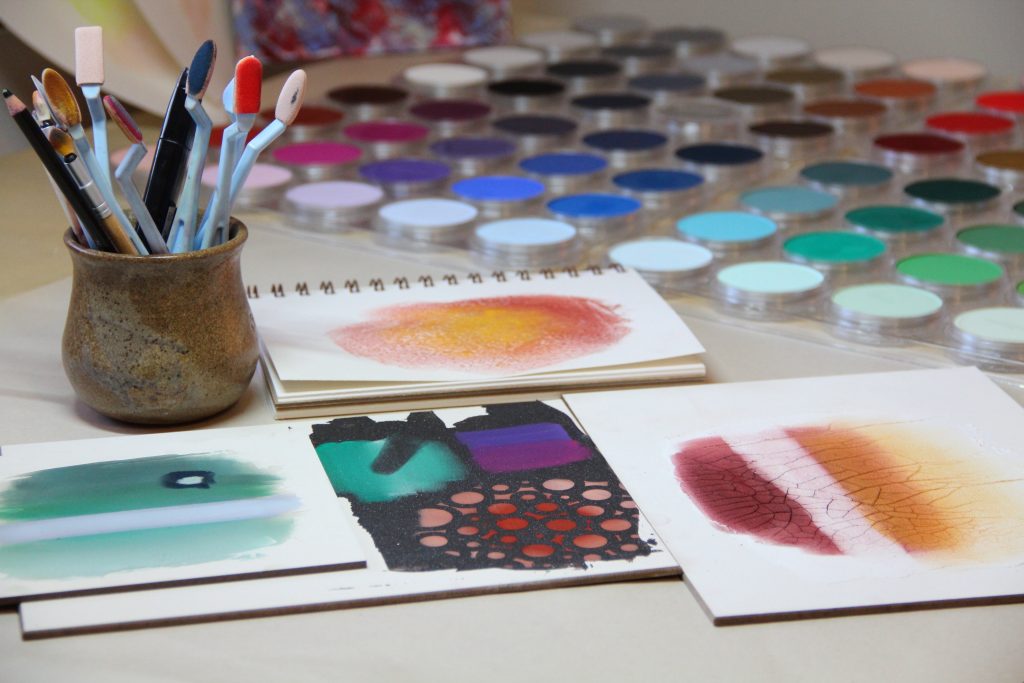 While PanPastel Colors are used for traditional painting and drawing techniques, their versatility means they are also being used for multitude mixed media techniques.
From the beginning our intention has never been to replace pastel sticks, or any other medium, we simply wanted to offer new ways to stretch the creative possibilities with a dry medium and to create a new space between drawing and painting materials. With PanPastel, we know from seeing how artists are bringing the colors to life through their work, that we have achieved this.
We are now excited about the next chapter in the PanPastel story, following the acquisition of the PanPastel and Sofft brands, on November 1st, 2022, by Golden Artist Colors; a company we have always admired and respected.
This change brings new opportunities for the products – as the technical expertise at GOLDEN is second to none, and so is their deep commitment to offering the best possible colors to artists. We have seen this first-hand as we have worked side by side with the GOLDEN team for the past three months, living and working in New Berlin, NY; to help ensure that the move from our factory to the GOLDEN manufacturing facility is seamless.
We strongly believe that the new ownership will ensure that the PanPastel and Sofft ranges will expand and grow to their full potential, and beyond – creating many more exciting new creative opportunities for artists in the way that the products can be used.
We are confident that PanPastel will be in good hands with GOLDEN!
Visit the PanPastel website to learn more about the range of colors as well as for inspiration for your art practice!