Glare and reflections are the typical challenge when photographing paintings with a glossy finish. We can do our best by photographing in indirect sunlight, which provides the best lighting, and eliminate shadows and "hot spots" as best we can, and still find that the light distorted the representation of our original artwork. Getting reliable and good shots of artwork with a matte finish is much easier compared to a glossy one. SoFlat has such a uniform matte sheen across the product line, that it translates exceptionally well from the physical painting to the digital image.
Gloss Measurements – how matte exactly are the SoFlat Matte colors?
The human eye is much better at noticing differences in the low-gloss ranges than the high gloss ones. Therefore, controlling the gloss of our SoFlat paints is important, since artists could quickly notice if one color has a different sheen than the rest. We use a professional and standardized method for measuring the surface gloss of our paints, with a so-called gloss meter, also known as a reflectometer or glossometer. The gloss meter shines a known amount of light at a flat surface and quantifies the amount of light that is reflected back. A surface which reflects all the light at the same angle (so-called specular reflection) will have a high meter value and thus, a glossy surface. If light is reflected in all possible directions, we speak of diffuse reflection and that makes for lower values and a matte surface.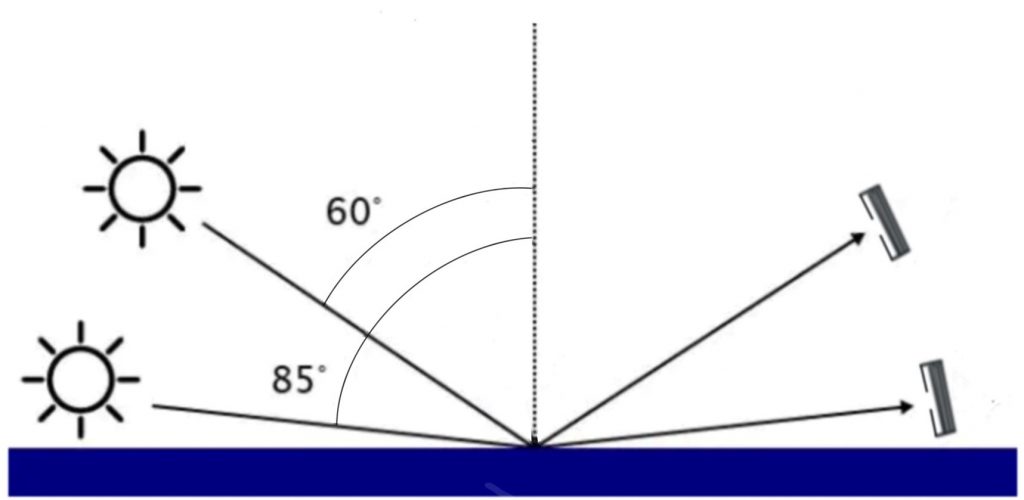 There are three internationally standardized angles at which the light can be pointed at the surface that is to be measured for gloss: 20°, 60° and 85°. Depending on the glossiness of a surface, one of these three geometries is best suited for getting the most accurate testing results. The 85 degree gloss meter is more sensitive to differences on low-gloss surfaces and the 60 degree gloss meter works best for everything in the middle.
The gloss units (GU) for most non-metallic materials fall within a range between 100 for high gloss to 0 for perfectly matte surfaces. A trained observer can just notice a gloss difference of 5 GU, presuming it was measured with the correct geometry. SoFlat gloss readings fall between 0.4 and 3 – compared to a range of 13-100 for our Fluid Acrylics and 8-99 for our Heavy Body Acrylics, all measured at 60° geometry. Therefore, the SoFlat paint line should appear perfectly equal in matteness across the color lines to us, whereas gloss differences in the Fluid and Heavy Body lines are easily discernable.
Table of gloss readings for all SoFlat Matte colors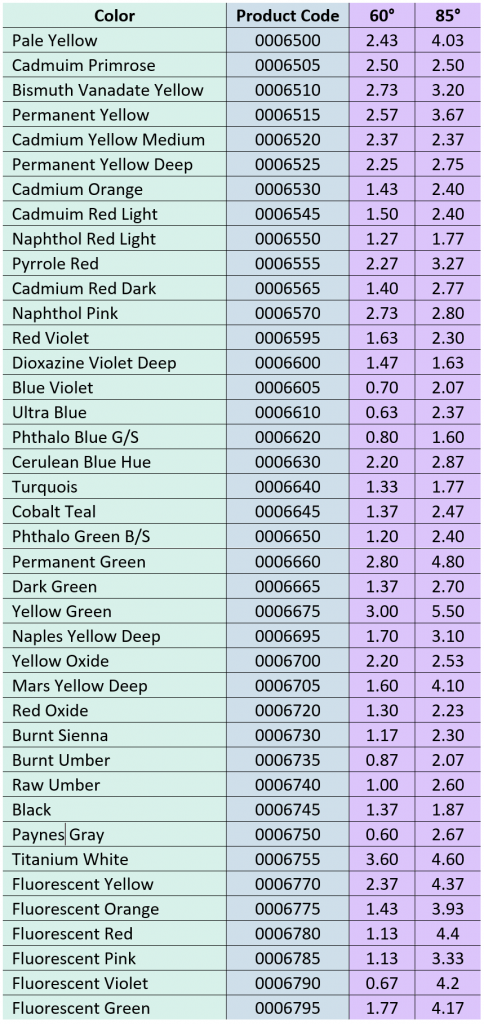 Photographing SoFlat Matte
In order to demonstrate how photogenic SoFlat Matte Colors are, we prepared sample boards of both SoFlat Matte (left) and Heavy Body and Fluid Acrylics (right). We photographed the panels once in daylight on an overcast day and once with two photo lights with and without camera flash lights. For our photographs we used a SLR- camera and the camera of an Iphone 7. None of the images were edited.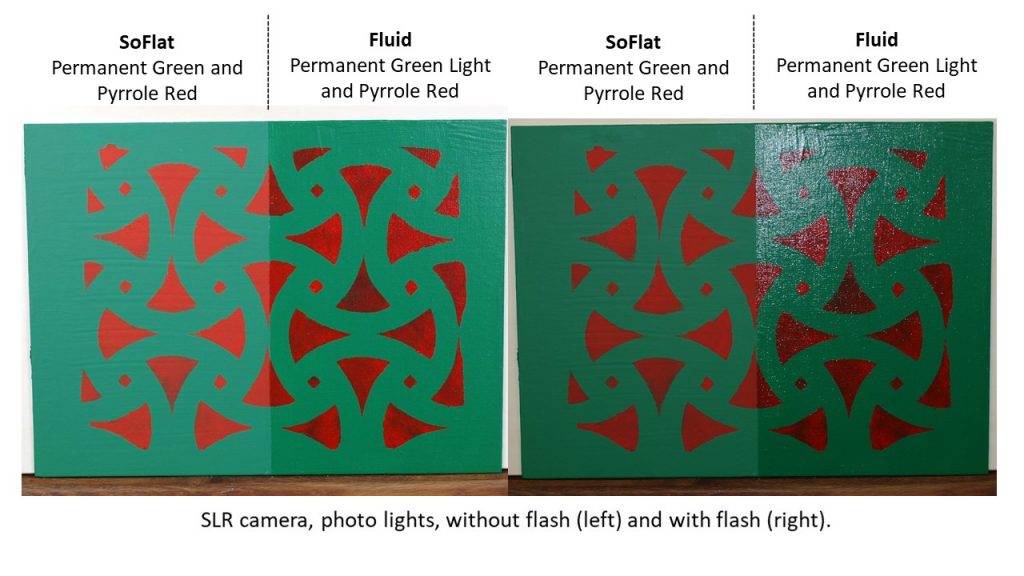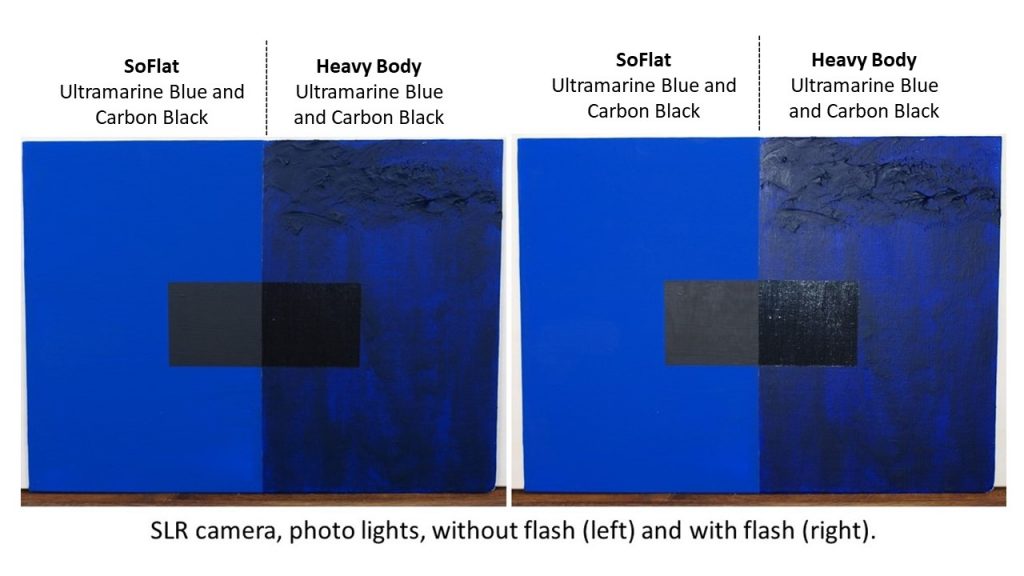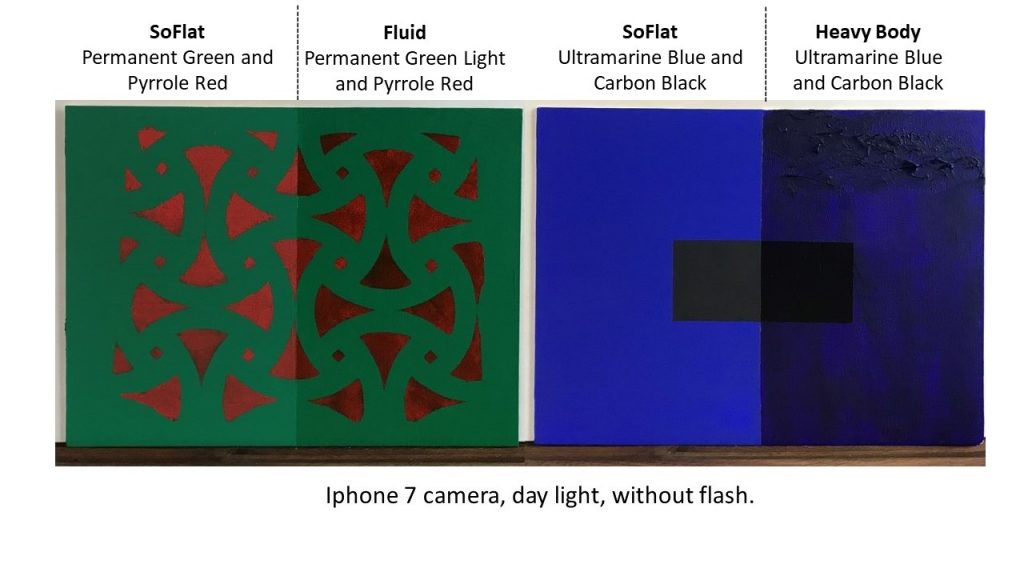 The difference between the glossy acrylics and the SoFlat Matte became most apparent when using a flash light. What is also striking is how much lighter the SoFlat Matte Colors are in value. When light hits the SoFlat Matte surface, the reflected light is scattered into all directions by the exposed pigment and matting solid particles, which causes the surface to appear lighter.
Conclusion
Because SoFlat paints are so much more matte than nearly anything in Heavy Body, Fluid, OPEN or High Flow colors, there are some new possibilities and distinct advantages. Paintings using SoFlat with other lines of our paints can play with the contrasts that matte and gloss surfaces provide in a single work, making possible a wider range of expression. On the other hand, paintings done solely with SoFlat will be easier to photograph in a consistent and even manner, making them ultimately easier to incorporate into digital media; a direction no one will deny the arts, and everything else, are headed towards. So, just snap the shot and you are ready to go!