Please Note: What follows is an update to long-term testing that we first wrote about in 2018. The original articles provide important background and context for understanding the current results, and can be found here: Zinc Oxide – Reviewing the Research, Zinc Oxide – Warnings Cautions and Best Practices, and FAQs Concerning Zinc Oxide (PW 4) in Oil Paints
The cracks were sharp-edged and clean, happening while you carefully bent the paint film across the metal rod, then slowing down once you felt the slightest resistance, until suddenly it would simply snap in two, like a potato chip. You recorded the results, then reached for the next sample, sensing how this one was much more flexible, almost rubbery. It was just a matter of ratios, really, the two samples differing solely by a few percentage points of zinc oxide. It seemed so negligible on paper, and yet the results spoke to an undeniable and clear difference between them. And it is precisely the invisible dividing line between that difference, which we are still trying to locate.
When we wrote about the issues surrounding zinc in 2018, the most important unanswered question was whether there was any level of zinc that was safe. As we noted then, there was little if any information anywhere that was based on studies of artist's paints. That is a gap we hope to fill, and what follows is a first look at a new round of test samples after two and a half years of natural aging. None of the results will be definitive – at this point it is still too early in the process – but so far Titanium White with 2% zinc appears to be flexible, while 5% is already showing signs of brittleness. Mixtures of Lead White with zinc, on the other hand, have raised concerns even at the 2% level. And then, of course, there are the differences in how they yellow. Below we will unpack all this in more detail, and discuss the testing that supported our results.
Brittleness
Over the last 20 years the main concern with zinc, and zinc blends, has been their tendency to form very brittle films, even in a relatively short time. For artists this raised the questions of how much, how quickly, and was there a safe percentage one could use in a mixture? Especially with reference to Titanium White, where additions of zinc greatly increase its whiteness and help counteract its tendency to form weak, soft films and stringy paint. While film hardness and stringiness can be addressed through other additives, the synergy between titanium and zinc that allows it to create particularly white, less yellowing films, has proven hard to match.
To test brittleness we created Lead and Titanium White paints with various amounts of zinc, from a minuscule .1% to a maximum of 5% by weight. Based on prior testing, we felt that was the upper limit that might be used before causing substantial embrittlement. The paints in the following tests were made using only pigment and alkali refined linseed oil, with only the percentage of zinc vs titanium or lead changing from sample to sample. This way we could limit the variables and make sure the results were solely caused by the differing ratios of the pigments. We then cast 6 mil drawdowns, which are uniform films of paint about the thickness of two sheets of copy paper, on top of GOLDEN Acrylic Gesso, Titanium Oil Ground, and Lead Oil Ground that had been applied to polyester film. For the last two and a half years, starting in May 2019, they have been naturally aged indoors in ambient lit conditions.
Testing was carried out using a Gardco® Pentagon Mandrel Test Apparatus, where a paint film would be bent over various diameters and then examined for cracking after each one and recording the results (Image 1). Anything showing cracks at the largest diameter of 1″ was considered failing, while anything above 1/2″ and below 1″ was considered a cautionary sign for possible increases in brittleness in the short term.
Below are the results, where you can see that only one combination failed at 1″, while a few others had warnings at the 1/2″ or 3/4″ diameters (Table 1). However, there are other important things to note. The main concerns were limited to paints having higher zinc percentages, particularly at the 5% level, which is where we predicted problems might start to appear. The two lead-zinc combinations, on the other hand, show concerns at both the 2 and 5% levels, and while not failing, it is a strong indicator of increased brittleness compared to other samples. This is important because, as mentioned in our earlier article on Zinc Oxide – Reviewing the Research, the technical literature points to combinations of lead and zinc as being particularly more brittle than others. And indeed, we had shown that our Silver White, which was a combination of lead and zinc and has since been discontinued, was among the most fragile paints that we tested. So this seems to bear that out, even at levels much lower than the Silver White had at the time. It is also interesting that the one outright failure involved a 5% titanium-zinc blend on top of a lead ground, suggesting a possible interaction between the two. Certainly something to look for in later rounds.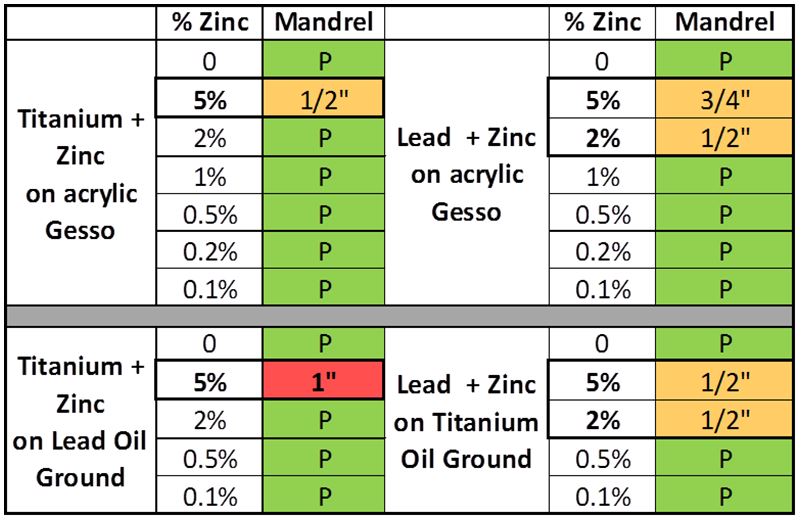 Does any of this raise concerns about our current Williamsburg Titanium-Zinc White, which also has a 2% level of zinc? Not so far. All the titanium-zinc blends below 5% have performed well, and as mentioned, we no longer make any Lead Whites that contain Zinc and would generally recommend that artists avoid that combination. Also, given the results, we might suggest some caution around using zinc-bearing colors on top of lead grounds, just to err on the side of safety until we understand that better. But so far, even there, nothing below 5% has had issues.
To give a visual sense of the brittleness we saw, the image below shows the cracks that happened with the 5% titanium-zinc blends on top of GOLDEN Acrylic Gesso and Lead Oil Ground (Image 2).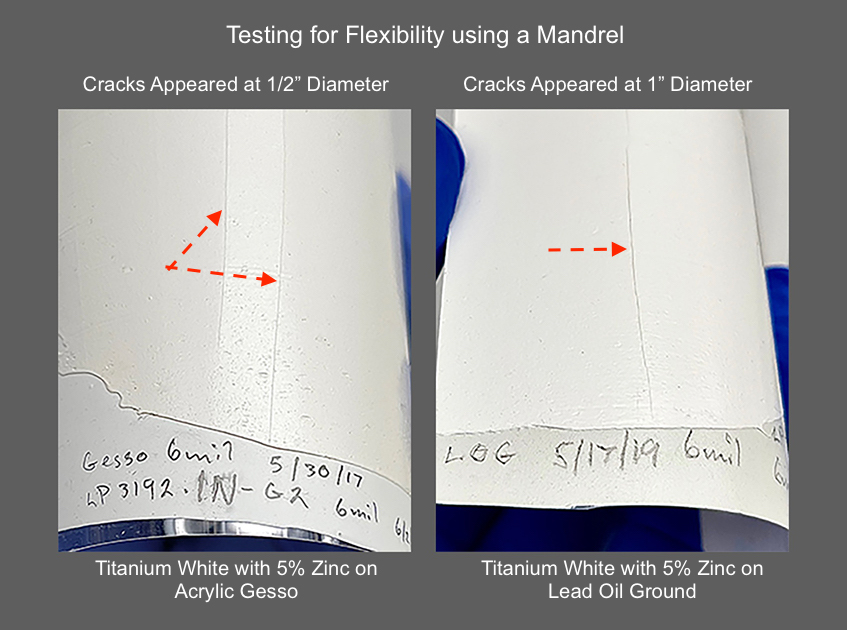 Compare that to the leathery crackle-like pattern you find in this safflower-based Titanium White with 5% zinc (Image 3). Here the softer, less reactive nature of the binder counteracts some of the brittleness we saw above. As a result, the paint has remained just rubbery and pliant enough that instead of a sharp single crack, one gets a whole array of short ragged ones covering a wide strip across the surface. It evokes the worn surface found on old leather belts.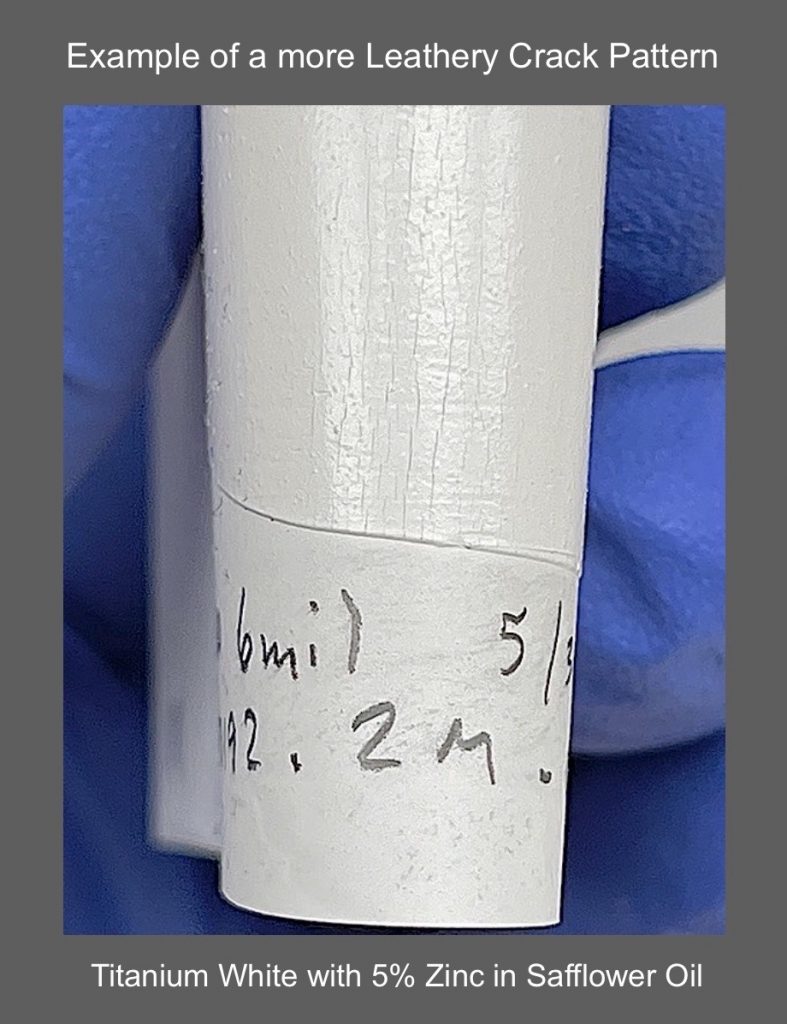 It can be tempting to discount all these types of cracks as being the result of extreme testing, in this case, bending a paint film over fairly small diameters – certainly smaller than anyone would expect in the normal course of things. However, the point in this type of testing is not to recreate some action an artist might do, but to put paint under a controlled amount of stress so we can get a very early glimpse into a process of embrittlement that can often take decades to fully unfold. In the worst cases, that type of process can lead to severe surface cracking and delamination, simply from the normal stress and strains of environmental changes or the act of handling and shipping. So these tests serve as the early warning signs of something still off in the distance, but catching our attention and making us watchful. And of course, just as importantly, are all the other samples that passed with lower percentages of zinc, many being folded nearly in half over a 1/8″ metal edge with still no issues. So clearly the higher level of zinc is causing this brittleness, even at this early stage. The remaining question is simply whether some percentages will prove safer than others. As time moves on and these samples age, we will be able to see whether these lower percentages start to grow more brittle or remain stable.
Zinc and Yellowing
The issues with zinc overlap those of yellowing since Titanium-Zinc White is almost always much whiter than Titanium alone, which feels like an obvious improvement. But is there a minimum amount that provides enough of that benefit without requiring the higher percentages that appear linked to embrittlement? Is the trade-off worth it?
We ran multiple ladder studies adding tiny amounts of zinc to both lead and titanium, starting from a minuscule .1%, then increasing in small steps to a maximum of 5%, the upper limit we had set for the tests on flexibility. These mixtures were also composed solely of pigment and alkaline refined linseed oil, as a way to limit the variables and isolate the impact of zinc. That said, a more fully formulated Titanium-Zinc would have performed better and more evenly.
The following two canvas panels will give you a quick sense of how zinc impacts yellowing, particularly with titanium (Image 4). Here the 2 and 5% blends stand out sharply from the rest of the series, and while the 5% level produced the whitest result in the thicker areas, in the thinner sections the 2 and 5% paints seemed nearly identical.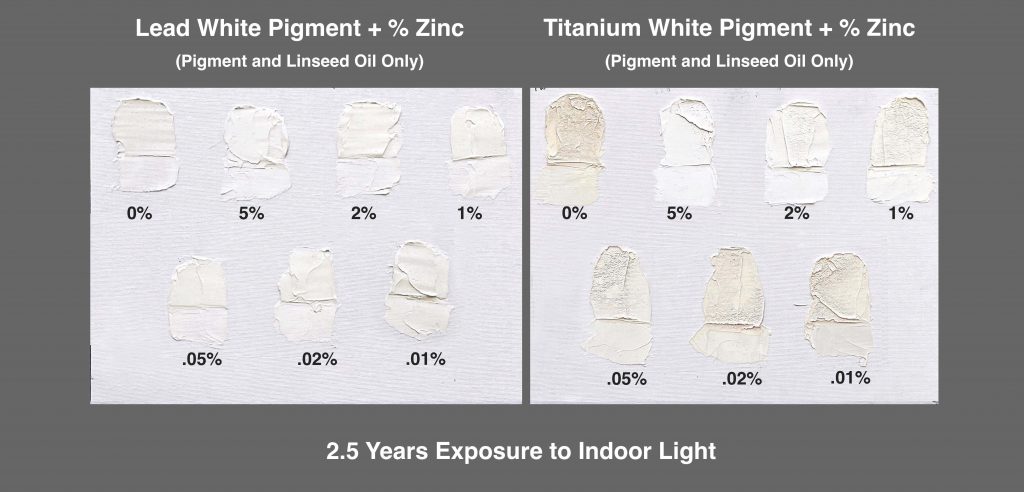 It's also worth pointing out the severe surface wrinkling seen in the thicker areas of the titanium samples, especially for anything below 2%, although even that had the slightest amount in the topmost area where it was thickest. This is caused by shrinkage due to the loss of volatile components after an outer skin has formed while drying. The larger additions of zinc keep the paint open longer, allowing for a more even through-dry. The lead samples, on the other hand, display equally smooth surfaces with no sign of wrinkling, even without zinc. Lead is simply much more effective in bonding with the linseed oil, including the more volatile elements, while the lead soaps that develop in the curing process provide a more stable structure.
Conclusion
As we suggested at the beginning, these results are at best provisional, a review of testing that could easily span decades before providing more definitive and longer term results. But there is still enough here, we hope, so you can begin to form some educated guesses and sense where your comfort zone might lie. For ourselves, we continue to think 2% zinc is a reasonable limit, which is also the current guideline we adhere to for our Williamsburg Titanium-Zinc White. At the same time, we will always follow the research and make changes to our formulations or recommendations as needed. And currently we would recommend caution if using blends of lead and zinc, as well as anything with zinc on top of a lead ground until these are better understood. Despite everything, titanium zinc can still play a role on the artists' palette, and clearly brings some unique benefits – albeit with risks of embrittlement that are real but still being researched to see if a safe level exists.
Subscribe
Subscribe to the newsletter today!
Share Your Thoughts
Click here to share your feedback about Just Paint.