Please Note: What follows is an update to long-term testing that we first wrote about two and a half years ago. The original article provides important background and context for understanding the current results, and can be found here: On the Yellowing of Oils

Yellowing after 5 years
It's the first rounding of the curve that provides one of the most exciting moments in a race, with its allure of easy wins and illusions of leads that can just as easily evaporate on the straight of way. And so it has been with the yellowing of oils. At least at the five-year mark. The distinct differences that we saw in the very early stages have been replaced with an increasing sameness as if there was some inexorable pull towards a common destination. Which is incredibly odd, if you think about it. Aren't these different oils supposed to give different results? So many books and articles and artists have attested to such. So what gives? Why are we not seeing what we had expected to see? We will share some thoughts about potential reasons in the sections ahead. But first, let's get our bearings and take a look at where things stood and where they are today.
When we last looked in 2019 this strong confluence was already starting to take shape. The various oils, after two and a half years of aging, had all but erased the initial differences from the first few weeks. But like any snapshot, it's hard to intuit if you have caught things in their frozen final state or just at a particular moment before going their separate ways, like a group photo taken at graduation.
Below we show the degree of yellowing for all the different oils as they were at the beginning of 2019 when they were 2.5 years old, and then now, at 5 years (Graph 1). And as you can see, there is literally no significant difference between the two.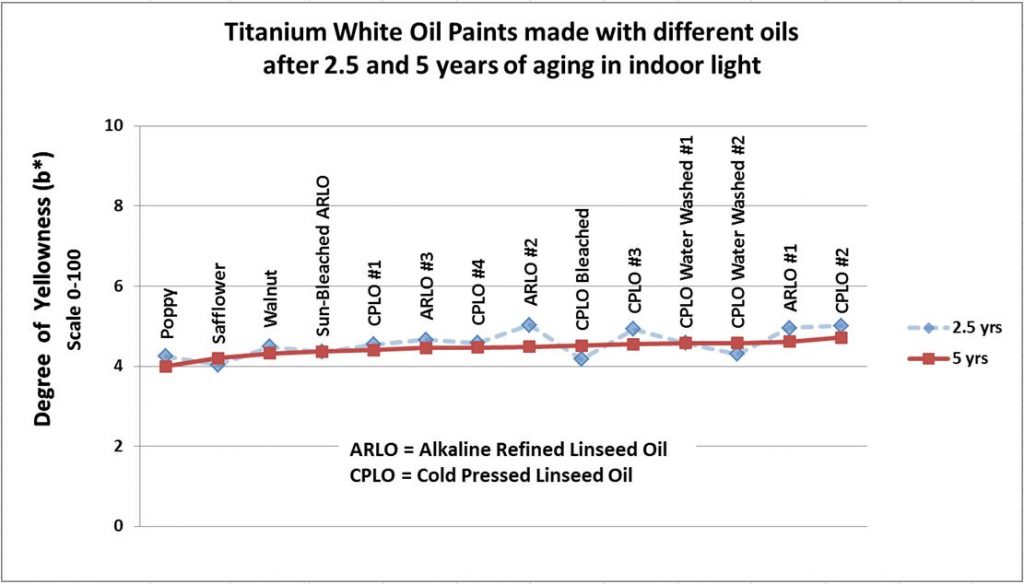 A word on how we measure yellowing. One of the things a spectrophotometer tells us is how blue (-b*) or yellow (b*) a color is, using a color space called CIELab. You can see a model of that color space here. So we simply track or compare a color's b* value over time and as it yellows more, that value will increase.
And just to have a more complete view of the five-year period, here is a graph for all the Alkaline Refined Linseed Oils (ARLO) and the cold-pressed linseed oils (CPLO) where you can see how close they are tracking each other (Graph 2):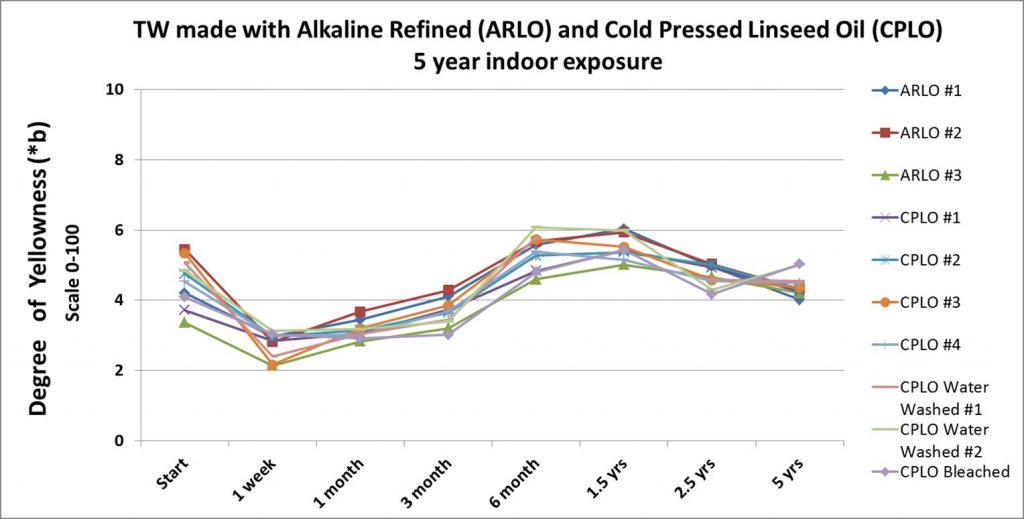 Then, just to make things less crowded and clearer, we graphed the average readings of the alkaline refined linseed oils (ARLO) and the cold-pressed linseed oils (CPLO) alongside the three singular oils of walnut, poppy, and sunflower (Graph 3). While there is a little more differentiation, the sense of similar groupings moving in lockstep with each other to a similar endpoint is hard to ignore.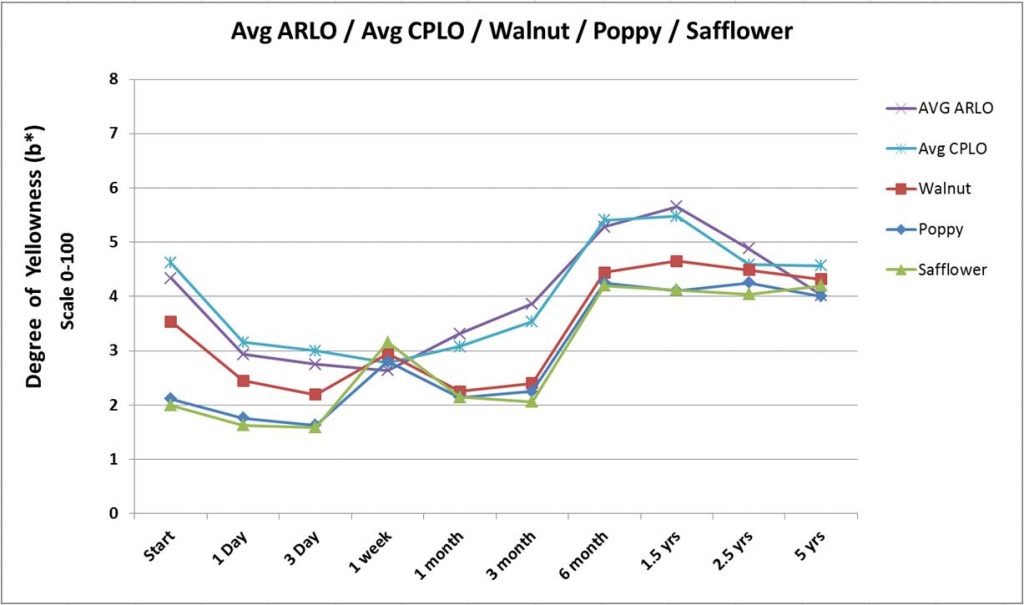 It is certainly possible that the differences we were hoping for will not show up until much further out at the 10 or 20-year mark; that we are actually witnessing a race of turtles rather than hares. A more interesting possibility is that whatever unique properties the oils might have, are being overridden by sharing the same basic recipe. That perhaps formulation is more the driver of yellowing in various whites using linseed oil, rather than the processing of the oil itself? Certainly last time we showed how a single alkaline refined linseed oil could perform very differently depending on the recipe being used, so the reverse – that different oils could perform similarly in the same formulation – seems at least conceivable and something to look into.
We also thought that perhaps the light was evening things out, essentially bleaching away the differences in yellowing that would normally develop. After all, these samples were being kept less than 10 feet away from west-facing windows, as well as overhead office lighting that over time had moved from fluorescent to LED, and from being off at night and on weekends to being on 24/7. Luckily we had an identical set kept over the last five years in a studio setting, with diffuse northern window light and overhead LED lighting used moderately during the year. Below you can see the results from the spectrophotometer readings (Graph 4):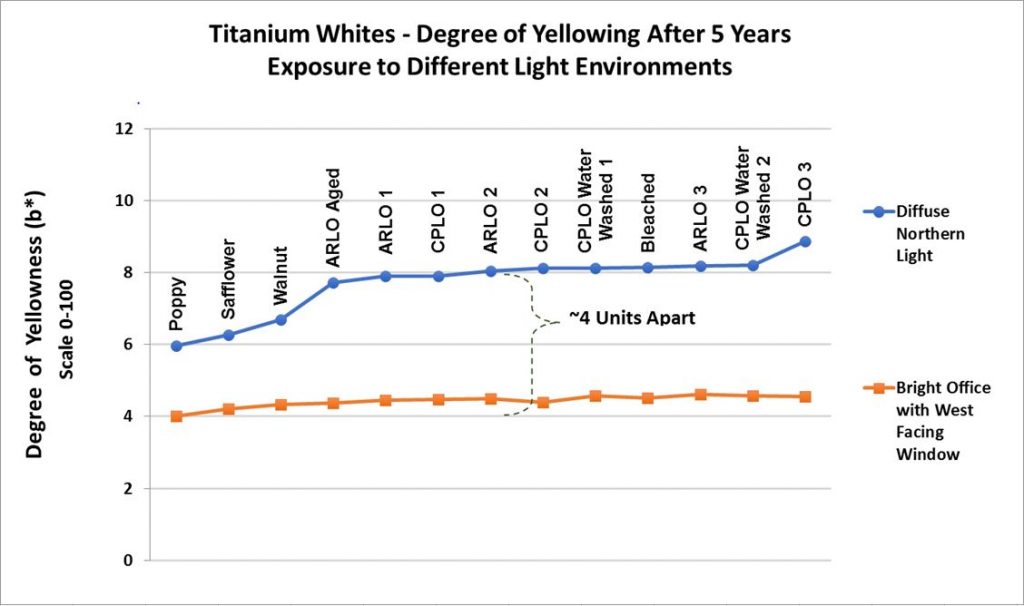 Clearly, differences emerged that were being masked and evened out by the lighting conditions. For example, poppy, safflower, and walnut are now more distinctly separated from the rest. However, all the various linseed-based paints, except for one cold-pressed example at the end, exist on the same type of flat, straight and nearly unwavering line as before. Just that now the line runs parallel some four points higher, which means they were clearly more yellowed but by an almost identical amount. So the ability of the formulation to at least narrow the range of differences still seems plausible. To give you a better sense of the differences and similarities between these two groups, we share some examples below (Image 1).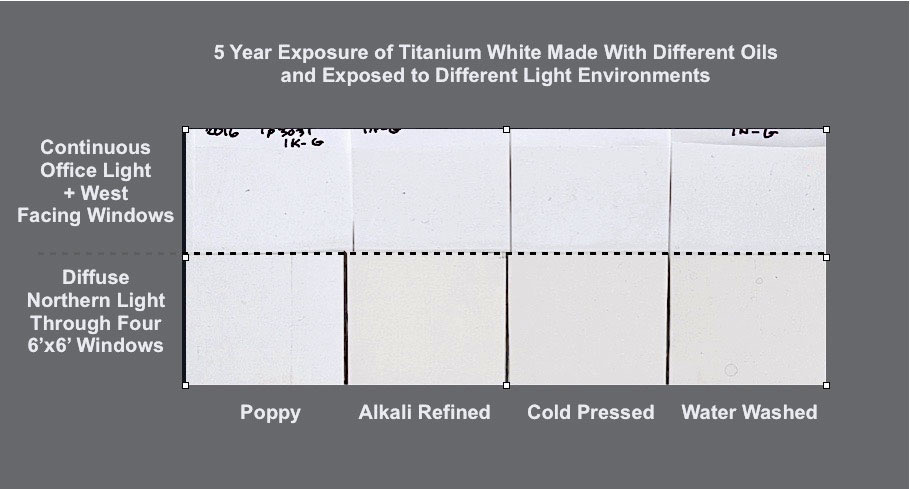 Impact of Thickness
One of the things we pointed to last time was that thickness of an application can make a difference, and certainly our drawdowns, at 6 mil (approximately the thickness of two sheets of copy paper), would be considered on the thinner end. So we were interested to compare the above samples with some test panels where the paint was applied slightly thicker at one end, using a palette knife, followed by a thinner area below. See the following image (Image 2) for a sense of that range: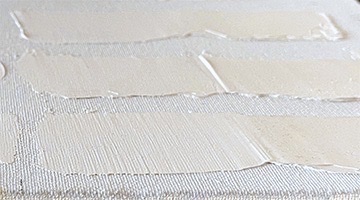 Below are the samples we did, covering all the oils minus the walnut and safflower (Image 3):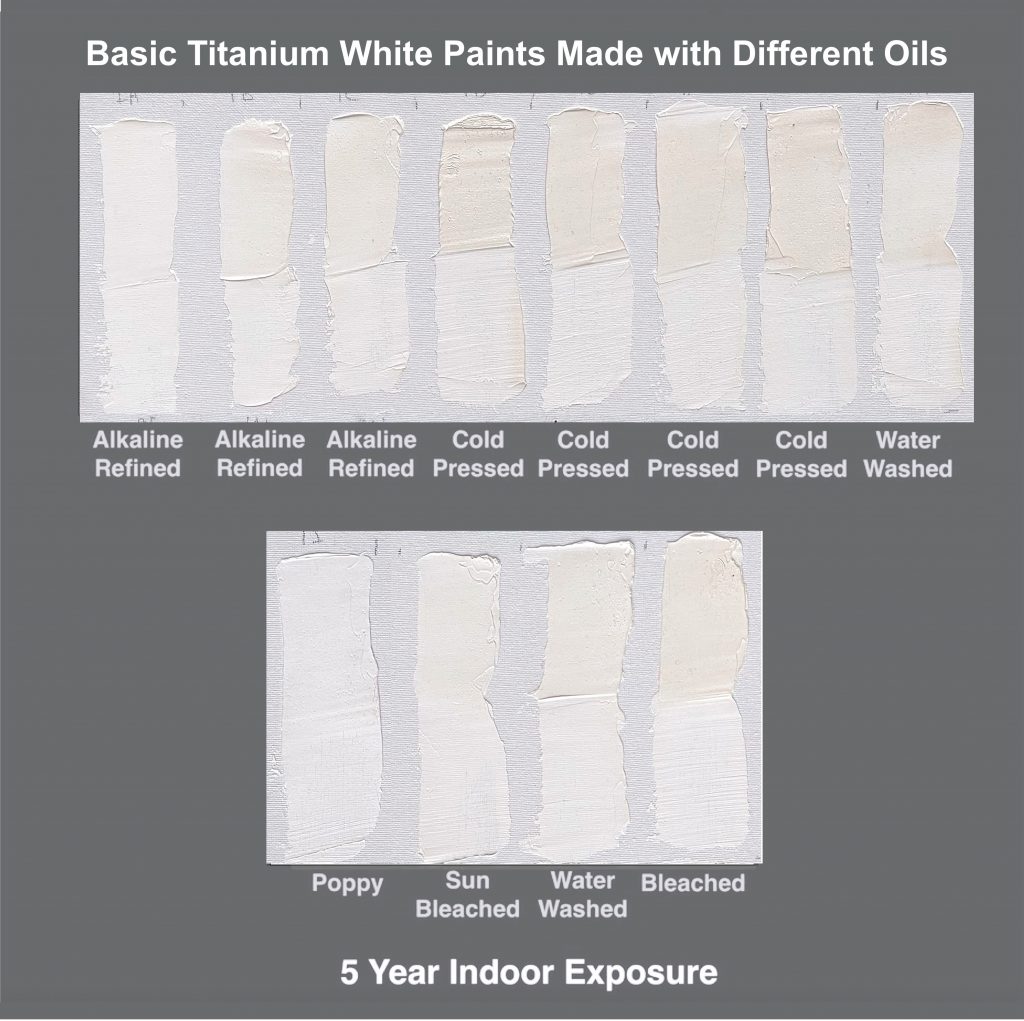 Certainly in the thicker parts additional differences among the oils start to be teased out – the first alkaline refined sample literally rivals the poppy, followed by the next two to its right and the sun-bleached below, while the bleached and one of the cold pressed swatches are now clearly darker and more yellowed than the rest. In the thinner sections, most of these differences are minimized. A range can definitely be seen, but it's tighter in. One possible explanation is that titanium has a hard time holding onto oil, especially in thicker applications when the longer drying time allows more oil to gravitate to the top. Once there, any yellowing would be less masked by the pigment and other components, revealing the differences between the oils more easily. And of course in the thinner sections, because the film dries more quickly, the opposite would be true.
Before we leave these samples, there is one more thing to point out. While the paint made with poppy oil has done remarkably well in terms of yellowing, and we saw no surface defects in the earlier drawdowns, significant cracking has developed and can be seen here in the thinner area (Image 4):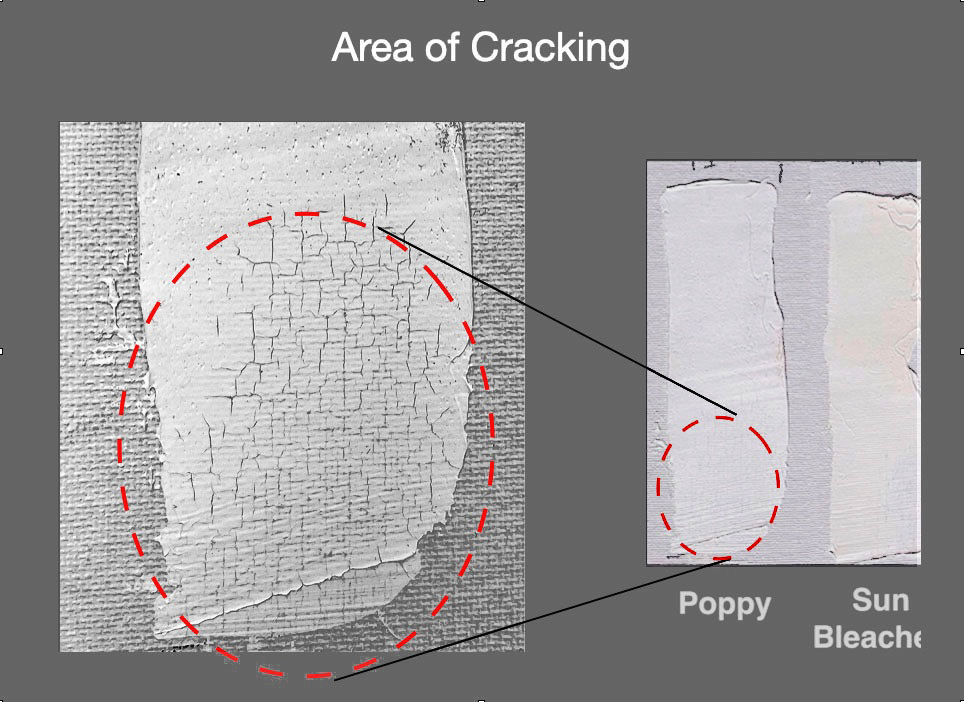 It could be that the canvas texture made the paint film more vulnerable to any shrinkage as it aged, that being so thin, it couldn't continue to bridge the peaks and valleys of the weave as it contracted. If nothing else, it certainly points to a more fragile film than seen in the other paints at this point.
Conclusion
Those are the specific updates we have at this point, including some of the curiosities we encountered and the questions that invariably lead to more questions. We still want to have a deeper understanding of how the formulation of a paint impacts yellowing, versus the intrinsic properties of the oil or how it was processed. And there are things to understand about the role of lighting, environmental conditions, and the thickness or type of application. So there's a ways to go yet. Our hope is to keep updating these results as the paints slowly make their way to the 10-year mark and beyond, while also sharing new tests meant to answer new questions.
Sarah Sands, Senior Technical Specialist, MFA Yale University. Prior to Golden: Instructor, NY Academy of Art; Associate Professor of Painting, Indiana University; Business Manager/Technical Specialist, Williamsburg Oils