You reach for a tube of Cadmium Red or Ultramarine Blue and you intuitively trust that they contain the very pigments they are named after. It's a trust formed over years and decades of personal use, along with an assumption, an almost blind belief, that paints must surely be labeled according to definite rules. Besides, you might think, these are well-known pigments prized for their particular qualities and mentioned or recommended by almost every teacher and book on painting. Given all that, would you feel cheated or misled if you found that the colors you purchased were actually made using different pigments? That the Cadmium Red wasn't made from cadmium red at all? That the specific properties you expected, like opacity or dry time, were lost or compromised? Would you care? We believe you would and rightfully so.
Now, for an equally and perhaps more important question – would you continue to care if that color was Burnt Sienna or Raw Umber? Or any number of other natural earths? If you find that you hesitate or waver, that you think, well, with these there might be some wiggle room, we want to passionately try to convince you otherwise. These examples are not separate – the answer to one directly informs and impacts the answer to the other. Maybe not right away, but over time the trust between manufacturer and artist will get eroded, standards and conventions will be set aside or abandoned, and the connection between a color's name and the pigments it contains will be lost.
A Growing Problem
The scenario outlined above, concerning natural iron oxides, is unfortunately not a hypothetical, not some far-off concern to be warded off, but something that is already far too common in the here and now. More and more paints labeled with names historically reserved for natural iron oxides are turning out to contain a host of synthetic pigments. Sometimes those pigments will be blended with a natural earth, but other times the paints are made solely from synthetic pigments with not a trace of a natural iron oxide to be found. While an anomaly here or there can perhaps be tolerated or written off, the situation has reached a point where we felt it was critical to raise awareness around these issues.
The problem has also grown so large that this article focuses on only one small aspect of it; namely the inclusion of synthetic pigments that are not based on iron oxides. These are materials no one would ever expect to find in an earth color. A follow-up article will look at the much larger and more complex issue of how pigments are ultimately classified by pigment manufacturers and the Color Index, and the use of synthetic iron oxides in colors historically made from natural ones. For example, the common use of synthetic transparent red iron oxide in place of natural Burnt Sienna, or Mars Yellow in place of natural Yellow Ochre. We hope to publish that piece early next year.
Praise Where Praise Is Due
Before sharing examples of paints labeled in problematic ways, some praise is due. Many companies actually do label their paints correctly, and they should be supported and applauded for their efforts. Also, all the tubes we looked at, even ones from minor brands, did list their pigments on the label, and the information could generally be found online as well. So ultimately nothing was being hidden; artists could easily discover which pigments were being used by simply turning the tube over, or doing a quick search on a retailer's or company's website. And that is important to acknowledge. Go back far enough in time, and even that basic level of disclosure was not always the norm, so this alone represents something to feel good about.
The Examples
As mentioned earlier, we are highlighting only the most egregious departures from what anyone would expect to see when purchasing Raw and Burnt Umber, Raw and Burnt Sienna, or Yellow Ochre. These examples all involve the use of synthetic organic, inorganic, and complex inorganic pigments that clearly do not belong in an earth color. Synthetic organics are a class of industrially produced carbon-based pigments like the Hansas, Quinacridones, Phthalos, etc. Synthetic inorganics, besides those based on iron oxide, include things like Titanium Dioxide and Zinc Oxide, while complex inorganics are usually based on mixed metal oxides. Well-known examples of these would include Chromium Oxide and Cobalt Blues, but there are also a host of ones with names like Zinc Iron Chromite and Chrome Antimony Titanate.
Below, under each color's heading, you will find some notes on how to recognize genuine versions of that pigment from how it is listed on the tube or in color charts so you can recognize it when purchasing paints or checking your current stock. This is followed by a table showing mixtures that used pigments other than natural and synthetic iron oxides.
The information we collected came from the websites and online color charts of easily available brands, including all the major ones. We deliberately do not share the identity of the brand behind each listing. Our purpose in writing this article is not to single out companies but to raise awareness of a general trend that impacts the industry as a whole. Even more importantly, it is to educate and inform artists on what to look for and why it matters, for ultimately you are the ones that can effect change by making your voices known to the companies you do business with. If you don't care, the companies won't. It is as simple as that.
Guide to Reading the Tables
Each color includes a table showing the pigments we found listed on individual tubes of oil, acrylics, and watercolors. If there was more than one example, the entries are separated by a gray stripe. Pigments in red are the ones we want to highlight in this initial survey.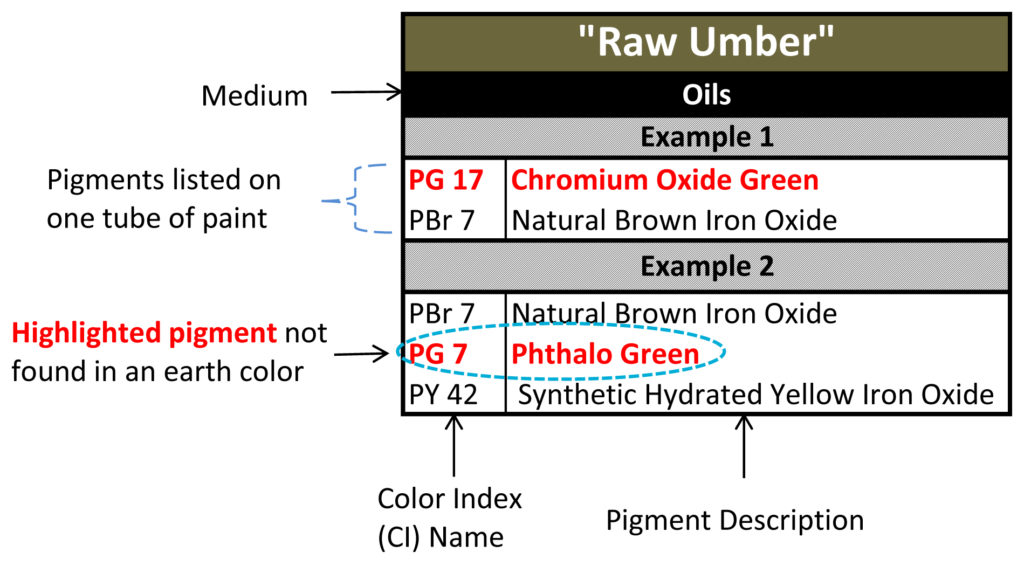 Raw Umber
Genuine raw umbers should be listed as a single pigment with a Color Index Name of PBr 7. It should also have an accompanying chemical description, either on the tube or the company's technical information, as a natural iron oxide containing manganese. This later part is important because the manganese component is an essential feature of true raw umber. Because PBr 7 can refer to a range of brown oxides, we have used its broader and more generic description of "natural brown iron oxide" whenever we could not locate a mention of manganese in the listing or company literature.
While a couple of the entries do include a natural brown iron oxide in the formula, the addition of Phthalo Green, Hansa Yellow, or Chromium Green Oxide remains problematic for a color with a long history of being solely a natural iron oxide.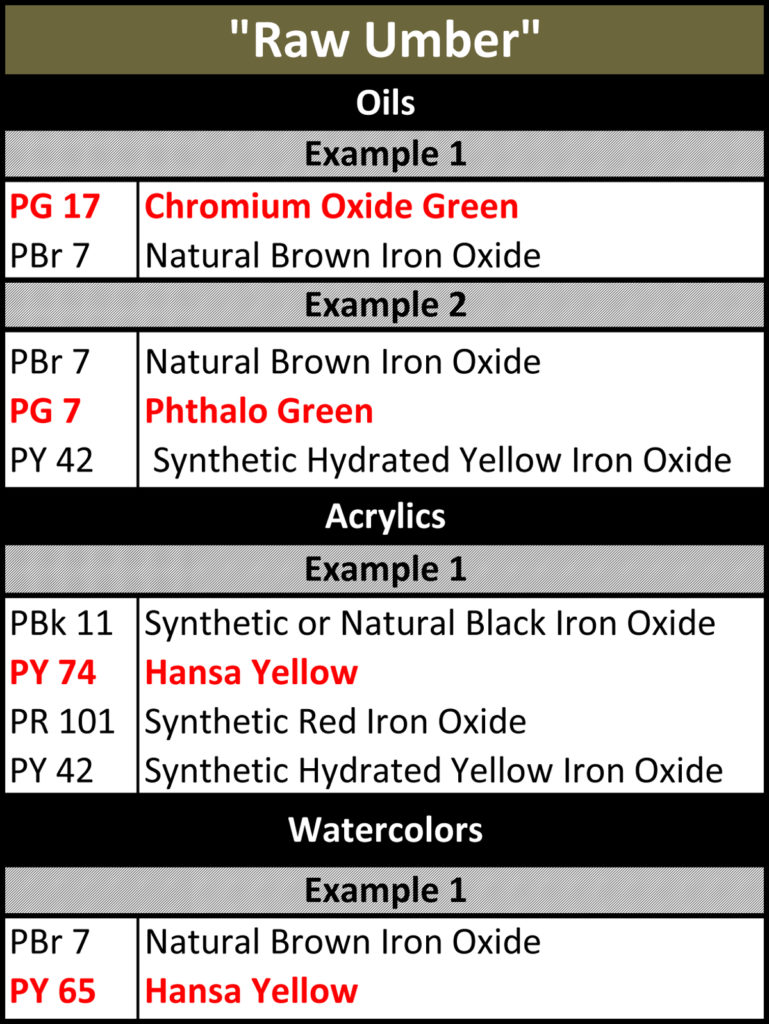 Burnt Umber
True burnt umbers are calcined versions of their raw umber cousins. They should be listed as a single pigment with a Color Index of PBr 7 and description as a calcined natural iron oxide containing manganese. Again, look for the presence of "manganese" to differentiate it from other types of brown oxides.
As you will see, none of these listings come even close to that ideal. Two of the entries list Titanium White, while you can find both synthetic organics (PY139, PY150) and complex inorganics (PY164, Pbr 25) in the other ones.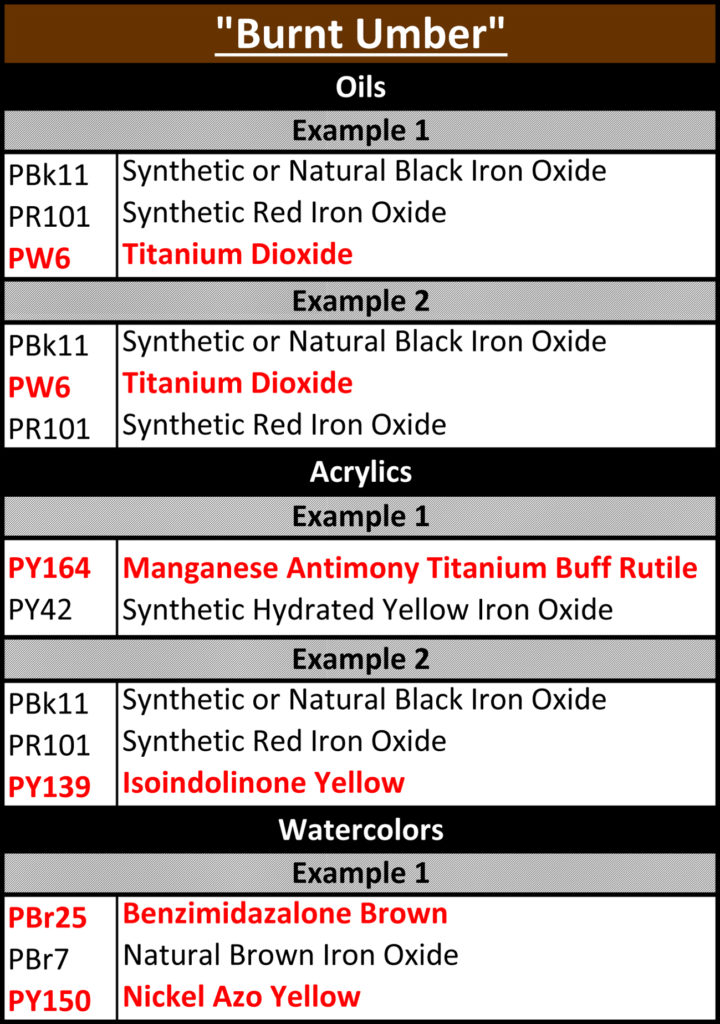 Raw Sienna
Natural raw siennas can vary in how they are listed depending on their shade and source, with some pigment suppliers listing them as PY 43, natural hydrated iron oxide, and others as PBr 7, natural iron oxide. In either case, it would be shown as a single pigment rather than a blend. Under no circumstance would a natural raw sienna contain the synthetic pigments listed in red below.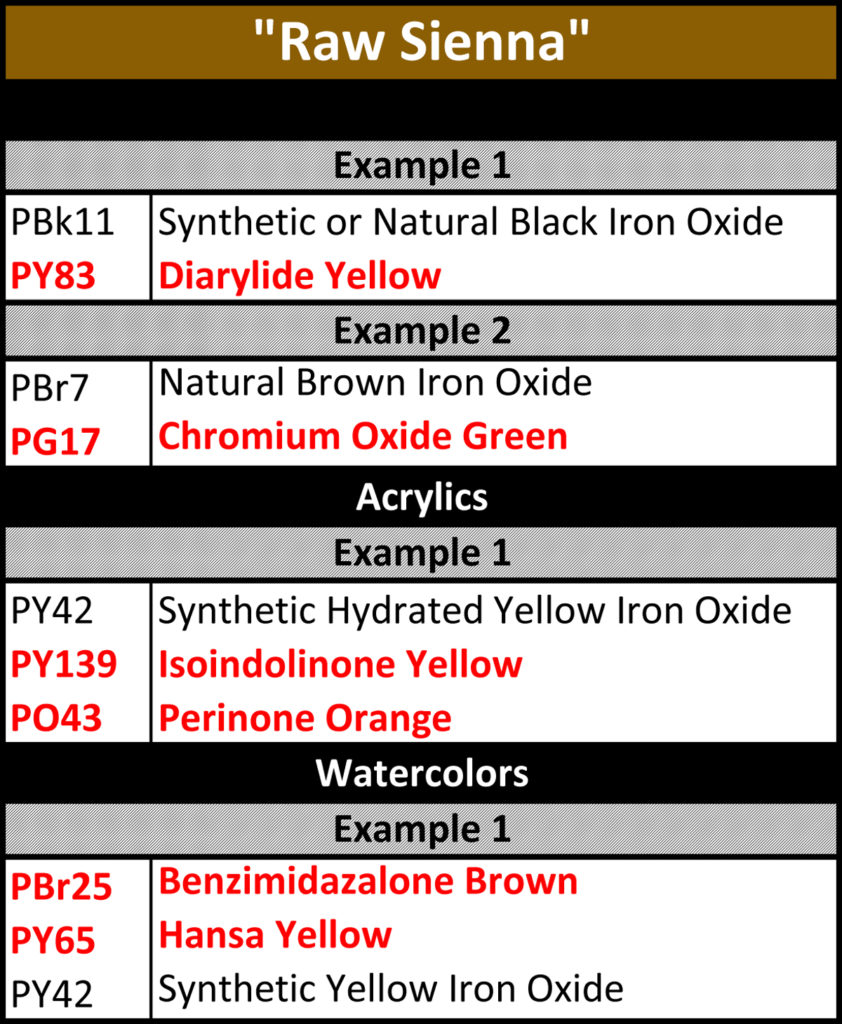 Burnt Sienna
Like raw sienna, genuine burnt sienna can also be found listed in two separate ways – either as PBr 7 or PR 102. Again the difference is generally the shade of color or the way a particular supplier classifies it. In either case it would still be described as a calcined natural iron oxide. However, none of the highlighted pigments below would ever be expected in a burnt sienna.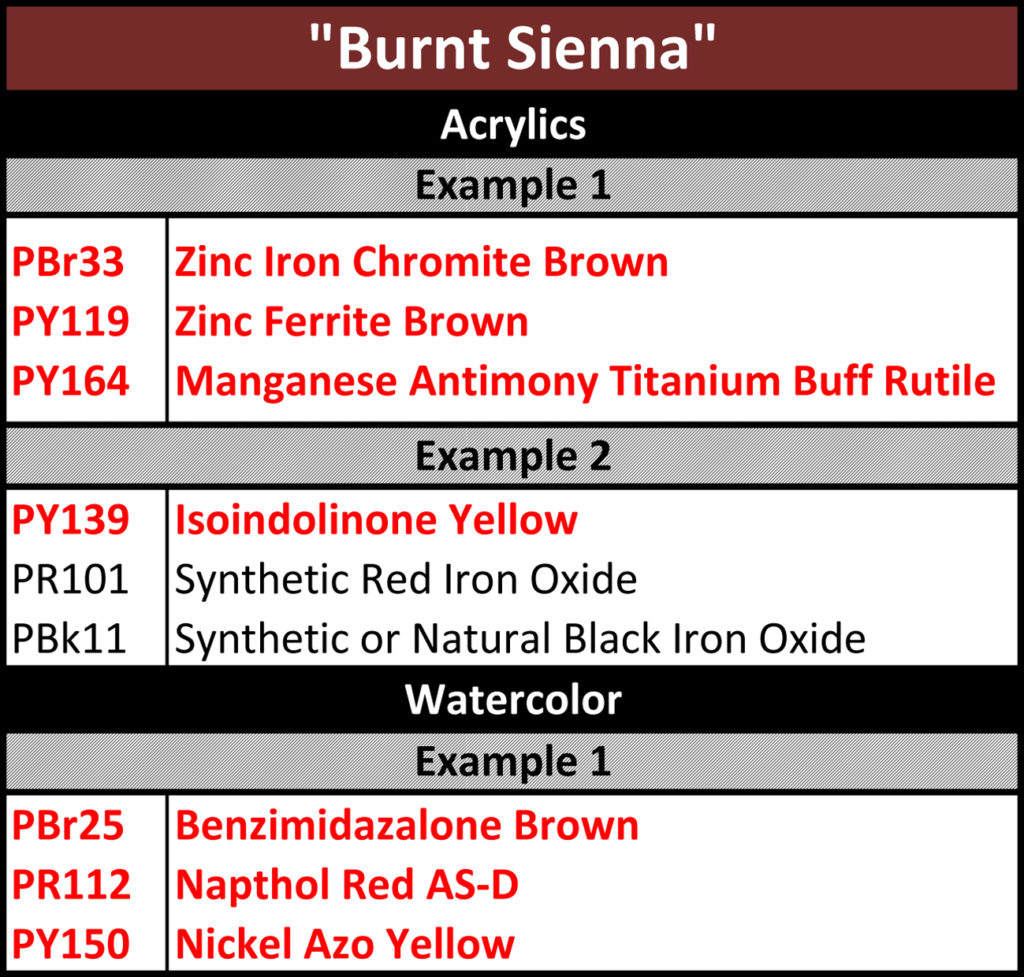 Yellow Ochre
This natural earth color should be listed as a single pigment, PY 43, natural hydrated iron oxide, which was mentioned earlier under Raw Sienna. Unfortunately PY 42, a synthetic hydrated yellow oxide that is much more dense and opaque, is frequently being substituted for the more subtle and transparent natural one. In addition, the pigments in red clearly do not belong in a true earth color under any circumstances.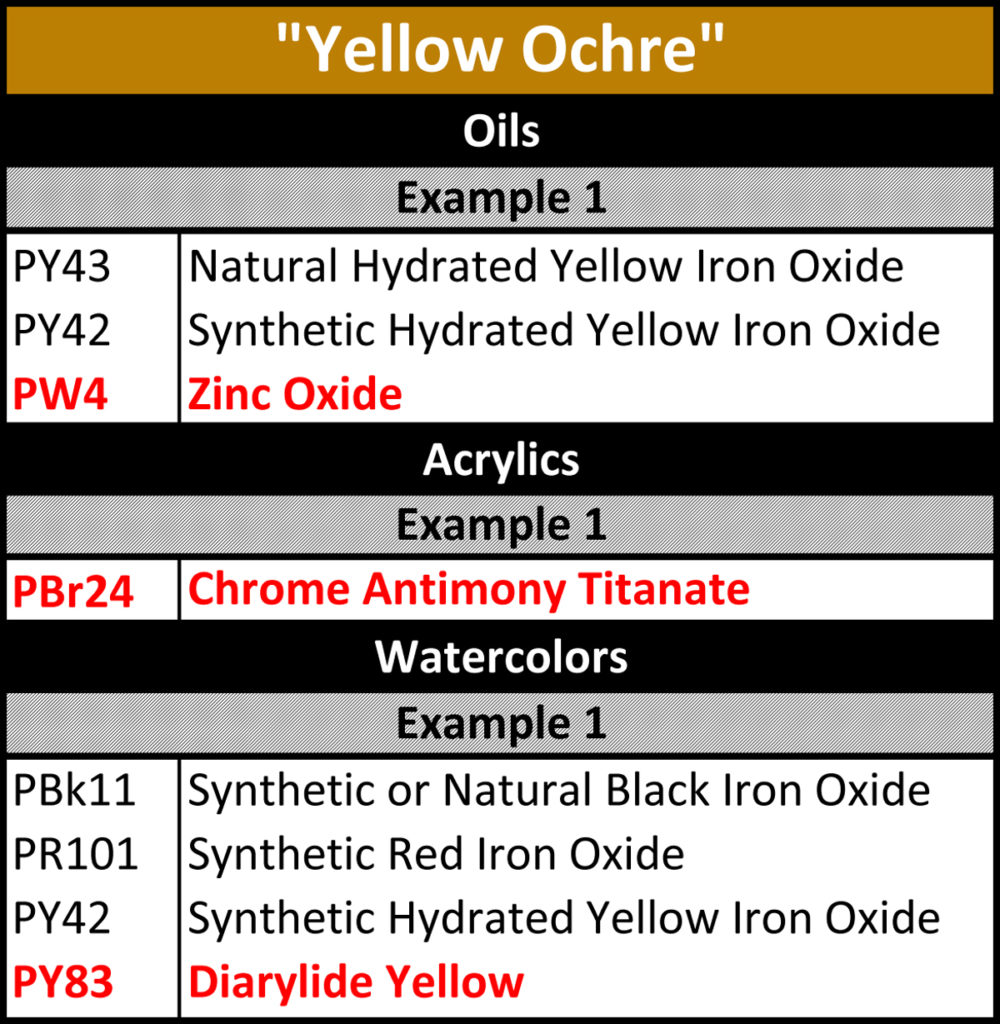 Why You Should Care and What To Do About It
The current state of affairs among earth colors can be confusing and frustrating and it appears to just be getting worse.  Long established standards for historically important earth colors are being upended and the colors replaced by a host of synthetic pigments that invariably have different properties. Labeling conventions are likewise being ignored as names once reserved for certain natural earths become, instead, mere references to a generalized type of brownish color space.
So why does this matter? Connections to historical painting techniques, color mixing recipes, materials lists handed out in classes and found in art books, all become a nightmare to navigate. A teacher recommends 'Raw Umber' or 'Burnt Sienna' and what was once an easy purchase becomes a mess of competing choices, many of which bear no resemblance to the actual colors these names are supposed to refer to. And slowly, bit by bit, the trust in labeling and paint names built up over the last many decades can start to fall apart and we find ourselves back to a time when almost anything goes as far as labeling is concerned.
And that is truly the larger and longer-term danger in all this. We might find that we get too comfortable with this type of slippery-slope loss of standards, thinking, "oh well, its just a few colors, and brown ones at that". But if we allow these names to become untethered to their historical identities, there is really nothing to stop this eventually happening to other colors such as cadmium red, viridian green, or ultramarine blue.
As for what to do, in truth you are the best and most forceful agents of change in this. ASTM Standards can be passed and promoted, voices can be raised by some manufacturers, but it falls on artists to let those they buy from know what is important to them. If you value clear labeling, and feel that having access to genuine earth colors is important, then write, call, email, message, post or blog, but somehow let manufacturers and retailers know. And before you purchase your next earth color, turn the tube over. Check what pigments are being used. Ask questions. Let them know you want the genuine stuff.