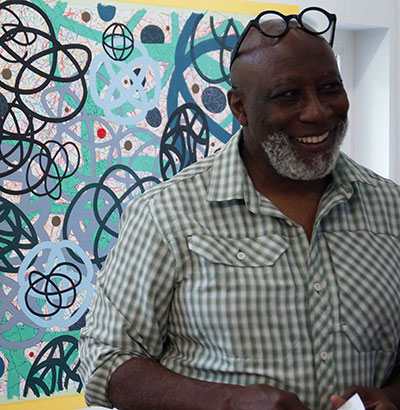 While the trees are still draped with snow we are preparing for the 2nd annual Made In Paint exhibition, here in New Berlin, NY. On April 12th we will open our doors at the Sam and Adele Golden Gallery for the Exhibition of the 18 selected artists from this past year's Residency season and two of our invited Visiting Artists. These extraordinary artists from around the world spent one month painting and experimenting with materials.
It was a tremendously exciting year at the Residency. The roster of artists selected for residencies was a diverse international group with an impressive exhibition history. Each session of three artists was an opportunity to both share and learn from these talented professionals. The artists who had been accepted to the Residency all shared a common passion and interest in increasing their working knowledge of their chosen mediums as well as a willingness to expand into mediums that might not be so familiar.
We are thrilled that we are able to present works that truly highlight the talent of these artists. Some works completed or started during the Residency, but not exclusively so. This past year we were also joined by two invited Visiting Artists, Mary Frank and Arlene Burke-Morgan who both spent valuable time at the Residency experimenting with new materials.
For a list of 2013 Artist in Residence websites go to goldenfoundation.org. The virtual gallery will be available at theSAGG.org following the Opening. Email contact@goldenfoundation.org for a catalog.