As painters, we love the myriad ways we can apply paint and move it around on a surface. Inspiration can happen most often in the action and immediacy of using the materials. The history of painting shows us a large range of ways paint can be applied and manipulated to create many different kinds of textural surfaces. Due to their excellent stability and flexibility over time, acrylic paints and mediums have shown themselves to be the best at enabling this kind of free range exploration. In this article we will explore a variety of ways to create highly textured surfaces using acrylic paints, mediums and collage.
There are three main ways that high texture and relief can be accomplished that we will discuss in this article:
1. Direct application and manipulation of higher viscosity paints and paint/medium mixtures.
2. Layered build-up of paints over textured surfaces.
3. Collage work with fabrics, paper, acrylic skins, cast acrylic and experimental collage elements.
1. Direct application and manipulation of higher viscosity paints and paint/medium mixtures.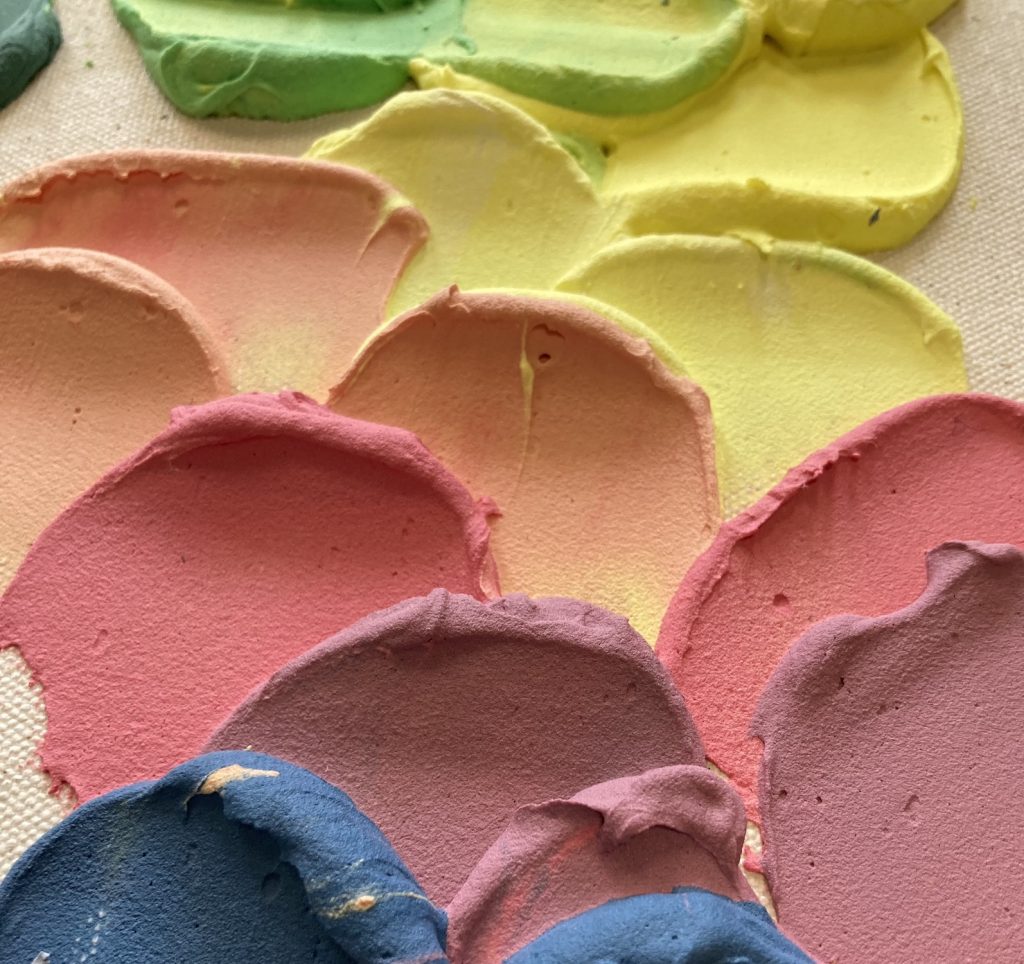 Direct application of thick paint is probably the most common method of creating highly textured paint surfaces. Surface texture with paint is a result of a combination of how one applies and manipulates paint on a surface combined with the precise viscosity and rheology of the paint. Viscosity refers to how thick the paint is and rheology is the way the paint flows or levels. Rheology can be long or short. Food analogies work well here: Honey is long and butter is short. Interestingly enough, water is also short. It breaks into segments or drips rather than flows continuously like honey or molasses. You can have paint that is both thick and also settles or levels out to some extent, (some longer rheology) creating softer and more rounded surface marks…and you can have paint that holds onto every mark in sharp detail, creating clearly defined texture short rheology). And while our Heavy Body Acrylics hold onto brush and knife marks very well, they have a mixture of short and long rheologies and so the resulting textures can sometimes have softer looking marks. Adding in thicker and shorter rheology mediums like Molding Pastes or Heavy and Extra Heavy Gels can allow sharper and clearer marks. Our Fluid Acrylics are formulated more thinly so that surface texture is minimal, however, they are easily blended with thicker mediums (Gels and Pastes) to create an infinite range of thick paint mixtures.

We have many different Gels and Pastes. Some of the Gels are more pourable such as Tar Gel and Clear Leveling Gel. These, along with our Color Pouring Mediums, can be used to create a very different kind of surface texture that involves drizzles, puddles or lines of paint; more low relief surfaces but textures nonetheless.
Higher relief surfaces can easily be created by simply using a lot of Heavy Body Acrylic however it is both more economical and more versatile to use either our Heavy Body Acrylic or Fluid Acrylic blended with one or a number of our thicker Gel Mediums or Pastes. These mixtures can be safely stored in separate plastic containers with lids and clearly labeled with the contents. The specific application method and tools used will create a large range of different texture and surface possibilities. Brushes, palette knives, spatulas, large blade tools, dedicated studio use only pastry bags, stencils and simply dropping paint onto a surface are some of the most common tools and methods. Another method of creating higher relief is to apply a thick layer of one of our thicker viscosity Gel Mediums directly onto your painting surface and then work wet into wet, with either Heavy Body or Fluid Acrylic or mixtures of these paints and another medium and work those color mixtures onto and into the wet Gel Medium. Here are images of that technique, and some direct applications of thick paint and medium mixtures: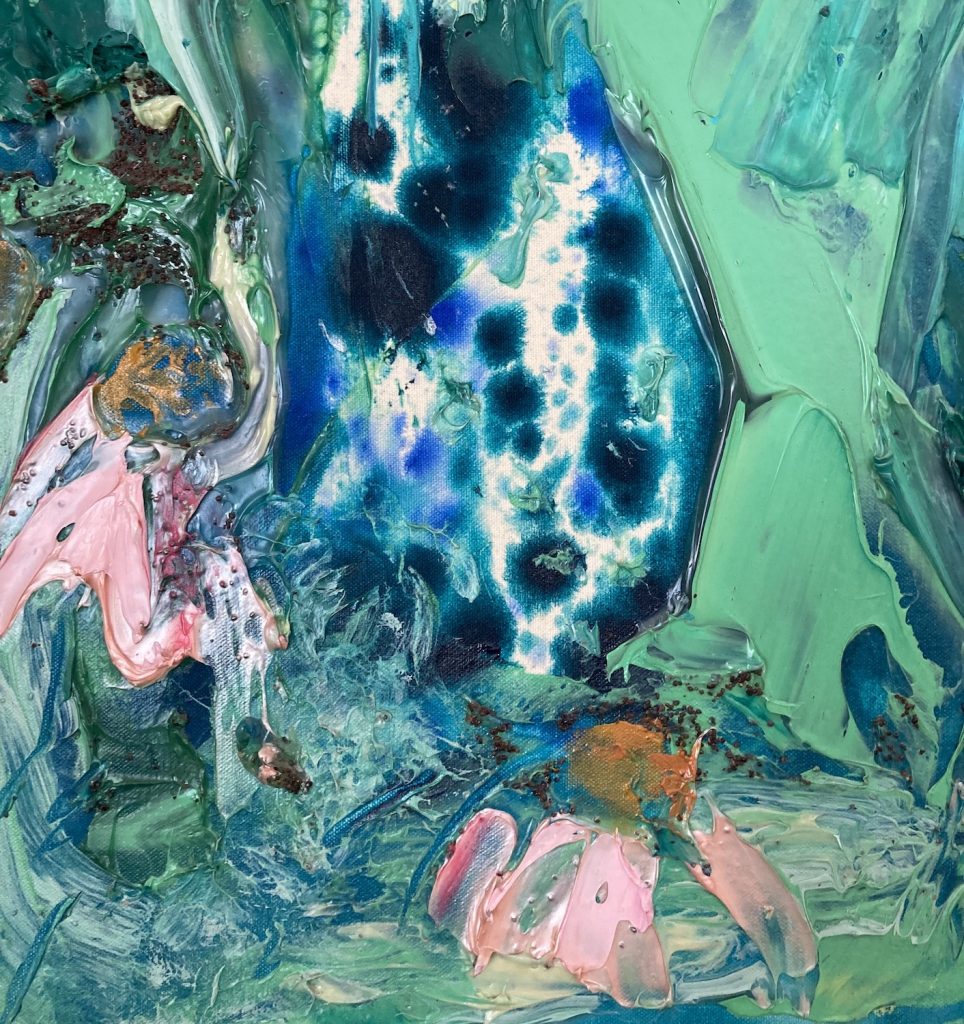 A few alternative application methods to create raised paint surfaces: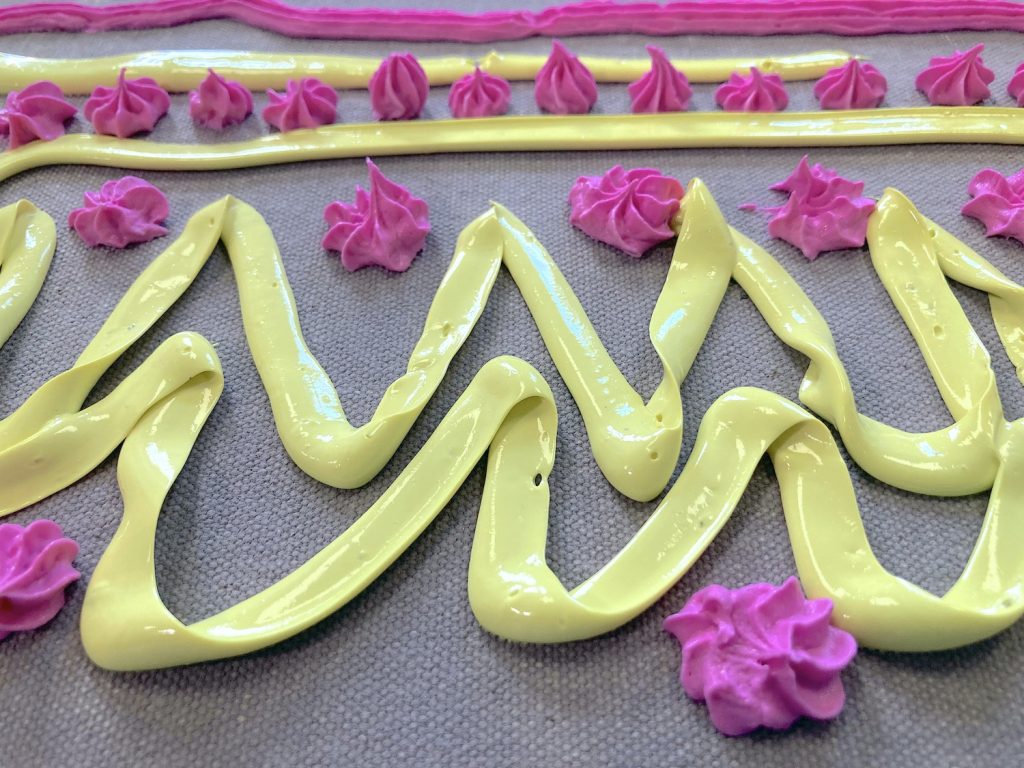 The tool you choose to use combined with the consistency of the paint or paint and medium mixture will give you the kind of control, ability or even lack of control that you might want or need for the texture you are looking for. Sometimes just allowing the paint to drop or slide from your knife or brush onto your surface can be perfect.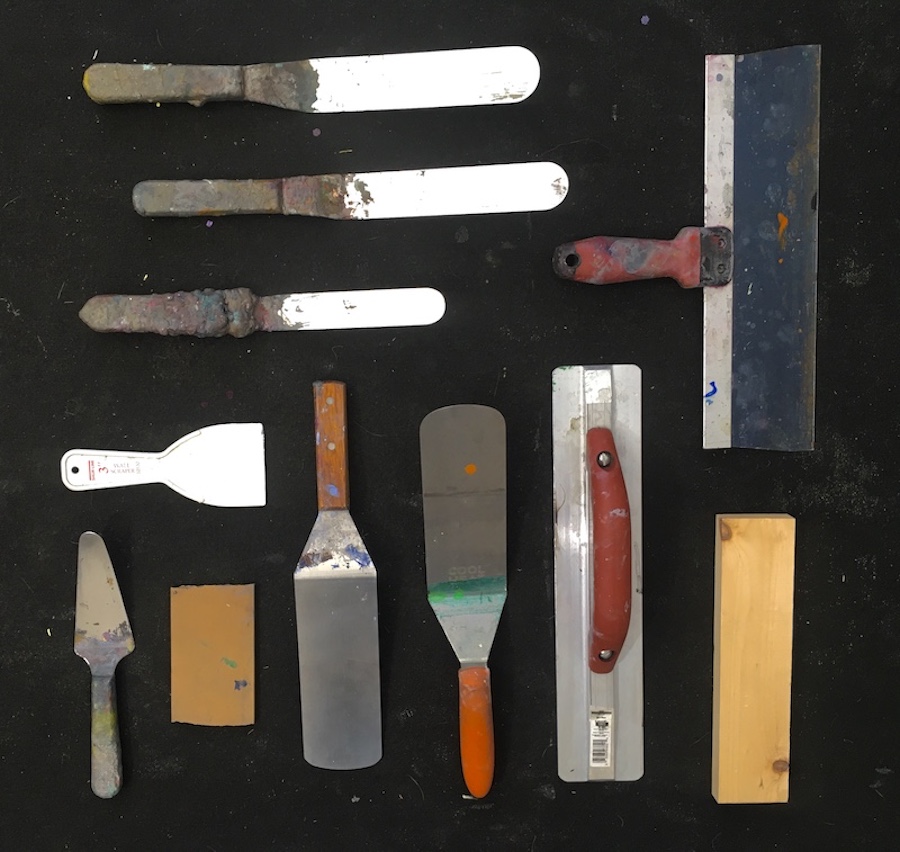 Regular Gels have the same consistency as our Heavy Body Acrylics so you can use those if your main goal is to add translucency and a specific surface sheen without increasing viscosity. To begin creating thicker paint mixtures you would use our Heavy, Extra Heavy and High Solid Gels, our various Molding Pastes and our Gels with aggregates such as Coarse Pumice Gel, Extra Coarse Pumice Gel, Coarse Molding Paste, Fiber Paste and Glass Bead Gel. Experimental use of added aggregates like vermiculite, perlite or sand is possible, but less tested. When adding solids like this it's best that the materials are stable, archivally sound and will not have compatibility issues with the acrylic. Adding too much of any kind of solid particulate material can create a less flexible and potentially brittle film.
An important characteristic resulting from additions of any translucent acrylic painting medium to acrylic paint is increased translucency and this attribute is very important to take into consideration when making these mixtures. Acrylic paint and medium technology allows for the use of very thick translucent paint layers and the effects are unique to acrylic. Gel Mediums dry to quite translucent films and Pastes tend to have less translucency due to the type of solids added to these mediums. When mixing up these various paint and medium mixtures, there is a natural infinite array of translucency, opacity, surface sheen and consistency, depending on the ratio of the mix and the colors used. All these attributes factor in to the overall aesthetic appearance when these mixtures are used in a thickly applied manner.
Here are some links to information about using our mediums and gel mediums to create glazes and how they differ from washes:
Acrylic Washes and Glazes: What, When and How?: https://www.justpaint.org/washes-and-glazes-what-when-and-how/
Glazing with Acrylics, Oils and Watercolors: https://www.justpaint.org/glazing-with-acrylics-oils-and-watercolors/
Pre-mixing your various mixtures of Gels and Pastes combined with color via our Heavy Body or Fluid Acrylics and safely storing in well labelled plastic containers is a good way to organize your studio palette system and re-using emptied GOLDEN containers works well.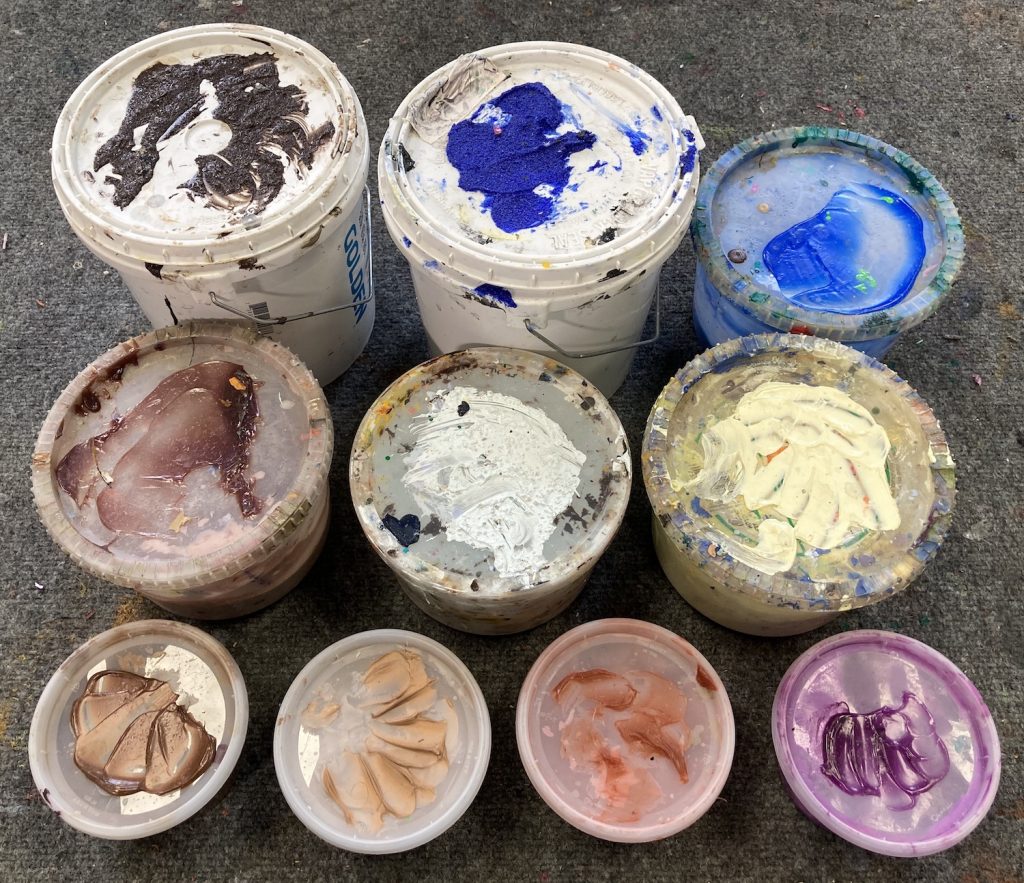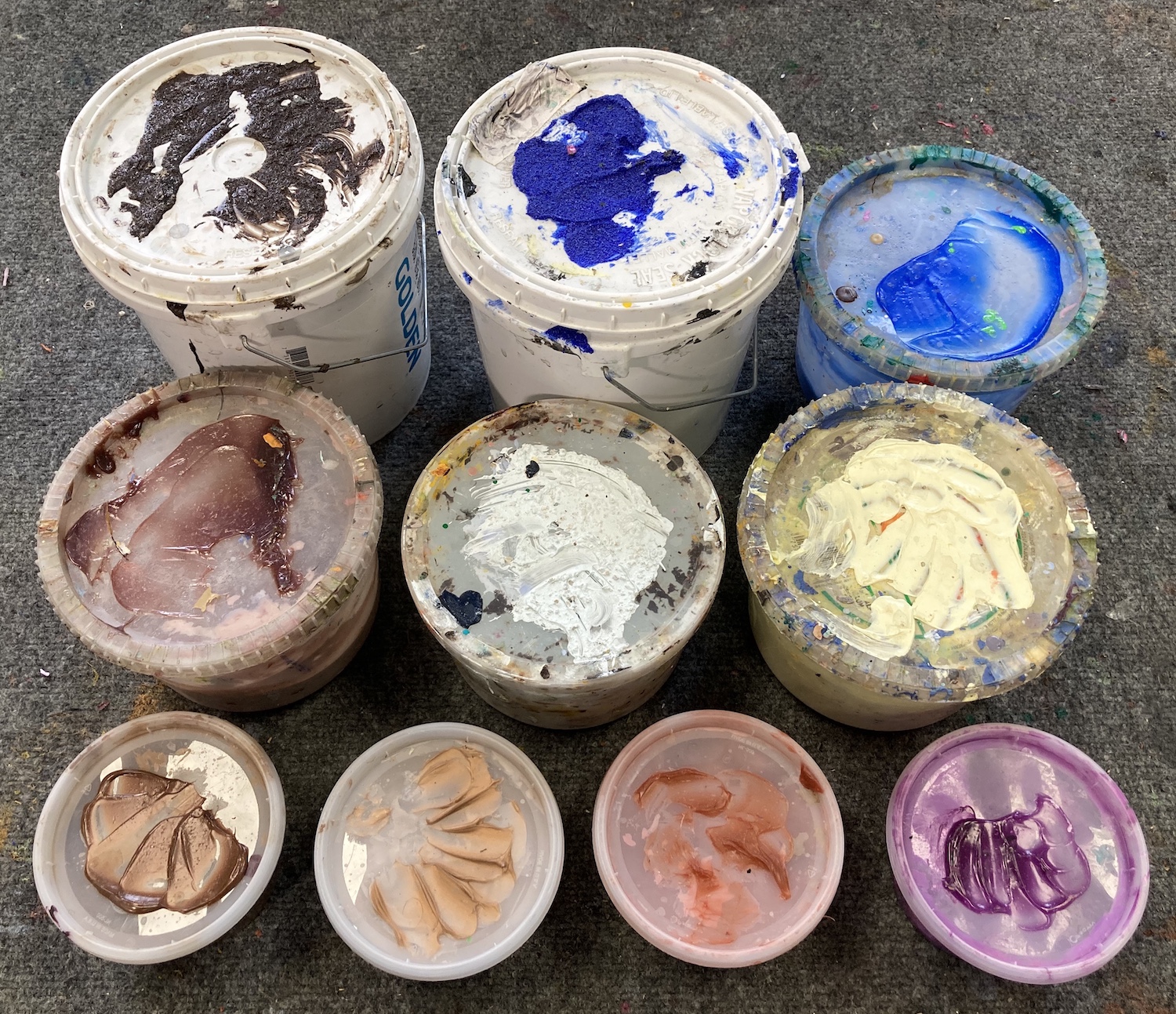 2. Layered build-up of paints over textured surfaces.
Some artists like to create a surface texture with mediums, gels and pastes, allow it to dry and then paint on top of that surface. This is very different from the above method as it separates the use of color and texture into two different applications and layers. It also invites the use of more absorbent or less absorbent and more resistant surfaces where the paint you use will handle and create unique painterly effects on top of the particular dry surface. Thin paint mixtures on highly textured surfaces will pool and puddle to create interesting effects. Thick paint and medium mixtures can be skimmed over the top of a highly textured dry surface catching the mixture on the high points. Fluid consistency mixtures can be poured over textured surfaces causing pooling of paint in the low areas.
The important factors here involve the range of surfaces from glossy and more resistant to very matte and absorbent. Glossy surfaces tend to make washes and thin paint mixtures bead up and this can be used to create some unique effects. Absorbent surfaces like Light Molding Paste or Fiber Paste can allow washes and thin paint mixtures to soak in and stain the surface.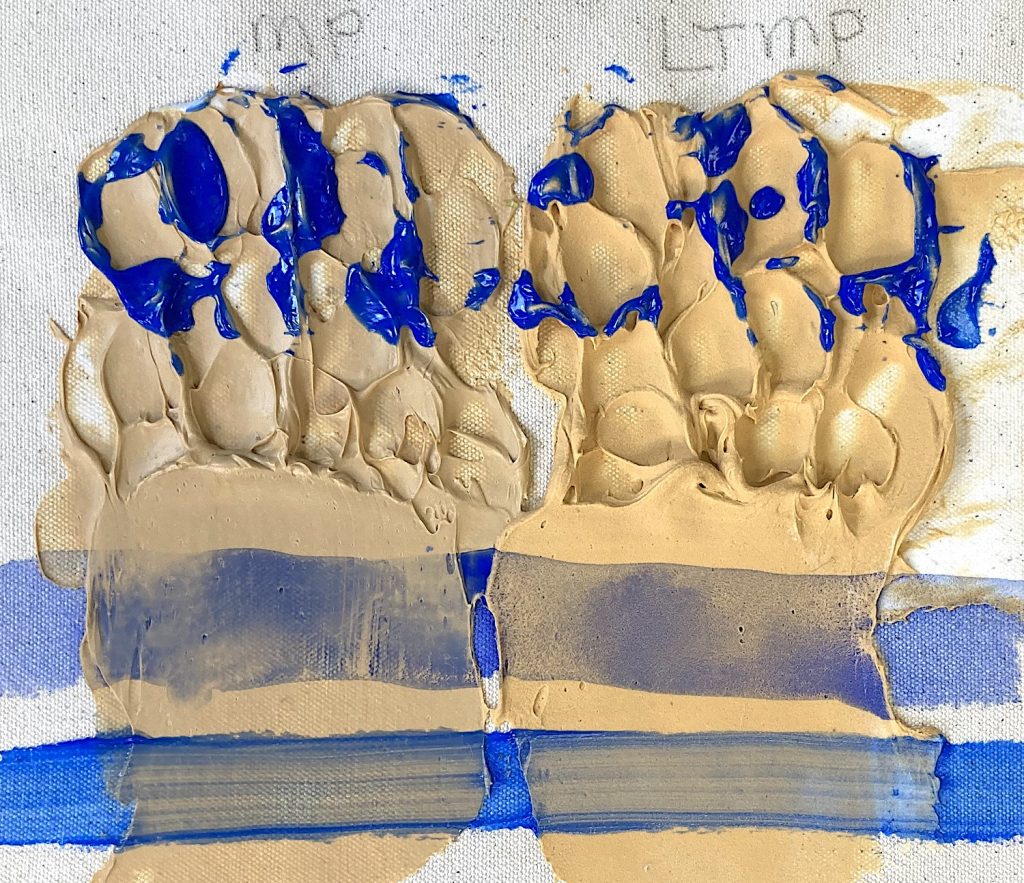 3. Collage work with fabrics, paper, acrylic skins, cast acrylic and experimental collage elements.
There is so much potential and possibility for creating a large range of different kinds of textures and surfaces by combining various collage elements with your paint and paint/medium mixtures. Here are some examples: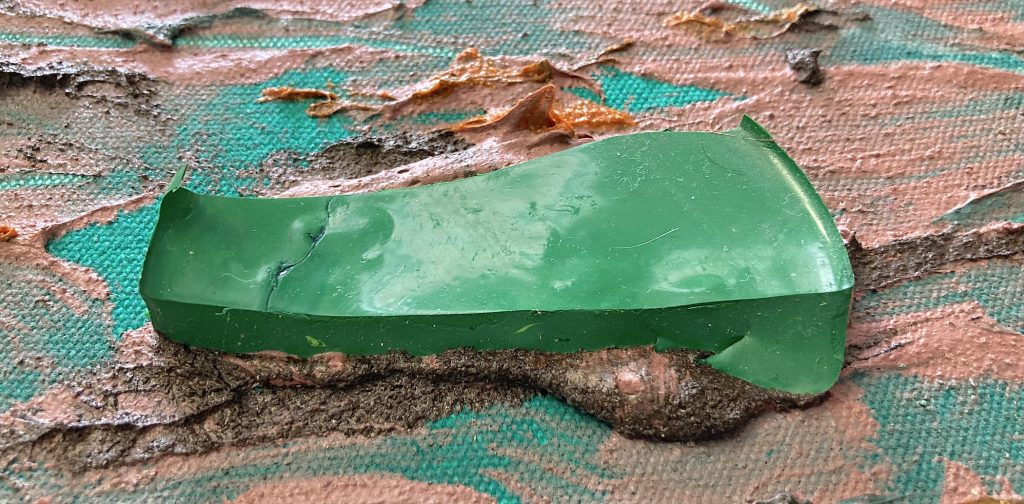 The use of various collage elements adhered to a surface using one of our mediums, gels or pastes can create many different kinds of surface textures specific to the materials collaged. Fabrics, papers, string, acrylic skins, and a large range of experimental objects and materials can be adhered. The selection of alternative collage elements such as glass, plastic beads, natural objects like sticks, grass, leaves, etc., must be tested and the adhesion, lightfastness and archival nature must all be considered. With fabrics, as long as there is some absorbency and the medium used to adhere it can soak into the weave, then adhesion should be good. There could be some exceptions such as some kinds of Tyvek, so again, testing is important whenever using alternative materials in your work. Certainly some art objects will present challenges to future conservators. Some kinds of collage materials will change, degrade or otherwise not last as long such as various types of natural objects like dried leaves, twigs, etc.
Acrylic paints, mediums, gels and pastes can all be used to adhere a large range of collage elements. Some absorbency or porosity of the material will help with adhesion. Non-porous materials like glass, ceramic or some kinds of plastics will generally need some special adhesives. Or, if they are encapsulated or have recessed areas where the acrylic paint or medium can grab onto the object, could possibly be well attached. Paper or canvas or other fabrics can be soaked and adhered to canvas or panel to create all kinds of texture and even high relief. Adhering collage elements can be as simple as pressing them into wet paint or a paint and medium mixture, and as long as there is enough surface contact and the medium has enough tack to adhere, it will be well adhered. As the collage elements get heavier or more rigid, it is often best to use a rigid panel for your work. Gel Mediums such as Soft Gels, Regular Gels or for more tack, Heavy or Extra Heavy Gels can be used as adhesives. Considering the dry surface sheen of the specific medium used is an aesthetic factor.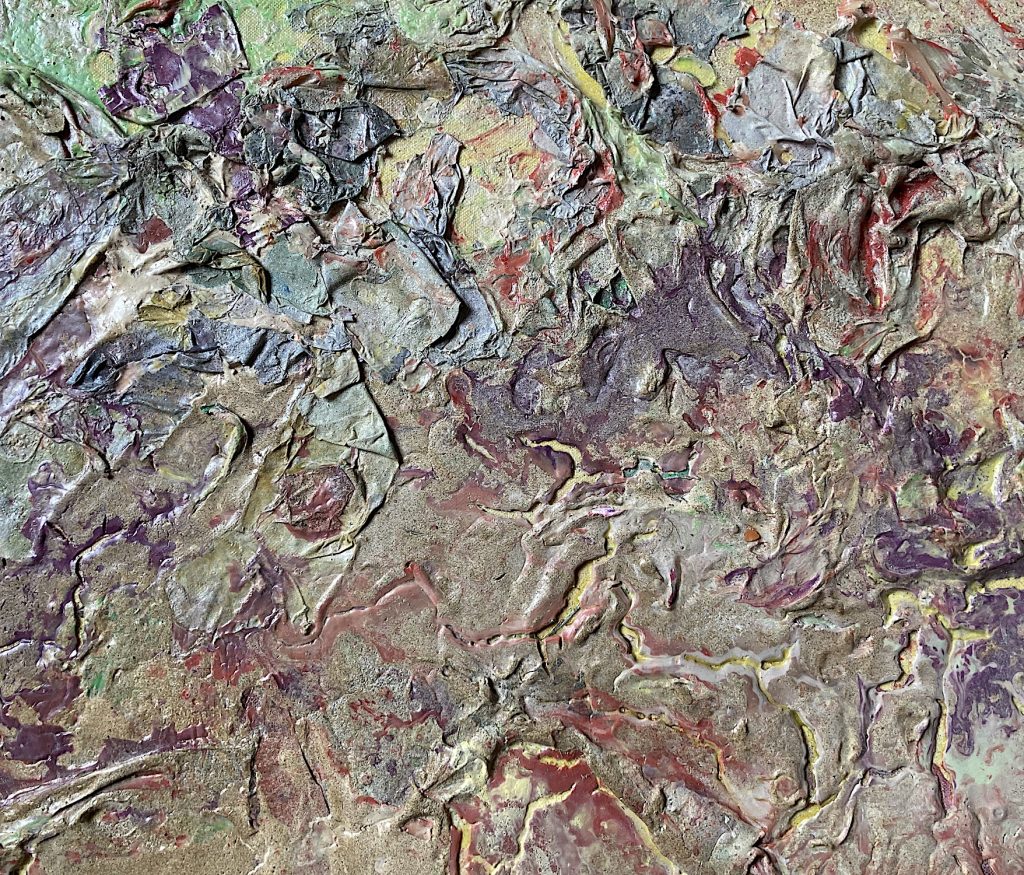 Acrylic skins, which are dried acrylic paints and mediums peeled off of surfaces that acrylic does not adhere to, can be adhered to receptive surfaces with more paint or medium. It is possible to get pretty aggressive with all these methods in terms of how much relief or surface texture you want. Of course you will have to figure out the best way to deal with the added weight and use very sturdy panels or stretchers as needed.
It is even possible to cast acrylic paints and mediums in low relief silicone molds or peeled out of HDPE (High Density Polyethylene) plastic surfaces such as the containers we use for our products. The images above show a few examples of this.
Here is a list of links to pertinent product descriptions, videos and application sheets:
Collage Video: https://www.youtube.com/watch?v=PCPO-VJQB1s
Gels and Mediums as Adhesives: http://www.youtube.com/goldenpaints#p/a/u/0/PCPO-VJQB1s
Making "Skins" with Fluid Acrylics
Mixed Media: Collage Elements with Paint Skins
Product Review: Gels and Mediums
Here is a link to a video showing the consistency of our different gels
Molding Pastes Introduction (Video)
Impasto landscape using Light Molding Paste
This is the last article I will write for Just Paint, at least as an employee/owner of Golden Artist Colors, and I want to say thank you to everyone at GOLDEN and all our customers and the people who take the time to read our articles here. I am retiring at the end of June this year. See you down the road!
As usual, if you have any questions about anything in this article just call us at 607-847-6154 or email at Help@Goldenpaints.com