Here are some questions and answers covered in the GOLDEN Technical support program. We hope you find this section informational and useful. While you are painting, if you come across a technical difficulty or question, please feel free to contact us for technical assistance at 1-800-959-6543 or go to www.goldenpaints.com.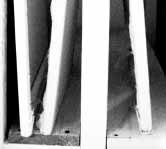 Is it a problem to cover the face of the canvas with glassine sheets, or will they stick when hot?
The use of glassine (a thin, dense, transparent or semi-transparent paper highly resistant to the passage of air and grease) on acrylic can be a concern, as there are several factors, which should be addressed. First, it's important to allow the acrylics to have sufficiently cured to reduce their tackiness. The surface should not feel overly tacky and any clear gel medium films should appear to have lost their inherent milky appearance. Bear in mind that the thicker the acrylic paint film is, the longer it will take to dry. Secondly, the specific kind of glassine or release paper can make all of the difference. Finally, we have found that even with the better papers, the amount of weight or pressure can force the two materials to stick together. Therefore, avoid stacking multiple paintings on top of one another and avoid jamming too many paintings into a cabinet together. In short, it is always best to avoid allowing anything to touch the paint surface during storage or transport.
Can you transport acrylic paintings on canvas by rolling them and putting them in tubes?
Ideally, shipping paintings with absolutely nothing touching the surface is the safest way to transport work. The main reason is to avoid something sticking to the surface or "ferrotyping" a sheen or texture to the painting's surface. However, we realize that sometimes it is unavoidable to ship a painting without something touching the surface, and our best recommendation is to use a thick polyethylene plastic to cover the painting. Most hardware stores carry the proper kind of plastic sheeting. Look for 4 ml or thicker versions, and try to find one without many folds or a texture. Rolls of smooth black or clear plastic can be found readily, but even these should also be cleaned before use. A non-streaking glass cleaner works well with a lint-free cloth.
Cut and clean a piece of the plastic as needed for the artwork, and lay it onto a CLEAN table or floor. Then lay the canvas face down onto the plastic. Next, using a cardboard or plastic tube of a reasonable diameter (minimum diameter 6 inches is recommended), carefully roll the canvas and plastic sheeting around the tube. Ideally, you don't want them rolled up too tightly, but also not so loose that they may slide around during shipping. Wrap tape around the rolled canvas near both ends and in the center. Avoid taping too tight as well. The rolled canvas should then be put into another larger tube for shipping. If necessary, use more plastic sheeting as cushioning. Remember, this is for shipping only. You do not want to keep a painting stored like this because moisture can be trapped in the plastic and if the painting isn't completely cured, it can retain the rolled shape.
When shipping paintings in cold climates, be aware of the reduction of flexibility of the paint films. The main article of this Just Paint issue will discuss the proper unrolling techniques when the painting arrives at its destination.

I live in an area with high heat weather during the summers and at times, an occasional frost. I want to store my canvases in my attic upstairs, where it can be quite hot during the summers. We have attic fans that come on automatically to circulate air out. However, I know not to store acrylic canvases face to face due to softening in hot weather, but what else should I do to protect these pieces if I have to store them up there?
This isn't the worst kind of storage. Storing the canvases so nothing is touching the surface is best (hang them if unstretched, stand them upright if stretched). Attics and other similar storage areas usually have a lot of dust. Acrylics can accommodate temperature fluctuations. However, it is critical that the work is not moved or hit while very cold. The danger to the paint film in warm weather is the softening of the paint film. This should not be a problem unless something comes into contact with the work's surface.
Take a section of the attic or barn that is free from water leaks and any other contaminates and create some simple framed-out areas that will accommodate paintings of the scale you normally work in. It's good to settle on the space you intend to use and then draft up some plans. Any unusual sized spaces will be filled with raw canvas and other pack rat items. Once the space has been framed out, then use heavy gauge plastic (comes in rolls at the hardware store) and tack it around the outside of the frame to reduce dust and bugs from settling on the paintings. If the space you selected has questionable walls, tack the plastic down before framing as well. Make sure not to cover the vent fans as you would still want some air movement.
I am painting an exterior mural overseas and I was wondering if there were any airline restrictions on taking supplies aboard the plane?
Air travel in a post-9/11 world is different, whether traveling in America or abroad. The best suggestion is to mail the paints to your destination ahead of time, or have a store "drop-ship" them to your location. In some cases, additional packages on a plane can cost you an additional $250 over the ticket price! While most water based, non-toxic materials should not be of concern, it's important to have the appropriate paperwork to accompany the products. Material Safety Data Sheets (MSDS) should be packed with the paints. Our MSDS are available in a US format and a European format, both in English only. In addition to the MSDS, GOLDEN can provide a certification letter to you when you need to travel with our paints. We also encourage artists to inform the airline in advance about the need to carry on or check such materials; that they will be bringing the documents described above with them; and to ask if there is any other concerns that should be addressed prior to arriving at the airport. Finally, due to our worldwide distribution, you may want to check if there are any GOLDEN suppliers near your destination. We suggest consulting with the GOLDEN International Sales Department for advice on these matters. They can be contacted by telephone at (607) 847-6154 or sales@goldenpaints.com. Also, keep in mind that depending on the value of the products, you may be required to pay duty fees, custom fees, etc., so a "Customs Broker" may need to be hired.