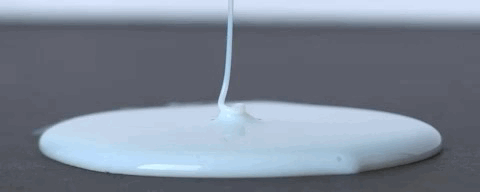 What is interesting about GOLDEN Artist Acrylics is that they all have unique properties that can modify our painting experience. Many of our product offerings have come out of a dialogue with artists who expressed their needs and each has been thoughtfully designed as a result. Since the catalogue of our products is vast, it can be helpful to find useful ways to parse through them and get to what you need for a particular project. In a recent article on Mediums vs. Additives we tried clarifying the intentions behind some of our products. This article on Rheology can be viewed as a companion and will elaborate more on the "feel" of acrylics and how that affects our painting.
Rheology and its Relationship to Viscosity
As artists, we cannot help but respond to the feel of acrylics; how they flow and how thick or thin they are. If we look at these aspects in more depth, the flow of an acrylic product can be referred to in terms of its rheology. Rheology is a branch of physics that looks at the flow of liquids or soft solids and how they are deformed by external forces. An example of deformation could be dragging a brush through some Heavy Body Acrylics or pouring out some Fluids, tilting the surface and encouraging them to sag.
Of course, acrylics do not flow indefinitely and are not without any resistance to our applications. Viscosity, which falls under the umbrella of rheology, is a measure of that resistance to flow or deformation and it correlates to a product's feeling of thickness. Across the range of GOLDEN products, some feel water-like in their consistency offering little resistance to our applications. Others feel stiff like peanut butter, pushing back against us while retaining evidence of our mark making. Both qualities of viscosity and rheology will affect how an acrylic product handles in an application and what it will feel like.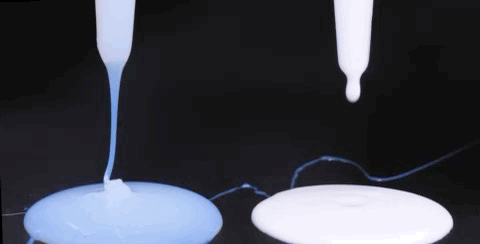 (Left Image) Tar Gel exhibits a long rheology while GAC 100 on the right shows a short rheology. (Right Image) Clear Leveling Gel and Soft Gel have a similar viscosity, but Clear Leveling Gel will level about as well as Fluid Acrylic Color.
To take this a step further, we can classify products as having long or short rheology. Again, this relates to flow, with long rheology being closer in consistency to honey. We affectionately refer to this quality as being 'taily' since it drizzles off a palette knife. Products that are long recover from the deformation of a brushstroke or palette knife more slowly, which allows them to relax or level. With leveling there is a reduction in surface irregularities and an increase in the uniformity of sheen. Long products like Tar Gel or Clear Leveling Gel may also feel more resinous in applications, which can be strongly influenced by their viscosity.
Products with short rheology will break or drip off of a palette knife rather than drizzle. They will recover very quickly from the deformation of a brushstroke or palette knife and hold on to evidence of the tool or mark made. Products with high viscosity and short rheology like Heavy or Extra Heavy Gel make for great impasto or texture building. Depending upon their viscosity, short rheology products can be water-like in consistency, buttery smooth or stiff feeling. Rheology and viscosity are entangled and it can be helpful to have an example that helps delineate these differences, one such example relates to leveling.
Guidelines on Leveling
Low viscosity is inherently leveling
Longer rheology always levels more at the same viscosity
Rheology – a Lab Perspective
As paint makers we have a vested interest in viscosity and rheology; it is what gives our products their unique feel. Artists come to rely on it. In order to match their expectations we want to ensure consistency between batches. So, we measure the performance of our acrylics under varying degrees of stress using equipment like a Viscometer and a Cone and Plate Rheometer. We call this stress shear, and we measure it in millipascals per seconds (mPa) or centipoise (cP). The unit of measurement is the same between the two with 1 millipascal or centipoise equaling the resistance or viscosity of water.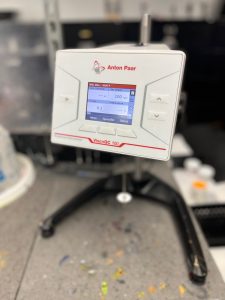 (Left Image) A Viscometer, which uses a spindle to measure the viscosity of an acrylic product under one flow condition. (Right Image) A Cone and Plate Rheometer is used to measure the response of an acrylic product across a range of conditions (shear). Both are used to ensure consistency between batches and for quality control.
The way products react under shear stress tells us a lot about their viscosity or how much they resist flow, which again, is conceptually related to how thick or thin a product may feel. A low shear rate on a rheometer, for example, simulates the stress of squeezing paint out of a tube while a mid-shear rate measures something closer to a brush application. When shear is applied, most acrylics will see a drop in viscosity over time that corresponds to the amount of shear. As shear is reduced, some products will recover very quickly and others will slowly return to their original viscosity over time. This is a quality known as thixotropy.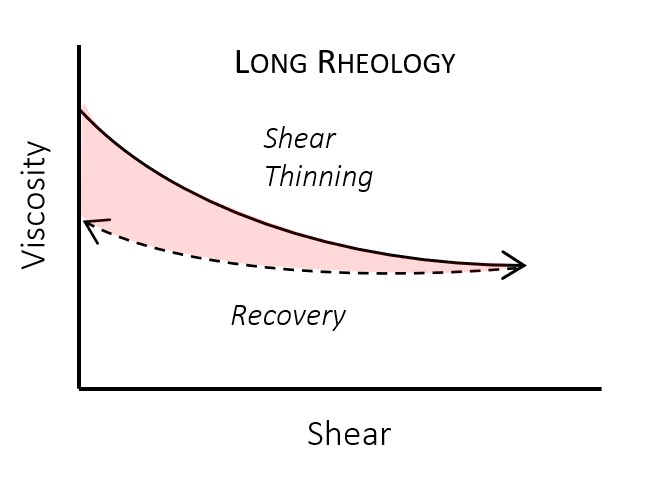 (Left Image) A long recovery or long rheology will return to its viscosity much slower. We can look at the area between the upper and lower curve as a measure of a product's thixotropy. (Middle Image) A quick or immediate recovery is an indication of short rheology, which will look like the applied shear and recovery are laid directly over one another. (Right Image) Different degrees of shear can simulate different conditions like the activity of stirring a jar of acrylic or doing a brush application as seen in the chart on the right.
A fun counter example to thixotropy or shear thinning, would be a mixture of corn starch and water. If we were to test this mixture under the same shear conditions as an acrylic medium, it will dramatically thicken to almost a solid and then quickly return to a more fluid consistency after shear is reduced. We call this quality dilatant and you can imagine how difficult this might make painting! Both acrylics and the cornstarch mixture are examples of Non-Newtonian Fluids for their response to shear. Other fluids like water or oil are Newtonian Fluids that would see a much flatter response to shear without dips or raises in viscosity over time.
How fluids respond to shear is very interesting, but for practical purposes our quality control team uses this information to check every batch of acrylic product we make in production. We want to make sure they fit within a tight range to ensure consistency and to monitor quality. These parameters give us a sense of the end user experience with our products in a measured and controlled manner, but we also test our products as an artist would use them. Our Materials and Application Specialists who test our products daily have developed quite a sensitivity to rheology and viscosity through their experience as artists and familiarity with GOLDEN Artist Acrylics.
Resources
We wanted to provide a few resources for artists so they can determine which product is right for their particular application. If we think of paint consistency being a relationship between Rheology and Viscosity it can be a helpful way to navigate the range of acrylic products GOLDEN offers. Below is a chart where we list the Viscosity, Rheology, Gloss Ratings, and Opacity for non-color GOLDEN Acrylic Products. Having recently changed our labels and removed the slider bars, we wanted to include this information for artists to reference as needed. We have also added links to our Pigment ID Chart that has a lot of great information on our color products from different paint lines.
As always we hope this article has been helpful and do not hesitate to reach out to us at help@goldenpaints.com if you have more questions or leave us a comment below. We also want to thank Ulysses Jackson and our Lab for assisting us in conversation and data for this spreadsheet and Christopher Farrell for helping with feedback and assistance on design. Until next time!
References:
Ali Javadi, Hamideh Shokouhi Mehr, Mark D Soucek. "(Meth)acrylated poly(ethylene glycol)s as precursors for rheology modifiers, superplasticizers and electrolyte membranes: a review" Polymer International (10 July 2017)
Kästner, U. "The impact of rheological modifiers on water-borne coatings" Colloids and Surfaces A: Physicochemical and Engineering Aspects, Volume 183-185, 15 (July 2001)
"Basics of Rheology", Anton Paar, https://wiki.anton-paar.com/en/basics-of-rheology/.
"Rheology Handbook: A Practical Guide to Rheological Additives". Elementis Specialties (August 2002)
"Rheology in Paints and Coatings – Essential Concepts", SpecialChem, https://coatings.specialchem.com/coatings-properties/rheology?src=sg-overview-cnx