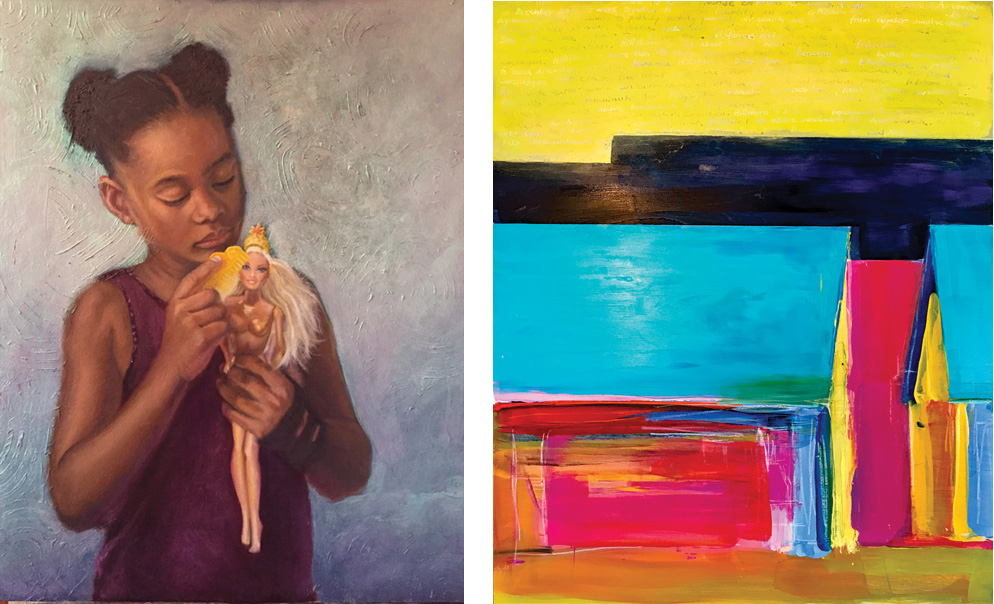 This past September 4th – 29th, Golden Artist Colors, in collaboration with the Scholastic Art & Writing Awards and its affiliate national nonprofit organization, the Alliance for Young Artists & Writers, sponsored the group show Artists & Mentors. The show included 12 artists who had been selected for the GOLDEN/Scholastic Artist Residency. This show shined a well-deserved spotlight on the talented practicing artists who are also teaching and inspiring their young students in the classroom.
Since 2014, Golden Artist Colors has annually sponsored three teachers whose students received Scholastic Art & Writing Awards to attend a two-week residency program hosted at the Golden Foundation Residence. Each year, several hundred teachers apply and an independent selection committee makes the residency awards based on the quality of their submitted artwork.
These teachers who were honored with a Residency all have teaching credentials that would be the envy of any school. It is no small feat to both teach a full-time schedule in our schools and to have a successful art practice. The show, curated by Jim Walsh and with the incredibly valuable support of The Painting Center, allowed us to share the talent of these amazing artists and educators.
The artists in the show included:
During the show, on September 15th, Golden Artist Colors also sponsored a panel discussion at The Painting Center entitled Teaching Our Children to Think Like Artists. On the panel were:
Dr. Jerry James – Director of Teaching and Learning, Center for Arts Education, NYC
Tendo Mutanda – Senior Program Manager, Scholastic Art & Writing Awards
Barry Nemett – Faculty, Painting Department MICA (Chair 1990-2016)
Stacy Rosende – Director of Education at Golden Artist Colors
Elizabeth Stainton – Fine Arts Teacher, Brearley School, NYC & Scholastic Artist in Residence.
This panel of distinguished educators was brought together to discuss how we assure that our schools, our teachers, and our parents are prepared to create, prepare for and to demand to make available the critical skills taught through the arts. Eric Pryor, now the President of the Harlem School of the Arts while still the Executive Director of the Center for Arts Education in NYC shared and I'll paraphrase: "We don't expose our children to math because they want to be accountants and we don't expose them to English because they want to be journalists. It's because we think it's core to their development. So similarly, we don't teach art because we want our children to all become professional artists. But clearly an art education is also core to their development."
In an article written by Alison Cole, she shares, "Creativity and the arts have never been more relevant to a world that will set great store by human ingenuity, resilience and adaptability." The evidence for a well-grounded education is quite clear as to the benefits and has been shared by Americans for the Arts: Students involved in the arts are four times more likely to be recognized for academic achievement. They are three times more likely to win a school attendance award. Low income students who are highly engaged in the arts are more than twice as likely to graduate from college compared to peers with no arts education. Students engaged in the arts score higher on their SAT's and are more likely to graduate on time compared to peers with little school day arts instruction. Students who participate in the arts are less likely to receive out of school suspensions. We know the arts inspire students and promote growth in self-confidence, empathy and increased social tolerance. Finally, 72% of business leaders say that creativity is the number one skill they seek when hiring. Yet, despite this, we still have to defend even the small amount of resources provided to our children.
The discussion from both the panel and the audience was incredibly engaging and supported the ideas around teachers continuing an art practice and the value that creates for their students, as well as working with our colleges offering art teaching credentials to amplify not just the teaching of art skills, but the ability to teach the tools of creativity.