The product development process at Golden Artist Colors is a constant collaboration between artist and paintmaker. Over time, this has resulted in the wide array of painting tools offered for today's professional artist. We are always in a state of continuous improvement of current products as well as creating new ones that benefit the artist. For 2019 we offer unique products, a new studio tool, and a newly designed tube cap.
NEW PAINT TUBE CAPS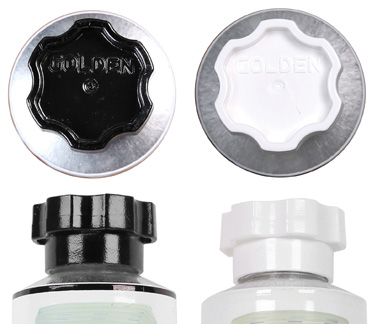 Sometimes the best improvement to make isn't made to the actual product, but its delivery device: the ubiquitous tube cap. The current caps can be a bit challenging to twist off, so we added some gripping power with a "Deep Cog" design. In the spring of 2019 we'll begin rolling out Heavy Body Acrylics and OPEN Acrylics paint tubes with redesigned caps. The new cap makes it easier to get a grip and provide some substance to hold onto. Marketing Director Matt Cleary aptly describes the new tube cap as "snow tires for your fingers!"
PAINT TUBE CAP TOOL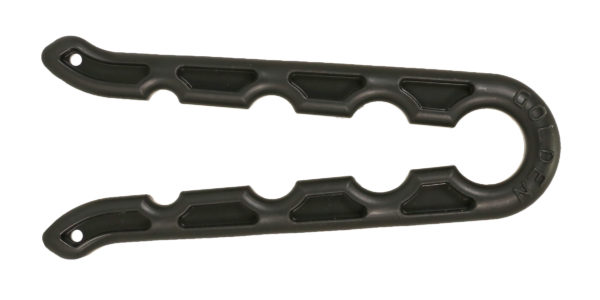 Along with a new tube cap, we unveil a nifty tube opening device called the GOLDEN GRIPR™ Cap Tool. The Gripr™ is made from durable yet flexible ABS plastic and can be used on a variety of paint caps. It can be used with both old and new style GOLDEN paint tubes, as well as Williamsburg Oil and QoR® Modern Watercolor tubes. The Gripr™ is easy to use and provides leverage to remove even the most stubborn caps. The tool will be available in stores that sell GOLDEN products.
COLOR POURING MEDIUM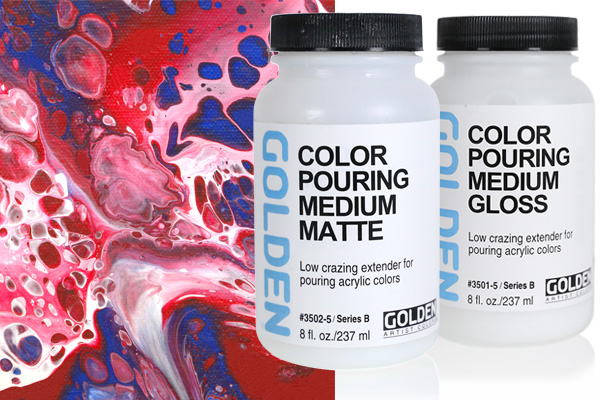 Using gravity to direct liquid paints to flow isn't a new technique. However, the following two new pourable acrylic mediums are. Making their debut in 2019, Color Pouring Mediums are intended to be blended as desired with either Fluid or High Flow Acrylic paints. The most unique of these products is our Color Pouring Medium Matte. Typical pouring blends end with a high gloss finish, while our new matte product changes the dynamics for artists experimenting with pours. Other paints may be blended with these mediums, but Fluids and High Flow Acrylics are ideally suited to blend with the Color Pouring Mediums. In order to learn the working properties of these mediums, begin at a simple 10:1 (medium to paint) ratio. Refer to our website for further information.
Color Pouring Mediums can be used to create both opaque and translucent paint layers with excellent control during painting. Both are exceptionally adept for paint puddles and "pancake pours" with little risk of cracks or crazes. Mixtures can be stored and applied using a variety of tools and techniques.
Color Pouring Medium Gloss readily flows onto the painting surface, generating uniform pools of paint. The dried surface of Color Pouring Medium Gloss (CPM Gloss) is smooth and shiny.  Adjusting the amount of paint added to CPM Gloss controls saturation and opacity. Mixtures can be used in a variety of techniques, with crisp color boundaries that respond to tilting and gentle persuading. Add small paint additions to create veils of translucent color over previously painted passages.
Color Pouring Medium Matte: If you are not a fan of high gloss paint surfaces, then check out Color Pouring Medium Matte (CPM Matte). This moderately viscous leveling medium allows for uniform color fields without brush or tool marks. It drips and drizzles with ease. Air bubbles readily rise and pop during drying. Although CPM Matte is quite flat, colors remain deep and vibrant. Surprisingly, even Iridescent and Interference Colors retain a great amount of luster.
ISOLATION COAT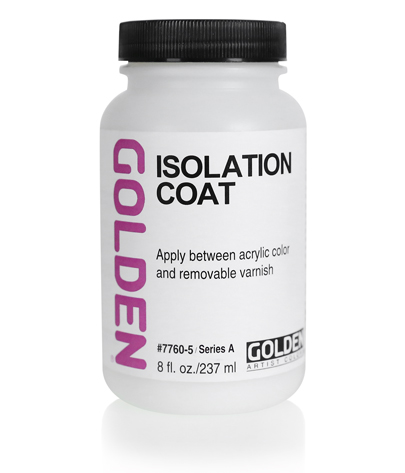 The new Isolation Coat is a ready-to-use sealing coat for acrylic paintings. Previously acrylic artists' only recourse was to dilute Soft Gel Gloss with water (our former and still acceptable recommendation) before applying it to completed acrylic artwork. The new Isolation Coat takes the guesswork out of measuring and mixing, with increased flow and leveling and may be applied during any part of the painting process. Finishing a painting with isolation coat and varnish provide ongoing protection for your artwork from the hands of time. Isolation coat is a permanent acrylic medium that seals surface absorbency and allows for improved varnish application and easier varnish removal. Apply one or more layers before varnishing.
SEMI-GLOSS ARCHIVAL SPRAY VARNISH

Finally we offer a new sheen of our aerosol varnish called Archival Varnish W/UVLS Semi-Gloss. It's relatively easy when using MSA or Polymer Varnish to mix the Gloss and Satin varnishes together to create a semi-gloss, but that's not an option when using spray can varnish. The new Semi-Gloss aerosol varnish serves to lower gloss yet retain color depth, making it ideal for a buildup of multiple coats. As with the previously offered sheens (Gloss, Satin and Matte) Semi-Gloss Archival Spray Varnish may be used on top of a variety of artist media, including acrylic paint, oil, watercolor, ink-jet prints and collage.
These products are the result of listening to you: our customers. If you have any questions about these tools or any of our products or specific applications – contact the Material and Application Specialists at 800-959-6543, help@goldenpaints.com or via social media.  Also visit goldenpaints.com for new product information and videos.