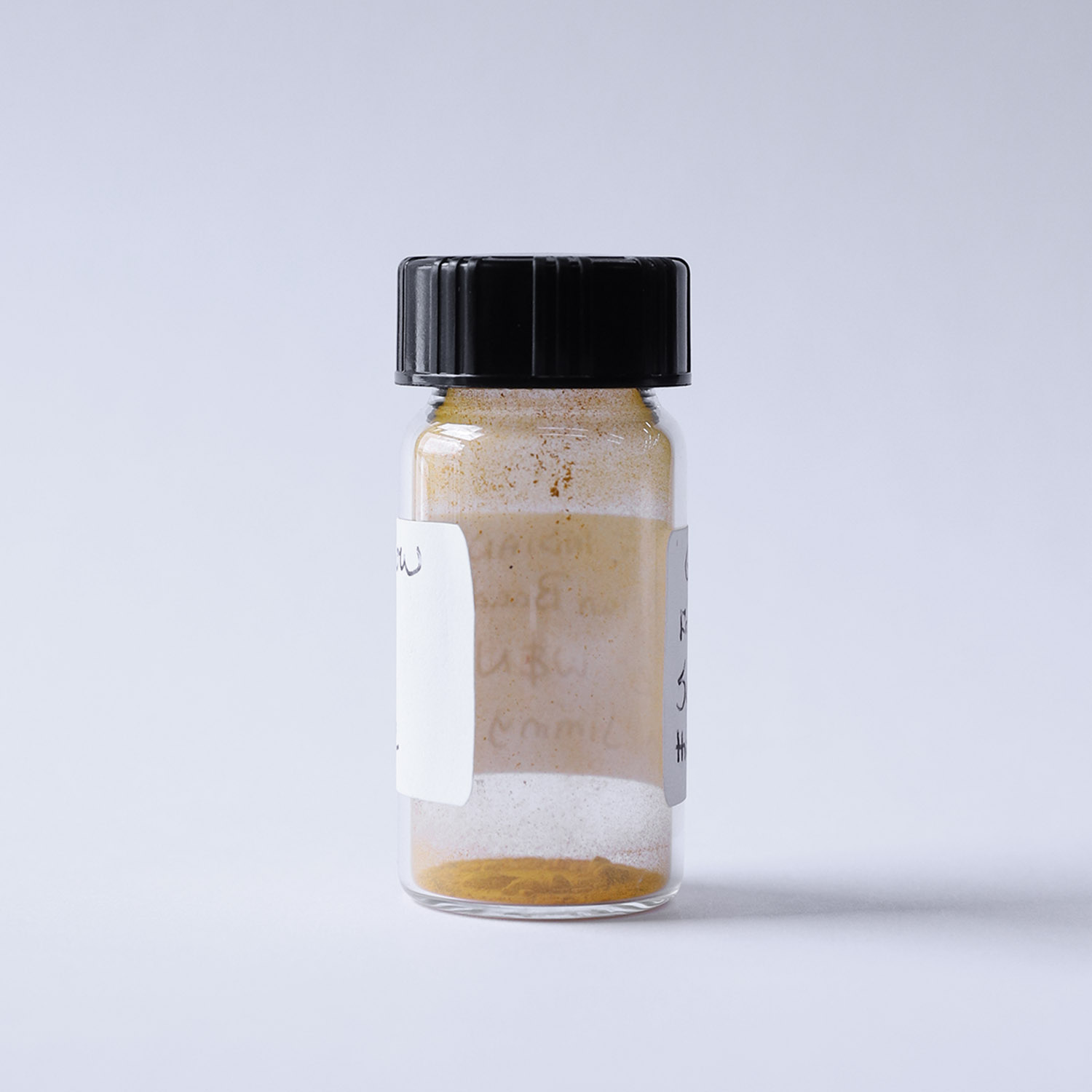 Genuine Indian Yellow was prized for its transparency, depth of color and mixing properties with notable applications in landscape painting. Its origin was and is still, a curiosity. Recently, a 19th c. sample of Indian Yellow pigment was generously donated to Golden Artist Colors by Brian Baade, Paintings Conservator and Assistant Professor of Art Conservation at the University of Delaware. In a recent conversation with our Formulator Ulysses Jackson at an ASTM (American Standards for Testing Materials) Meeting, Brian mentioned he had come into a tiny amount of this Genuine Indian Yellow, authenticated using polarized light microscopy. Intrigued, we extended an offer to do some additional analysis of this sample in our lab and share the results alongside a comparison of our Williamsburg, GOLDEN and QoR India Yellow*. Thus a collaboration was born, one of many we have had with Brian over the years.
To have a genuine sample of Indian Yellow is an exciting opportunity for GOLDEN. For this article we hope to provide a brief history of this pigment for context and share the results of our scans so that conservators and enthusiasts alike can have a data set to add to their repositories.
*India Yellow (Indian Yellow): Golden Artist Colors will be changing the name of GOLDEN, Williamsburg and QoR Indian Yellow (hue) to India Yellow (hue) and within this article we will make reference to our products as such. To avoid confusion, when referencing historic "Indian Yellow", we will refer to it by its historical name.
A Brief History of Indian Yellow
Tracing the origin of Indian Yellow Pigment has been a complex social and scientific endeavor spanning at least two centuries. Still, to this day, there is much debate as to whether Genuine Indian Yellow was fashioned from plant or from animal. It is not surprising there is confusion surrounding this pigment as its genesis has been obscured by myriad names, misattributed pigments, different grades of Indian Yellow and even the blending of this unique pigment with other colorants. The sole first-hand account of its manufacturing by T.N. Mukharji in 1883, described the raw material as being derived from the urine of cows fed a diet consisting solely of mango leaves and water. A diet toxic to cows and a process considered loathsome enough to be banned or fall out of favor in India as a result of religious preferences or changing cultural mores. After decades of research by scientists into metabolic processes and key biological markers, it is in fact likely Genuine Indian Yellow was produced as the popular story would suggest and was described by Mukharji. Recently, there has been renewed interest in the origin of Indian Yellow as one of the more mythic colorants and in light of the science there can be some irony in that it takes both plant and animal to produce this pigment.
Analyses of Genuine Indian Yellow
Below we have included a series of drawdowns of Genuine Indian Yellow pigment mixed with Alkali Refined Linseed Oil along with some tints using Titanium White. We chose to make oil paint for the historical data and have included Spectrophotometer and FTIR scans of these samples with some direct comparisons to our Williamsburg Oils, GOLDEN Acrylics and QoR Watercolor.
Drawdowns
In image A we have Genuine Indian Yellow as a 6mil drawdown where you can get some sense for the transparency and masstone at a thickness similar to a brush application. In images B, C, and D, different amounts of Titanium White were added to see what this sample would look like as a tint and to assess its tinting strength. Due to the rarity of our sample of Genuine Indian Yellow we cast smaller drawdowns than typical.
Spectrophotometer
The Spectrophotometer as a tool allows us to measure how light interacts with a particular sample. Different colors will reflect light in different intensities at different wavelengths. This allows us to "measure" the visible range we perceive as color, which can be an asset in applications such as color matching and lightfast testing. Below we have compiled a series of reflectance curves of Genuine Indian Yellow as compared to its Tints, a Glaze and our versions of India Yellow from Williamsburg, GOLDEN and QoR. We have included a link to an Excel file that contains the data from our scans on an Xrite CI7800 as well as these graphs.
Click Here to Download Spectrophotometer Data Set
Fourier Transform Infrared Spectroscopy (FTIR)
Fourier Transform Infrared Spectroscopy or (FTIR) is a tool that allows us to measure the "signature" of a particular sample as Infrared Radiation (IR) is passed through it. By measuring the absorption and transmission of IR, it tells us the different chemical structures present, which serve as unique identifiers. As a comparison, the Spectrophotometer will give us a color profile by measuring the reflectance of light on our sample. The FTIR scan will give us insight into the chemical structures that make up our sample. That being said, without an FTIR database and computer analysis, very little can be gleaned from these curves by looking at them. Still, we offer FTIR scans of Genuine Indian Yellow in Alkali Refined Linseed Oil as well as a separate scan of the Alkali Refined Linseed Oil on its own. We have also included an Excel file that contains the data from our scans on a Bruker Alpha II ATR as well as these graphs.
Click Here to Download FTIR Data Set
Acknowledgements
We would again like to thank Brian Baade for sending GOLDEN this sample of Genuine Indian Yellow and for being such a great resource and friend. We would also like to thank Ulysses Jackson for doing what you do and a special thanks to Trevor Ambrose for collecting and organizing the data used for this article. It has made it possible for us to share this information with the public, which is a unique opportunity and something we at GOLDEN love doing.
References
De Faria, Dalva L.A., et al. "A Definitive Analytical Spectroscopic Study of Indian Yellow, an ANCIENT Pigment Used for Dating Purposes." Forensic Science International, vol. 271, 2017, pp. 1–7., doi:10.1016/j.forsciint.2016.11.037.
Ploeger, R., et al. "Late 19th Century Accounts of Indian Yellow: The Analysis of Samples from the Royal Botanic Gardens, Kew." Dyes and Pigments, vol. 160, 2019, pp. 418–431., doi:10.1016/j.dyepig.2018.08.014.
Ploeger, Rebecca, and Aaron Shugar. "The Story of Indian Yellow – Excreting a Solution." Journal of Cultural Heritage, vol. 24, 2017, pp. 197–205., doi:10.1016/j.culher.2016.12.001.
Smith, Gregory Dale. "Cow Urine, Indian Yellow, and Art Forgeries: An Update." Forensic Science International, vol. 276, 2017, doi:10.1016/j.forsciint.2017.04.013.