We hope Just Paint has been a valuable resource for artists, educators, material scientists and conservators to allow us to share our research and insights on the range of products we produce. I am seizing this space to extend a personal thank you to all of you who have supported our products over all these decades. At the beginning of this month we announced that Golden Artist Colors is now 100% owned by the staff — a wonderful culmination of succession planning that we began over 20 years ago! What I want you to know is that you couldn't have a more dedicated and engaged group of owners, who understand that to succeed in the future they need to maintain and even more so, to advance the work, improve the level of service, and expand the resources available to all of you.
During this 41-year journey, I have been joined by incredible talent. While my wife Barbara and I started with an unbelievable jump start with the mentorship of my Dad, Sam Golden — a pioneering paint maker — and my mother Adele, who kept the ship afloat during the very fragile early years, it has been the many people here who have made Golden Artist Colors' mission part of their full commitment that has truly allowed this organization to flourish.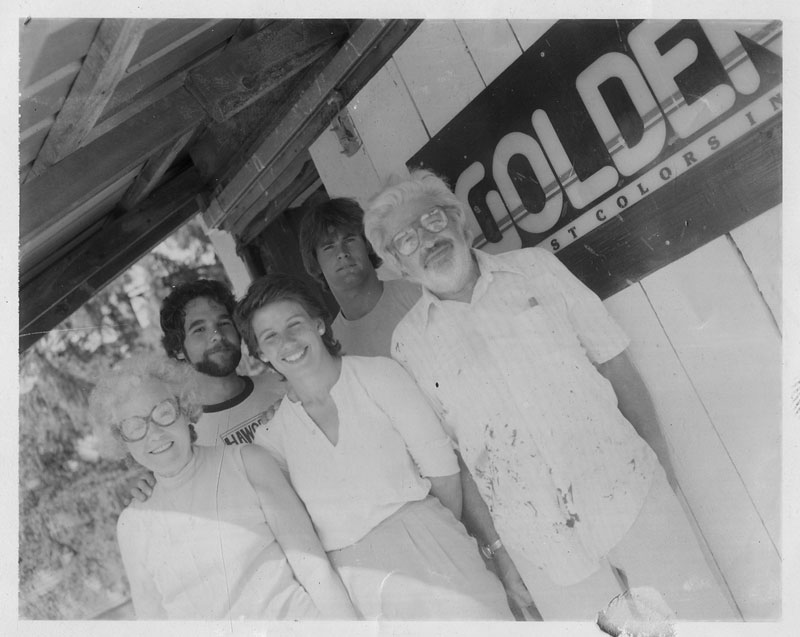 This ownership mentality has been part of the organization since we began our profit sharing program with all staff in 1987, which was actually the first year we made a profit. This ownership culture could not have been more evident than during the last 20 months. It would be a mistake to avoid sharing the difficulties that we've experienced during this COVID era. Supply shortages, breaks in supply chain, transportation break down, discontinuation of raw materials and pigments from manufacturers and the various COVID lock-down periods have disappointed all of us from the high standards we've all been so committed to support. What you don't know from the outside are the incredible planning and purchasing efforts that have required daily and sometimes even hourly changes in Operations. These changes have required Production, Shipping and support staff to work all sorts of crazy schedules to keep materials flowing through the shop.
These times have truly tested this incredible team. I am so proud to have handed this amazing company over to these people, who have always given their hands and head to the company, but even more so have given their hearts. It is also important to recognize the families that have shared in their sacrifices to build something wonderfully special. Barbara and I and our entire family extend our never-ending gratitude.
While Barbara will be retiring this December to enjoy her grandchild(ren) and support the Artist Residency, I will continue to do what I love — work with some of the most creative people in the world in helping to strategically lead the company into the future. I am also committed to the Vision of Golden Artist Colors, "To be a catalyst bridging creative communities and inspiring positive global change through the arts." I have never been more inspired to bring to the artists that have continued to support us all these years, our continued efforts in doing what we do best: To bring you the tools that continue to inspire and delight.
Warmest regards,
Mark