By Digital Atelier® Artists, Karin Schminke, Dorothy Simpson Krause, Bonny Pierce Lhotka
As computers are becoming commonplace in homes and studios, artists are integrating digital processes into their work at an ever-increasing rate. Superior digital editing capabilities encourage creative exploration and give the artist more precise control over the production of their art.
Some artists are attracted to digital imaging because they like the ability to see alternative views of work or "undo" decisions made moments or weeks ago. Some like the ability to add photographic realism to their prints or paintings. Perhaps the most compelling aspect of digital imaging is that it facilitates integration of a wide range of media. Painting, drawing, collage, photography and printmaking can all be combined seamlessly using digital tools.
In recent years, affordable prices and technological advances in inks, printing processes, software and digital imaging products have removed the remaining perceived barriers to art created using computers.
The resolution of today's inkjet printers is so fine that it takes careful scrutiny to distinguish some digital prints from photographs. Large format inkjet printers print images wider than 24″ by any length, giving artists a tool for working at a large scale. And artists can now create a digital print that will last longer than ever before. A resource for longevity information can be found at http:// www.wilhelm-research.com. Some ink and inkjet media manufacturers offer their own longevity data.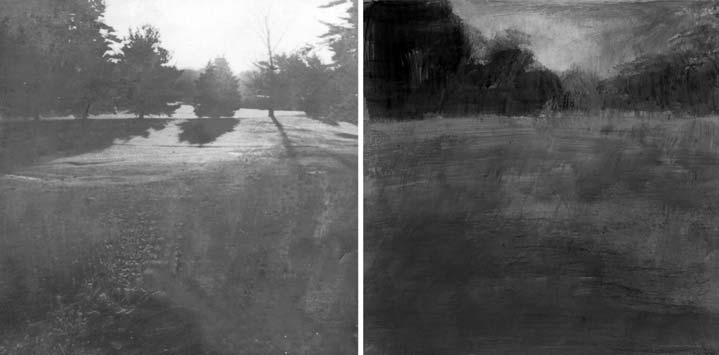 In addition, both clear and white precoats are available from inkAID™ in a brush-on form to allow an artist the ability to coat their favorite art paper or create unique surfaces for inkjet printing. As a result, a print can be made on any surface that will feed through an inkjet printer, including collages, paintings, etc. If you are using a desktop printer, please see below.Inkjet printers rely on a surface that is " precoated" with an inkjet receiver to hold the ink in order to produce the best colors. Typically artists have purchased specially coated art papers for this purpose. Most manufacturers of inkjet printers offer coated papers and color profiles for their inks. Many manufacturers of traditional art papers are now offering their papers coated for inkjet printing. The most widely known example is Arches. Its inkjet paper is called Arches Infinity. Other sources for coated inkjet art papers include: Legion Paper, which sells precoated rice paper, Hahnemuhle, Somerset and others, and Twinrocker Handmade Paper, which now offers precoated inkjet handmade papers. The paper surface variations available in these precoated inkjet papers are similar to standard art papers such as hot press and cold press surfaces.
Warning When Using Desktop Inkjet Printers
Before beginning your experimentation on a desktop printer, a word of caution is necessary. Most desktop printers have ejection wheels that are included to assure that desktop printers can print multiple pages unattended, but which can also interfere with certain mixed media processes. These wheels (sometimes called pizza wheels because they look like small round pizza-cutting wheels) track across the surface of the print right after printing. If the ink does not dry on contact, these tracks can be visible in the final print.
Instant drying will assure that tracking will not occur when printing on commercially precoated surfaces, porous surfaces (like paper) coated with clear inkAID™ or on any surface coated with inkAID White Matte precoat. But if you are using one of the clear inkAID products like the Gloss or Semi-Gloss inkAID over surfaces like plastic or acrylic paint, the inks will still be wet as they pass under the wheels, causing tracking. If your printer is out of warranty, consider following directions available online to disable
or remove the pizza wheels or consider a wide format (24″ or wider) printer – most do not have pizza wheels.
These advancements are bringing about a paradigm shift in how art is created and produced as the computer facilitates the ideation stage of creativity as well as the production process.
Some basic ways an artist might integrate digital imaging with traditional media are to use a digital image as an underprint, an overprint or to a print on a custom surface.
Underprinting Digital Images
When underprinting, the digital image (a photograph or a scan of art created in other media) is used as a base image under other media. The underprint could be a black and white photograph to be colored with traditional media, or the print could be used to help position collage or painted elements. For example, five copies could be printed of a partially complete image on canvas. Acrylic paints could be applied creating five related but unique paintings. This process can be used to do studies on a theme, to develop an idea, or explore different media.
For underprinting you may want to use a commercially precoated canvas. Be sure to find a canvas that is compatible with your printer. Inkjet coated canvas is available from the manufacturers of the printers and is matched to their ink chemistry or from distributors like Digital Art Supplies. Currently, if you want to print on linen canvas you will need to make your own. The linen will need to be stretched, gessoed with GOLDEN Gesso, then precoated with one of the inkjet receivers from inkAID. After it is dry, cut the canvas from the bars. Roll it face out on a cardboard tube until it is ready to be imaged. Once the print on canvas is complete you may brush on acrylic paint as with any other canvas. In addition to acrylic paints, other media like chine collé, colored pencils or gold leaf can also be combined with the printed image. Interference, metallic and pearlescent acrylic paints can add luminosity to the printed surface.
As a matter of fact, almost all traditional materials work well over underprints on various surfaces. Graphite, charcoal, colored pencils and pastels can even be used but may require that the paper is prepared with GOLDEN Acrylic Ground for Pastels. Underprinted images can be collaged together before being worked on with traditional media to create art that is not limited by printer size.
Overprinting Digital Images
In overprinting, the artist starts with traditional media and then adds a digital print layer. This process uses a clear precoat so that the traditional media image remains visible beneath the digital print in the final art. Almost all traditional media can be applied to this process including acrylic, watercolor, black-and-white and color photos, newsprint, letters, fabrics, colored pencil, collage, charcoal, and prints from woodblocks to lithographs.
Combining traditional media with inkjet printing results in the best of both worlds. You can utilize the wide range of textures and surfaces available to the mixed-media artist while taking advantage of the precise image control available to the digital artist — and along the way, you can even preview how your final image will look.
Inkjet prints result in a transparent overlay rather than an opaque cover on the printed surface, allowing the characteristics of the surface of underlying artwork to show through. Not only do inkjet prints over other media benefit from a richness of surface; they also gain access to a much wider color range. Any handwork on the substrate will enhance the image beyond what is possible by just printing on purchased papers.
Acrylic paints can be used to create colorful and detailed surfaces on which to add a digital print. This method works around the color-gamut limitations inherent in digital printing, which ultimately still relies on a four-color CMYK process. For example, even newer 6 color systems like Epson's Ultrachrome™ inks, create expanded ink sets by merely adding transparent versions of Cyan, Magenta, and different Blacks to the base selection. Acrylics, on the other hand, have access to hundreds of individual pigments that can be further modified with Gels and Mediums to generate any degree of translucency you might desire. This provides you with a tremendous amount of control and leaves a significant range of colors, including the special effects of GOLDEN Iridescent and Interference paints, beyond the reach of printing inks alone. The same is true with texture, where you can use acrylic Gels, Mediums and Pastes to produce a wide variety of surfaces that impart a tactile presence not easily achieved by other means. Or you can add a more subtle sense of handmade strokes by simply underpainting in light washes of color. In all these cases, combining the two media allows you to create a luminous imagery unachievable by either one separately.
When working with acrylics plan your color values in advance, applying your lightest values first in the same way a traditional watercolor is developed. The digital photo, which is printed last, should always provide the darkest elements. Or you may wish to fit the photo into an area of your painting reserved for this purpose and left free of any darker colors. Once the acrylic underpainting is complete let everything dry thoroughly before applying the precoat. The box below gives information on the overprinting process.
Overprinting Digital Images on Other Media
The process is relatively simple:
Step 1. Choose your digital image to be used as the overprint.
Step 2. Create a painting on the paper that you can feed through your printer. Reference your digital image as you paint, considering its colors, values and shapes.
Step 3. When your painting is dry, brush on the inkAID precoat using a sponge brush.
Step 4. When the inkAID is dry enough not to run, hang the paper in order to help keep it flat. If it isn't flat after drying you will need to press it overnight under a weighted board, then roll the paper, image side out, onto a 2-3″ core tube the length of your paper. Leave it on the roll about an hour before printing.
Step 5. Print your digital overprint onto the surface of your painting.
Creating Custom Substrates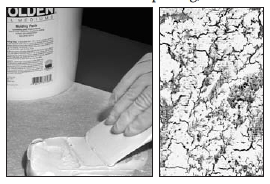 Any surface able to pass through your printer can be prepared with a precoat for printing. Three ways of making custom surfaces are the Base Method, which creates a permanent base for the art; the Carrier Method, which employs a plastic sheet that carries the surface through the printer then releases the surface after printing; and the Support Method, which is a temporary base upon which the surface is built before being removed, precoated and printed.
The Base Method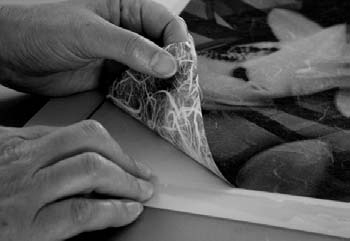 Beautiful textured surfaces for printing can be created using GOLDEN Gel Medium, Soft or Heavy Gels, Molding Paste, Crackle Paste, or Pumice Gel. Many large format printers can print on surfaces up to the thickness of a penny. Check your printer specifications for media thickness. Start with a thin but stable base like non-woven spun-bonded polyester, (sold in fabric stores as interfacing), which will not warp when wet. Strathmore Aquarius paper also works well. If necessary, seal the surface with a coat or two of gesso. Apply the texturing media and allow to dry completely. Precoat with inkAID, allow to dry again and feed through the printer for imaging.
The Carrier Method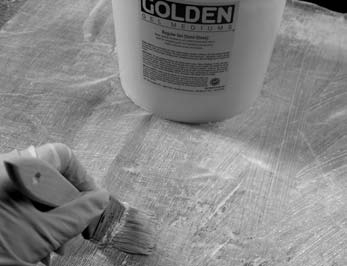 To print on sheer papers like rice paper, which do not feed well through the printer or do not have a surface able to receive a print, the carrier method is ideal. Use inkAID Clear Semi-Gloss precoat to adhere your thin paper to a slightly larger sheet of 5 mil Dura-Lar® polyester film. Allow the precoat to dry, print and remove the image from the Dura-Lar carrier sheet.
The Support Method
As a variation to using paintings as an underlying layer for a digital image, many artists create a collaged surface, which is removed from its support before printing. A collage can be made from a wide choice of art materials – rice paper, fabrics, etc. can be collaged with acrylic medium and paint to a .02 or .03 inch polypropylene or polyethylene sheet – the plastic to which nothing will stick. When dry, the translucent collage will peel off the sheet. The collage can be precoated with clear inkAID on either the textured topside or the smooth side that had been adhered to the support, and then printed with your inkjet printer.
If there is a head-height adjustment on your printer, set it to the maximum height to help the heads clear as the surface is printed. Some printer software will override a maximum-height setting, so make sure to also select the proper head height in the printer driver or RIP if such an option is available.
Clear precoats allow the color of the underlying surface to show through the print. But if you want to preserve the texture of a material while obscuring its surface image or color, you can precoat with inkAID White Matte precoat. Two coats of this precoat are opaque enough to render colors beneath invisible. The White Matte precoat is also safe to use over non-porous painted surfaces when printing with a desktop printer.
More Experimentation
After experimenting with these basic approaches to integrating digital images with traditional media, you can start to layer your images in more combinations. For example, you might print an underprint on paper, paint over all or part of the image with acrylics, precoat with inkAID Clear Semi-Gloss, add another digital image and then chine collé a thin rice paper on which you have printed or painted a third image. Although there are advanced techniques for alignment, you should start your experiments with imagery where alignment is not critical.
Postcoating
For art, which used a clear precoat, GOLDEN MSA Varnish makes an excellent choice to protect your print. It is recommended to start with one coat of gloss and finish with a coat or two of gloss, satin, or matte to get the finish you desire. As the varnish is not water soluble, it will not move or interfere with your image. In addition, it has UV inhibitors to help extend the life of your print. The aerosol version is an excellent choice for protecting digital prints as it eliminates the need for clean up with solvents.
But do not use any solvent-based products (like GOLDEN MSA Varnish) on top of surfaces coated with White Matte Precoat (whether commercially or self-coated) as the solvents will eventually damage the precoat. As it is water-based, GOLDEN Polymer Varnish can be used to finish surfaces coated with White Matte Precoats.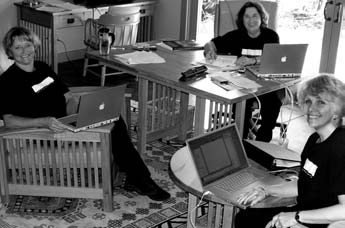 Further Exploration
These basic methods for integrating digital with traditional tools give a glimpse into the exciting possibilities of integrated media. Many unique variations on these processes can be developed with some experimentation. For more detailed directions, ideas for further exploration and advanced techniques, please refer to the authors' book, Digital Art Studio, Combining Inkjet Printing with Traditional Artists Materials (Watson-Guptill, 2005). Advanced topics covered include creating wet transfers, dry emulsion transfers, gelatin (fresco) transfers, dimensional images, and fabric printing. This book presents ten years of experimentation previously available only within limited workshops and is written to inspire exploration of this exciting new genre of digital/mixed media.
Digital Atelier Bio
The artists of Digital Atelier, Bonny Lhotka, Dorothy Simpson Krause and Karin Schminke, are traditionally trained artists who were early adapters and integrators of digital technologies. Their leadership position has allowed them to spotlight successful innovation in this rapidly evolving field as they write or have been written about in dozens of periodicals and books. Their work is widely exhibited and can be found in more than 200 public and private collections. For their work in shaping and interpreting the significance and influence of the new technologies on fine art they are recipients of the Computer World Smithsonian Award for " visionary use of information technology."
The content of this article was adapted from Digital Art Studio: Techniques for Combining Inkjet Printing with Traditional Art Materials by Karin Schminke, Dorothy Simpson Krause, and Bonny Pierce Lhotka. (c) 2004 LSK LLC. Published by Watson-Guptill Publication. Used with permission from the publisher.
Editor's Note
The information in this article is based on research and testing done by Digital Atelier® and is provided as a basis for understanding and experimentation. Due to the numerous variables inherent with the methods, equipment, and materials described, the artist must assess each application to ensure all individual project requirements are met. GOLDEN ARTIST COLORS, INC. MAKES NO EXPRESS OR IMPLIED WARRANTIES REGARDING THIS INFORMATION.