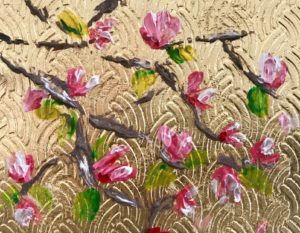 Gold leaf can be a wonderful addition to acrylic paintings, as it provides contrast in sheen and reflectance. We are often asked if it is possible to paint on top of gold leaf with acrylic paints and whether it is necessary to seal the gold leaf before doing so. The short answer is: intermediate coatings are required on most imitation leafs, before painting with acrylics, in order to reduce tarnishing. Since ammonia, which is found in all waterborne acrylic paints and mediums accelerates tarnishing of copper-based imitation gold leaf, we recommend our MSA Varnish or Archival Varnish w/UVLS as a protective coating, before painting over imitation leaf with acrylic paints.  
Genuine Gold and Imitations
Genuine 24k gold consists only of the precious metal gold and does not tarnish. Thus it can be painted over with acrylics directly. Fewer karats of genuine gold have different color shades, and are created by the addition of base metals in the production process. The most common alloy components are copper and silver. The greater the addition of these base metals, the greater the likelihood that the gold leaf will tarnish. Gold of 23k or 22k should not tarnish when used indoors for fine art or decorative purposes, unless handled and touched. Genuine gold of lesser karats should be protected with a clear coating.
Imitation gold is a very cost-effective alternative to genuine gold and therefore a much-used material. Gold colored imitation leafs have various names, such as 'Dutch', 'Composite', or 'Schlag', followed by either 'Metal' or 'Leaf'. So Dutch Metal or Dutch Leaf, etc. These are made of copper-zinc alloys, whereby the composition is specifically controlled to create tones that closely mimic genuine gold leaf. Similarly to genuine gold, imitation leafs are packaged in booklets and are either placed loosely in between silk papers, or as transfer, pressed to specially treated tissue paper (Image 2). Imitation leafs are noticeably thicker than genuine gold leaves, and are therefore, easier to handle and less prone to tearing.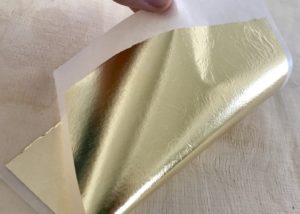 Acrylics and Tarnishing
The great advantage of genuine high-karat gold leaf is that it will not tarnish, whereas Imitation Gold is very prone to it. While oxidation on copper sculptures, for instance, often adds an aesthetic attraction (patina), it rather destroys the illusion of real gold on imitation leaf. Oxidized imitation leaf produces spots of various colors, which are not removable (Image 3). Oxidation is accelerated by ammonia, which can be found in many of our products since it is part of the formula for most waterborne acrylics, which includes all of our acrylic paints, mediums, and Polymer Varnish w/UVLS. The application of clear acrylic mediums tends to create a darkening and more orange color on imitation leaf. We have found that Polymer Varnish in particular, triggers a greater amount of oxidation with green-blue oxidation products, and it even cracked and flaked off (Image 4).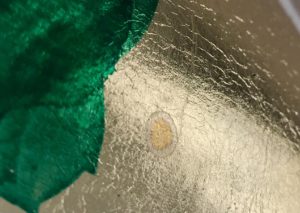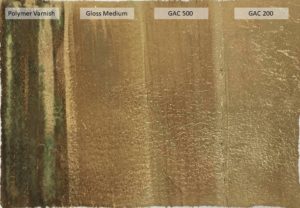 Protective Coatings
To avoid ammonia and water coming in contact with imitation leaf and thus triggering oxidation, we recommend brush applying diluted MSA Varnish Gloss, or enough spray coats of Archival Varnish Gloss (the aerosol form of MSA) to create an even glossy surface (Image 5). Usually 2-3 spray coats are sufficient. This can help slow down the tarnishing process, however, since acrylics are porous there is no guarantee that the imitation gold leaf will not tarnish in the future. Of course it is also important not to touch the imitation leaf with bare fingers, as areas with finger grease could tarnish drastically and will continue tarnishing, even underneath a varnish or topcoat. Once the varnish layer has dried, one may paint with acrylics over our MSA or Archival Varnishes.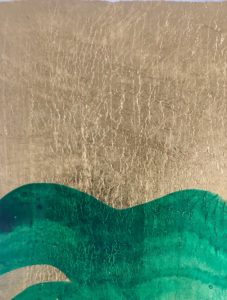 Further Tips
Specialized gilding suppliers often provide real as well as imitation leafs, and often have their own recommendations for suitable sealers to protect their specific products from tarnishing.
If the imitation leaf is integrated mid-process into a painting, the underlying paint layers should be left to dry thoroughly before gilding, to ensure all volatiles have evaporated.
Control humidity levels (radiator in winter and dehumidifier/air conditioning in summer). High humidity levels accelerate oxidation of imitation leafs during their application.
Apply acrylic-based gold sizes thinly and follow instructions of the size manufacturer.
Do not touch imitation leaf with bare fingers, as fingerprints continue oxidizing, even underneath a protective coating. Use transfer leafs that can be handled on one side, and/or wear cotton or latex gloves.
Apply a clear protective coating the same day.
Links
MSA and Archival Varnishes are solvent-based systems and therefore, require proper health and safety precautions, which are described in the Product Information Sheets: