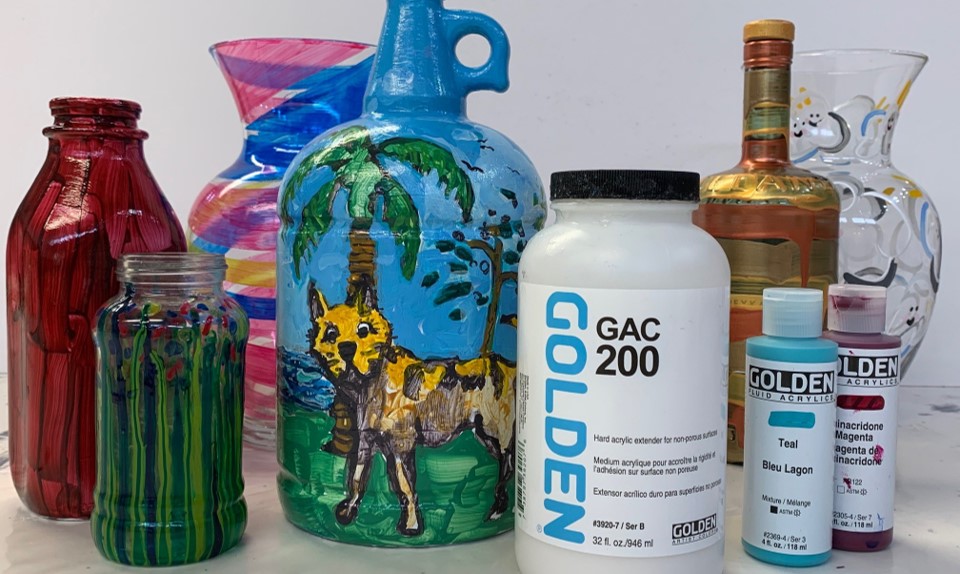 Many acrylic artists paint on glass at some point in their career, either for fun or as a serious part of their practice. While there are commercially available bonding primers designed to prepare glass for painting, some artists want a crystal clear product that can be used as a primer or added to their paint to improve adhesion and durability. GAC 200 is Golden Artist Color's hardest acrylic binder. When added to acrylic colors, it imparts a toughness to paint layers and helps them lock down to challenging surfaces such as glass. This article will look at some testing around the pros and cons of using GAC 200 to improve acrylic adhesion and permanence onto glass surfaces.
For this article we tested GAC 200 in three different ways: directly onto the glass as a clear primer, as a hard topcoat, and mixed with color in different ratios to see what combinations provided optimal adhesion and visual effect.
Caution: Glass cups or plates intended for use, should never be painted with artist materials. Any recommendations in the article are for decorative, non-functional art objects only. GOLDEN materials are not food or dishwasher safe.
Why Not Acrylic Paints Directly onto Glass?
Glass is not an ideal surface for acrylic painting. It is entirely non-porous and does not allow paints to lock into any absorbency or texture. In most applications, regular acrylics can be scratched or peeled right off of glass. Even if they stick fairly well, when they get wet or in high humidity situations, they can swell, soften, and become vulnerable to scratching even with the slightest touch.
Using GAC 200 as a Clear Glass Primer
GAC 200 sticks to glass much better than most other acrylic products. This is primarily due to the fact it has a hard finish, which makes it difficult to lift or break through the film and expose the interface with the glass surface. While it is not a technically a primer, our testing showed improved adhesion when GAC 200 was used directly on the glass and paints were applied over top. In all cases, it was much better than the same paints applied directly on the glass.
Before applying GAC 200, the glass surface was cleaned with isopropyl alcohol to remove any oils and dirt. It should be noted, that when used straight out of the container, GAC 200 does not level very well, so it can leave brush strokes. Diluting with water up to 25% should help provide better leveling. We found that 50% water additions reduced brush strokes almost entirely, but started to reduce the clarity of the film and left it a little hazy. When used on its own, GAC 200 needs to be applied at 70 degrees F (21C) or warmer for proper film formation.
GAC 200 Mixed into Acrylic Color
Mixing acrylic colors with GAC 200 increases film hardness, reduces dry film tackiness and improves adhesion. It also increases transparency for "stained glass" type applications. We saw the best results with 50% or more additions of GAC 200 into color. These ratios directly over the glass, were fairly resilient to repeated scratching with a metal palette knife. Durability was increased further when the GAC 200/paint mixtures were applied over straight GAC 200 used as a clear primer.
GAC 200 as a Topcoat
Using GAC 200 as a hard, durable finish can provide some resilience for acrylics on glass. When we tested paint diluted with different ratios of water on glass, we found that all the diluted samples were vulnerable to scratching – the more water additions to the color, the easier the paint came off the surface. All acrylic applications we tested became exponentially more resilient when coated with a single layer of GAC 200. With that in mind, it may be possible that acrylics on a glass surface coated with GAC 200, could have acceptable adhesion or durability as a decorative item as long as the object is not frequently handled or allowed to get wet.
Testing Description and Results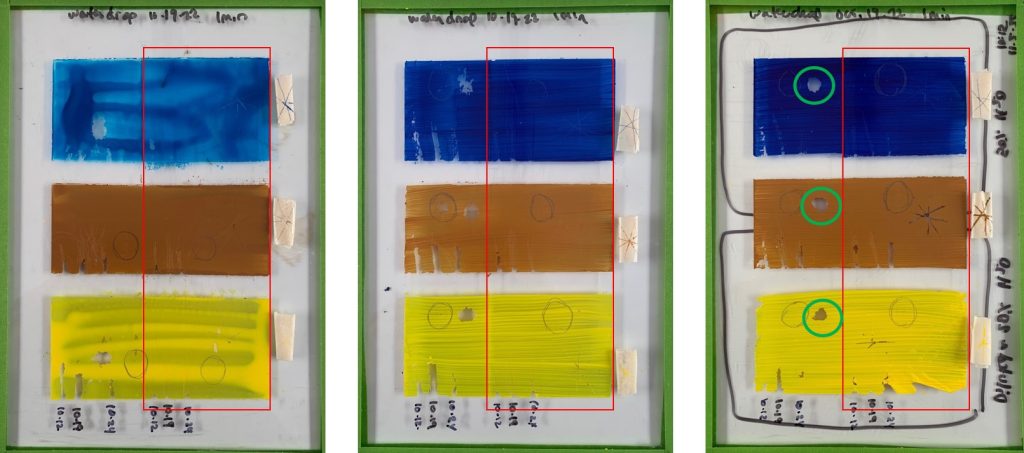 Testing Acrylic Colors over Glass and GAC 200 as Clear Primer
These three panels had the same colors applied from three different paint lines, High Flow, Fluid and Heavy Body, over cleaned glass with and without GAC 200 as a clear primer. After the initial drying period of a couple days, each color was scratched from the edge with a metal palette knife over the course of several weeks and then about 1 month later. All products were vulnerable during the first few days, but improved with time. With all the colors, the adhesion was much better over the GAC 200 as a clear primer.
We put a drop of water onto the paint over the glass and GAC 200 and let it dwell for 1 minute, then wiped off the water and swiped a palette knife over that area. The paint immediately came off over the glass in the shape of the water drop, but stayed locked down over the GAC 200 clear primer. The only exception was High Flow Raw Sienna, which did not come off in either case. We did the same water drop test, but let it dwell overnight. When we came back the next day, it was dry and the knife swipe did not lift any color from the glass or GAC 200. Finally, we did an adhesion test over the GAC 200, which did not show any failure. The tape can be seen on the right edge of the glass with color coming off only where the knife cut through the film, which is standard even for excellent adhesion. Though we had good results with this round of adhesion testing, the lab at Golden Artist Colors has seen cross-hatch adhesion failure with different paint lines over GAC 200 used as a clear primer after about 2 weeks dry time. Their failure may have been due to increased humidity in the Lab. This adhesion test was performed one month after application, in a low humidity environment which seems to indicate that adhesion improves with time and in lower relative humidity.
It should be mentioned, that scratching from the edge of a paint area is the easiest way to get a failure. Most of these applications are fairly difficult to scratch starting from the middle. Failed adhesion on glass usually happens when the knife or finger nail gets under the film and can peel it from the surface. Heavy Body Benzimidazolone Yellow Light (depicted below) did peel off in the corner during early testing when the knife caught the edge of the paint application over GAC 200.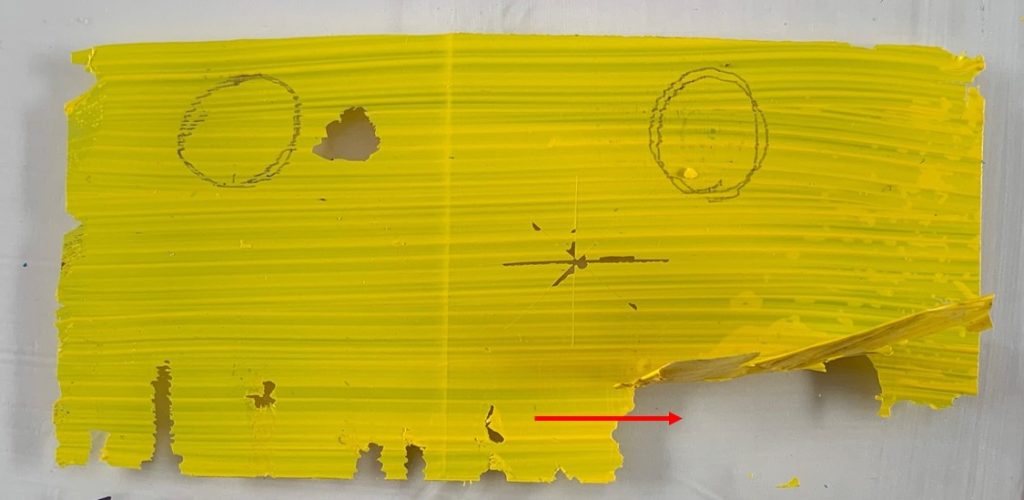 Testing GAC 200 mixed with Fluid Teal in Different Ratios

This panel shows Fluid Teal modified with GAC 200 – 0%, 10%, 25%, 50%, 75% and 90% by weight, to determine at what ratio the GAC 200 starts to benefit durability and adhesion.
Like the panels in images 1 and 2, this one was also split in half with GAC 200 used as a clear primer in the red outlined area. Notice how the scratching on the right side of each application steadily decreases as the ratio of GAC 200 increases. At 50% addition, the ability to scratch through the color is minimized and by 90%, no scratching occurred over straight glass. These mixtures over GAC 200 as a clear primer showed little to no scratching even with the lowest additions of GAC 200.
The water drop test allowed to dwell for 1 minute, failed on all the GAC 200 and paint mixtures over straight glass, but did not break through the GAC 200, except for the blend with 25% addition of GAC 200, which seemed like an anomaly. When the water drop was allowed to dwell overnight, the only samples that showed vulnerability were 0-25% additions of GAC 200 over straight glass. Everything else seemed to lock back down. Adhesion tests on all examples using an initial layer of GAC 200 showed no failure.
Closing
As you can see from our panels, testing for adhesion and durability is not difficult and something each artist can do in the studio before starting their project. We did not test nearly all the potentials for using GAC 200, but where it was added to the paint, used as a clear primer or even as a thin topcoat over applications, it seemed to improve adhesion and resistance to scratching.
There are a couple things to keep in mind: Even with improved adhesion, acrylics over glass and glazed tile will not allow for a permanent bond and can be vulnerable to scratching or peeling under certain conditions. Adhesion seems to improve with time. Give your acrylic films at least 3 days to dry before testing for adhesion. Thinner films seem to lock down onto glass better than thicker ones. And remember the temperature caveat – when used on its own, GAC 200 needs to be applied and dry in an environment of at least 70 degrees F (21C). This restriction diminishes as color or other products are added to the GAC 200. Enjoy testing the possibilities and be sure to let us know how it goes.
If you have any questions or comments please do not hesitate to email help@goldenpaints.com or call 800-959-6543 / 607-847-6154.
RELATED ARTICLES AND VIDEOS:
GAC 200 Product Information Sheet: https://www.goldenpaints.com/technicalinfo/technicalinfo_gac200
Painting in the Cold: https://justpaint.org/painting-in-the-cold/
Acrylic on Non-Porous Substrates: https://justpaint.org/acrylics-on-non-porous-substrates/
Painting on Gold Leaf: https://justpaint.org/acrylics-on-gold-leaf/
Hard Edge Techniques Using Golden Products: https://www.goldenpaints.com/videos/hard-edge-techniques-using-golden-products
Will It Stick? Simple Adhesion Testing in your Studio: https://justpaint.org/will-it-stick-simple-adhesion-testing-in-your-studio/