In winter time we might find ourselves in situations where our studios have no heating, we want to finish a mural, spray varnish outdoors or actually paint en plein air. But when is it too cold to paint?
The short answer first…
The answer depends largely on the painting medium. For waterborne acrylics, we recommend working above 49° F / 9° C as a minimum. Watercolors can basically be used until freezing temperatures, while oil paints can go well below that and are the most suitable for painting in the cold. However, even if you can paint in cold temperatures, it will still alter the way paints behave, and slow the drying and re-coat time of both water and oil based paints.
Acrylics
Acrylics are ideally used at room temperature, above 60° F / 16° C, and avoiding any applications below 49° F / 9° C, which is the so-called "minimum film formation" temperature (MFFT). Below that temperature acrylic paint cannot form a strong, coherent film and will be prone to failure and various drying defects, such as cracks, poor adhesion, and cloudiness. Different acrylic binders or polymers can have different MFFTs, but 49° F / 9° C is a good reference value. The MFFT is thus the lowest temperature at which a water-based dispersion paint, like our acrylics, will uniformly "coalesce" and cure when laid on a substrate. During the coalescing stage, the individual acrylic binder particles, which are suspended in the water in the wet paint or medium, flow together and lay down uniformly. This only happens, however, when the temperature is warm enough for the binder particles to come together.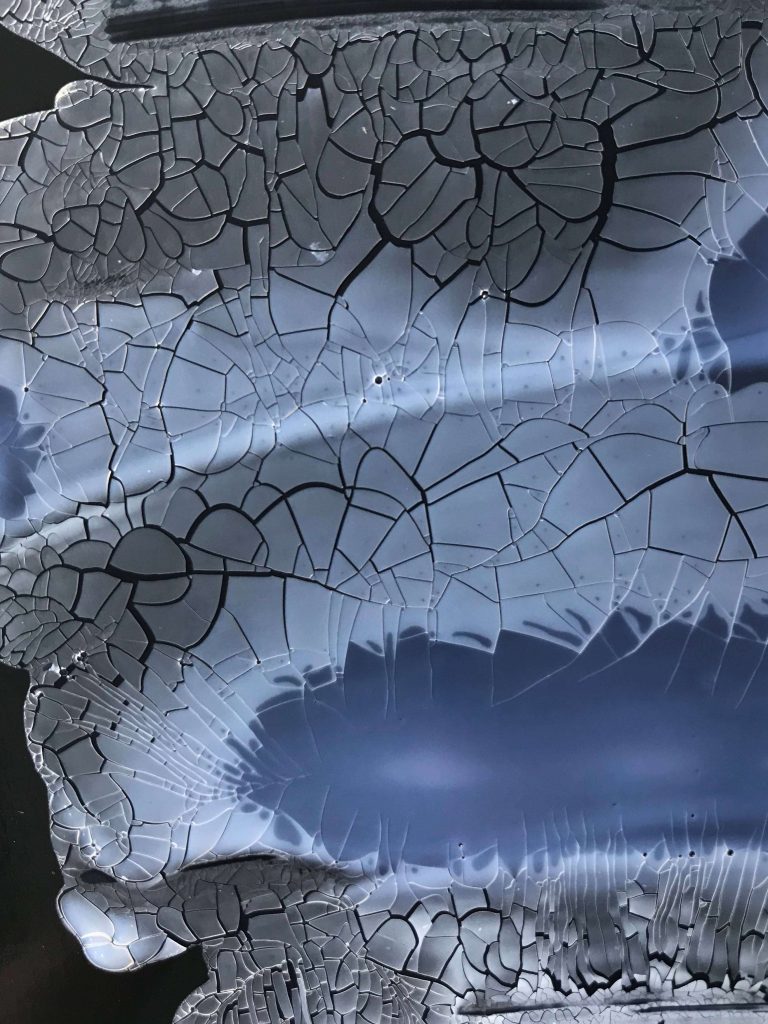 Some acrylic products are more finicky than others, when it comes to application temperature. One of them is Crackle Paste, which should be allowed to cure between 65-75°F / 18-24°C, and under 75% Relative Humidity. Another product with an application temperature caveat is GAC 200 (Image 1), our hardest acrylic medium, which requires a MFFT of 70°F / 21°C.
When wanting to paint at temperatures below the 49° F / 9° C, certain compromises might be possible. Of all four GOLDEN paint lines, OPEN Acrylics can tolerate low temperatures the best and therefore, these would be the best choice for painting outdoors in wintertime, for instance. The painting should then be allowed to cure indoors at room temperature. For varnishing with MSA Varnish or Archival Varnish, we have similar suggestions. It might be possible to apply these varnishes outdoors at lower temperatures, in order to reduce solvent exposure for example, but the varnished pieces should be brought indoors for proper film formation, right after application.
Paint stability is another issue when working at low temperatures and especially for storing paints. In the best case scenario, acrylic products are stored at an ambient room temperature. This will give you the most prolonged use and ensure the products remain in good shape. With a factory in rural upstate New York, where winter temperatures are often below freezing, we understand the importance of our products not being harmed when frozen during winter shipments. All our acrylic products are formulated to withstand at least five freeze/thaw cycles, without affecting the product's stability (Image 2). This means that our acrylics can be shipped during winter time. Even if your paint orders are delivered to your porch and left outside in freezing temperatures overnight, they should still be perfectly good to use. However, we do not test anything past these initial five freeze/thaw cycles, so the safest bet is still to keep them in an ambient environment, between 60-70°F / 16-21°C. Because our products do not have a shelf life, as long as they are stored airtight in these conditions, they should not expire.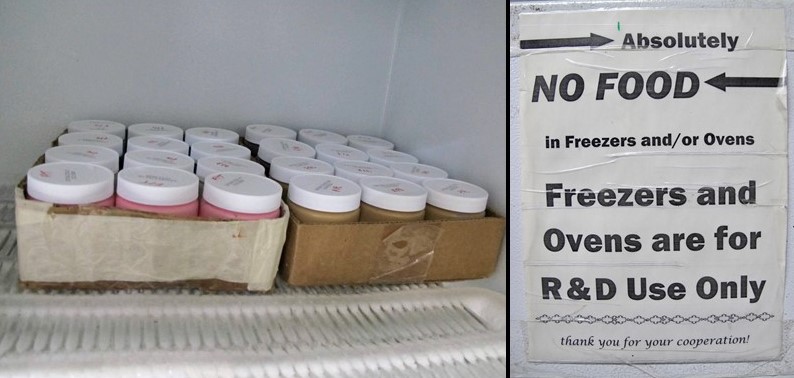 Water Colors
Since watercolors require water for painting, it's obvious that sub-freezing temperatures make water coloring challenging. An additive to keep the water from freezing would be necessary. There are stories about nineteenth century English painters using watercolor with gin rather than water, so they could continue working en plein air in below freezing temperatures. This is not something we have tested at GOLDEN, but it might be worth a try. The higher the proof of the alcohol, the lower the freezing point. When water coloring in the cold, paint and paper will dry much slower and there is a high 'risk' of creating muddy colors, if one doesn't wait long enough. Frozen washes might create lovely crystallizations while in the cold, but once the paint melts, the colors melt into each other (Image 3). Thus, a more rapid and dry painting style might be necessary.
Like our acrylics, our watercolors go through rigorous freeze/thaw testing and QoR watercolors should recover perfectly from a frozen experience. We also expect QoR paint that has dried on the palette and then frozen to be fine once it has thawed. Frozen paint will be more brittle, so there might be flaking or cracking if the palette is flexed when the frozen paint is on it.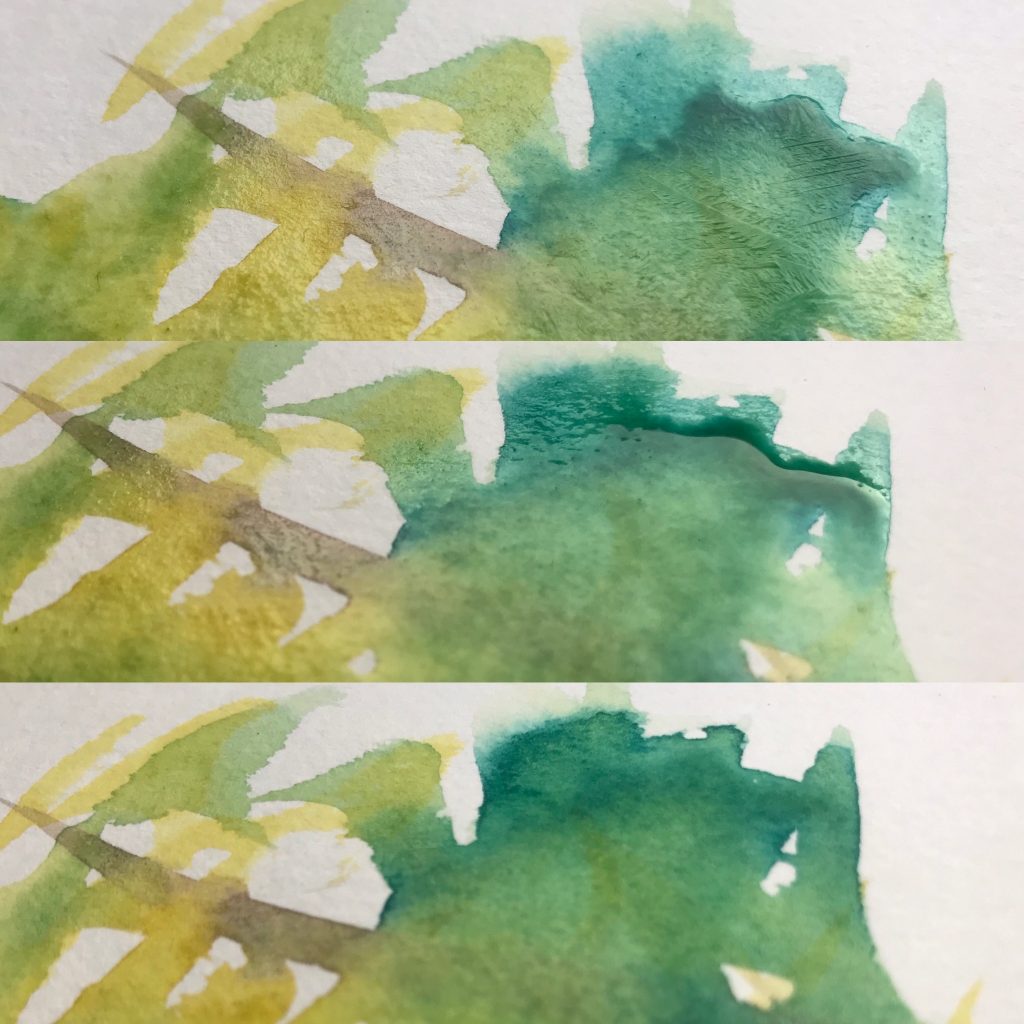 Oils
Of all the three mediums, acrylics, watercolors and oils, the latter would be the most suitable to paint with in cold temperatures. The freezing point of oils is much lower than that of water. Linseed oil, for instance freezes at -4°F /-20°C. Oils and waxes become stiffer in the cold and so does oil paint, which many artists might regard as a positive attribute. Even though oil paints maintain a usable consistency in cold temperatures, it's better to allow oil paintings to cure at a room temperature, once the painting session is completed. Cold temperatures slow the oil's rate of oxidation and crosslinking, thus preserving the paint. However, conservation studies have shown that there are significant chemical differences in cured oil paints, depending on the climate in which the paintings were created, and we would therefore recommend avoiding extreme temperatures, wherever possible.
Conclusion
To summarize, oil paints and OPEN Acrylics are most suitable to paint in cold or even sub-freezing temperatures. When doing so, for instance when painting en plein air in winter time, it would be best to let the paintings cure at room temperatures, as soon as they are completed. It might be best not to use gessoed stretched canvas, as there can be cracking of acrylic gesso, if it is flexed at cold temperatures. Rigid supports would be a better option than canvas. Other mediums worth consideration, are oil pastels or colored pencils, to generate smaller studies that could be used for larger works done indoors.
For more information on the shelf life of acrylic products, take a look at our article Shelf Life of GOLDEN Acrylics.