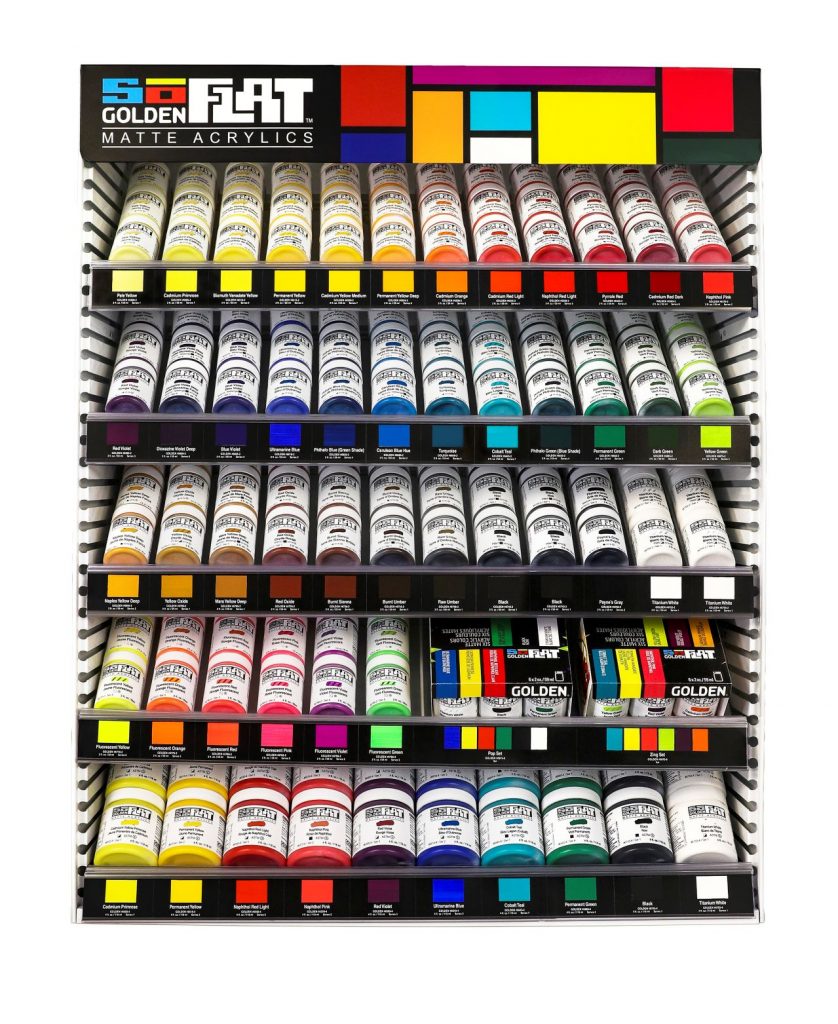 Introducing SoFlat Acrylic Colors
SoFlat is our newest product line created in direct response to the artists we speak with every day to fulfill the desire for a matte, leveling and opaque paint. Flat in sheen and flat in application, these acrylics are bold, intense, luxurious, velvety and a joy to use!
As Art Materials and Applications Specialists, part of our job is testing every product we make before they are released to the general public. When our Lab Director and Head Chemist, Jim Hayes, brought us the new SoFlat line for testing, every one of us were absolutely blown away! These paints are so lovely, in feel, in behavior, in application and in final appearance, filling a void expressed to us by many artists. Fluid in their consistency, the feel and application is silky smooth, leveling so extremely well that brush strokes almost disappear. They are more opaque than any of our other paint lines and are totally matte when dry. Of course they are durable, flexible and mix well with all other GOLDEN Acrylic paints and Mediums. SoFlat is great for large color field paintings, the small intricate realistic details achieved by acrylic gouache, bright and bold graphic or Pop Art, edgy street art style or simply a beautiful flat appearance without glare. In this introduction of SoFlat we are offering 40 saturated colors, some tried and true and some brand new. We are also offering a new 2 ounce jar size, which is unique to this line. We decided to put these fluid colors into jars instead of bottles to make it easier to stir and dip in a brush. We have replaced the Matte Fluid and Matte Heavy Body Acrylics with this line, which levels much better, are more matte, more opaque and more intense than the former Matte Fluid Acrylics. For more information about SoFlat and online color chart, click here.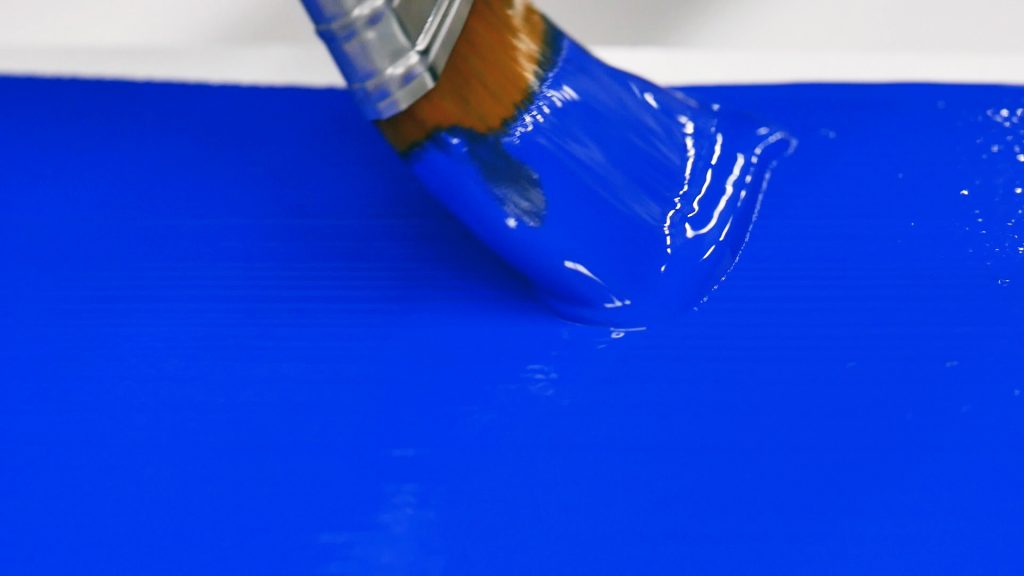 The Color!
SoFlat is heavily pigmented, so the color is rich, saturated and luminous with a high chroma. This selection includes some new colors that are unique to this line and not found in Heavy Body, Fluid or High Flow Acrylics. While SoFlat is formulated with the same pigments as other lines, they may look slightly different due to the addition of matting solids and their unique formulation. Being more opaque, full solid coverage can be achieved in one or two coats, with the exception of the fluorescent colors, which are very transparent by nature. That being said, the SoFlat Fluorescent colors are more opaque than the fluorescent colors in our other paint lines.
The Feel!
Wow! This is what makes them a joy. They are luxurious, velvety, and rich. They have a thixotropic tendency, meaning when you stir them or work with them, they relax and become more fluid. This characteristic allows the paint to lay down flat, melting into the surface and creating an even and uniform field of solid color. This doesn't mean it isn't possible to create fine detail; the paint doesn't spread, it just flattens in both form and sheen.
The Sheen!
The matteness of SoFlat makes brush strokes virtually disappear, so even if you can see some texture close up, it should be visually unnoticeable when you step only a short distance away. Multiple coats layer beautifully, but many coats can raise the sheen slightly. The lack of reflectance on the surface make photographing work much easier. Gloss readings taken with a Glossometer and reported in gloss units (GU) based on the amount of light reflected at a 60º angle, range from 0.4 to 2.8 for the SoFlat colors, while the range for the Fluid Acrylics is 13 to 100 and 8 to 99 for the Heavy Body Acrylics.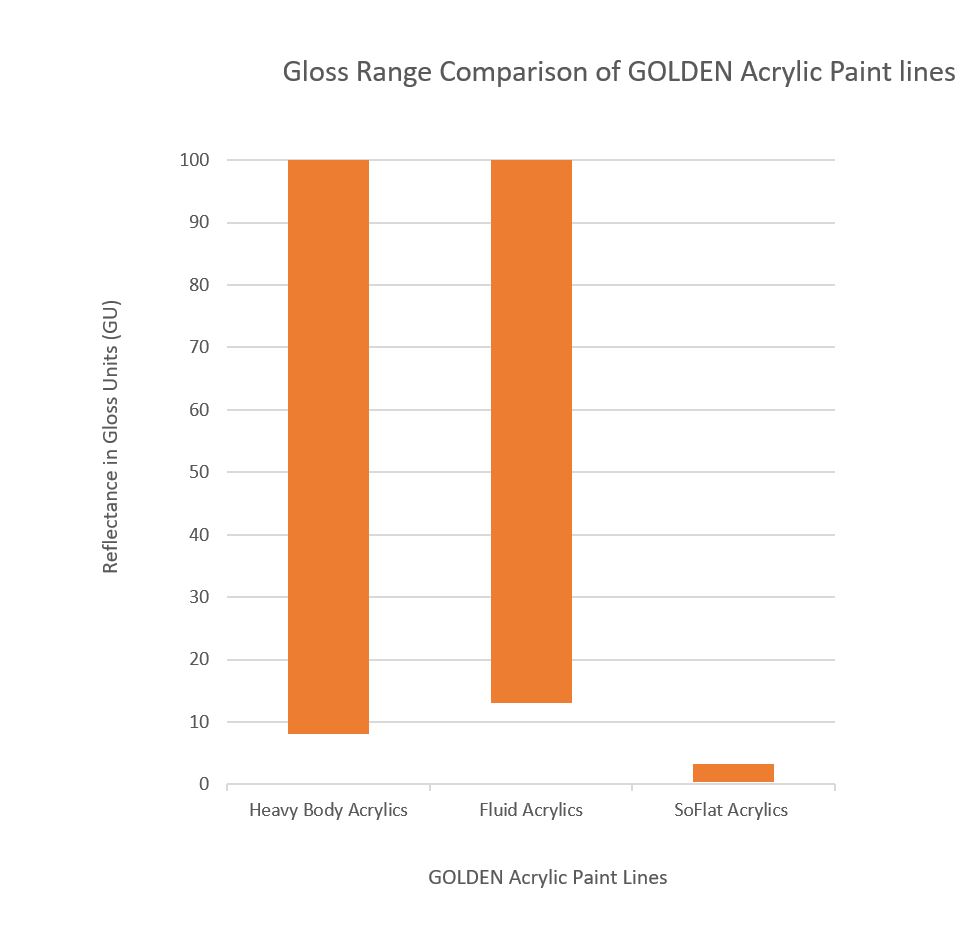 Application Tips
Brushes:
We tested many different types of paint brushes with SoFlat and found that most of them worked really well to distribute an even and smooth paint film. SoFlat applied best when using the largest flat brush that can be used for your application. It even worked well with a foam brush, which is something we usually don't recommend because it can cause bubbles. The leveling and relaxing nature of the paint doesn't really want to hold on to bubbles, even when stirring or shaking the paint before using, which is recommended, due to the fact that some of the colors will settle upon sitting. Generally speaking, soft synthetic bristle brushes work best with acrylics because acrylics are not kind to natural bristle brushes. Coarse bristle brushes will also leave more texture behind. Here is more information about the best brushes to use with acrylics.
Extending with Mediums or Additives:
To slow down the drying, Retarder or OPEN Thinner is our best recommendation because these should not raise the gloss of the sheen. These are Additives and not Mediums, meaning they contain no acrylic binder, so stick to a maximum addition of 15% Retarder or 25% OPEN Thinner. Satin Glazing Liquid and Airbrush Medium could also be used to extend the working time, but should be kept to small additions or will raise the gloss level of the paint and add translucency. To extend SoFlat without changing the drying rate, mixing with Super Matte Medium is the best choice. It will keep the flat finish and if adding in moderate amounts, should not change the consistency. Water can be used to thin SoFlat, but we do not recommend additions over 15% or the film can become water sensitive and some color lift may occur when layering with another water borne product. Adding water will lower the pigment load or increase translucency.
Underpainting For Oils:
While SoFlat can be used to create a flat and toothy underpainting or base layer for oil painting, some oil paints on top of SoFlat can develop a visible oil halo, where the oil spreads outside the paint application. Reducing the absorbency of the SoFlat matte surface by applying a thin layer of Fluid Matte Medium on top could eliminate this oil halo. We also recommend that a minimum of 2 coats of Gesso or Fluid Matte Medium as a "Clear Gesso" be applied to canvas, panel or paper before creating the underpainting with SoFlat.
Varnishing: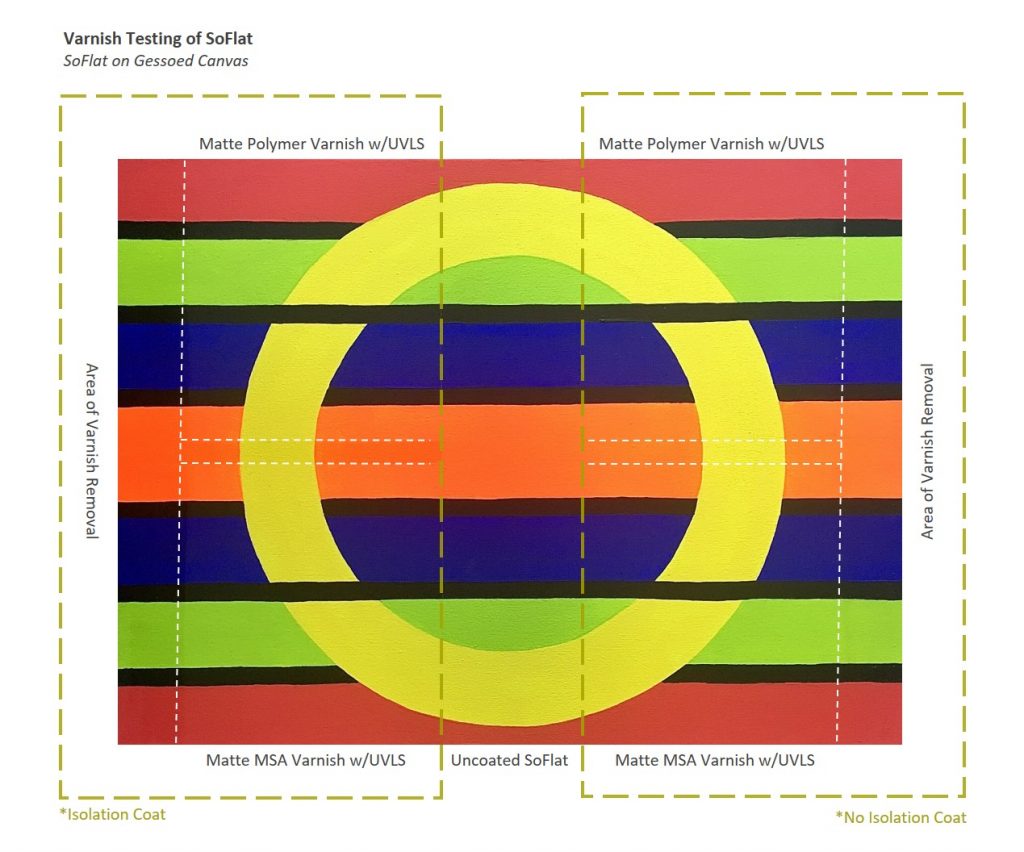 Varnishing a painting made with SoFlat can certainly be done, but a matte varnish could raise the sheen and lighten the color a bit. Our best recommendation is to apply an Isolation Coat on top of the paint and before the varnish. It may seem counterintuitive to apply a glossy Isolation Coat on top of a matte paint, but the Isolation Coat not only protects the paint if the varnish ever needs to be removed, it helps the varnish apply more smoothly and evenly. Gloss films are clear, so will saturate or darken color and matte varnishes are hazy, which will lighten color. In this combination of darkening then lightening, they cancel each other out and the color should appear closest to the original color. Our matte varnishes are not quite as matte as SoFlat. Varnishing is always optional, but if the painting is going to be hung in a dirty environment or with concentrated UV exposure and the protection of a removable varnish is desired, the Isolation Coat can be applied and any of the GOLDEN varnishes in a matte sheen can be used on top of the Isolation Coat. We tested our Matte Polymer Varnish with UVLS and our Matte MSA Varnish with UVLS with an Isolation Coat and without. We found that both varnishes raise the sheen and lightened some of the colors slightly. While we were able to get an even application without an Isolation Coat (and an experienced hand), when we removed the varnish we saw color lift where the varnish was applied directly to the paint. Varnishing could also protect against marring, or scratches on the surface, as matte paints can be prone to scuffs and scratches. Follow this link to our Varnishing Resources.
We hope you will enjoy SoFlat as much as we do. Please feel free to email us with any questions.
For Technical Information about the SoFlat Acrylic Color, click here.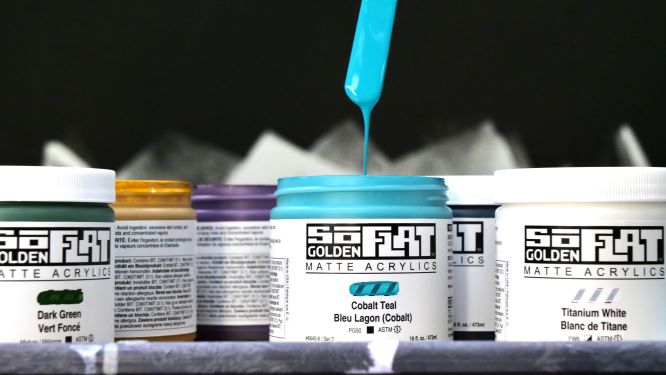 Stacy Brock, Supervisor of Materials & Applications Department, Painter, Ceramicist, Musician. stacybrock.com