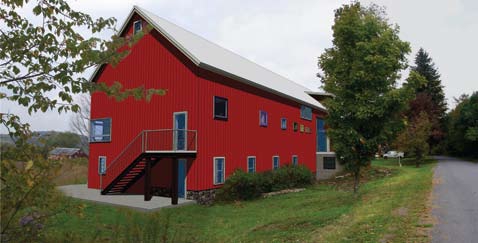 In 1980, Sam and Mark Golden put together a business plan to start a small paint company in upstate New York. The company, Golden Artist Colors, would focus on a niche market, producing high quality acrylic materials for professional artists, and would service artists by listening to their needs. Over the next 28 years, this simple idea has led to collaboration with artists, resulting in the production of thousands of custom and experimental products used in the creation of art, as well as the development of valued friendships.
Even more adventurous artists would travel the dirt roads of "cow country" to visit the paint shop, often working in the lab with Chemist Jim Hayes, Technician Mike Townsend or Application Specialist Lori Wilson. The description of an exciting new project with Mark would eventually capture the imagination of the technical staff and work would begin in earnest to create experimental materials that might just meet the artist's concept or ideas.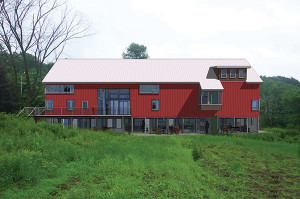 The factory became a place to collaborate, for artists to visit, and lab staff to address material challenges, but even more importantly, it became a place for creating deep, long lasting friendships. Employees delighted in being part of a destination for artists, providing the time, staff assistance, equipment, and technical resources necessary for fueling artistic expression. Yet even more compelling, were the many growing relationships with artists from around the world.
Today, GOLDEN is proud to continue the tradition of conversation and collaboration in another way. The Sam and Adele Golden Foundation for the Arts, goldenfoundation.org, has embarked on a project to continue the legacy of founders Sam and Adele Golden and to give back to artists with the development of an artist residency site, right down the road from Golden Artist Colors. Studio spaces that will center on the individual artist and the artist's creative process, are being built in a hundred year old barn located on Bell Road, just a five minute walk from the GOLDEN factory. The barn is surrounded by hundreds of acres of walking paths, meadows and forests, and the beautiful views of the rolling hills of Chenango County.
Two years ago, with assistance from the New York State Artist Workspace Consortium, nysawc.org, the Golden Foundation began its commitment to providing living and workspace opportunities for artists. Sydney Waller, Executive Director of nearby Sculpture Space in Utica, notes: "Now more than ever, artists need residencies to 'free them up' to do what they do best: make art. The Golden's vision and follow through on creating a new residency program in the bucolic environs – and in these times – is encouraging and inspiring for all of us. Their legendary generosity with materials and technical help is now matched with a whole new level of extraordinary support for artists. We welcome them with great pleasure to the world of residencies, and look forward to collaborating with them in the years ahead."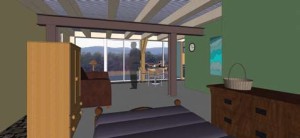 Phase I of construction began in 2008, with completion of the residency scheduled for late 2010. The barn will include three living spaces and six studios. During the construction phases, The Golden Foundation is granting Golden Fellowships to artist residencies in the United States this year, including Headlands Center for the Arts in California (headlands.org), Bemis Center for Contemporary Arts (bemiscenter.org), Vermont Studio Center (vermontstudiocenter.org) and Atlantic Center for the Arts (atlanticcenterforthearts.org).
The Golden Foundation Residency Program is just one more way in which our community, a loyal, dedicated staff of over 140 employee owners, and the Golden family can continue to provide an extraordinarily unique experience for artists. By simply making available the freedom for artistic experimentation and exploration, we can share in the excitement of being part of an incredibly creative and inspiring community of artists.