By Ulysses Jackson
Silverpoint / Drawing Ground
In past Just Paint newsletters, Golden Artist Colors has highlighted many new Experimental Products covering a wide range of unique working qualities. Many of these products being produced as experiments had a short life span. However, some have gained a significant response from the artist community and continue with forward momentum to become permanent line extensions.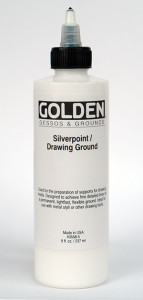 Silverpoint / Drawing Ground is one such product; first produced in-house as experimental, speaking to what was thought of as an esoteric and slightly antiquated method of drawing. Soon after Silverpoint / Drawing Ground was introduced at CAA, as well as in Just Paint Issue 18, it became apparent that many artists understood the benefits of the modern acrylic system over a more traditional hide glue and chalk ground. As a result, GOLDEN is pleased to announce that Silverpoint / Drawing Ground has moved from an Experimental Product and is being launched in the regular line.
This Silverpoint / Drawing Ground replaces the much more cumbersome traditional grounds, which required boiling animal glues or using casein. In fact, this new ground is much more foolproof, in most cases allowing for just one coat application. Artists using Silverpoint / Drawing Ground can achieve very fine delicate lines with a metal stylus or other drawing media. Silverpoint / Drawing Ground is formulated as a thin fluid to aid in flow and leveling. As solids may settle upon storage, shaking is important before use. Small amounts of other GOLDEN Fluid Acrylic colors can be added to this ground for tinting purposes without a significant drop in performance.
While many artists enjoy the fineness of line and delicate qualities achieved with a metal stylus on Silverpoint / Drawing Ground, the scope of this product should not be limited to a singular use. When used as a general drawing ground, other media may be intermixed with metal point drawing or used alone to create new effects. It is possible to adjust the absorbent qualities of the Silverpoint / Drawing Ground by creating a very thin acrylic film over the entire surface which was primed. This allows greater fineness of line with diverse drawing media such as graphite, colored pencil, ink, and some markers.

A complete Technical Information Sheet is available online: http://www.goldenpaints.com/technicalinfo/technicalinfo_silverpoint
For more information on Silverpoint as an art form, please see: http://silverpointweb.com/groundwork.html, http://en.wikipedia.org/wiki/Silverpoint.
Fluid Historical Colors
Due to continued demand for Fluid Historical Colors, Golden Artist Colors is pleased to offer two new products previously only available in the Heavy Body Historical Hue line.
Fluid Historical Van Dyke Brown Hue – Also known as Cassel or Cologne earth, the use of Van Dyke Brown dates back to the 17th century. Originally obtained from the Cologne and Kassel regions of Germany, and later obtained elsewhere, the pigment from each locality can vary slightly in color and composition, leading to confusion in the precise qualities of this color. Van Dyke Brown was the most difficult color for GOLDEN to match because of its variability. It took intense study of multiple historic samples to arrive at a hue that could adequately represent this elusive pigment. Avoiding the common blends called Van Dyke Brown, that are simply an easy mix of Burnt Umber and a black, GOLDEN captures the rich vegetal undertone of peat, by using Transparent Red Iron Oxide as the base and carefully adding just enough Carbon Black to create a clean sepia tone.
Fluid Historical Viridian Green Hue – Guignet of Paris patented the process for manufacturing Viridian Green in 1859. The popularity of this bright, exceedingly clear blue-green color led some to believe that it could eventually replace all other greens, both ancient and modern. Unfortunately, true Viridian Green pigment is very reactive in aqueous solutions preventing the formulation of a stable product. To mimic the near perfect bluish green, GOLDEN blended a concoction of Phthalo Blue (Red Shade), Nickel Azo Yellow, Zinc White and Raw Umber. The result has mixing properties different than any single green pigment offered through GOLDEN and is a useful replacement for artists familiar with the original.