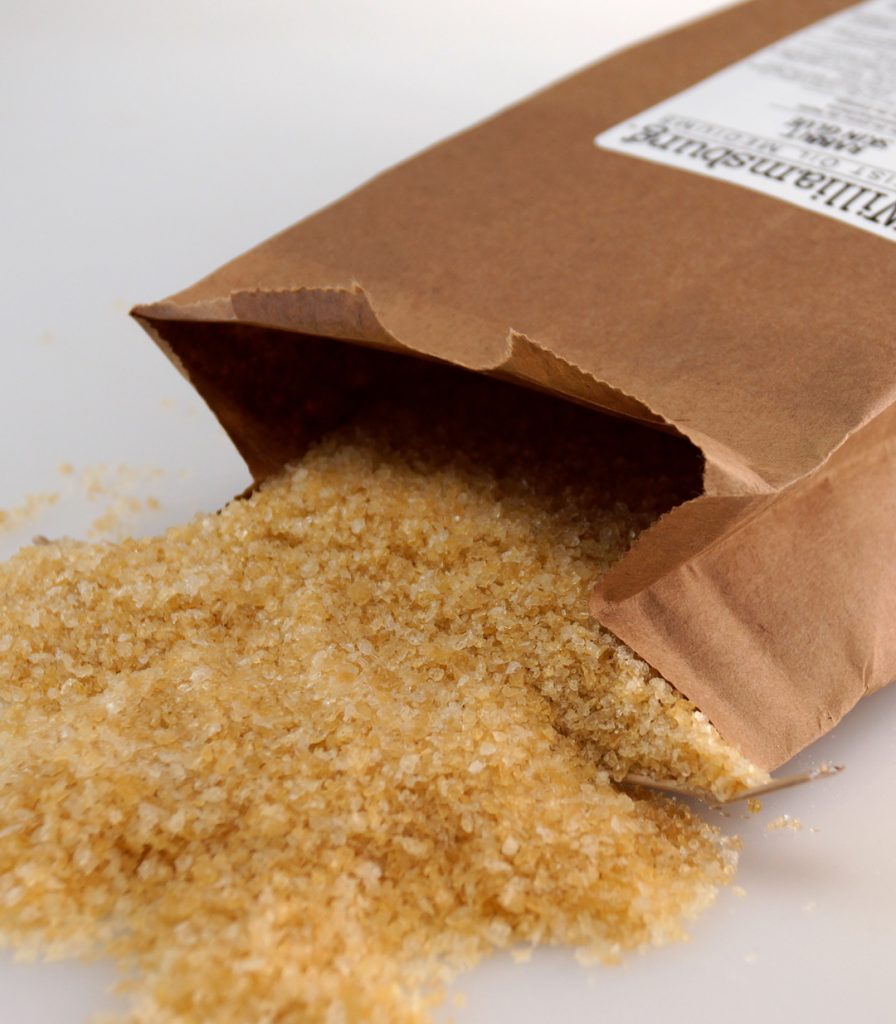 Animal glues have a long tradition in the preparation of oil painting supports – as sizes and as an ingredient in traditional gesso grounds. Some of their characteristics have yet to be matched by modern adhesives, namely the tightening and stiffening of the canvas as well as their oil blocking qualities. In a previous Just Paint article we also discussed the problems associated with animal glues within the structure of a painting, which is related to its hygroscopic (water-loving) nature and thus dimensional instability. In this article, we will recap the characteristics and the pros and cons of animal glues as sizing material, particularly in light of our recent findings regarding oils over acrylics and will share more information on our Williamsburg Rabbit Skin Glue.
Rabbit Skin Glue Characteristics
The term rabbit skin glue (RSG) is often used universally for glues derived from animal tissue, mostly bones and hides. Thus, RSG is not always derived from rabbits but frequently comes from pigs, cows or goats, sheep, and other small animals. With a large variety of different animal glues on the market and no uniform labeling guidelines for these products, it can be difficult to keep an overview. Our Williamsburg Rabbit Skin Glue comes from a trusted source and is derived from rabbits only. Its bloom strength or gram strength is 550, which is the highest gram strength glue. In general, glues made from animal hides are greater in bloom strength (towards 500 and higher) than bone glues (around 50-300), because the latter require more treatments in their preparation. Acids, alkalis and enzymes are used to extract and clean the collagen from the various animal tissues. This damages the molecular structure of the collagen and makes the glue weaker and darker in color. The collagen molecules in young animals, such as rabbits, are less cross linked and therefore can be extracted with lighter treatments and minimal molecular degradation, making a strong glue [1]. Glues with higher bloom strength form thicker gels and are more viscous when heated to 'usage condition'. While bone glues are great glues for traditional furniture making and furniture restoration, RSG is suitable for sizing canvases in highly dilute concentrations.
Rabbit Skin Glue PROs
The main advantage of RSG size is its tightening and stiffening effect on raw cotton canvas and linen. While other sizes can stiffen, RSG tightens better than any others we have found. Warm RSG readily absorbs into raw canvas or linen. Once applied, the fluid glue becomes a gel and subsequently shrinks considerably while losing water, whereby the canvas is tightened. The amount of shrinkage in the glue during drying is proportional to the quantity of the water in the glue and the faster the glue loses water, the more pronounced the shrinkage. At room temperature and at 50% relative humidity (RH), a free film of animal glue shrinks by more than 70% from its gel state to its dry state, whereby an internal tension of 14 MPa builds up [2]. Fun fact: these drying stresses are so strong that hide glue can be applied to roughened glass, whereby the drying stresses pull the surface of the glass into unique 'glass chipped' surface patterns. RSG size also prevents subsequent oil layers from penetrating into the canvas support. Besides its good oil blocking, tightening and stiffening properties, RSG size is very economical.
CONs: Resolubility and Stability Issues
Animal glues are hygroscopic (water-loving) and therefore respond readily to changes in relative humidity. Animal glues will shrink and embrittle as the humidity drops, and swell and soften when the humidity rises. At room temperature and 84% RH, animal glue from mammals reaches a jelly state. These changes can lead to delamination and flaking of the overlying ground and paint layers as well as planar deformations in the support. While this tendency is more pronounced in glues of impure grades, it is the one big disadvantage of all animal glues. Hide glues of high Bloom strength retain their mechanical properties better in changing RH cycles, while low bloom strength glues degrade and lose their cohesive strength (canvas slackens permanently) when exposed to repeated changing RH cycles. The superiority of high bloom strength glues lies in their molecules' ability to coil back up into their native 3D helix structure (renaturation) at high RH levels. Due to their more elastic molecular structure, highly renatured glues can thus compensate inner stresses much more successfully than low gel strength glues [3].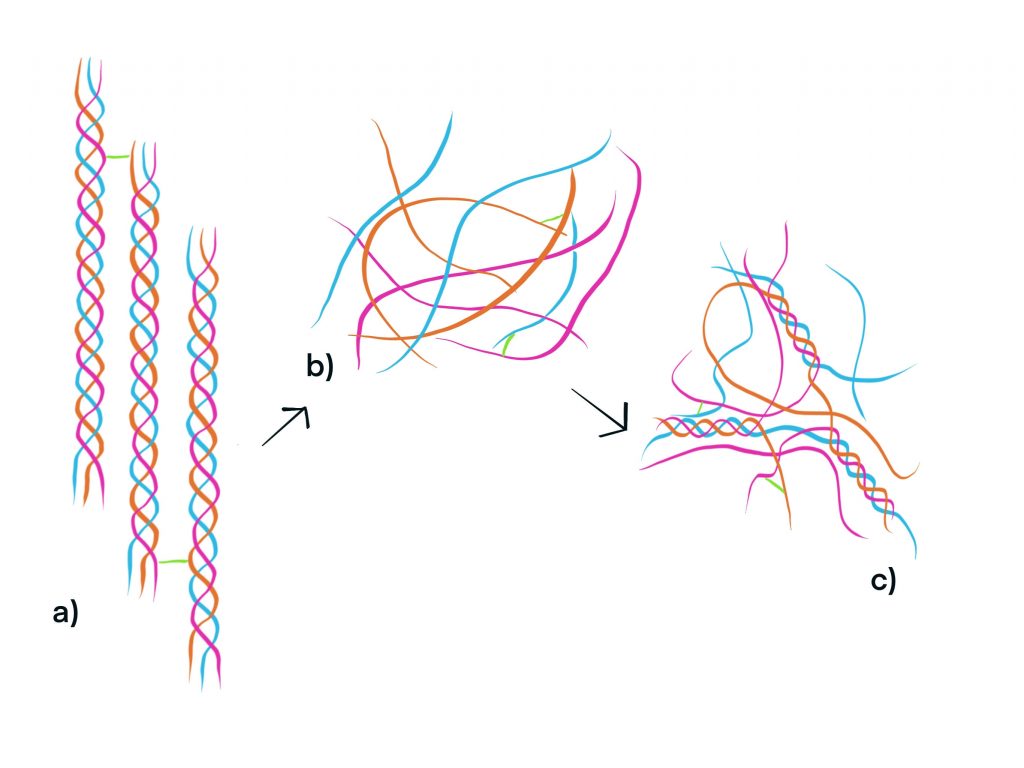 Another disadvantage of working with RSG is the inconvenience of having to prepare the size fresh before use and having to warm it up. RSG solutions can be kept in a refrigerator for about a week and during that time can be warmed up and stored cool again several times. However, at some point the glue gets spoiled by microorganisms, which makes it smell bad and remain fluid, even at cooler temperatures. Storing glue in dedicated refrigerators and using clean glass containers and distilled water for glue preparation helps to keep RSG longer.
Rabbit Skin Glue Preparation
RSG and other animal glues are transformed from a dry solid into a liquid through soaking and swelling in cold water. The water and swollen glue, so called sol, must then be gently heated. In order to prevent overheating, a water-bath or dedicated baby bottle warmer is often used. Heating glues at too high temperatures breaks the protein molecule-chains and makes the glue weaker. RSG is generally brush-applied as a heated liquid. Application as a gel with a palette knife is also possible; although more laborious and less even, but a gel application can fill the hollows in an open-weave canvas better. We provide more detailed instructions on RSG preparation and its usage here:
Grounds over Rabbit Skin Glue
Oil and alkyd grounds can be applied directly over RSG sized canvas. RSG can furthermore be used for making traditional glue-chalk grounds (traditional gesso), on which we provide instructions here. A combination of first a layer of traditional gesso, followed by a layer of oil ground is also possible and used to be a popular choice for panel painting preparation and was also used on canvases in the 17th century [4]. Here are instructions on using Williamsburg Oil Grounds.
RSG size is not compatible with acrylic products, as RSG becomes soluble in dilute acids and bases and wet acrylics have an alkaline pH. Thus, when applying acrylic gesso over a RSG size, the size becomes reactivated and can gum up, creating an uneven surface or even cause the acrylic gesso to crack.
Conclusion
RSG size is unmatched in its tightening and stiffening properties, but its great reactivity to fluctuating humidity levels may cause damage to ground and paint layers over top. Due to this occurrence, it is recommended to store or display paintings in a controlled environment with stable humidity levels in a range between 40-70% RH. Backing boards for stretched canvases or the use of rigid supports, including canvases glued to panels, reduces the risk associated with RSG. For sizing canvases, glues of high Bloom strength should be used as they retain their mechanical properties better in changing humidity cycles. In light of our recent discovery of the cracking phenomenon of some oil layers applied directly over glossy acrylics, we thought it worthwhile highlighting RSG and hope this helps oil painters to make well informed decisions on their painting substrates.
References
[1] Horie, 1986. Materials for Conservation, p. 239
[2] Mecklenburg, 1988. The Effects of Atmospheric Moisture on Mechanical Properties of Collagen under Equilibrium Conditions. https://repository.si.edu/handle/10088/35977?show=full
[3] Schellmann, 2009. Animal Glues – their adhesive properties, longevity and suggested use for repairing taxidermy specimens. http://www.natsca.org/article/158
[4] Van de Wetering, 2005. A Corpus of Rembrandt Paintings, p. 319.
https://www.google.de/books/edition/A_Corpus_of_Rembrandt_Paintings_IV/Y-oiabcX-90C?hl=en&gbpv=1&dq=corpus+of+rembrandt+paintings+wetering&printsec=frontcover