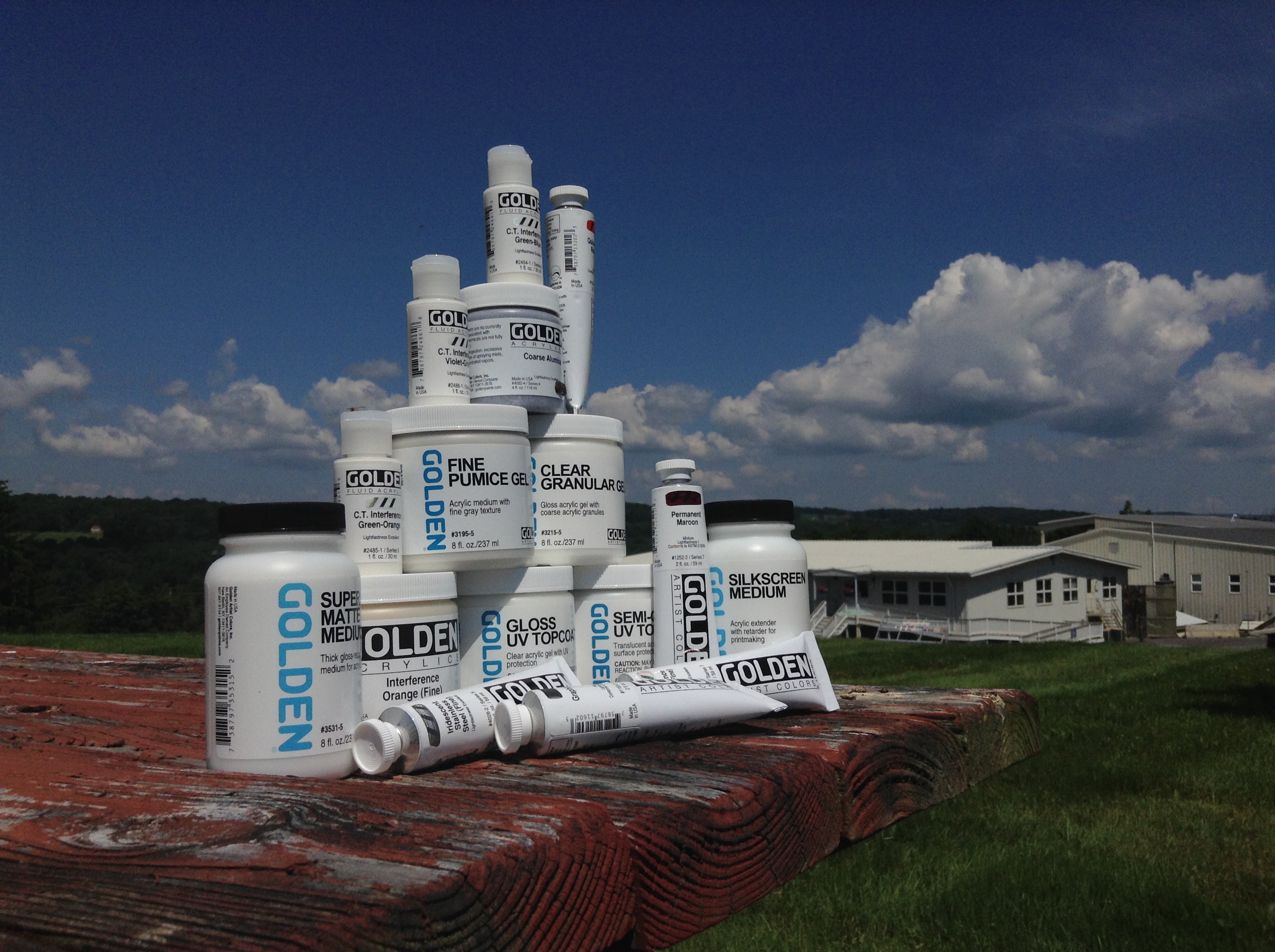 Golden Artist Colors has created hundreds – if not thousands – of products since the initial startup in 1980. We tend to think of our acrylic-based materials as tools. Like most garages, sometimes a few tools go missing. Many times during our search for a specific tool we actually re-discover a long forgotten apparatus along the way! I encourage you to go through your painting supplies and experiment with one or two products you've hardly used. If it's color, tint it with white, extend it with a Medium, or use it in place of a go-to color and see what a difference it makes to your color mixtures.
As with specialized shop tools, there are painting products that could have been the perfect contrivance for your painting had you only known about it. We're not talking about one of a kind custom products (we offer this service, by the way) or even our "standard custom" products. There exists a number of items that are in fact current off the shelf products, which most artists have never heard of before. Until today.
In this article, I'll review these distinctive GOLDEN acrylic products, and shed light on what makes each one unique if given a chance! Join me in a review of some painting tools that really should garner more attention from artists.
Heavy Body Acrylic Colors:
Graphite Gray (#1160): Did you know that this acrylic-based, buttery thick paint is made from the same kind of graphite used in pencils? Did you also know you can "burnish" or polish this Graphite Gray paint just like a pencil drawing? It's our only paint that can be buffed to a high luster.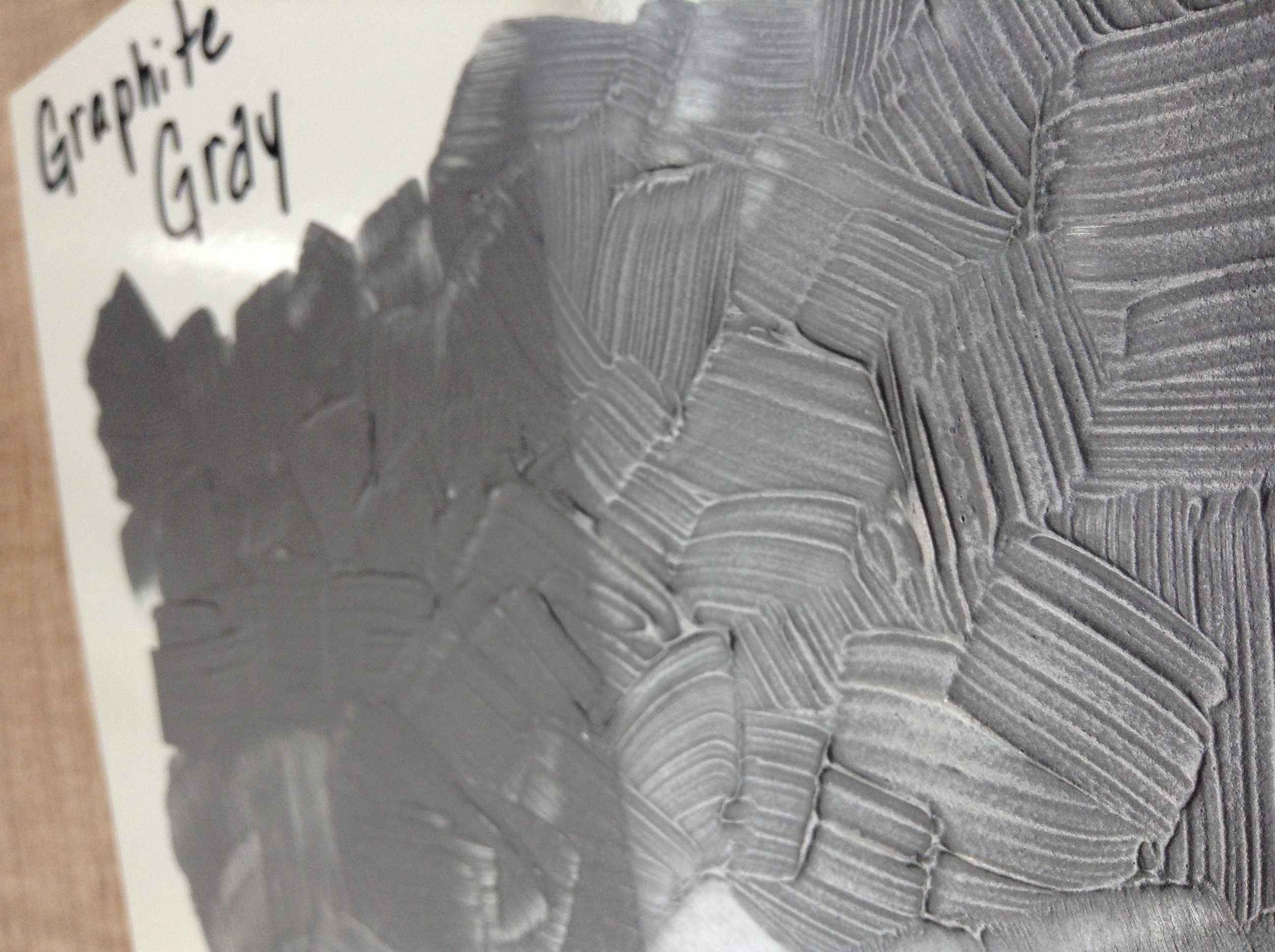 Quinacridone Red Light (#1320): Every painter knows the Quinacridone family of pigments. They are clean, vibrant and transparent. But there's one "Quin" that you saw in the rack, thought about getting it for a split second, but then reached for a more familiar color, never realizing how wonderful this coral-colored red is to use. Imagine a perfect red seemingly made for portraiture. Not too blue. Not too yellow. Just right. It makes just the right kind of pink, especially when paired with Zinc White.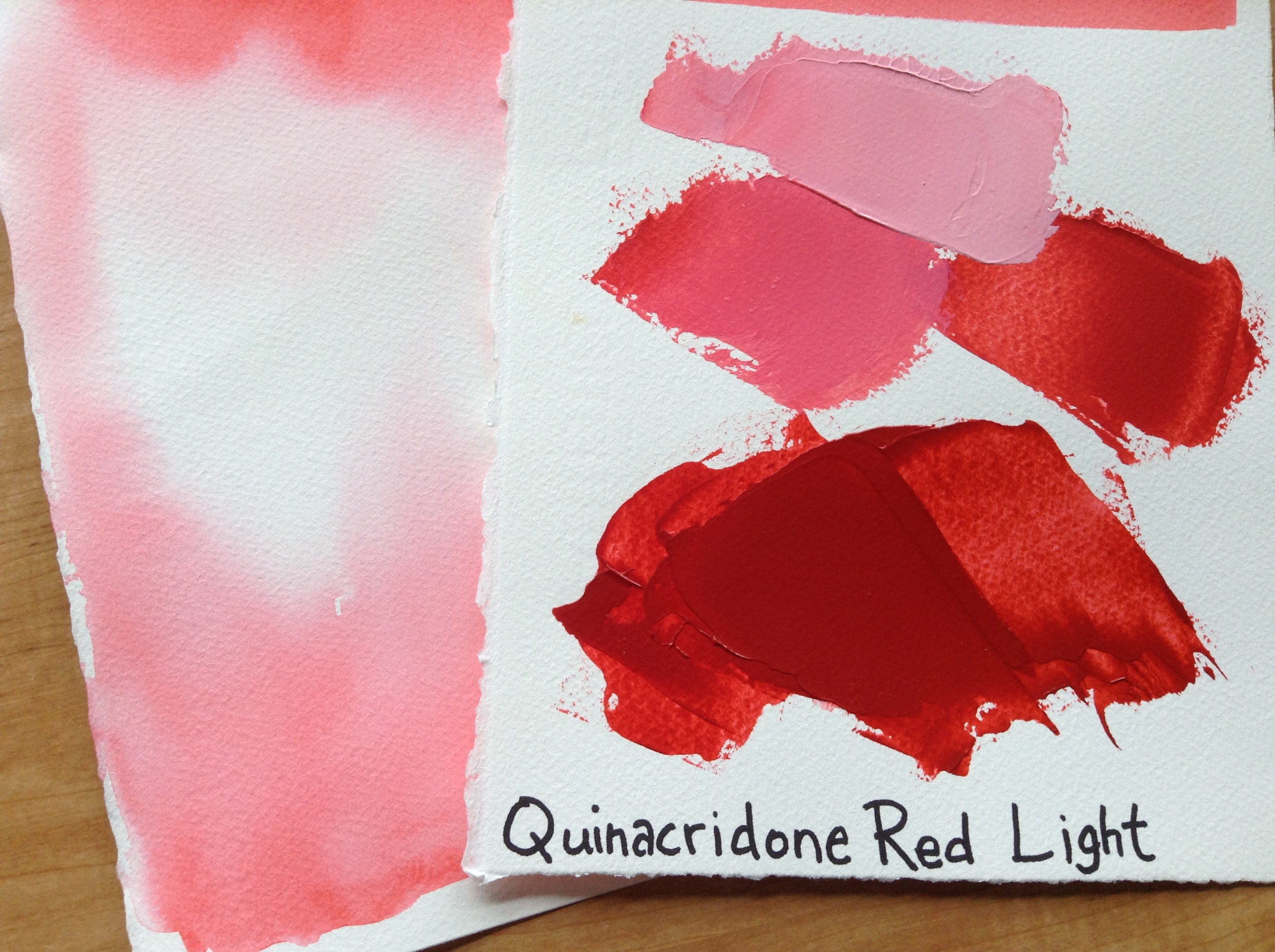 Permanent Maroon (#1252): A hundred years ago – ok, twenty years ago – we had a great paint named Naphthamide Maroon. It was the hue of an aged Cabernet Sauvignon. Then the pigment manufacturer discontinued it so having no choice, so did we, and every artist using it freaked out and scoured the globe in search of the last remaining batches. We even sent our retained Quality Control lab samples to some artists that just wouldn't give up the search! Permanent Maroon is our answer to this lost pigment. This new blend may read more to the tune of a fresh Pinot Noir, but it's pretty tight to the discontinued color.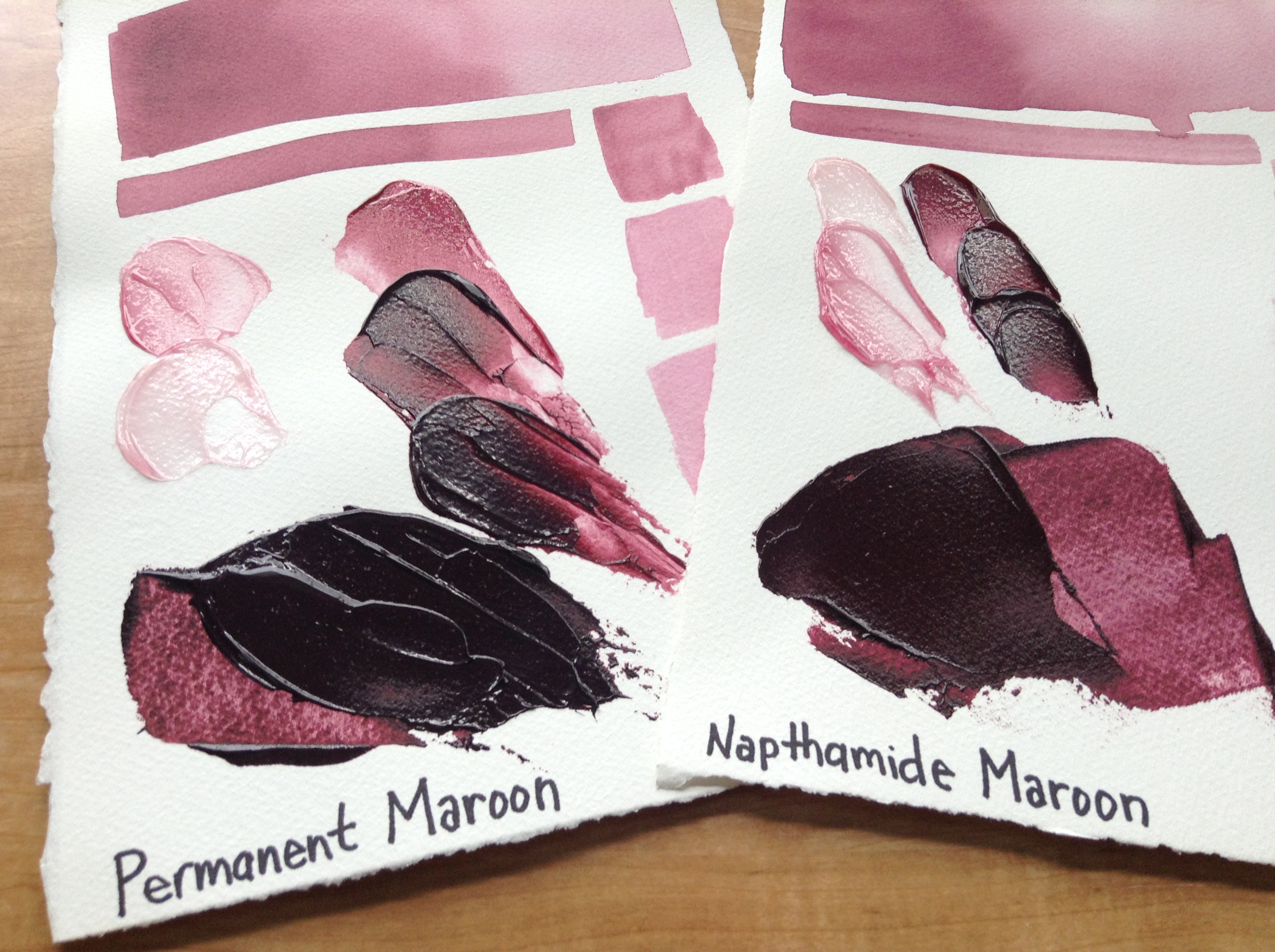 Shiny Stuff:
Interference Orange (#4055) and Green (#4050): Everyone loves Interference Gold, Blue, Violet, and Red. No one ever buys Interference Orange and Green. They are more subtle in their shimmer, but they still have a great opalescent quality in the right light.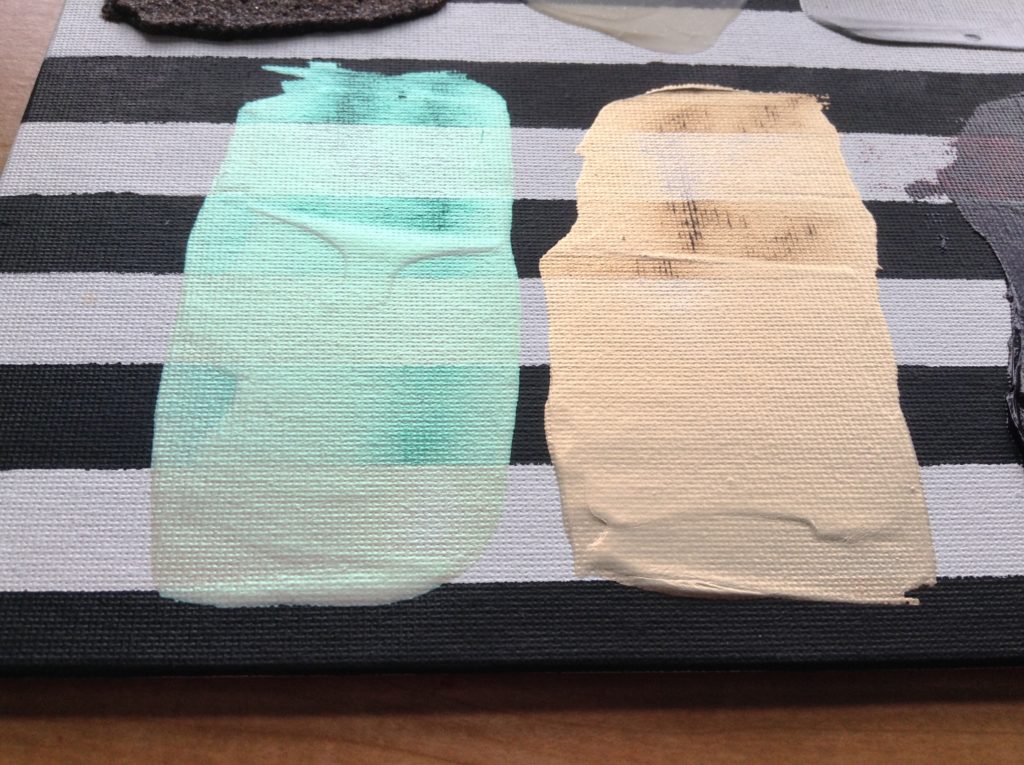 Color Travel (CT) Interference Colors (Green/Blue #2484), (Green/Orange #2485), (Violet/Green #2486) – One color shifts from Violet to Green! Another color shifts from Green to Orange! Yet another one shifts from Green to Blue? Incredible! You probably have never heard of these paints, but there they are in all of their flip-flopping glory. For the strongest effect, apply over black or dark colors.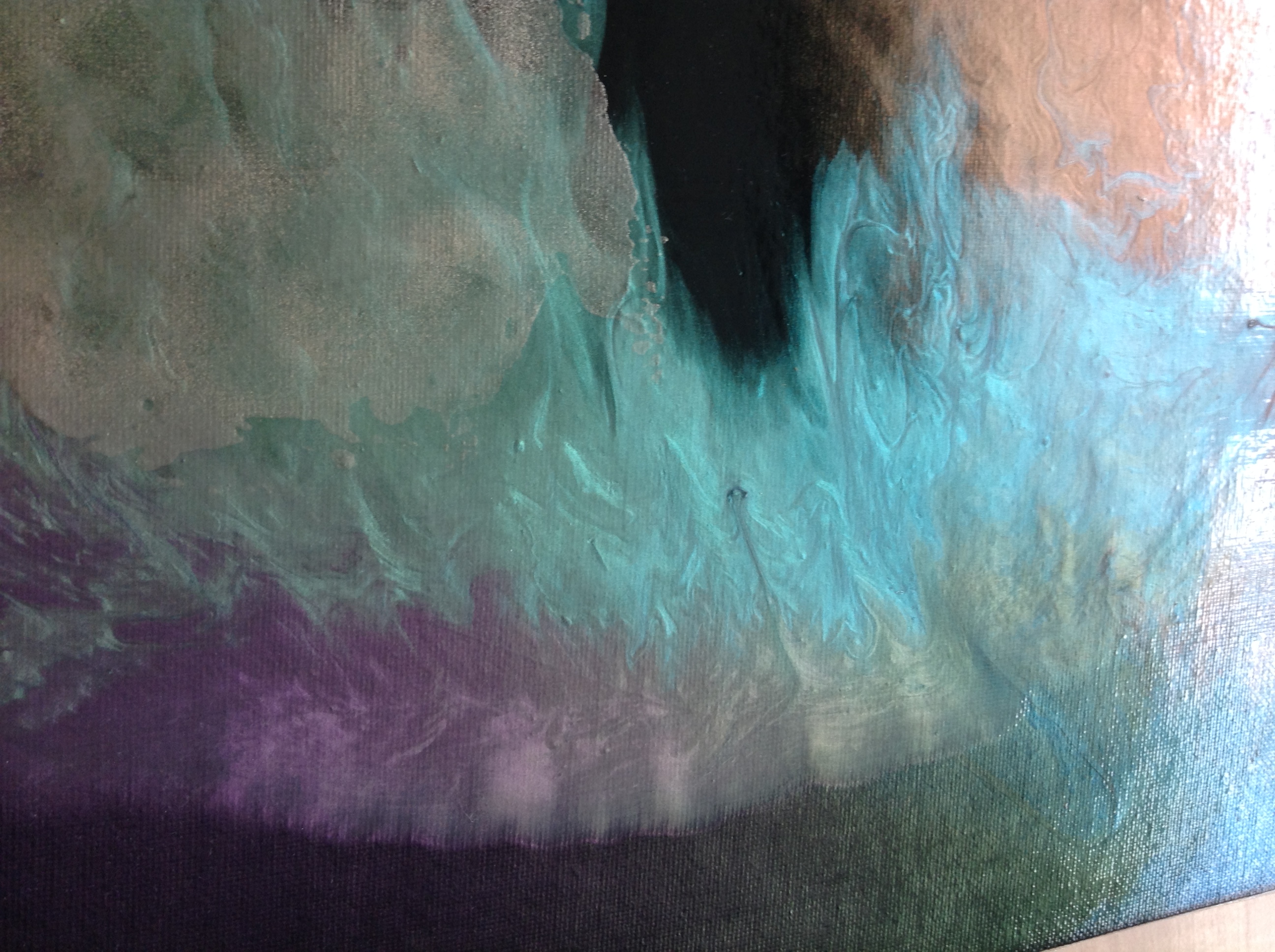 Heavy Body Iridescent Stainless Steel Coarse (#4027) and Fine (#4028): This acrylic paint is actually made from ground-up bits of steel! But it doesn't rust. It won't fade or change in all of the years we've tested its permanence. This paint can be influenced by magnetic forces!
Gritty Stuff:
Fine Pumice Gel (#3195): Artists like big grit. Huge chunks of a dormant volcano rock are used in our Coarse and Extra Coarse Pumice Gel, and they get all the attention. Fine Pumice Gel uses a "finer" particle size of the same pumice. It's just toothy enough to receive drawing media and predates the Pastel Ground as our response to multimedia artists' desire for a surface that accepts chalk pastels, graphite, and charcoal. Pastel Ground users may even prefer the oh-so-finer particle size for detail work. Adding some water makes it near invisible over an underpainting.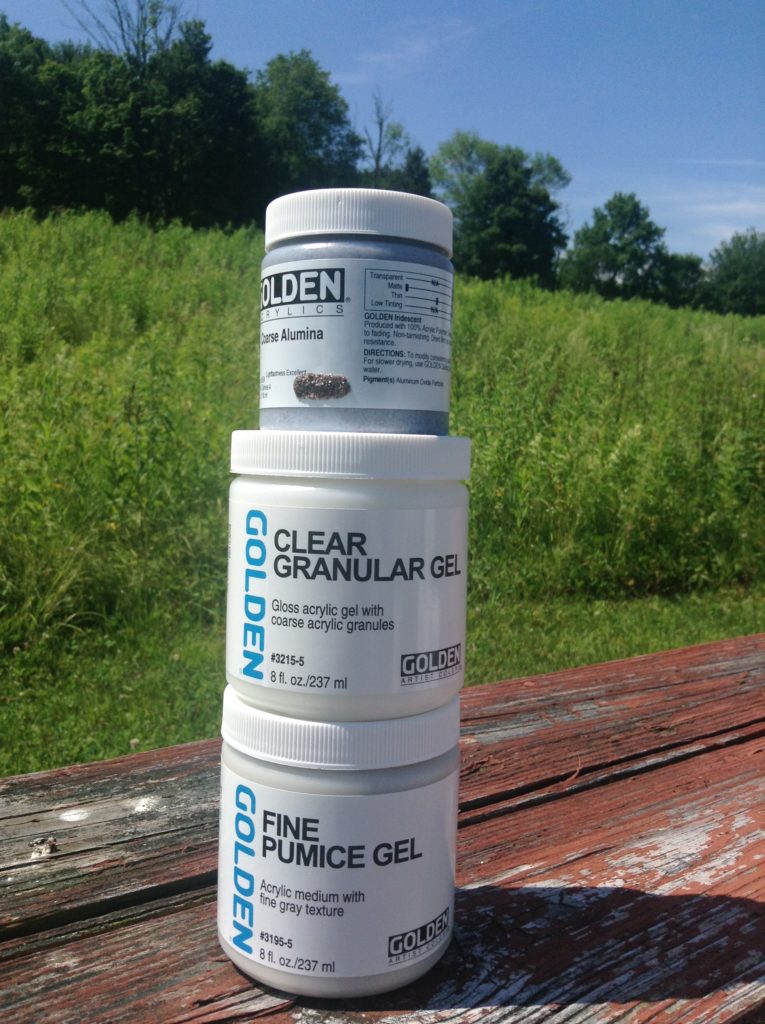 Coarse Alumina (#4082): According to www.aluminum.org, bauxite ore is mined to create Alumina Oxide, of which approximately 90% is refined and made into aluminum and 9.999% is used for making abrasives and sandpaper.  GOLDEN Coarse Alumina is made using 0.0001% of it. Actually, I have no idea how accurate that last figure is, but I do know we're the only paint company using it to make a painting texture. The gritty gray particles are blended with acrylic gel to make it easy to spread onto a surface. The texture is unique and rough and compliments iridescent paints with its dark appearance. Be the envy of your local art community!
Clear Granular Gel (#3215):  Sure, Glass Bead Gel gets all the attention with its optical reflectivity, but these irregularly shaped bits of acrylic resin are also visually interesting. If you add White Gesso, it will look like cottage cheese. If you add Black Gesso, it looks like model railroad coal. Imagine if you were to add a couple of drops of Fluid Acrylic to create translucent color glazes (or just look at the image below with Sap Green Hue).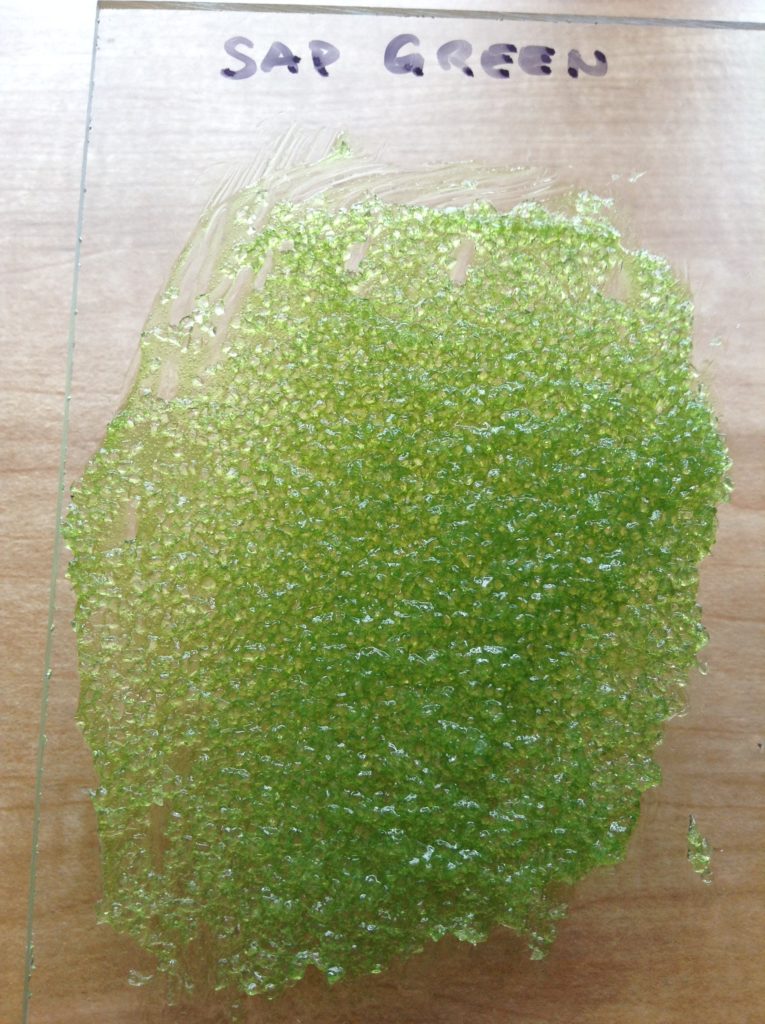 Gel Mediums:
Silkscreen Medium (#3690): If you do a lot of silkscreen printing, you probably use commercial products such as UV-curable inks or plastisol based inks. If you only occasionally screen print or just need to do a short run, then Silkscreen Medium might be the right product for you. Blend equal parts (or more) with Heavy Body or Fluid Acrylics for use on paper, wood, canvas and other non-launderable materials. Silkscreen Medium can also be used as a slow-drying painting medium.
Super Matte Medium (#3531): Some acrylic paints, gels, and mediums are just too darn shiny. But you already bought and paid for them, so you might as well use them. Adding Matte Medium or a Matte Gel to the paint can only somewhat lower the gloss unless you add a very high percentage. But just 10-20% Super Matte Medium can make glossy paint quite matte, quite quickly. Super Matte Medium is a safer alternative compared to dry and fluffy powdered matting solids.
Gloss (#3746) and Semi-Gloss (#3747) UV Topcoat: Perhaps artists don't know what a topcoat is. Perhaps they expected this topcoat to be liquid, like varnish. Whatever the reason, this is still a great painting medium. We've added the same ultraviolet light stabilizers as what's in our varnishes. UV Topcoat can be used over water-resistant ink-jet prints, collage and multimedia work, or whenever you've used not-so-lightfast materials in your artwork. Although intended to create brush and tool marks due to its thickness, it can also be thinned with water to create a thinner, more leveling medium.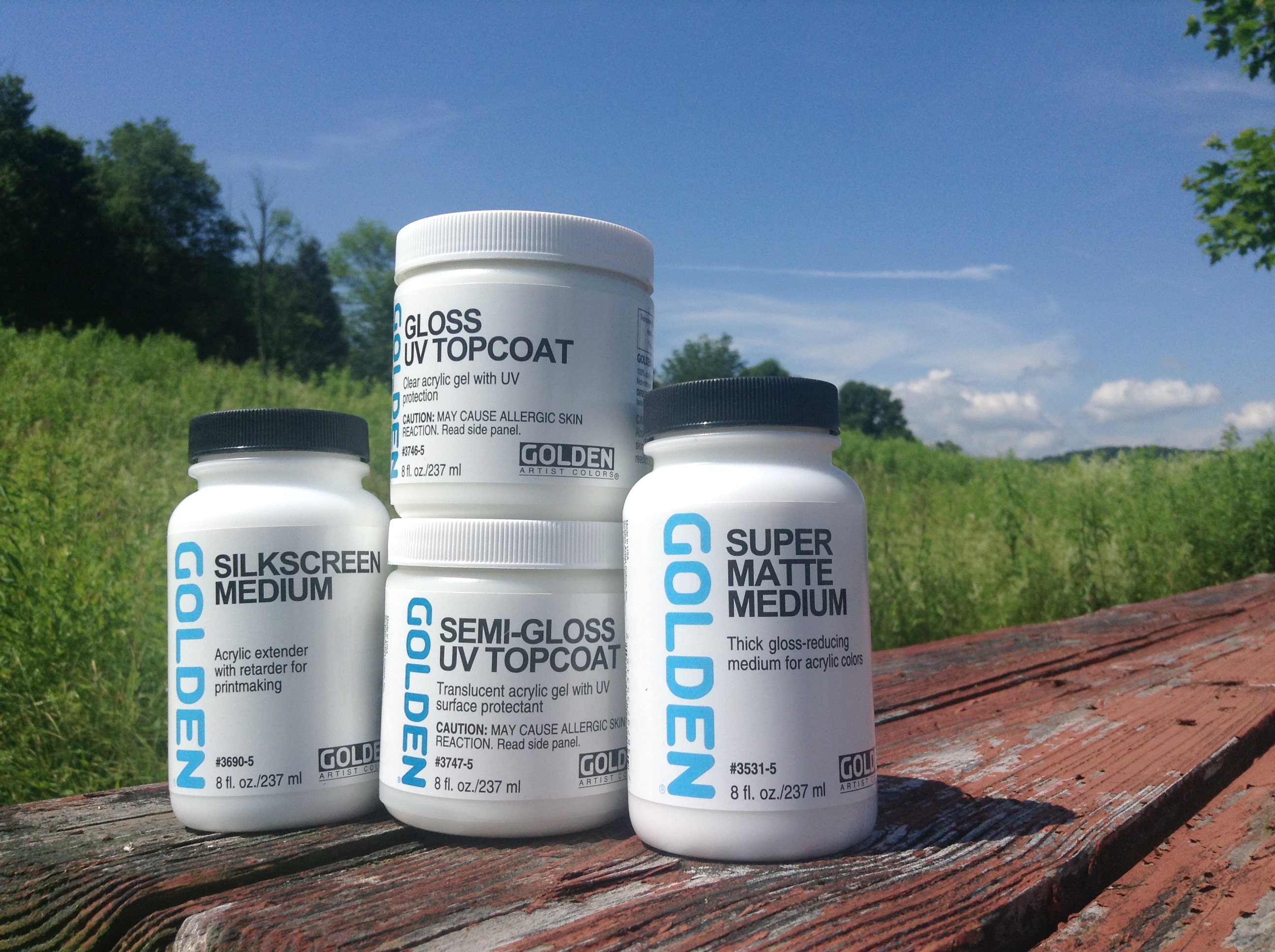 If any of these products interest you, give them a try. They are all products available on the 2019 U.S. Price List. Contact your favorite store to see if they have the one you want in stock. Alternatively, contact our Customer Service Department and ask them to assist you with procuring your new bauble. And as always, if you have any sort of paint product question, call the Material & Applications Department, or email help@goldenpaints.com.