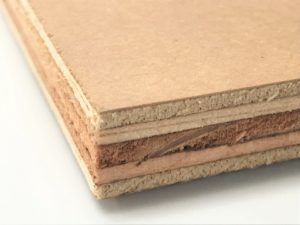 People often ask us what we would recommend as a wood panel option for use as a painting substrate and one that often comes up is MDO (Medium Density Overlay) plywood. While used by many muralists, as well as some panel painters, it is probably the least known of the various types of plywood you might hear about.  Because of that, we thought it would be good to discuss what MDO plywood is, why and when one might use it, how it is prepared, and a summary of some of its attributes and potential drawbacks.
Medium Density Overlay
MDO plywood is an exterior plywood produced with a resin-impregnated Kraft paper overlay.  An overlay being a thin sheet of paper, plastic or metal that is bonded to one or both sides of a substrate in order to enhance a working face for special-use applications.  Plywood that is enhanced with a MDO will combine the structural attributes of plywood with an upgraded facing that masks wood grain, increases durability and provides a smooth texture for easy painting.  The MDO overlay is typically opaque and wood-toned, but can vary depending upon the manufacturer.
There are two forms of MDO plywood, a concrete form designed for industrial applications and a general form designed to be a paintable surface.  The concrete form of MDO has a higher percentage of resin present in the overlay for increased durability, but it also contains a chemically reactive release agent to allow for easier separation from concrete molds.  Of the two, the general MDO plywood would be best suited for painting. (APA, 2011)
MDO may not be a readily available product in most hardware stores, but it can usually be ordered in and picked up.  It is important to make note of how different manufacturers prepare an MDO panel by either pre-priming or specifying the need for appropriate priming before use.
When and Why to use MDO
MDO plywood would be a suitable option for exterior muralists and panel painters working in either acrylics or oils.  Understanding a little bit about how a MDO panel is constructed, the type of resin used and how the plywood is classified can provide some insight into why it might be an appropriate wood panel option.
The Resin
Most wood panel products are manufactured using either a urea formaldehyde or a phenol formaldehyde adhesive.  The difference between the two and why one would be used over another has a lot to do with urea formaldehyde being a water resistant adhesive and phenol formaldehyde being waterproof.  Manufacturing cost and emissions are also factors. (APA, 2015) MDO plywood uses a phenol formaldehyde resin, also known as a phenolic resin, to adhere and saturate the overlay as well as bond the plywood veneer together.  Phenolic resin is highly compatible with wood based products and will quickly penetrate into and wet-out cellulose fibers in its liquid state, then cross-link and harden when thermoset under heat and pressure. The immediate benefits being high mechanical strength, chemical, moisture and heat resistant properties. (Plenco, 2018) For a painter or muralist looking for a stable wood panel option, this increased resistance to moisture absorption correlates with a decrease in swelling when the panel is in conditions of high relative humidity.  This results in an overall increase in dimensional stability. (Ebuka, Ezeh, Gimba, Mamza, 2014) The overlay itself will have a higher percentage of phenolic resin than the panel and will often be oriented with its strongest dimension perpendicular to the wood grain.  This is designed to impart these structural benefits as well as improve resistance to surface checking or cracking.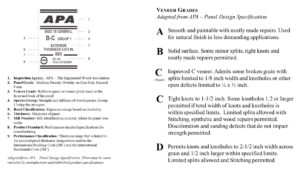 Exposure Classification
There are various exposure classifications of plywood, each related to the quality of the veneer and the performance of the bonding adhesive.  MDO is classified as an exterior plywood as specified by the APA voluntary PS 1-09 Structural Plywood Standard. (APA, 2010) This states that D-grade veneer is not permitted in exterior plywood and that an MDO panel should be composed of C-grade or higher veneer throughout with B-grade facings. This standard also requires that an exterior plywood be bonded using a waterproof adhesive such as a phenolic resin.  An overabundance of voids in the wood or a water resistant, not waterproof adhesive, could create opportunities for water to migrate through the panel, so these specifications are designed to provide improved structural resistance to moisture.  An exterior plywood is expected to be suitable for permanent exposure to weather and changing environmental conditions. (APA, 2012)  This classification does not relate to physical wear and tear or biological resistance to mold and mildew. The bond between the plywood and the overlay is also treated to the same standard as the bond strength between the layers of veneer. (APA, 2010)
Preparation for Use as a Substrate
Before preparing a MDO panel for painting, if possible, it can be helpful to read the manufacturers specifications to see if the panel has been specially treated or pre-primed.  Typically, if pre-primed, manufacturers will apply a thermo-set acrylic to both the sides and working faces of a MDO panel, which will appear opaque and white.  Make note of whether it is compatible with oil paints or latex (waterborne) paints when working in acrylics.  If ever unsure, it is possible to do an adhesion test, which can be helpful if this information is not available or further assurances are required.  Always test if you are unsure.
When using a MDO plywood outdoors that is unprimed, it should be appropriately edge sealed and primed on both sides with a high quality wood primer that is compatible with latex (waterborne) paints.  A light sanding is recommended prior to priming, to promote adhesion and reduce any potential evidence of wood grain.  It is still possible for the grain of the wood to raise or the surface to become uneven and transfer through the overlay.  This can also be a factor when displaying works or working in an environment with conditions of moisture or high humidity. (APA, 2018) Once the painting or mural is complete, we recommend applying an isolation coat and 2 or more coats of our MSA Varnish. Here is are two Just Paint Article that goes in to more detail on preparing a panel for a life outdoors and a technical document on murals.
Preparing a Panel for a Life Outdoors
When working with acrylics or waterborne paints on unprimed MDO plywood for interior use or panel painting, we recommend sizing with 2 coats of Gloss Medium or GAC 100 to block Support Induced Discoloration (SID).  This can then be followed by GOLDEN Acrylic Gesso or a comparable acrylic ground.  The resin content in the overlay of a MDO panel should help to reduce the appearance of Support Induced Discoloration (SID) by reducing the amount of water absorbed into the substrate.  In our research we have not seen evidence of SID while using MDO plywood with acrylics; however, we cannot speak to the specifics of MDO from all manufacturers and we still recommend sizing as a precaution if there is concern.  Testing is always recommended.
When working with oil paints on unprimed MDO, we recommend 2 coats of Fluid Matte Medium or a similar sizing in order to block oil penetration into the substrate.  After allowing 24 hours dry time, this can then be primed with either an acrylic ground or an oil ground.  For more detailed information on preparing a painting support for acrylics and oil paints, here is a link to our technical sheet.
Summary and Drawbacks
MDO plywood offers a lot of benefits as a painting substrate, it has a smooth surface treated to extend its life outdoors and provide enhanced durability.  MDO is also structurally classified as an exterior plywood, thereby specified to be suitable for both exterior and interior use.
One thing to keep in mind about MDO; however, is that an overlay is typically used to upgrade panels that are of softwood construction.  It is therefore possible for the surface of MDO to show some visual signs of reflectivity due to the varying densities of the underlying veneer. (APA, 2018)  These panels may still telegraph repairs or show evidence of voids, which would need to be addressed if an artist were using MDO for exterior works.  If this is a concern, it is always possible to have higher grades of plywood or even marine grade plywood overlaid to gain its benefits.
Phenol Formaldehyde Disclaimer
Since elevated levels of formaldehyde may lead to health conditions, regulations on emissions exist to limit the amount of exposure to it. To better understand these concerns, it is important to know that formaldehyde is a volatile organic compound (VOC), meaning it will vaporize or become a gas at room temperature. (APA, 2015) Wood panel products, which use phenol formaldehyde resins like MDO plywood, have been tested for emissions and have either met industrial standards or received exemptions from agencies such as U.S. Housing and Urban Development (Manufactured Home Construction and Safety Standard, CFR 3280.308), The Environmental Protection Agency's TSCA Title VI and California Air Resources Board (CARB) Limits 8, which is considered the most strict regulation on formaldehyde emissions in the United States. (California Environmental Protection Agency, 2007) MDO products that adhere to the Voluntary Product Standard PS 1-09 for Structural Plywood put forth by APA – the Engineered Wood Association should meet these product standards and have a stamp to show compliance.
If you have any questions or comments about this article or any other paint related topic, please feel free to contact our Materials Application Department at help@goldenpaints.com or by calling 800-959-6543.
References:
APA – The Engineered Wood Association, (1997) Plywood Design Specification. Tacoma, WA: Author.
APA – The Engineered Wood Association, (2012) Panel Design Specification. Tacoma, WA: Author.
APA – The Engineered Wood Association, (2011) HDO/MDO Product Guide. Tacoma, WA: Author.
APA – The Engineered Wood Association, (1995) Grades and Specifications. Tacoma, WA: Author.
APA – The Engineered Wood Association, (2015) Formaldehyde and Engineered Wood Products. Tacoma, WA: Author.
APA – The Engineered Wood Association, (2010) Voluntary Product Standard, PS 1-09, Structural Plywood. Tacoma, WA: Author.
APA – The Engineered Wood Association, (2018) Personal Communication. Tacoma, WA.
California Environmental Protection Agency – Air Resources Board. (2004). Indoor air quality guideline: Formaldehyde in the home. Sacramento, CA. Retrieved from: http://www.arb.ca.gov/research/indoor/formaldGL08-04.pdf. 16pp.
Ebuka, D., Ezeh, E. C., Gimba, E.C., Mamza, P.A.P. (2014) Comparative Study Of Phenol Formaldehyde And Urea Formaldehyde Particleboards From Wood Waste For Sustainable Environment. International Journal of Scientific & Technology Research, Volume 3, Issue 9.
Emery, J. A., Ph. D., APA – The Engineered Wood Association, (2002) Structural Wood Panels and Formaldehyde. Tacoma, WA. http://www.roseburg.com/UserFiles/Library/APA_Tech_Bulletin_on_Formadehyde.pdf  Accessed on July 8, 2018.
Jones, F. N., Pappas, S. P., Wicks, D. A., Wicks Jr., Zeno W. (2007) Organic Coatings: Science and Technology. Hoboken, NJ. John Wiley & Sons.
Plenco – Plastics Engineering Company. (2018) Phenolic Novolac and Resole Resins. Retrieved from: https://com/phenolic-novolac-resol-resins.htm#2 Accessed on July 13, 2018.
Structural Insulated Panel Association, (Accessed 7, 2018) Formaldehyde Emissions and Exemptions. Fort Lauderdale, FL. Author.
The U.S. Consumer Product Safety Commission. (2013) An Update on Formaldehyde. Retrieved from: https://cpsc.gov/PageFiles/121919/AN%20UPDATE%20ON%20FORMALDEHYDE%20final%200113.pdf Accessed July 13, 2018
United State Department of Labor. Occupational Saftey and Health Administration. Formaldehyde Standard (1910.1048).  Washington, D.C. Retrieved from: https://osha.gov/pls/oshaweb/owadisp.show_document?p_table=STANDARDS&p_id=10075/ Accessed on July 13, 2018.
Subscribe