Dibond is a trade name for a type of painted aluminum composite panel made by Alcan Composites. There are other brands and types of Aluminum Composite Panels that may have a bare aluminum side or different types of coatings, which may require different surface preparation.
Dibond panels are made with two lightweight sheets of .012″ aluminum with a solid thermoplastic core. Both sides of the aluminum are coated with a polyester paint. The advantages of this type of panel are:
Dimensional stability
Very lightweight
Relatively inexpensive
Available in large sizes
Long term durability
The current information from the Fabrication Manual from Alcan/3A Composites says that the best direct adhesion occurs after lightly scuff-sanding the painted polyester surface followed by wiping with isopropyl alcohol, and then application of properly selected paints. They also caution not to sand through the coating to the aluminum surface. Acrylics are mentioned among the list of "suitable paints", and this suggests that many of our Acrylic Mediums, Gels, Gessoes and other waterborne acrylic products should have similar adhesion. With some higher viscosity products, however, an effect called "hold out" is a possibility, and variations in a formula could alter adhesion, so we always encourage testing. It is very important not to touch the cleaned surface with your fingers as this can leave oils that will interfere with adhesion. They also recommend always testing the paint system you are using for adhesion and suggest a cross hatch adhesion test, which is something we also often recommend. The following are adapted from both their guidelines and the testing we do:
Apply the paint or ground and let dry for a minimum of 24 hrs. As both sides of the Dibond panel are the same, you can use the backside for testing if desired, leaving the front untouched for now.
Over a 2" square area, using a razor blade or X-Acto knife, cut a series of parallel lines 1/8" apart. Then cut another series perpendicular to these, to form a crosshatch pattern.
Make sure to only cut through the paint and not through the Polyester coating.
Apply a piece of strong masking tape to the center and burnish.
Peel the tape straight back at a 180 degree angle in one rapid movement.
For best adhesion, no paint squares should come up.
If any parts of the squares do come up, the test can be repeated after 3 days, 1 week, and even 2 weeks. It is not unusual for some coatings to improve in adhesion over time, depending on application and environmental conditions.
If there is need for increased adhesion, or for an exterior application, we recommend applying a suitable commercial primer to the prepared surface. These are often called "bonding primers" and are made for hard, non-porous surfaces. Two that are widely recommended are included below in our testing. While Alcan does not mention oil paints as one of the "suitable paints" for use directly on Dibond, once you have a suitable primer applied, then oil paints or an oil ground can be used.
Here is a link to the Fabrication Manual for 3A Composites' graphics display products:
http://graphicdishttp://graphicdisplayusa.com/downloads/Dibond%20Fabrication%20Manual_May%202011.pdf
We selected four products to test for adhesion to the sanded Dibond surface:
Sherwin Williams DTM Bonding Primer
XIM's UMA ( Urethane Modified Acrylic ) Bonder Primer ( white )
Golden Artist Colors Gesso ( White )
Golden Artist Colors Heavy Body Acrylic – Pyrrole Red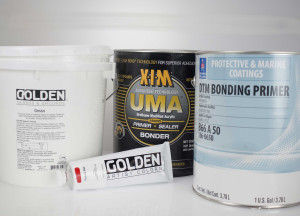 We determined that the DTM Bonding Primer and the UMA Bonder Primer would be the best two commercially available primers since both specify use on polyester coatings and other hard to coat surfaces, and we have seen successful applications with these products in the past. This does not mean that other similar primers could not work as well. PLEASE NOTE: While all the products we tested can be used for interior applications, we DO NOT recommend our Gesso for exterior use.
As a first step, we lightly sanded the polyester painted surface on a piece of Dibond using 150 grit (Fine) sandpaper making sure not to sand through to the aluminum, and then degreased it with isopropyl alcohol, wiping enough to remove all of the fine white powder from the surface.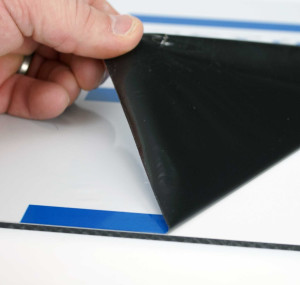 We then divided the Dibond panel into 4 sections and applied the coatings using a white bristle brush in one relatively thin layer. The coatings were tested for adhesion using the Cross Hatch Adhesion Test at 24 hour, 3 day and 1 week intervals. We use a standardized adhesion test kit that contains a special type of tape, a burnishing tool and an 8 blade knife to make the cross hatch cut pattern, which creates 49 small squares on the test area. For the maximum adhesion, no pieces of any of the squares should come off. This is always the ideal to aim for. If any squares come off entirely, then one has complete adhesion failure. If small bits come off, retest after several days or a week has passed and see if there is improvement.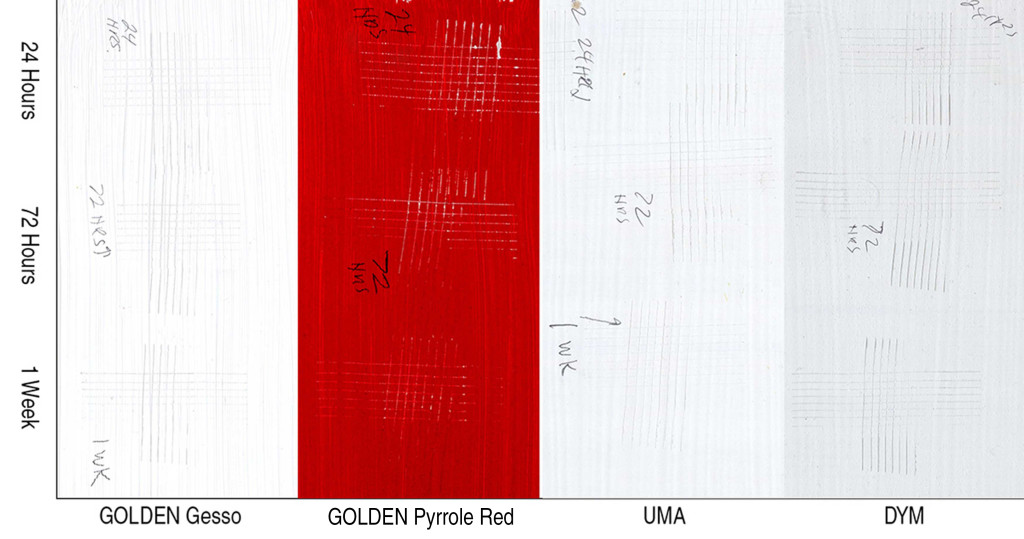 Results were good to excellent with all the products, with no squares coming off at any of the time intervals. At 24 hours our Gesso and Heavy Body Acrylic had good adhesion with some minor failure as tiny bits of product were pulled off with the tape, primarily on the subtly thicker ridges produced by the brush. Both of the commercial primers had excellent adhesion after 24 hours. At both 72 hours and one week, the Gesso showed some very minor flecks of paint still lifting, while the Heavy Body paint was now performing quite well.
It is interesting to note that while both of the bonding primers worked equally well, they have very different colors and surfaces. The DTM primer has a pale greenish gray color and is quite toothy, almost like our Acrylic Ground for Pastels, and could easily take pastel and various dry drawing media very well. The UMA primer was much smoother and a pale warm white color. However, it is important to point out that these primers were made to be covered with paint so we cannot assume there would not be changes to their color, as they are not fine art grade products. Also, whenever using commercial products, please remember that they can often change without notice, so testing and reading the company tech sheets is always strongly recommended.
Finally, while a simple light sanding and degreasing with alcohol allowed painting directly on Dibond with our Heavy Body paint, and this should be true for our other acrylic paint lines and products, our test obviously did not cover all the possible materials, applications, and environments you might be working in. So it is always important to test. If for any reason you need increased adhesion, then the bonding primers we tested could be an alternative to look into.
Subscribe
Subscribe to the newsletter today!
Share Your Thoughts
Click here to share your feedback about Just Paint.