As acrylic painters we thin our paints with water to lower viscosity and make thin washes. Many of us also use mediums to alter consistency and viscosity and make translucent glazes. But, it is not always obvious how and when to use these mixtures, or how versatile they can be.  Acrylics' natural versatility allows for a wide range of uses for both, and this article seeks to describe the differences, similarities, characteristics and attributes of washes and glazes, and when one might be better or more useful than the other.
The primary similarity between washes and glazes is the translucent color effects possible with both, which allows the undertone of the color to show itself. Typically, washes soak into a surface, while glazes sit on top. Most of the washes and glazes shown here were made with about 1 part paint to about 90 parts water or medium, but there is a wide range of ratios possible.
What are Acrylic Washes?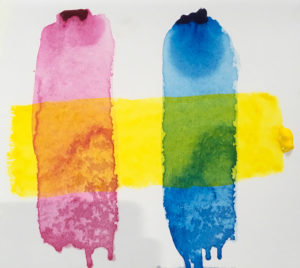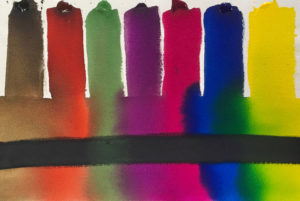 An acrylic wash is made by thinning paint with a lot of water. Thinning reduces both the amount of acrylic and pigment in the mixture. When a wash dries you end up with widely dispersed pigment particles settled down into and on the painting surface, with a very small amount of acrylic binder. With washes, pigment particles can meander and collect in concentrated areas depending on how it is applied and how absorbent or non-absorbent the substrate is. These flowing, changeable and sometimes hard to control effects, can be both challenging and exciting to work with. While you can thin our Heavy Body Acrylics with water to make washes, it is easier to use our Fluid Acrylics or High Flow Acrylics for this.
We have seen very thinned out Fluid or Heavy Body Acrylics of ours function very well in terms of film stability and water sensitivity. One can be fairly free with the amount of water used. If there is a concern about the wash being too weak a film, then a small amount of thin medium such as High Flow Medium or Fluid Matte Medium can be added. Or, a thin layer of a Medium can be used on top of the dry wash to create a more durable surface. More details about how much water can be used to thin our acrylics can be found in this article:
How Much Water Can you Safely Add to Acrylic Paint?:  https://justpaint.org/how-much-water-can-you-safely-add-to-acrylic-paint/
What are Acrylic Glazes?
An acrylic glaze is made by extending paint with any transparent or translucent Medium. A glaze is a binder rich mixture typically having a very small amount of paint blended with a much larger amount of medium. Many mediums can be used to create a glaze, including thinner mediums like High Flow Medium or Glazing Liquid all the way up to very thick Gel Mediums. Opaque mediums like Molding Pastes or Pumice Gels will not work well to mix effective glazes. While traditionally glazes were thought of as thin films, acrylic glazes have much broader potential and can be thin or thick, and everything in between. You can freely blend either our Heavy Body or Fluid Acrylics or even our High Flow Acrylics with any GOLDEN transparent or translucent medium or gel medium to create glazes.
Glossy mediums dry with the greatest clarity or translucency, while semi-gloss or matte mediums will dry translucent and with some level of cloudiness due to the matting agents present. When used to make glazes, these lower sheen mediums can yield some very beautiful effects that take advantage of their foggy and misty qualities. For additional information, here are articles on encaustic effects with acrylic, and glazing with acrylics, oils and watercolors:
Encaustic Effects with GOLDEN Acrylics:  http://www.goldenpaints.com/videos/encaustic-effects-with-golden-acrylics
Encaustic Look with Acrylics: https://justpaint.org/creating-an-encaustic-look-with-acrylics/
And this article also shines some light on the topic: Glazing with Acrylics, Oils and Watercolors: https://justpaint.org/glazing-with-acrylics-oils-and-watercolors/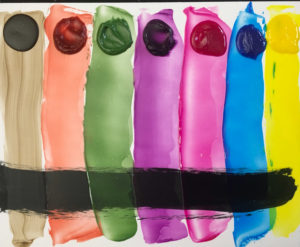 When to Wash or Glaze?
Acrylic washes work well when you want thin paint to absorb into the surface like a stain, and to create effects reminiscent of watercolor. Raw canvas, primed canvas, an absorbent ground, or paper are all suitable options for substrates where washes can create a stained effect. Washes can be used on dry or pre-moistened absorbent surfaces. In some cases, washes can be used on less absorbent surfaces. GOLDEN Wetting Agent can be added to the wash mixture or also mixed into water and used to pre-wet an absorbent surface, which can allow for deeper staining effects. Only very small amounts are necessary and Wetting Agent is optional. Often, the acrylic paint itself will include enough surfactant. Here is more information:
Wetting Agent:  http://www.goldenpaints.com/technicalinfo_flreleas
Acrylic Wash and Stain Painting on Raw Canvas:  https://www.youtube.com/watch?v=dHPybGEYshs
GOLDEN High Flow with Acrylic Flow Release (Wetting Agent) for staining on canvas:  http://www.youtube.com/watch?v=qn0him0FiSg&list=UU7Q21sJbaAVOIylhu3E7row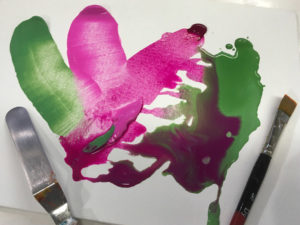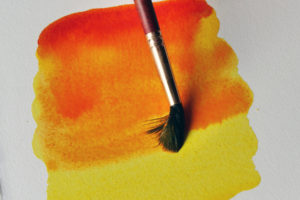 Glazes are useful when you want a translucent color effect in a discreet paint film allowing more control over the dry surface sheen, and how the paint can be handled on the surface. The viscosity of a glaze combined with the pigment held in even suspension allows for both sheer and graduated color effects, and also sharper controlled edges, depending on how you manipulate the glaze. Some of the most intense color effects can be created with glazes, especially when using certain synthetic organic colors like Quinacridones or Phthalo Blues and Greens. Glazes with these colors used over white grounds will show the very high chroma undertones and can create brighter colors than tinting with white or using full strength colors opaquely.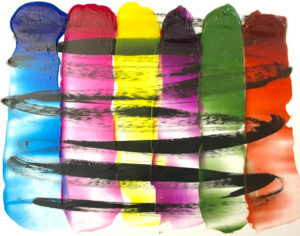 Glazes can be used on less absorbent or more absorbent surfaces. They can be thin or quite thick, applied with brushes or spreading tools such as palette knives or squeegees. They can even be poured if you use a thin medium, keeping in mind that some thin mediums will tend to craze if applied too thickly. A brushed on glaze can often dry with very visible brush marks due to the darker drying of the raised areas within the brush mark. If this is not desired, use a thinner medium to make the glaze and apply with a palette knife or other spreading tool, or a soft, flat synthetic bristle brush.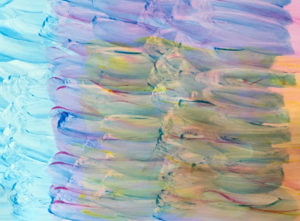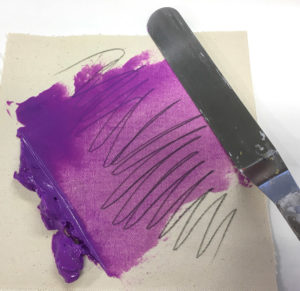 How Do I Make and Use Washes and Glazes ?
There are no rules for ratios with either water for thinning, or medium for extending, as it all depends on the level of translucency, color intensity, specific consistency and dry surface sheen. While thinning acrylic paint with water to make washes is pretty simple and direct, mixing glazes can be a bit more complex, both in the options available and in how they can be used and function in a painting. Experimentation, as always, will be the best way to learn how to use these mixtures. The natural versatility of acrylic paints and mediums allows for a wide range of uses. As mentioned at the start, most of the washes and glazes shown here were made with approximate 1/90 ratios of paint to water or medium, but the possibilities are really infinite.
Acrylic washes or glazes can be used on raw or gessoed canvas or on a range of other acrylic painting grounds. Acrylic washes can be layered much like watercolor and glazes can also be layered with a broader range of effects possible due to surface texture variations, a more discreet separation of the layers and the way light filters through translucent acrylic films. Optical color mixing is possible with both washes and glazes, and there is typically no limit to the number of layers you can use, other than diminishing color at a certain point.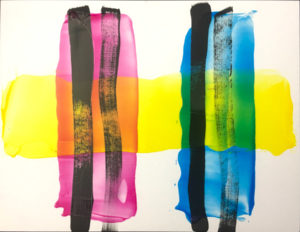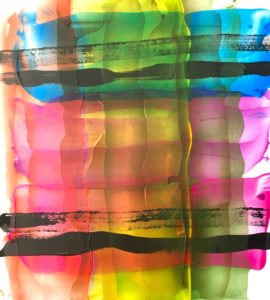 Sometimes it is best to pre-mix larger amounts of a wash or a glaze and store in plastic containers with lids, so that you have enough of the mixture to use for a painting or a series of paintings. A swatch of the glaze or brush out of the wash on the lid works well as a label and will remind you of the inevitable dry color change that occurs with glazes. You may need to first apply some Absorbent Ground on the lid to show a wash or simply attach a piece of paper or raw canvas to the lid.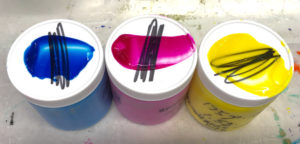 Washes are typically applied by brush but can also be applied with sponges or by dripping, pouring or splattering. Glazes can be applied with brushes when they are thin and as they get thicker, spreading tools of various sorts can create lovely, sheer and consistent veils of color. Experiment with palette knives, scrapers and squeegees.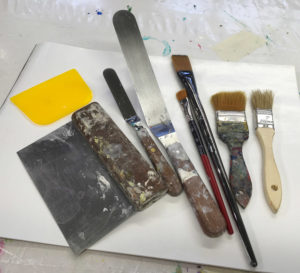 Some very interesting and beautiful effects are possible by combining and layering washes and glazes.  You can work wet into wet with glazes on top of washes, or thin glazes with water to create something in-between a wash and a glaze. Very translucent glazes can be layered with more opaque painted marks to create very rich and complex surfaces and visual effects. Below are some details of paintings using various combinations of washes and glazes.