We varnish works with the best of intentions that our paintings are, at last, truly and finally done and that months ago the last marks were made and the last adjustments added. But inevitably, for one reason or another, we might feel that we need to go back in to add a forgotten signature, make some minor touch-ups, or repair some damage to the surface. At that point the question will inevitably be, what to do? Do you really have to remove the varnish? Or could one, perhaps, paint with oils on top? Below we try to answer that dilemma.
GOLDEN MSA Varnish with UVLS and Archival Varnish with UVLS are mineral spirit based acrylic varnishes that can be used over fully cured oil paintings. Our varnishes are removable for conservation purposes and are considered a sacrificial, final layer to offer protection from dust, marring and ultraviolet light. Because of that, regardless of anything else, oil paint should never be painted over them, as anything applied on top of MSA or Archival Varnish could be inadvertently removed with future cleaning or restoration. Therefore, best practice will always be to remove the MSA or Archival Varnishes before touching-up or repainting.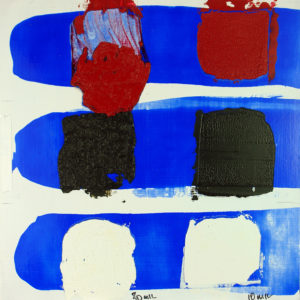 Even if you wanted to take the chance and sneak in a few touches, we would strongly recommend against it. Oil paints themselves, as it turns out, are not compatible on top of MSA or Archival Varnish. We have found in our testing that dried layers of MSA Varnish can be reactivated with paint from the tube or even a small drop of straight linseed oil. This happens because one of the essential resins used in the varnish is lipophilic, or "oil loving", which causes the varnish to quickly soften, become tacky, and eventually dissolve altogether when in contact with any of the oils used in the various paints and mediums.  Because of that, oil paint applied over MSA may develop surface distortions and in some cases might never dry! As it turns out, the UVLS system used in the varnish to provide UV protection also inhibits the curing of oil paint. Given everything, even a thin layer of MSA applied as a retouch varnish would not be recommended if more layers of oil paint were going to be added.
For this test, we slightly tinted MSA Varnish Gloss with UVLS using Ultramarine Blue oil paint for visual clarity and then applied the tinted varnish across the test panel in 6 mil thickness. The small addition of Ultramarine Blue did not affect the drying of the MSA. For normal application, we do not recommend tinting MSA, as cross linked oil paint in the MSA could interfere with removal. Titanium White, Raw Umber and Quinacridone Red were then applied over the MSA in 10 and 30 mil thicknesses. In time, the Quinacridone Red and Raw Umber dried, but both colors, especially in the thicker application, puckered, wrinkled, cracked or shifted on the solubilized MSA. Titanium White remained tacky in the 10 mil thickness and the 30 mil thickness remained wet.
Examples of test results are shown below: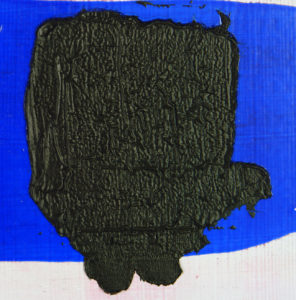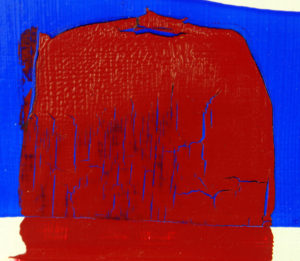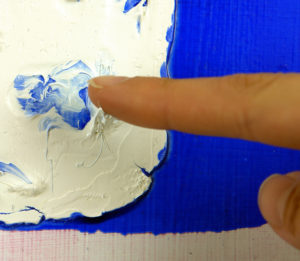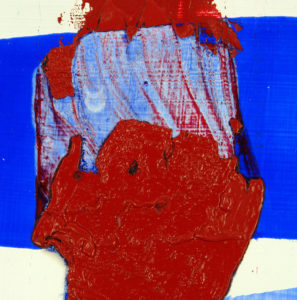 We recognize the challenge oil painters face if they desire to continue working on paintings that have already been varnished with MSA or Archival Varnish. As it currently stands, we do not have a recommendation for touching up or repainting without first removing the varnish. We encourage artists who are thinking about varnish removal from oil paintings to contact our Materials and Application Specialist Department and review our documentation about the removal process:
Subscribe
Subscribe to the newsletter today!
Share Your Thoughts
Click here to share your feedback about Just Paint.