Editor's Note:
Added April 26, 2022
For some time, our recommendation for artists using oils over acrylic has been to work over harder, matte acrylic surfaces and avoid working on softer gels and gloss products. Our intention was to optimize the level of adhesion that would be achieved on a toothier surface as well as avoid the potential for future cracking as the oil paints become more brittle. While we have not seen adhesion problems of oils on any type of acrylic, recent testing has shown the potential for cracking in certain instances and conditions when applying artist oils over all of the many brands of glossy acrylics we have tested. While we have not received notice from artists of this phenomenon, we are able to repeat this specific type of cracking in our Lab.
Please visit https://justpaint.org/revising-our-recommendations-for-using-oils-over-acrylics/ for an overview of our testing, results and updated recommendations for applying oil colors over acrylics.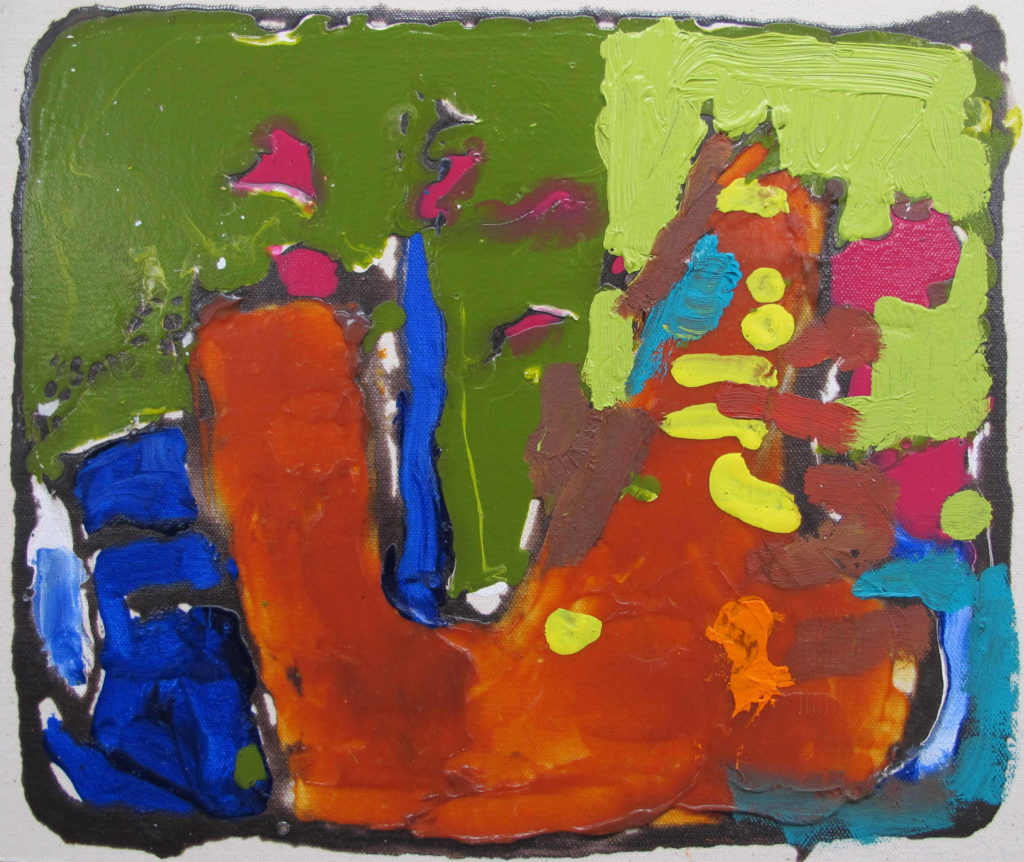 Acrylic Underpainting
Acrylics under oil is nothing new. For half a century artists have confidently used acrylic gesso to prepare their raw canvas and panels for oil painting. So why not use a couple additional layers of acrylic to establish your design or build up texture? Acrylics have a wide range of consistencies and can be used as a ground, to tone a surface or make a grisaille underpainting. Unlike oil paints, that have variable dry times based on the pigment, the entire palette of acrylic colors dry at the same rate and are suitable for use in an underpainting. For those who might be concerned about the structural stability of oils over acrylic, for 30+ years we have been testing oil paint over water-based acrylics and have never seen any issues with adhesion or incompatibility. For an in depth look at this topic, see Using Oils with Acrylics. Keep in mind, that oils can be used over acrylics, but acrylics are not compatible over oil paints. Additionally, here are a few things to consider when using oils over acrylics:
Protect natural fiber substrates from oil penetration with at least 3 coats of acrylic gesso or 2 coats of acrylic medium. It is important to block oil from soaking into canvas, linen and paper because it can prematurely deteriorate the natural fibers. Examples of acrylic mediums to use for this purpose are GAC 100, Fluid Matte Medium or Matte Medium to name a few. While wood substrates are not damaged by oil penetration, sizing them will reduce their absorbency and provide an additional barrier between the wood and the painted layers.
Allow acrylic layers to dry fully before painting on top with oils. Even thin layers of acrylic can take up to 3 days to fully dry. We recommend waiting this amount of time after your final layer of acrylic before beginning your oil painting, and even longer if the layers are thickly applied. This also includes Acrylic Gesso or acrylic sizing.
Refrain from using soft or spongy acrylics as a ground or in an underpainting. Acrylics stay flexible indefinitely, where oils become increasingly brittle over the decades. A soft and spongy acrylic underpainting, especially if applied with any thickness, may put oil paint layers at risk of cracking if the surface is ever flexed. GOLDEN Light Molding Paste and Crackle Paste are examples of soft and spongy materials to avoid for this purpose.
Stay away from sharp peaks and textures. This relates to the above statement. Even gels and pastes that become quite rigid when dry, can soften with increased temperatures and become flexible if applied in dollops, pointy mounds or ridges. Again, this may not be a concern for many years, but ultimately sharp textures could flex and compromise the oil paint layers applied over top. Barring strong peaks and ridges, it may actually benefit to build texture with acrylics instead of oil paint because oils can take a very long time to fully cure when applied thickly and in some extreme cases, never fully dry.
Be aware when using highly absorbent acrylics under oil paints. Some acrylics are designed to be highly absorbent, like the GOLDEN Absorbent Ground. These materials can draw an excess of oil out of the paints applied on top, potentially leaving those layers under bound. Some oil penetration into the underlying layers is beneficial for good adhesion, but having too much oil drawn out of your paint layers can leave oil paints matte and friable with the potential for cracking or flaking. Apply washes of thinned acrylic or thinned oil colors to help reduce absorbency to make these types of surfaces acceptable for use with oil paints.
More layers = Increased stiffness. Increased stiffness provides a stable base for oil layers that will become rigid over time. This is especially important when working on flexible supports. Several acrylic layers (4+) should provide increased stiffness depending on the product and the thickness of the application.
Gloss or Matte? We have seen excellent adhesion over both, but typically matte surfaces provide more tooth for improved adhesion in any system, oils or acrylics. When possible, use matte acrylics or apply a thin layer of Fluid Matte Medium over a glossy acrylic underpainting to provide additional tooth.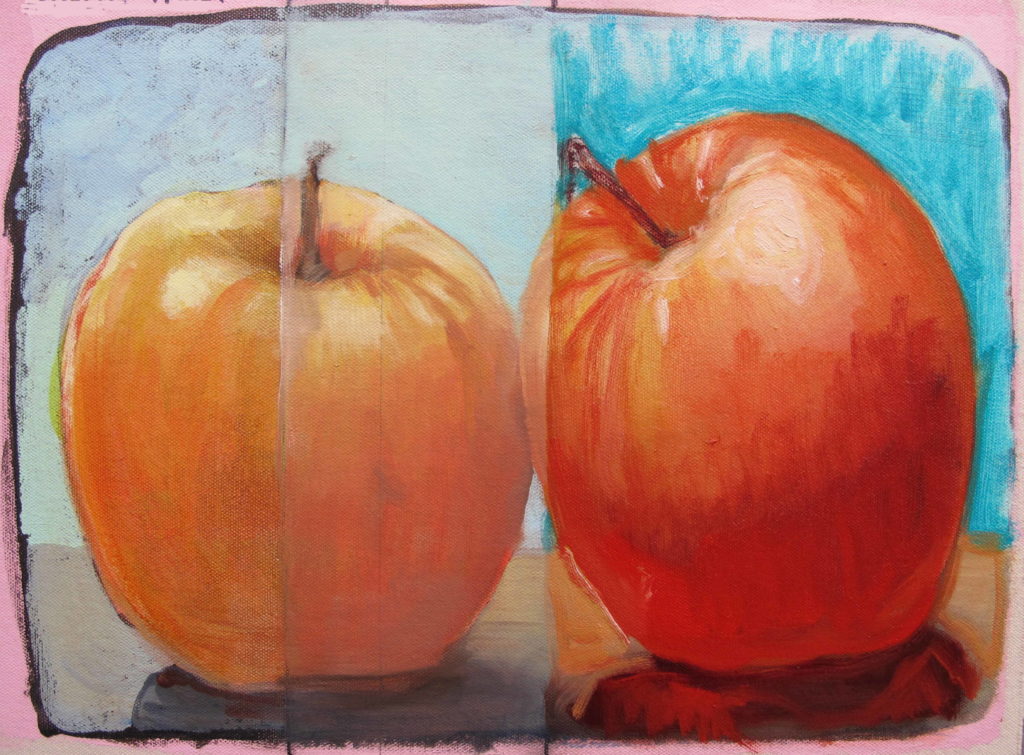 Watercolor Underpainting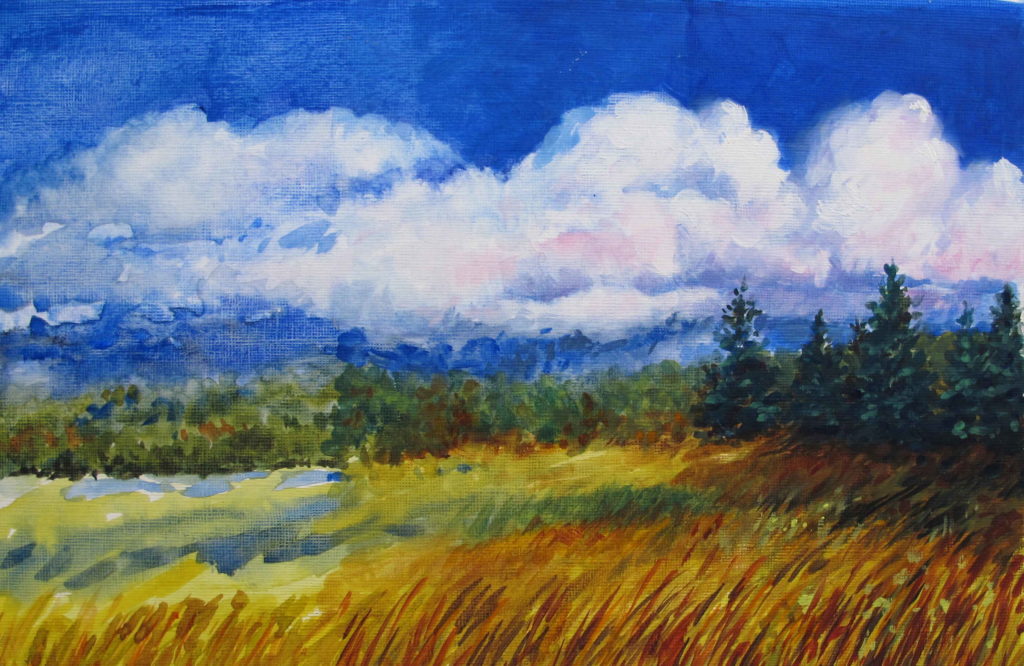 Although watercolor under oil is not a widely used technique today, it is surprisingly effective and was well known, at least in the 19th century, among British painters (Carlyle, 2001). We found that regardless of whether the watercolor was soaked into the ground or dried over a glossy acrylic surface, that oil paint, medium and/or odorless mineral spirits could be applied on top without reactivating the watercolor. We tested QoR bound in Aquazol, as well as competitor brands made with gum arabic with the same positive results. We did not test watercolor over oil grounds, but historically it was practiced after the ground was deglossed and then properly cleaned to facilitate better wetting of the surface. Artists also used to mix ox gall into their watercolor to keep their washes from beading up. A benefit of watercolor is they can be reworked even after they dry, allowing artists to perfect an underpainting or wipe back to a bright white ground to establish the lighter areas of a composition. Unlike acrylics, watercolors do not require several days to completely dry and coalesce. They should be ready to paint over after they are fully dry to the touch. Here are a couple things to consider when using this technique:
The substrate still needs to be sized to protect from oil penetration. The exception being oil paper, which is already sized and prepared for oil paints. The watercolor layers do not count as sizing. Instead, prepare the substrate as if oils will be applied directly. In most cases, using watercolor in this way essentially amounts to making a mixed media piece with acrylics, watercolor and oils. It may benefit the watercolor application if the final layer of acrylic sizing or the acrylic ground is slightly absorbent.
Do not apply the watercolor thickly. The oil needs to be able to soak through the watercolor and bind to the substrate or ground. Thick applications could interfere with this important aspect of proper adhesion.
Do not isolate the watercolor from the oil paints with MSA or Archival Varnish. We have written many articles about the benefit of varnishing watercolors so they can be displayed without glass. This is great, but should not be used for this application because oil paints are not compatible over top of MSA or Archival Varnish. For more information see Why Oil Painting Over MSA or Archival Varnish Is Not Recommended.
Options for protecting exposed watercolor. Artists in the past optionally isolated their watercolor with a dilute natural resin varnish or very thin layer of light colored drying oil applied with a sponge. Although this might benefit an area of watercolor that is left exposed, it does not seem necessary to improve compatibility between the watercolor and the oil layers. This may have served a dual purpose of reducing absorbency of the ground and locking down the water sensitive paint layer. With this historical approach in mind, it may benefit to fully cover the watercolor underpainting with oils paints or at least glaze over all exposed watercolor to protect it from the potential of lifting. Alternatively, if after the oil painting is finished and there is still watercolor exposed, it can be varnished after the appropriate waiting period. We recommend allowing oils to cure for 6 months to a year before varnishing.
Acrylic and watercolor underpainting and toning techniques can speed up the initial stages of the oil painting process. They are also great ways to remove solvents from the studio and still get thin, washy, saturated applications to work on top of. We recommend testing to see how this can benefit your studio practice and maybe even change the way you work all together! We hope these considerations will help you confidently explore this combination of materials in your future paintings. Please let us know how it goes! If you have any questions or comments, please contact our Materials and Application Department at 800-959- 6543 or help@goldenpaints.com.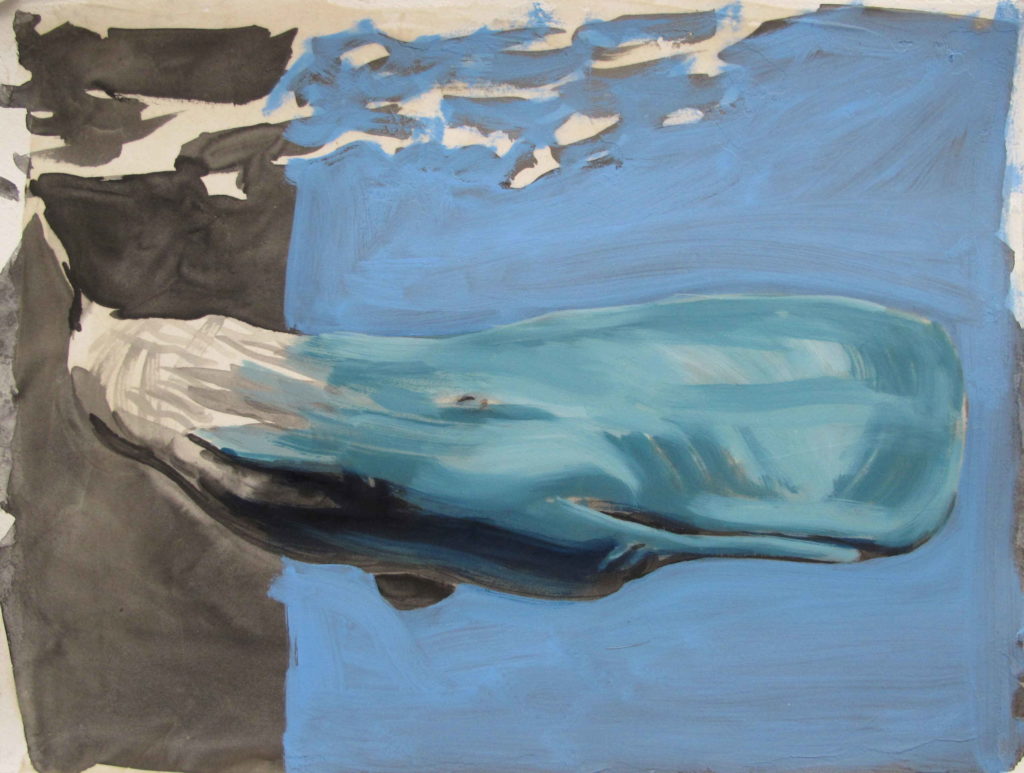 Additional resources:
Just Paint: Using Oils over Acrylics
Just Paint: Why Oil Painting Over MSA or Archival Varnish Is Not Recommended
Carlyle, Leslie, (2001) The Artists Assistant, Archetype Publications, London
Subscribe
Subscribe to the newsletter today!
Share Your Thoughts
Click here to share your feedback about Just Paint.