QoR Masking Fluid is a ready-to-use, removable liquid made with natural latex which may be applied to watercolor paper or watercolor ground before painting. Once dry, the Masking Fluid will resist paint, allowing watercolor artists to preserve fine details and lines of white paper that might be difficult to paint around in traditional transparent watercolor applications. It also can facilitate faster creation of overall textures and layers of abstract marks. QoR Masking Fluid works beautifully on all of the QoR Grounds.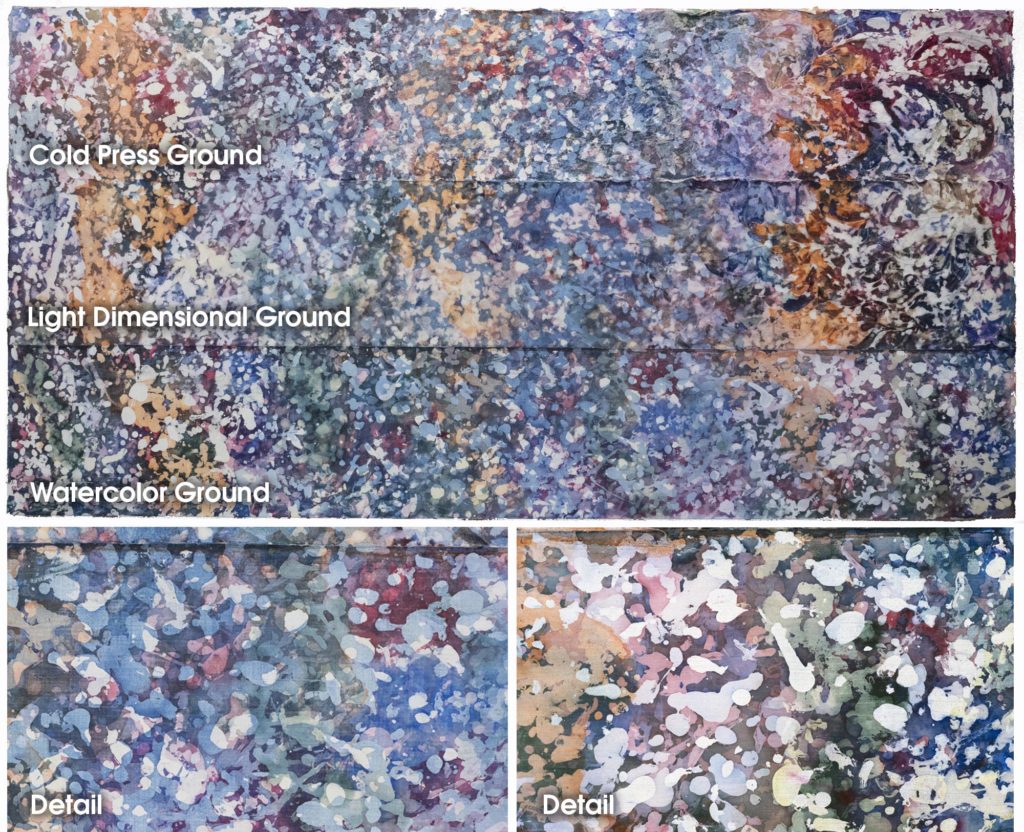 QoR Masking Fluid does not need to be diluted, and should not be shaken. There also may be an ammonia scent when first opened. We would recommend pouring a little out into a small container for use. After application, our Masking Fluid is likely to be dry enough for painting in ten minutes. If it has been applied thickly, it will take longer to dry. Although it is whitish when wet, the dry film will be a tan color. When all of the milky areas have clarified, it is ready for painting.

Once the Masking Fluid is dry, diluted watercolor may be painted over and around it. For best results, keep the paint thin and translucent. Heavier opaque paint applications will hinder removal of the masking film. Once the paint is completely dry, masking fluid may be removed or another application of masking fluid followed by paint may occur.
When masking fluid is applied over dry watercolor, removal of the masking fluid will pull up a little of the dry paint, resulting in a lightening or slight color shift. There may also be some residual staining when used on bare paper. These issues are not unique to QoR Masking Fluid but were present in all the masking fluids and liquid friskets that we tested.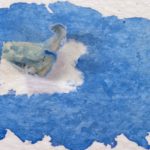 We recommend always testing the masking fluid being used on the actual paper and in the environment where the painting will be made. If masking fluid sticks to a paper, the surface will tear during removal of the dry masking film. Any masking fluid can refuse to come off of some papers, and this might be increased when humidity is high. Sticking is especially likely with softly sized papers. It is important that the paper and all products applied to it be completely dry before any masking fluid or paint is added. A damp surface will encourage the masking fluid to bond with the paper. Using heat from a hair dryer, setting the work in sunlight to speed up drying, or leaving a painting with masking fluid in the car, also may cause the masking fluid to bond permanently to the surface. Leaving the masking fluid on too long may also cause it to stick. We would recommend removing QoR Masking Fluid within 48 hours.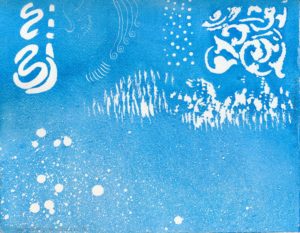 Masking fluids may be applied with many tools, including paint brushes, silicone painting tools, dip pens, tooth picks, ruling pens, old tooth brushes, the edges of stiff cardboard or old credit cards, gloved fingers, a piece of sponge, and handmade applicators. Use your imagination! Dry masking fluid can often be peeled off of silicone, metal, and plastic tools. It may become permanent on some tool surfaces if not cleaned off immediately.
When a brush is used for application, we recommend employing a cheap synthetic or mostly worn out brush since Masking Fluid, like all natural latex products, can be very hard on brushes. Prewet the brush with soap before use with masking fluid, and clean the brush immediately with soap and water after use. It can be useful to have a container of soapy water on hand when applying masking fluid, so the brush can be immersed immediately when no longer needed. If using soapy water with the masking fluid to keep the brush wet, be sure you wash the container thoroughly before using it to hold water for painting. This will help keep latex from your good painting brushes!
Although masking fluid may be rubbed from the surface with a finger, this might not be the best approach with watercolor due to skin oils. Instead, we would recommend using a piece of dry masking fluid or a crepe rubber cement pick-up square to gradually peel the dry film from the paper. Be gentle and take care when removing the film, as the surface may be damaged by aggressive rubbing, and if there is dry paint on the film it can be transferred to the paper. Our favorite removal tool is the dry masking fluid itself.  Keep the removed dry film when initially testing the paper, and use it to start removal from the painting.
We encourage you to use QoR Masking Fluid to push the boundaries of your usual techniques.  Experiment with different application tools and layering, and see where the adventure takes your creative processes!
Subscribe
Subscribe to the newsletter today!
Share Your Thoughts
Click here to share your feedback about Just Paint.