Oil painters concerned with fat over lean will often turn to information about the oil absorption values for particular pigments as a way to compare how oily or lean certain colors might be. However this has led to many misconceptions and outrightly wrong conclusions which seem to persist in various forums and articles. In what follows we try to correct this and show how using the actual ratio of the volume of pigment to oil, rather than the weight, gives a far more accurate picture and is usually what people have in mind when wondering about the amount of oil in any one particular color.
Oil absorption is defined as the ratio of the amount of oil by weight needed to form a stiff but spreadable paste from a known quantity of pigment, and is usually expressed as the number of grams of oil needed for 100 grams of pigment. This is extremely useful to know when making paint since measuring things out by weight is by far the most accurate. Unfortunately these figures can also vary quite a bit, depending on the reference you are using, so are usually expressed as falling within a range since the size and shape of the pigment can dramatically impact the amount of oil one needs. However, by supplementing the general average of what is found with our own calculations and tests using actual pigments, we have generated a table of 15 common colors with various percentages of oil (Table 1).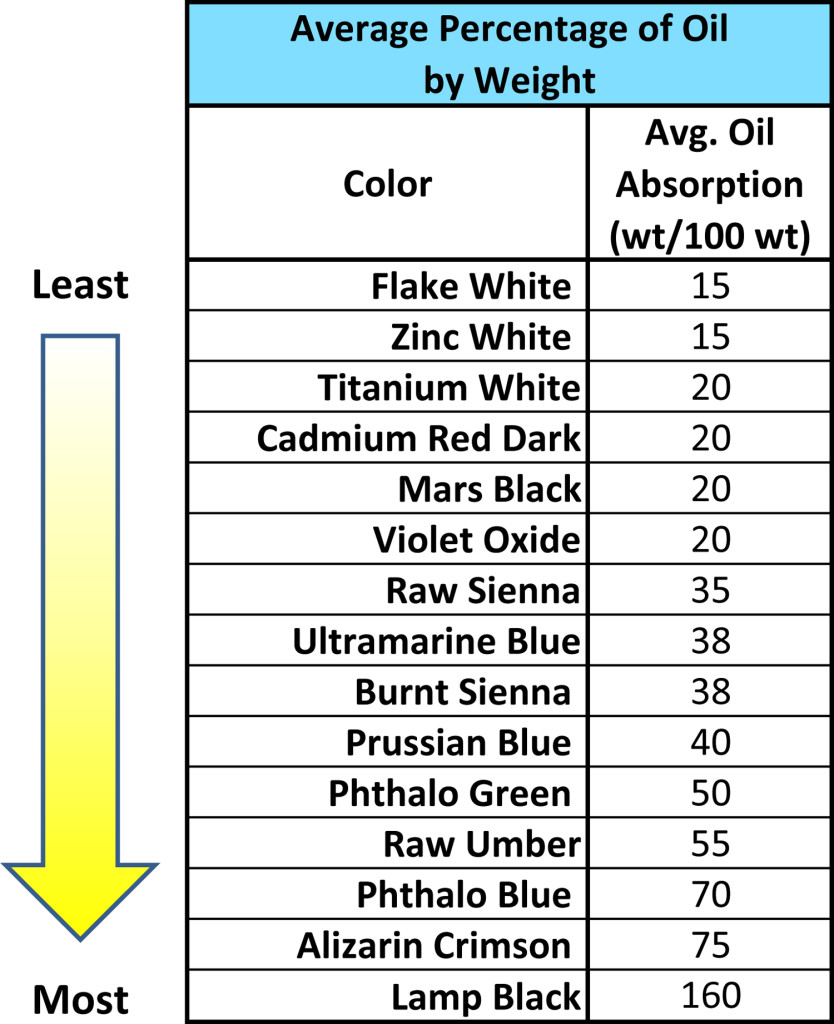 Some colors like Flake White are well known to require very little oil, while Lamp Black, at the other end of the scale, will actually require far more than even the pigment. But – and this is absolutely critical – all of these are based on the measurements of the weight of the oil to the weight of the pigment. The problem with this is that pigments like Flake and Zinc White are extremely dense and heavy, while ones like Alizarin Crimson, Phthalo Blue, and Lamp Black are incredibly light, and this has led to a false sense by many painters that Flake White, for example, is particularly lean, or that Alizarin has a very high oil content. And indeed this first table closely echoes the usual thoughts and listings of lean to fat paints.
A more accurate way to think about this, however, is by volume instead of weight, because ultimately that is what most people are really interested in. Given a 37 ml tube of paint, how many mils of oil or pigment are inside? To calculate that one needs to know the Critical Pigment Volume Concentration, or CPVC, which like oil absorption represents the minimum amount of oil needed to make a set amount of pigment into a lean paint, with every pigment fully coated and all the spaces in between the pigment particles filled as well, leaving no voids. To calculate that, one is essentially using the density of the specific pigment and oil being used to convert from one system to the other, from weight to volume. The end result, though, is completely different and for most people, leads to a very unexpected reordering of the previous list (Table 2).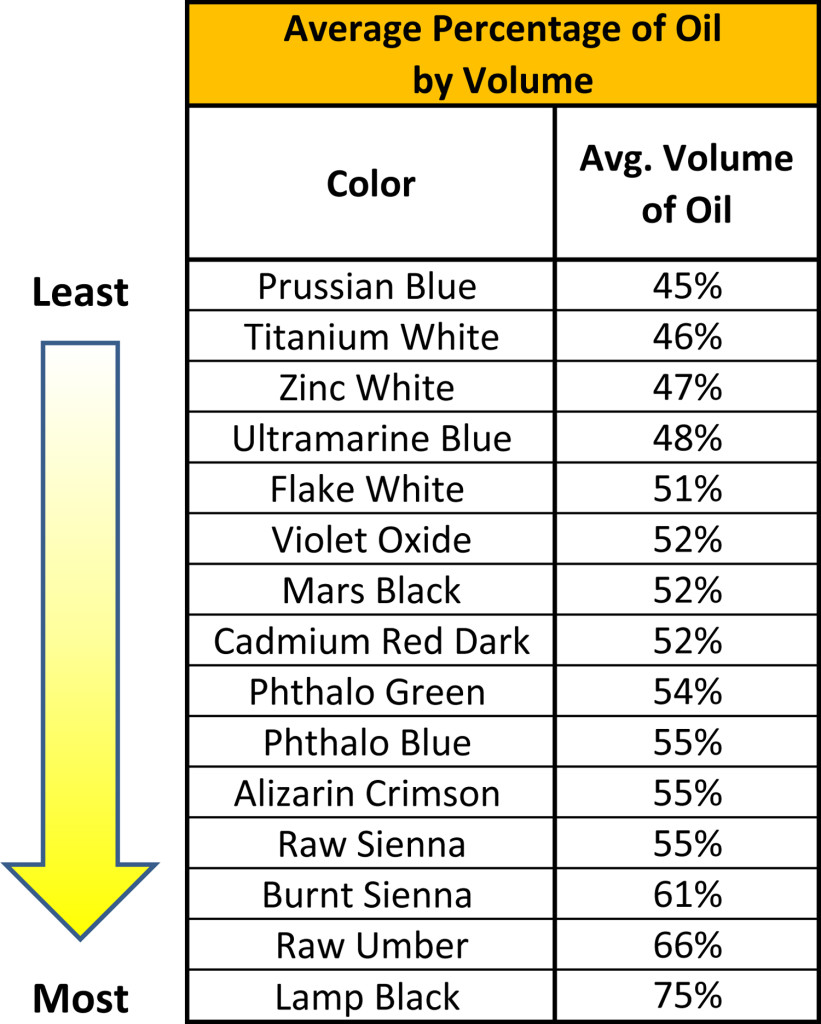 All of a sudden we can see that Prussian Blue and Titanium White, and even Ultramarine Blue for that matter, can actually end up having slightly less oil than Flake White, which is almost always seen as the ideal of a lean paint! Even Alizarin Crimson, often thought among the most oil heavy of colors, moves up ahead of such colors like Raw Umber or Burnt Sienna. Lamp Black, perhaps reassuringly, remains at the bottom, reminding us that some things at least never seem to change.
A more graphic way to represent this list is shown below, where we selected five of the most common colors and drew a line representing the respective percentages of oil and pigment by volume that one might find (Image 1):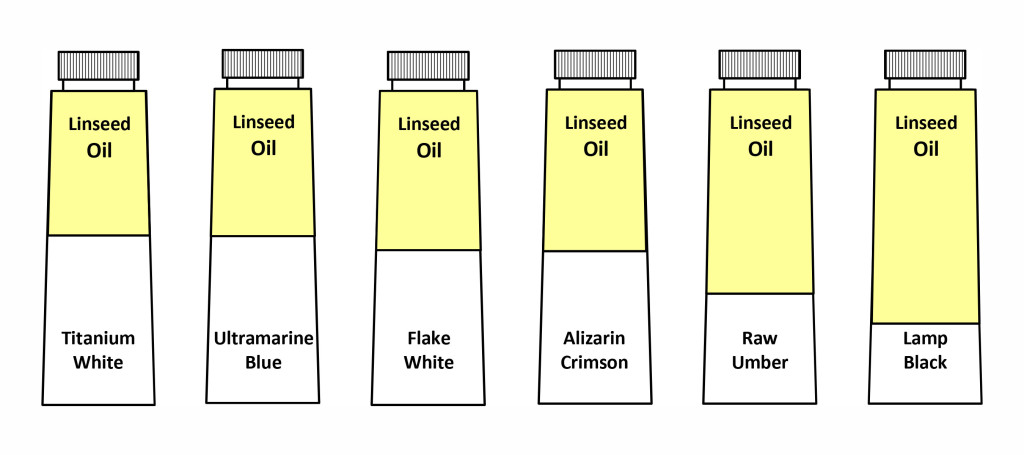 For those of you who like to geek out on these types of things, and we know you are out there, the formula for calculating the Critical Pigment Volume Concentration is the following:
CPVC = 1/1+[(OA)(p)/93.5]
OA = oil absorption value
p = Density (g/ml)
93.5 is the density of linseed oil X100. If different oil was used, this figure would need to be changed.
And here is the data for the colors that we chose: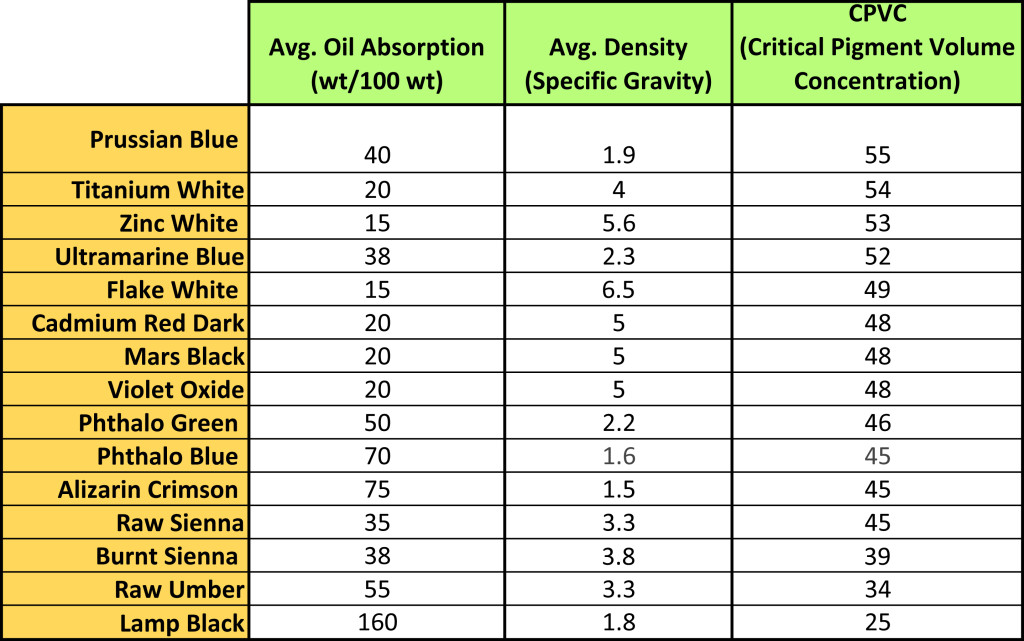 As a final note it is important to remember that not every Burnt Sienna or Flake White will have the same oil absorption, and the use of any additives or fillers will almost always change the calculations. And of course, some paint manufacturers will hew close to the CPVC while others might opt for a slightly looser, softer feel, by increasing the binder level slightly. In other words, like all these types of tables, they are useful as tools to think about the properties of pigments but some wiggle room and leeway need to be granted when bringing this to bear in the real world of one's studio.
Subscribe
Subscribe to the newsletter today!
Share Your Thoughts
Click here to share your feedback about Just Paint.