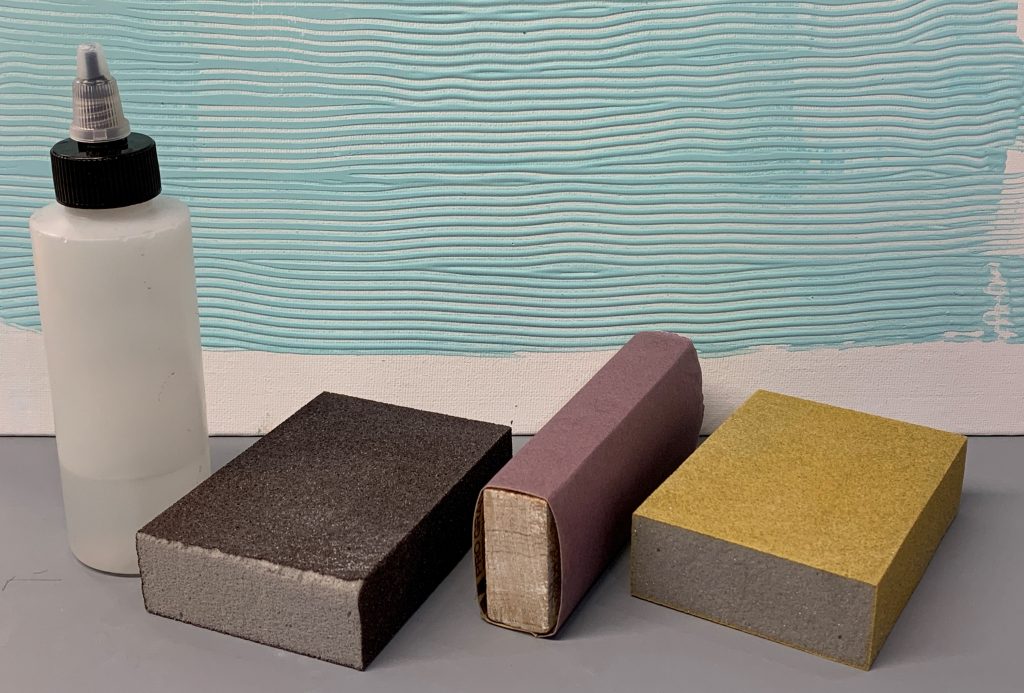 If you've ever sanded Gesso or other acrylic products and ended up with rubbery bits and had to throw out sheets and sheets of sandpaper and less than excellent results, then you should try WET SANDING!
Wet sanding is the most effective way to sand acrylics. Adding water to the process takes advantage of the acrylic's hygroscopic nature or its propensity to absorb water. Not only does water lubricate the surface, reducing the build up of heat, but the softened acrylic is now easily abraded and in some sense, polished. Acrylics are thermoplastic, so traditional sanding builds up a lot of heat and softens the acrylic. The friction of dry sanding warms the acrylic, making it rubbery, which will quickly gum up your sandpaper. Wet sanding also reduces the amount of airborne dust that can be created from typical dry sanding techniques.
Wet Sanding How To
Wet sanding is a simple process. With a spray bottle filled with filtered water, mist the surface of the work. (No need to over flood). Then simply wet your wet/dry sanding sponge or wet/dry sandpaper, and the surface you want to smooth, and start working back and forth or in a circular motion from section to section. If your surface dries out during the process or starts to get grabby, then just add more water. You can continue adding water and working the surface until you see the desired results. When you are finished, use a damp cloth or sponge to wipe off all the frothy sanding residue. You may need to rinse your cloth a couple times to remove all the pigment, acrylic solids and foamy mess from the surface. Allow to dry and you are ready for your next layer. Sanding sponges and papers can also be rinsed and cleaned for another use.
Wet Sanding Sandpaper Selection
There are many different types of wet/dry sandpaper and sanding sponges. If you haven't wet sanded before, then simply pick up a medium and fine grit sanding sponge from the hardware or paint store. These make the process painless and the two grits should give you a couple options for obtaining a relatively smooth surface on most acrylic products. Some regular sandpapers can degrade when they get wet, so a dedicated wet sanding paper or wet/dry option is preferable for wet sanding.
Sanding can be done with a "Schedule" of grits. Start with coarser papers such as 150 grit, and then move to medium, then fine. The higher the number, the finer the grit. Be sure to not "over sand" or make the acrylic too smooth. Very smooth, almost polished, surfaces can impact adhesion.
Sanding Different Types of Acrylic
Keep in mind that not all acrylic surfaces are the same. Generally, the more solids (pigments, fillers or matting agents) in a product, the easier they will be to sand. Clear gels and mediums will tend to be more rubbery than pastes and Gesso. They will flex when sanded, especially if applied in peaks or strong textures. While it is possible to sand them smooth, it may be more time consuming. Sanding clear products can also change the clarity of the surface dramatically, so what was clear and glossy, can become hazy and matte once sanded. Applying another layer of gloss can help to bring back the glossy sheen, but it may not be possible to get back to their original clarity.
Gessoes, pastes and other grounds tend to be a little easier to sand. Some products with large aggregate, such as Coarse Pumice Gel or mica flake can tear up the paper and sanding can alter the way they look. Fortunately, they are cherished for their texture and those who want smooth surfaces, don't tend to use them. But other materials like Light Molding Paste, which has beautiful fluffy texture and a highly absorbent surface, can be sanded.
The Effects of Water
Adding a bunch of water to the surface of an artwork might not be a problem in some cases, but it is worth considering when working on porous substrates such as wood or paper. For example, a thin wooden panel or flimsy support that is vulnerable to warping, might get distorted if too much water is absorbed into the surface. Or a collage with paper elements, might tear or sand in irregular patterns if sanding breaks through the acrylic layers and saturates the papers. Hopefully any potential issues will not deter you from trying wet sanding, but it is good to keep this in mind as you work on different types of projects. .
Wet Sanding Tips
A misting sprayer can be very effective at adding just the right amount of water to your surface. You can also try using a water bottle with a nozzle so you can direct the water to the exact location where it is needed.
Ideally, if you want a smooth surface, you start with the right application tool and try to keep the product as smooth as possible from the start. Scraping on grounds with soft scrapers or trowels as opposed to brushing can be very effective at reducing the amount of sanding needed. But if tool marks persist, then sanding is the next best option.
Turn regular sheets of wet/dry sandpaper into a sanding block by wrapping a partial sheet onto a block of wood for a nice flat sanding surface. This becomes a rigid sanding block with a flat edge and the paper can be changed out easily after all the sides have been used.
Precautions
Wet sanding is for acrylics only and not recommended on oil paintings.
Sanding can change the performance of the product.
Make sure you use a damp cloth to clear the wet sanded material off the work.
Fresh layers may rehydrate from wet sanding more easily and become vulnerable, peeling from the surface.
Sanding thin applications can abrade surrounding areas, removing details in the work. It can also remove colors and the ground all the way to the canvas or panel support. Work slowly and wipe away slurry regularly as you go.
Wet sanding clear coats, varnishes or Isolation Coat can leave a hazy surface and should be avoided if a pristine finish is desired.
Dry sanding or wet sanding acrylic products can create dust that is better kept out of the body. Wearing a proper dust mask is recommended when sanding.
Cadmiums and Cobalts are heavy metal based colors and should not be sanded! Sanding these products can create hazardous dust that can be breathed and enter the body.
Most importantly, wet sanding will remove a lot of material quickly, so be careful not to overdo it or you'll be back to your original surface!!
Conclusion
If you have struggled with sanding, save yourself time and frustration and give wet sanding a try. It should help you reach your smooth texture goals faster with better results. Keep in mind that changes in performance and appearance can occur when acrylics are sanded. But in most cases, the change is so minimal that having a texture free surface might be worth the trade off. We recommend practicing on sacrificial surfaces before trying a new technique on your final artworks. Let us know how it goes by calling 800-959-6543 or emailing help@goldenpaints.com.
Material and Application Specialist. Oil Painter. MFA - Indiana University Bloomington, BFA and Certificate - Pennsylvania Academy of Fine Arts.
Subscribe