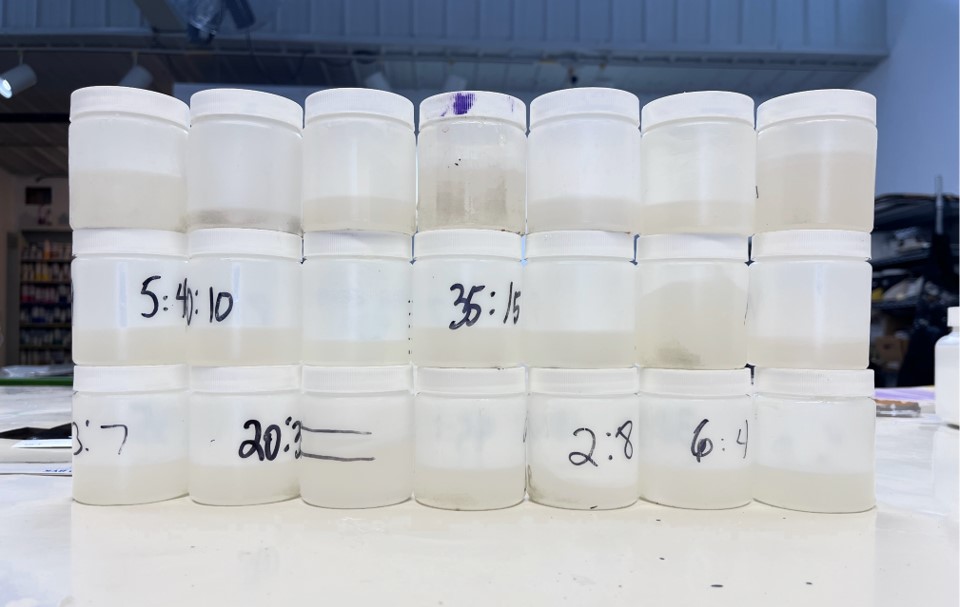 At GOLDEN, we want artists to be able to focus on creating without worrying about their materials. That's why we put so much effort into ensuring that our products are of the highest quality. We believe that the key to creating the best art materials lies in rigorous testing and a commitment to performance. We also believe it is important to be transparent about our research and stand behind our products. In this article, we'll provide some insight into the product development lifecycle and testing methods used at GOLDEN while introducing our new Gloss Waterborne Varnish, a 100% acrylic, removable varnish with UV filtering capabilities. By giving a glimpse into these processes, we hope to share the culture and values that drive everything we do.
When developing Waterborne Varnish, we were reminded of the need artists have for a waterborne option when varnishing their paintings. The feedback we received from the art community informed our testing by providing examples of applications commonly used by artists. It also kept us aware of the human factor through our conversations with artists, which motivated us.
New Product Development

At Golden Artist Colors, we have a robust process around New Product Development (NPD) that starts with discovery. We do research and use feedback from artists to understand where there is a need and what gaps might exist in the market. We then define these products by determining which qualities are essential for performance and consider at length how they may be used by artists. Once we have researched and defined a product, we develop the product while conducting extensive testing to validate that it works and meets the standards we have set. This involves working out the formulation and fine-tuning the product. After successful testing, we move on to the industrialize stage where we work out production needs and bring the product to market.
Testing Structure at GOLDEN
What is unique about GOLDEN is that we have specialized labor. At all levels of the process, from research and development (R&D), paint making and formulation to applications testing, we have highly skilled individuals doing great work.
When it comes to testing, our Lab and Materials and Applications Specialists (MAS) work closely together to thoroughly vet each product before they are released. The Lab focuses on product formulation, screening raw materials, conducting stability tests and first round applications to assess product performance. To ensure that our products meet the needs and expectations of artists, MAS functions as an internal focus group of professional artists. This cooperation allows us to quickly iterate and check our biases by building in a layer of redundancy and refinement in application testing.
Testing Methods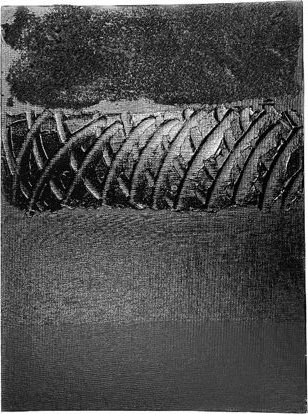 Both the Lab and MAS employ a variety of testing methods that range from quick down-and-dirty tests to more controlled applications. These tests are often blind, by design, to encourage discovery, which helps us build context for the more informed application testing we do. As we build awareness for the variables that can affect an artist's application, we structure our testing methods to ensure we look out for as many of them as possible. Along the way we compile and document all of our research, which helps us build institutional knowledge. The many technical application guides we produce are a result of this journey and something we hope are a service to artists.
The Development of Waterborne Varnish as a Demonstration of Process
New Product Development
When faced with raw material constraints that prevented us from producing our popular Polymer Varnish in May of 2021, we didn't hesitate to take action. We recognized the need for an alternative solution and set to work on developing Waterborne Varnish. To answer this call, we worked with a custom polymer manufacturer to build Waterborne Varnish from the ground up. For this particular product, our NPD process was aided by having a criterion and standard (Polymer Varnish) to base our testing and research on. This allowed us to move the project ahead more quickly since we had institutional knowledge to support our discovery and definition phases. In other words, we had more time available for testing and validation.
Lab Formulation and MAS Testing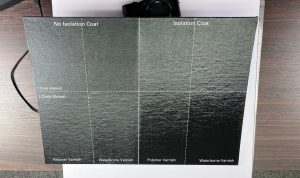 Waterborne Varnish needed to meet or exceed the performance of Polymer Varnish in UV filtering, removability, water resistance, flexibility and ease of use. While we have Polymer Varnish to compare our work to, Waterborne Varnish is a different technology. It is 100% acrylic, which is different from an acrylic-styrene co-polymer like Polymer Varnish. As a result of this change, we expected better UV resistance and less yellowing over time, which is not inherently a concern with thin applications within a removable system, but a nice improvement. We needed to test it though, to see it proved out in the data. Our Lab ran Waterborne Varnish through our QUV and Xenon Arc Chamber for accelerated aging tests to evaluate performance and ensure it remained removable after exposure. We also did freeze/thaw and oven testing to be sure it maintained shelf stability. Waterborne Varnish performed great under the myriad of tests conducted and even offered a higher gloss than Polymer Varnish.
Since varnishes touch so many products, MAS focused heavily on compatibility testing. Waterborne Varnish needed to work over itself and the catalogue of GOLDEN products, including Polymer Varnish. The Lab and MAS worked in parallel to speed up the testing process by doing varnish applications concurrently with stability testing, which allowed us to move through more than 150 lab trials in a year and a half.

As we dug deeper into the testing, we needed to create new methods of prioritization in order to be efficient with our work while maintaining rigor in our testing methods. Due to the large number of trials we were moving through, it easily created an explosive volume of compatibility tests. In many ways, Waterborne Varnish pushed us to become better at what we do and the processes we use.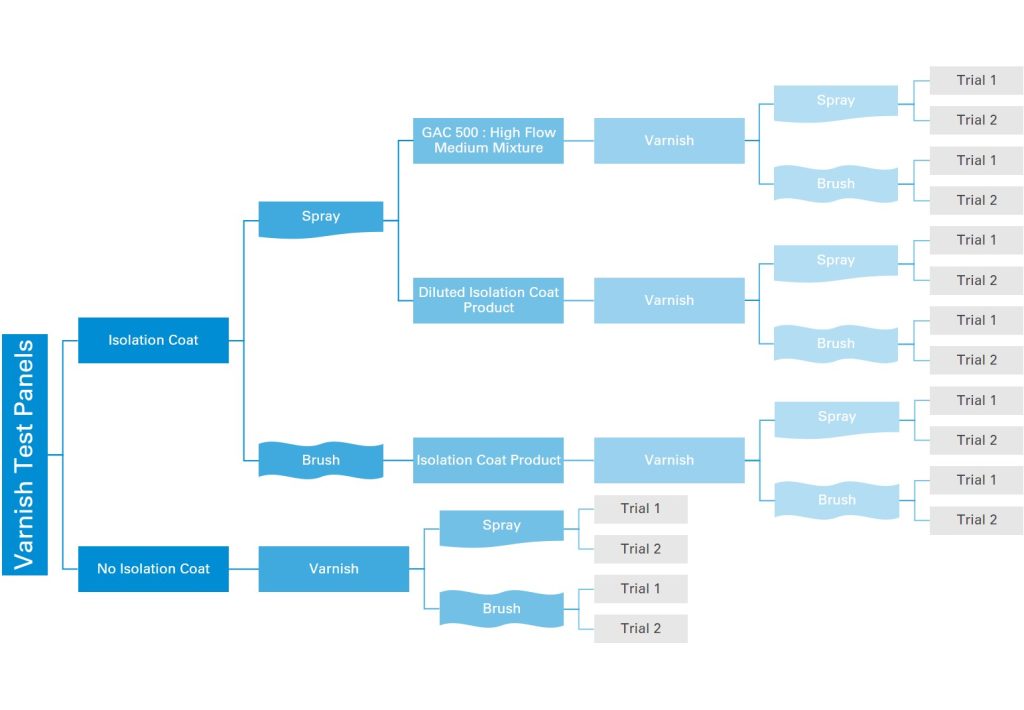 Challenges
The team faced challenges with material constraints — Texas snow storms and project delays as we awaited deliveries of necessary components to continue our work. As much a sign of the times as anything, we were contending with an evolving landscape within the paint and coatings industry. We also encountered application specific challenges with some of the early tests of Waterborne Varnish over some acrylic surfaces. While resolved, initial testing showed some evidence of wetting issues or applications "beading up" on the surface when layered over certain GOLDEN products.
To overcome this challenge, we needed to understand all scenarios in which this presented itself. We created unique surfaces and did timed applications of varnish layers to better understand the drying and curing of this new product. Ultimately, we corrected this wetting issue, but found that Waterborne Varnish required more time between layers than Polymer Varnish due to this new binder system. We now encourage waiting 72 hours after applying an Isolation Coat before the first layer of Waterborne Varnish and 24 hours between each layer of varnish. There are more details in our Waterborne Varnish application guide.
Conclusion
We love sharing what we do at GOLDEN, especially when it might provide insight into our process and encourage artists to think about their materials. The development and testing of the Waterborne Varnish was complex, requiring collaboration across many different teams at GOLDEN. It was designed to meet the needs of artists and we hope it services that need!
As always if there are any questions do not hesitate to reach out to help@goldenpaints.com.
Subscribe