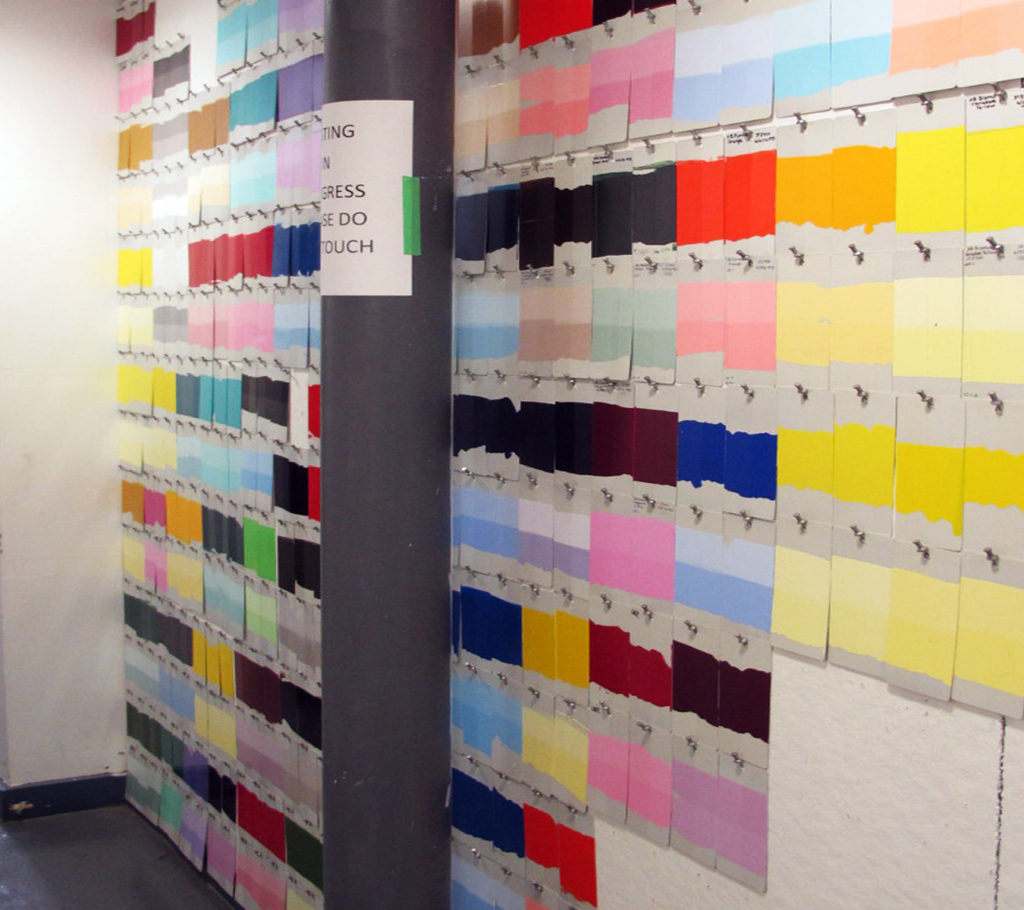 While we often report on results from lightfastness testing, we have rarely paused to actually describe the process we follow. And let's face it, for most people stating that our tests conform to ASTM D4303, Standard Test Methods for Lightfastness of Colorants Used in Artists' Materials, does very little to fill in the blanks. In an attempt to solve that, what follows is a description of the main steps we take, as well as the ways we have sought to improve and make this type of testing more robust.
Sample Preparation
For acrylics we create 10 mil drawdowns over primed aluminum panels as well as lacquered test cards. 10 mils is about the thickness of 3 sheets of copy paper. The aluminum panels are used for samples placed in outdoor testing facilities, while the card stock is for accelerated indoor testing. Oil paints follow the same series of steps, but using a different primer for the aluminum panels and cast at a 6 mil thickness (~2 sheets of paper). Watercolors, on the other hand, are applied in a quickly drawn down wash over a specific type of filter paper for both indoor and outdoor testing.
Something few people realize is that ASTM lightfastness ratings are always based on the tint and not the masstone of a color. The reasons for this are quite simple: pigments are generally more vulnerable in a tint, and you want to make sure they remain lightfast even when mixed with white. The level of that tint is also very specific. Oils and acrylics need to be mixed with enough white, or watercolors with enough water, to reach a 35-45% reflectance at the wavelength of maximum absorption. If that doesn't conjure up a crystal clear picture in your mind, you are not alone! Hopefully this picture of test samples will help: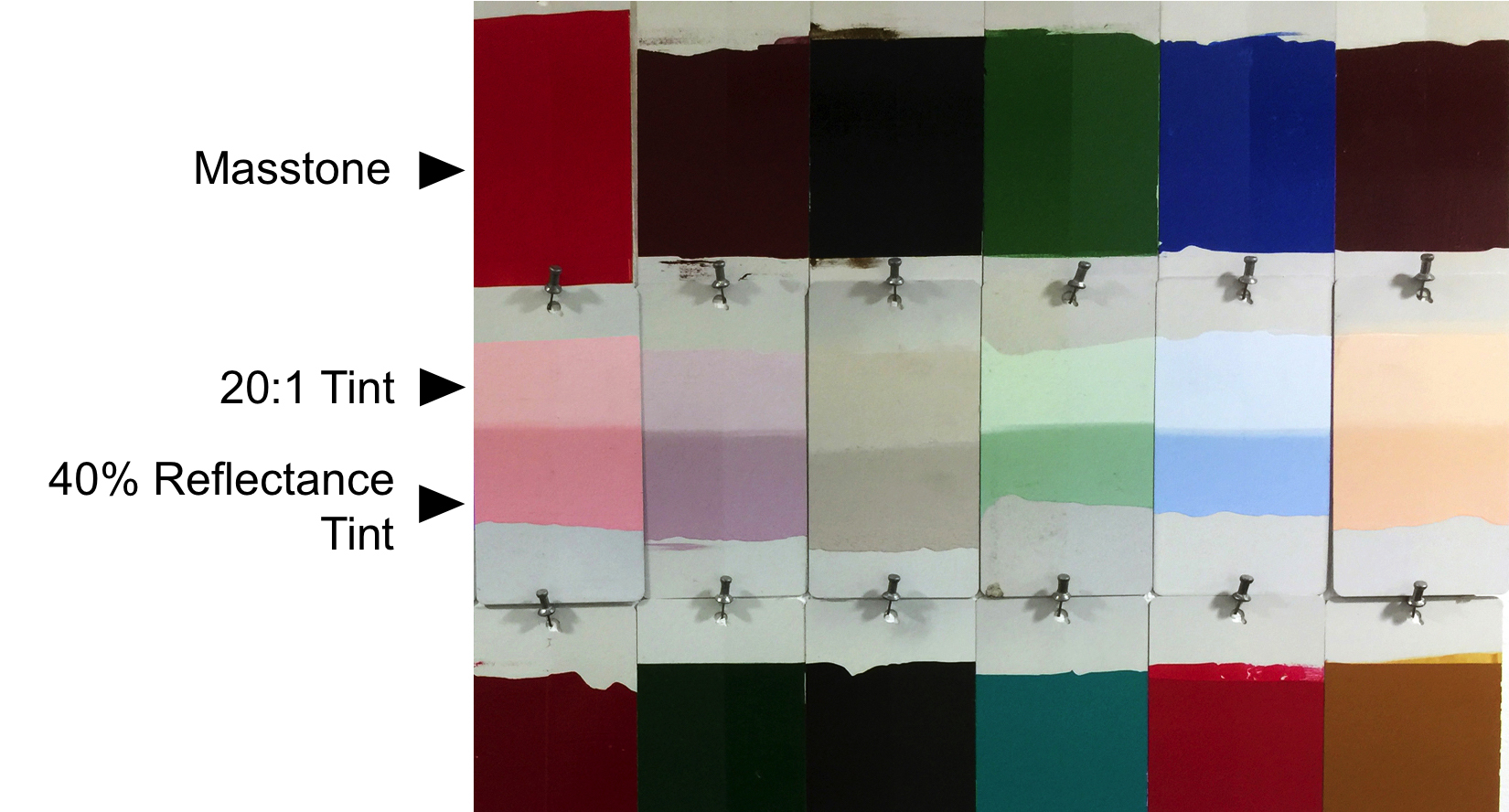 Number of Samples
For lightfastness testing ASTM requires a total of 7 identical tints for each color: one unexposed control, then three for outdoor and three for accelerated indoor exposure. However, when testing a new pigment, pigment supplier, or a significant change in formulation, GOLDEN will almost always include the masstones as well. On top of that, we have recently started to add in additional paler 20:1 tints, as well as areas coated with a UV filtering varnish. This greatly expanded set of samples gives us a much broader basis for evaluating a pigment and how a specific color might perform in different circumstances. But for ASTM's purposes, only the results from those original tints truly matter. Everything else has been added by us to help understand a pigment's performance at a deeper level.
Outdoor and Accelerated Indoor Xenon Light Exposure
After they are fully dry, the samples are read by a spectrophotometer in three separate places, which are then averaged together to capture a record of the color at the start. The outdoor group will then be sent to a test facility in either South Florida or Arizona, where they are placed under glass at a 45 degree angle to the sun. The accelerated indoor group is placed in a Xenon Arc Test Chamber that simulates the same spectral curve as sunlight through window glass. The outdoor samples must be exposed sometime between October and March, and are left until they reach a total solar irradiance of 1260 MJ/m², which takes approximately 3 months. This specific level of exposure was originally chosen by ASTM because it gave results that corresponded to the degree of fading seen in various pigments, such as Alizarin Crimson and Rose Madder, found in historical paintings going back over a century. The samples in the Xenon Arc machine are exposed to an equivalent amount of  UV as the outdoor samples, but in a more compressed timeframe, reaching completion in 410 hrs.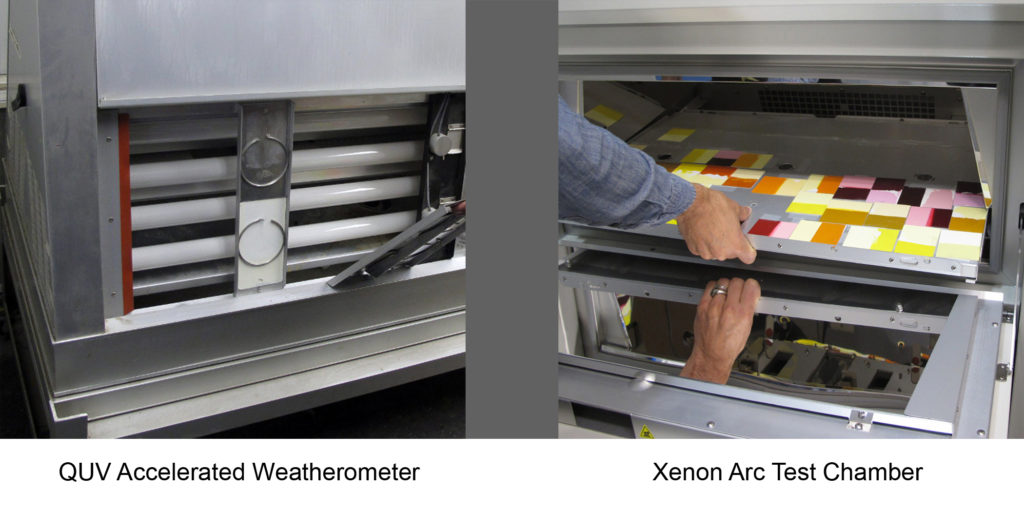 Evaluating the Results
After the samples have completed their tests, they are again read three times with a spectrophotometer and the readings averaged, and the degree of change from the original readings are then calculated. The results are then reported in units of Delta E (ΔE). In theory, a single Delta E is equivalent to the smallest amount of visual change a normal observer can distinguish. Colors with a Delta E between 1-4 are given an ASTM Lightfastness rating of I, Excellent; between 4-8, ASTM Lightfastness II, Good; and between 8-16, Lightfastness III, Fair. For more on this, please read our earlier Just Paint article, Delta E: A Key to Understanding Lightfastness Readings.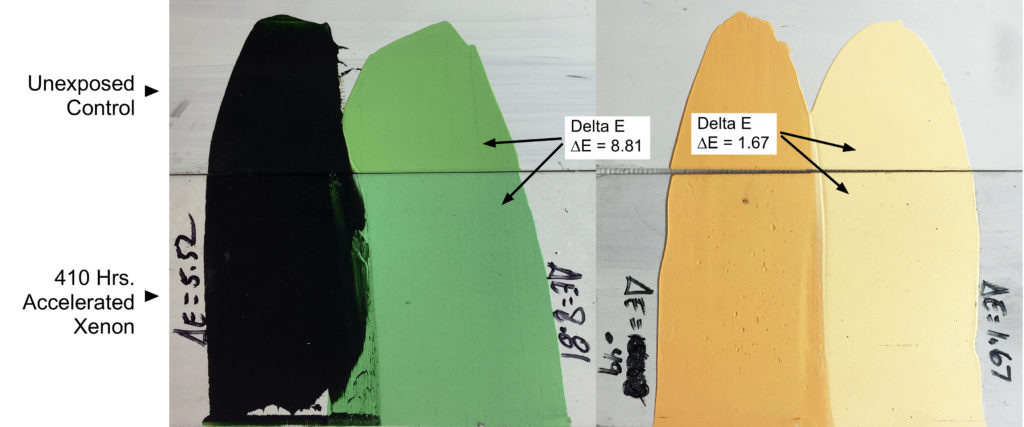 Other Lightfastness Testing
Beyond ASTM, GOLDEN carries out a host of other lightfastness testing as well. For example, to see how colors perform in exterior settings like murals, we regularly send multiple samples to South Florida where they are mounted without glass, completely exposed to a high humidity, variable outdoor environment. These are then evaluated at 6, 12, 24, and 36 month intervals. We also regularly run colors, varnishes, various collage and drawing materials, and test a wide range of other products through a different lightfastness test chamber, called a QUV, which exposes samples to light from special fluorescent UV-A bulbs. While these do not match the broad spectrum of outdoor sunlight or Xenon, they closely mimic the more destructive UV component of light through window glass. Samples are exposed to cycles of 400 hr., with 3 cycles giving results approximately equal to what we see in both outdoor and Xenon testing.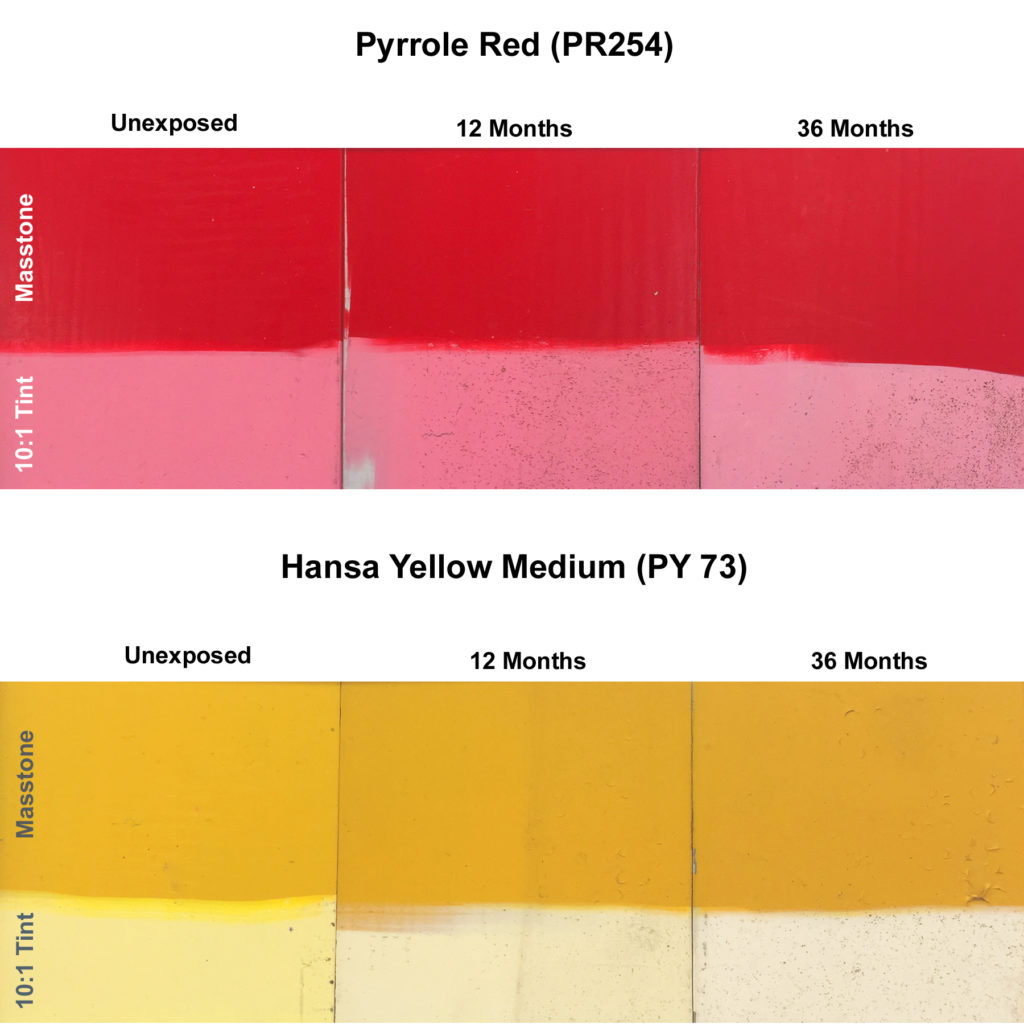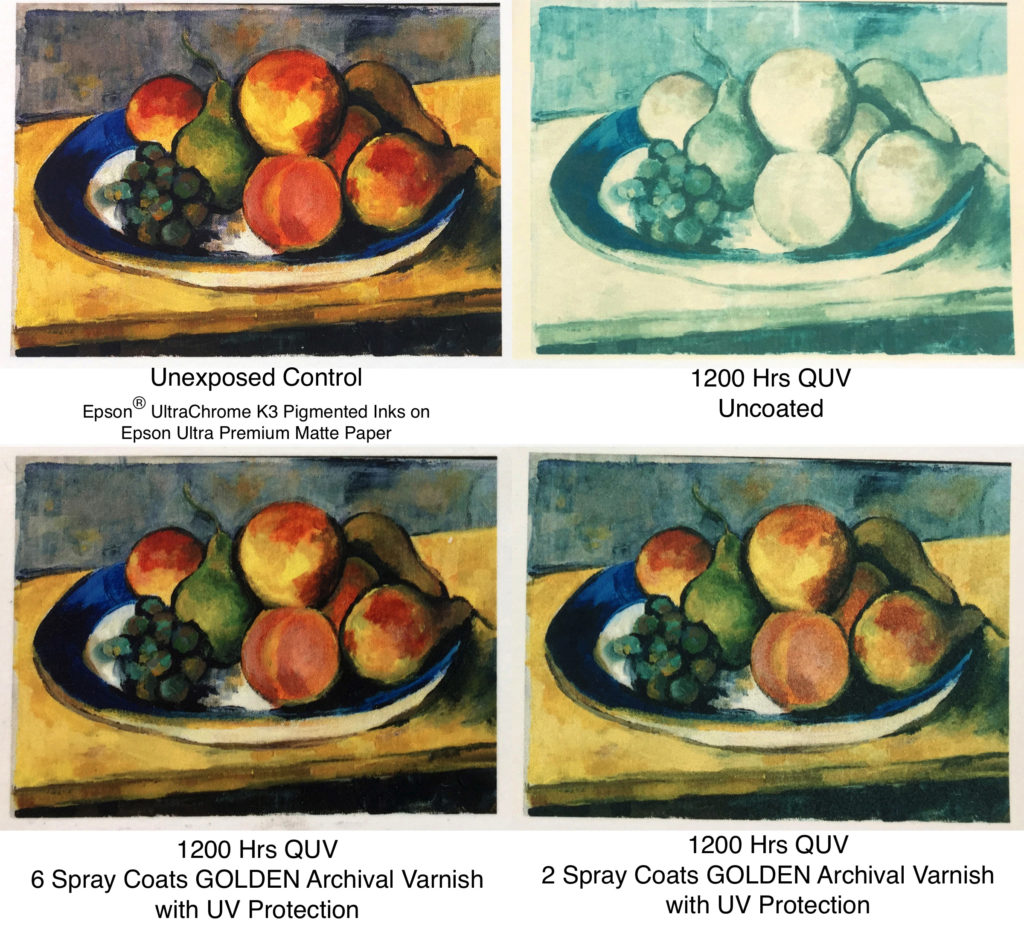 Going Beyond What Is Required
After describing all of this you might find it surprising to learn that none of this testing is actually required of a manufacturer. While we strongly believe every manufacturer should conduct these tests, ASTM Standards allow paint companies to simply use a lookup table to assign Lightfastness Ratings to their products. This table includes pigments that have gone through ASTM testing at some point and were assigned a Lightfastness Rating by the committee. However, the majority of those tests were carried out more than 30 years ago and often using only a single source of pigment or brand of paint. Drawing from our own experience of testing paints regularly since the early 80s, we believe this is inadequate. Pigment quality can be variable, and tests from so long ago, and from such a limited selection, might not represent what any one manufacturer is currently using. In the end, GOLDEN believes it is critically important for every company to carry out these tests to make sure their products are truly lightfast.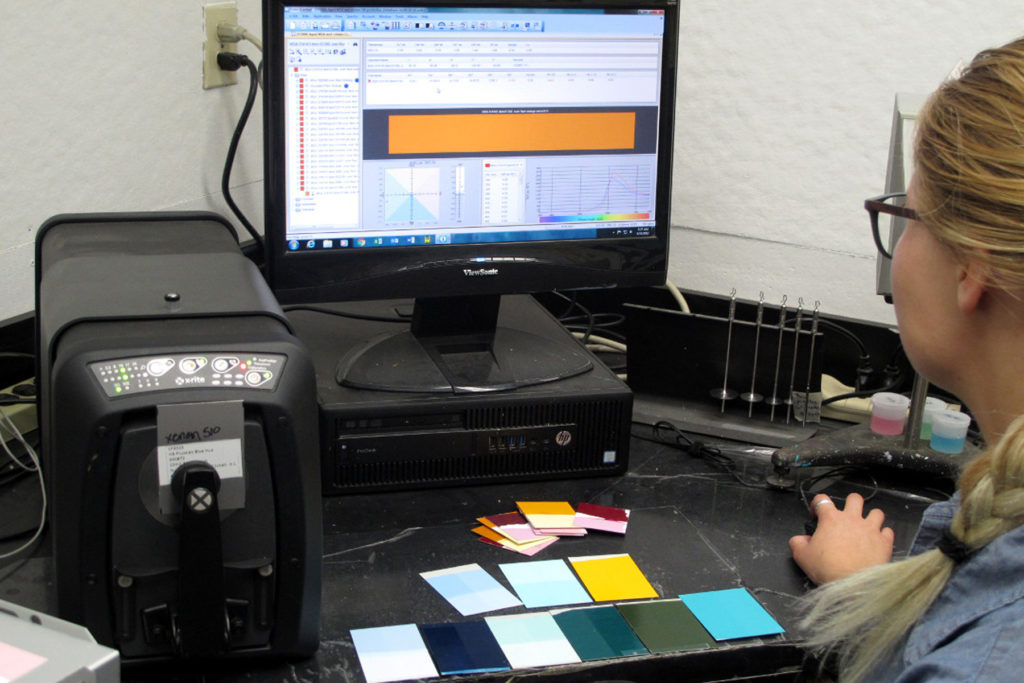 Sarah Sands, Senior Technical Specialist, MFA Yale University. Prior to Golden: Instructor, NY Academy of Art; Associate Professor of Painting, Indiana University; Business Manager/Technical Specialist, Williamsburg Oils
Subscribe